A Swedish smorgasbord done right
If you visit Stockholm, don't miss the chance to sample an authentic Swedish smorgasbord at the Grand Hotel. Not only is the meal steeped in tradition, the setting is spectacular, with views of the busy harbor, Old Town and the Royal Palace.
Along with Swedish meatballs, the smorgasbord is one of Sweden's best-known culinary exports. At the beginning of the 18th century, when Swedes began receiving visitors from other parts of Europe, they didn't want to make their guests wait to eat. So they served guests cold foods (like salted fish, sandwiches and salads of boiled potatoes) that could be prepared ahead, before serving them cooked dishes.
The smorgasbord came to America via the 1939 World's Fair in New York as a way to showcase Swedish foods and inspired the serve-yourself buffets popular at American restaurants and in home entertaining.
As opposed to filling a buffet plate with different foods, a traditional Swedish smorgasbord begins each of five courses with a clean plate. The foods are eaten in order, and fish is never eaten with meat. The multicourse meals highlight local delicacies and still remain popular in Sweden and other Scandinavian countries.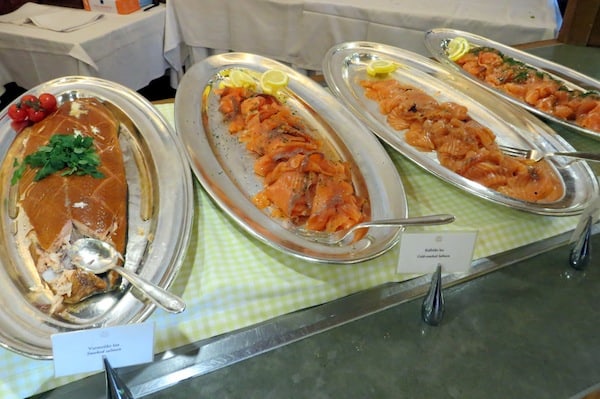 The first plate at the Grand Hotel smorgasbord includes a choice of herring dishes, new potatoes, crisp breads and cheeses. (The recommended libation: cold beer or a shot of the hotel's homemade 1874 Grand Aquavit.) The next plate offers delicacies such as dry-cured spiced salmon (gravlax) served with dill and mustard sauces, and smoked salmon with lemon. Then diners select from cold salads, egg dishes and charcuterie (sausages, ham and pates) before they savor hot dishes, such as meatballs with lingonberry jam. Finally, guests choose from a decadent dessert spread with fruits, chocolates, cookies and cakes.
The classic hotel, which dates to 1874, has entertained celebrities, politicians and royalty, including Winston Churchill, Greta Garbo, Martin Luther King Jr., Frank Sinatra and Bono. The banquet for the first Nobel Prize was held there in 1901. The smorgasbord is served at the recently renovated Veranda Restaurant.
IF YOU GO
The smorgasbord costs about $70 for lunch and about $75 for dinner. Check ahead of time for hours, which may vary on weekends and holidays. Reservations can be made online atgrandhotel.se/en or by email at [email protected].
---
[This article was published in the Chicago Tribune Sunday Travel Section on March 23, 2014.]
---
Also about Stockholm, Sweden on More Time To Travel:
---
This post is part of a LinkUp at Noel Morata's Travel Photo Discovery.