Who Can Resist Hygge? It Started in Denmark…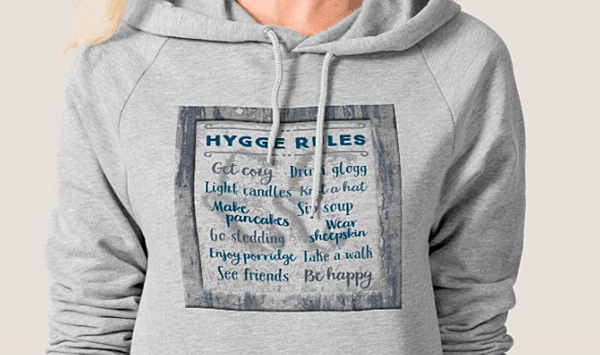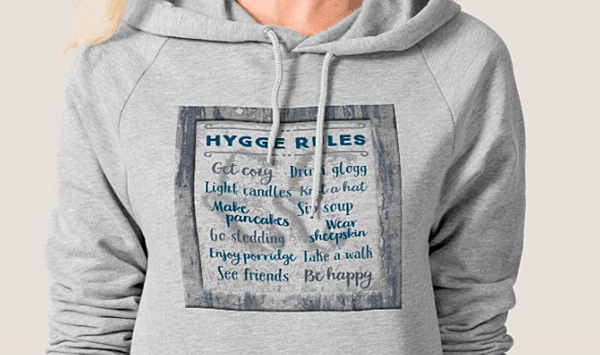 Guest contributor Laura Kelly shares how hygge, the Danish lifestyle trend, is warming up everywhere.
It started in Denmark, transforming that country into the "happiest" on earth. Then it began to cover Europe like a warm blanket. Now hygge is hitting the shores of the U.S. just in time for a divided country that could really use a little calm and comfort.
Because this is what it's all about: being cozy and comfortable, surrounded by soothing, wholesome food, decor, clothing, books, and conversation. In America we export Hollywood superheroes and supersized everything. It seems the Danes are exporting "the best way to hang out with friends."
I first got the heads-up on the trend when a British friend of mine (Danish by birth) emailed me a few months ago saying,
"Wish I could flit by and sit on that lovely balcony of yours for a bit of hygge and a glass or two. Is it as trendy there as it is here? My 100% Danish friends find it hilarious that we Brits get so worked up about hygge since to Danes it's just sitting cosily round with friends and having a nice drink or coffee. But it's a lovely word, isn't it? Fun to say."
[After reading that of course I had to look up how to pronounce "hygge." There are whole Youtube videos on the pronunciation, but I'll cut to the chase: just say HOO-guh. Yeah, it is fun to say.]
Getting the scoop
You don't need to go to Copenhagen to sample the lifestyle. Turns out here in the U.S. we're starting to get "worked up" about it, too. Soon after hearing about hygge from Suzanna, I started seeing a barrage of media about this new trend, such as this article in The New York Times, followed by this one in The New Yorker—which itself links back to a fascinating and looong article they ran about the Danes and hygge back in 1957.
Even more impressively, in the next few months, at least 4 new books are coming out in the U.S. that tell you all about how to get hyggelig (this is in addition to a stream of books that have already come out).
Hygge at home
In the New Yorker's 1957 article I learned about the "3 B's of a Hygge Home": Billeder (pictures), Bøger (books), and Blomster (flowers). Add in the other attributes of such a home—lots of candles, a nice fireplace, pendant lamps, knitted afghans, cozy nooks for reading, and a round table for sharing hot drinks with friends, among other things—and I realized I was already living the hygge lifestyle! Let's not even talk about hygge bukser, the Danish phrase for the kind of comfy, nubbly old pants that I admit are my go-to pants when lounging around the house.
Now that my lifestyle had a name, I decided to go all in on it this past holiday season. It started when my sister from Michigan came to visit my husband and me in New York for the holidays.
As Elizabeth walked in our front door, I cried, "Happy Hygge!" and handed her a mug of hot glögg (sweet, spiced wine—delicious). Elizabeth's plane had been delayed for hours and then she had to deal with construction-plagued Laguardia Airport, but soon enough our roaring fireplace, flickering candles, and acoustic music worked their magic as she relaxed on our sofa under a red knit throw happily nibbling on Jarlsberg cheese and hearty rye crackers. Then in a fitting hygge turnabout, she presented us with a gift jar of Mindo Drinking Chocolate (77% dark chocolate cocoa powder) that she'd brought with her from Michigan. Turns out it runs in the family!
The next day, after serving up a stack of hygge to Elizabeth in the form of banana pancakes (no wonder that another mainstay of hygge is two-hour walks), I wrote to my friend Jen that we would be stopping by and "bringing Hygge," referring to a wrapped bottle of spiced wine. So I had to laugh when Jen wrote back, "We're ready for you! But is there a dog involved?" Jen's forebearers are Danish but I guess she hadn't gotten the hygge memo yet.
Hygge in NYC
My sister and I got a full sense of the hygge invasion when we headed into Manhattan one day. With our hygge antenna up, it seemed to be everywhere! Highlights included the impressive and serene Great Northern Food Hall in Grand Central Terminal, dreamed up by a Danish chef and designer.
This slideshow requires JavaScript.
Hearty and healthy are the bywords of this food hall, with various stations selling creative open-faced sandwiches, made-to-order salads, crusty whole-grain breads, rye-bread porridge, swirly cinnamon buns, and Icelandic skyr smoothies. I loved my crisp romaine-lettuce salad with tiny chilled shrimp; my sister, however, was not as taken with the not-strong-enough Danish coffee.
Our next stop was the Bryant Park Winter Village (now closed until fall 2017), with more than 200 vendors hand-selling hand-knitted scarfs & mittens, hand-tinted photographs, hand-crafted chocolates, hand-made jewelry, hand-everything. Very hygge.
After a theater matinée we took a quick turn through Times Square (definitely NOT a hygge experience), then headed downtown to the Eataly Italian emporium in the Flatiron district. Even in the midst of the world's primo celebration of everything Italy, we found ourselves experiencing hygge there at its Baita restaurant, a rooftop Italian-Alps-ski-lodge–themed eatery. Twinkling lights, glowing heaters, smiling servers, casual circles of friends sharing bites of raclette, polenta, roast potatoes, and creamy lasagne—and a private cozy wood cabin right in the middle of the restaurant. The prices were a bit high to be truly hygge, but the vibe was cozy, friendly, warm, and delicious. Obviously the Italians have been hygge-ized.
When you're traveling—you just have to find it!
For those of us who travel a lot, it's heartening to think that the patented Danish concept of hygge is spreading across the world. You may have to look for it, but there's nothing I love more than to be wandering around a strange city and spying a café filled with smiling, chatty patrons, enjoying warm food and good conversation under pendant lights while candles flicker around them. The unplugged, simple, secure, inviting pleasures of such a place can't be overstated. I think I'll start packing my hygge bukser on my trips so I can be as comfy as possible when I push open the door and join the happy hyggelers.
---
I got so entranced with hygge that I designed a bunch of mugs, cards, and shirts to share with friends and family. Check out these designs if you want to jump on the hygge bandwagon.
Disclosure: The writer will derive a very small profit from any Amazon sales made through this page.