The Ultimate Viking Ocean Cruise Packing List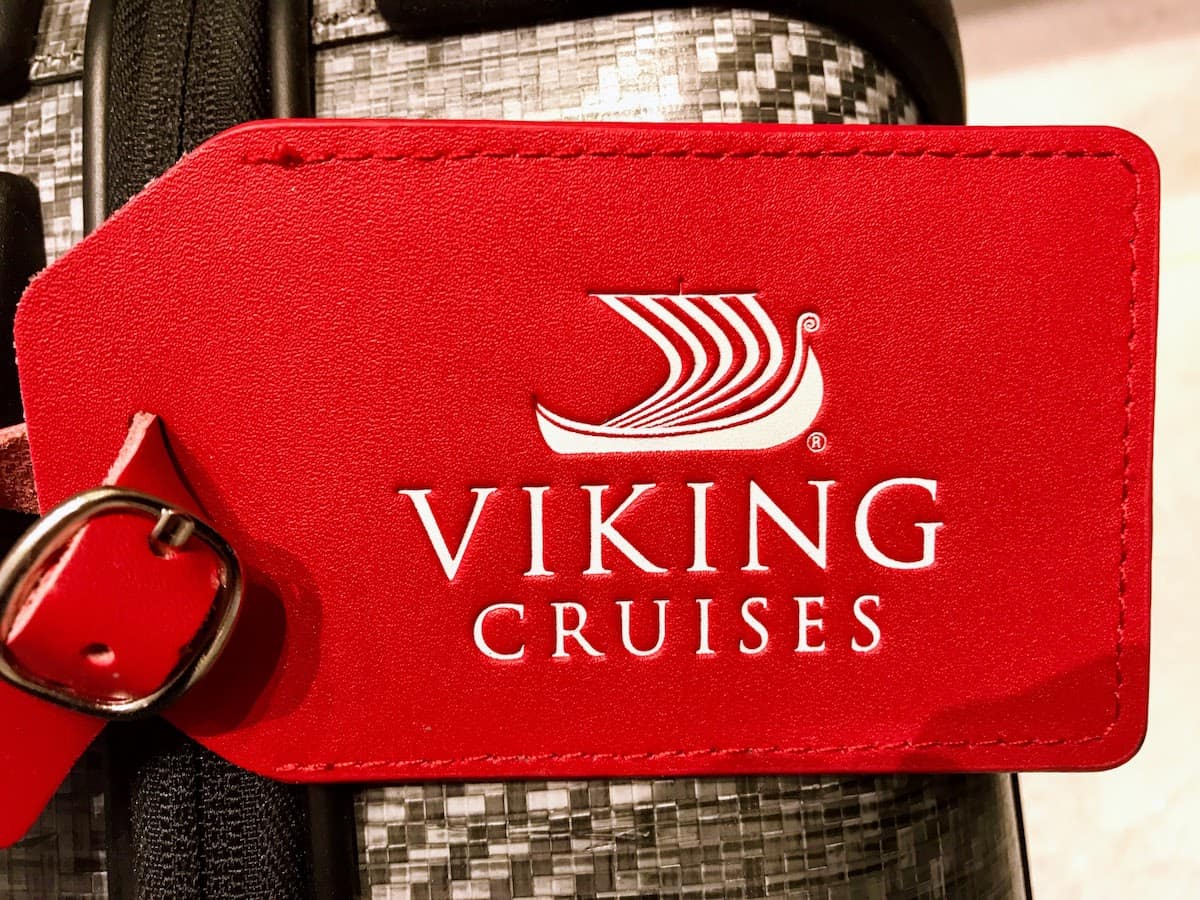 Creating a Viking Ocean Cruise Packing List involves knowing what to bring as well as what not to bring.
In a previous post, I offered tips on what NOT to pack. This post focuses on what to pack.
Developing your packing list
It's always helpful to start packing for your Viking Ocean Cruise by creating a list.
Working on the list at least a couple of weeks before your voyage will help you remember and keep track of everything you want to take. It will also alert you to see if you need to purchase anything that you don't already have. I keep it at my bedside so it's always handy.
When I begin to pack for a Viking Ocean Cruise, I divide my packing list into four categories:
Clothes for shore excursions,
Attire to wear onboard the ship, and
Extras (like medicines, toiletries, electronics, etc.)
---
This post may contain affiliate links. This means that I may receive compensation if you click a link, at no additional cost to you. For more information, please read my privacy and disclosure policies at the end of this page.
---
Before you begin: Think about a packing strategy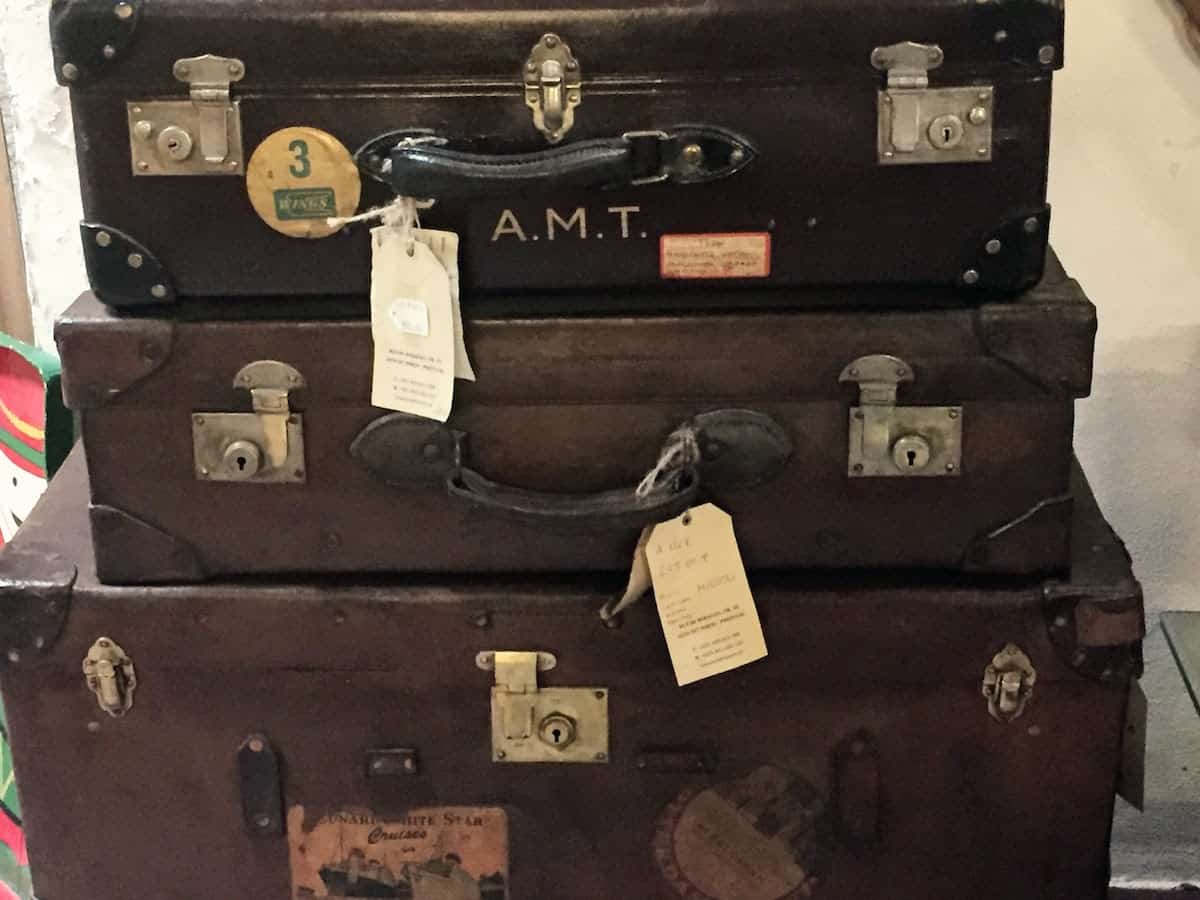 Because of airline baggage weight limitations, limit your packing to the essentials. Try to bring lightweight items that don't add bulk or heft to your suitcase.
Even in the largest hotel suite or cabin on a ship, it's always a hassle to have too much stuff. Overpacking is only likely to interfere with—rather than enhance—your journey. Remember that you'll be storing your suitcases in your cabin.
Think seasonally and take a close look at your itinerary and the weather predictions. Your voyage may be headed to warm climates, cooler ones, or some mix of the two.
Opt for layers. Weather forecasts help but can change on a dime, even during the course of a single day. Layering your outfits allows you to put on or take off a top layer so you always feel comfortable.
Choose a color theme to mix and match outfits. It will help reduce the number of items you need to bring. Call me boring (or bland) but I usually opt for a palette of black, white, and tan.
If you are worrying about packing too little, remember that you can always do laundry on board the ship. Viking Ocean cruises offer complimentary, self-service launderettes with detergent, irons, and ironing boards on Decks 3-6. Some staterooms on Viking Ocean cruises even include complimentary dry cleaning (check the specific page for your ship to find out about the availability of dry cleaning and other amenities).
TIP: I often pack a handful of Bounce fabric softener sheets in my suitcase. Even if I don't use them at the launderette, they make my suitcase smell fresh and can be used to reduce static on a clingy skirt or dress.
I can't stress this enough. After you've completed making the list; read it over and try to "prune it" to eliminate excess.
The Ultimate Viking Ocean Cruise Packing List
1) Packing evening wear for a Viking Ocean cruise
On a Viking Ocean Cruise, most passengers dress casually and aim for comfort. Having no formal nights eliminates the burden of packing fancy cocktail wear or accessories that you'll only wear once or twice.
For dinner, women will feel comfortable wearing a few simple dresses, skirts, or slacks. (The Viking dress code says no jeans but I've seen some women wearing stylish ones, not the types that are washed out or torn over the knees:-). I usually take a pair of black, white and khaki slacks.
Take about four different tops that complement your slacks. You can accessorize and change the look of your outfit with one or two colorful scarves that are almost weightless. (I love this NYDJ Pintuck Blouse with billowing sleeves. It's comfortable and stylish and comes in a rainbow of solid colors and prints. The black and white print offsets black or white pants. Lighter colors are great for daywear.)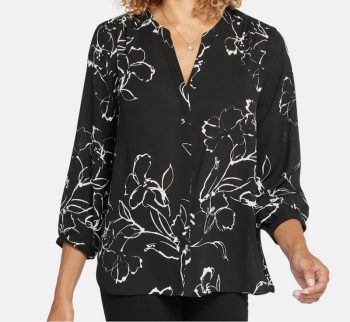 TIP: If you've had a long day and don't feel like changing clothes for dinner, head to the World Cafe, where the dress code is casual even after 6 PM.
Leave your diamonds and precious jewels at home. Although your stateroom has a safe, why bring jewelry that you'll have to worry about possibly losing or misplacing? Instead, take along a few playful pieces of costume jewelry that make you feel happy. I recently fell in love with a $16.99 pair of fake diamond studs at TJ Maxx that are larger than any real ones I could ever afford to buy.
Pack a pretty shawl to wear at dinner or to an evening lecture or entertainment. Most public spaces on cruise ships tend to be chilly.
A pair of black or tan flats or ballet slippers can be worn with just about any outfit. This helps avoid the need for multiple dress shoes.
Don't forget your lingerie. One nightgown or pair of pajamas should be sufficient (I've forgotten to bring sleepwear more than once). And bring along a sufficient number of (but not too many) bras and panties.
Evening wear for men:
For men, the dress code is simple. All he needs is a couple of collared shirts.
My husband always feels good with a Ralph Lauren black polo shirt and a pair of chinos or slacks. On another evening, he may wear a collared long-sleeve shirt (we love the look of gingham checks) with the other pair of slacks.
He usually doesn't bring a sports jacket although some men like to wear them for warmth or to look sharp. Increasingly, fewer men are wearing ties so leave them at home as well.
2) Packing clothes for Viking Ocean cruise shore excursions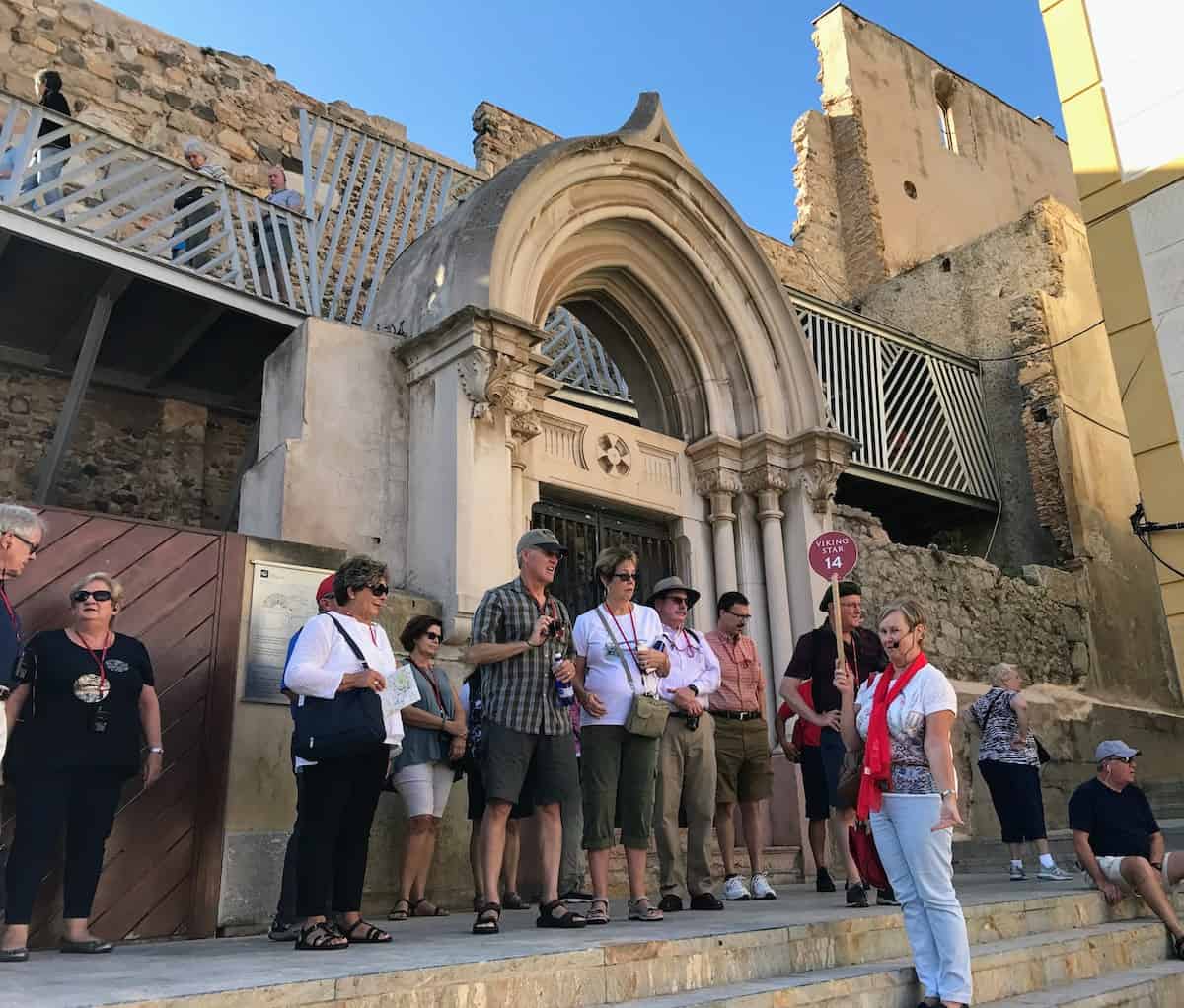 Keeping the weather in mind, take a couple of pairs of slacks, jeans, or leggings for most destinations. You might also want to pack a pair or two of straight-leg capris, or wide-leg cropped pants for warmer days. Some women wear Bermuda shorts when touring but most times, they aren't flattering. Wearing them also visually flags you as a tourist. The only exception: If you are headed to a warm-weather Caribbean destination.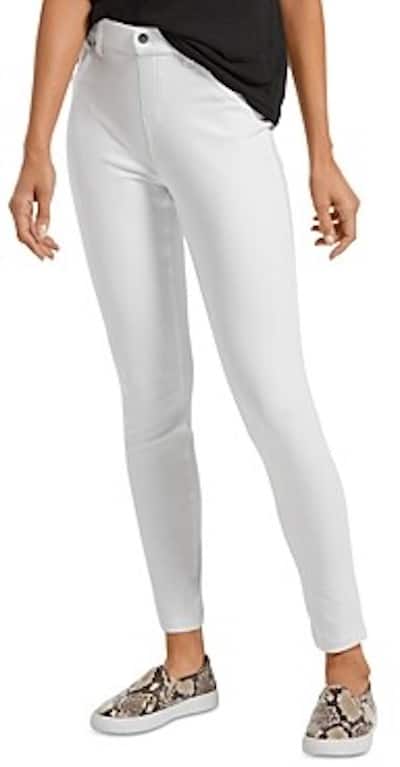 Bring tops that coordinate with your bottoms. A mix of sleeveless, short-sleeve, and long-sleeve tops will serve you well. A nice look is a tank top with a matching shirt on top.
A mid-length sundress with a cap or flutter sleeve is also a nice look for the daytime.
TIP: Some churches ask that women not wear anything too revealing and to cover their shoulders. You can either bring along a cardigan in your tote or else tuck a folded shawl there it is required.
Especially if you are traveling to Europe, adding a well-tied scarf to your outfit adds a bit of elegance and protects your neck from getting chilled.
Comfortable walking shoes are essential. You may be getting on and off tenders, walking over cobblestone streets, and doing more walking than you usually do at home. Bringing two pairs of walking shoes will allow you to alternate between them. Don't risk falling by wearing flip-flops or heels. (These Vionic slip-on walking shoes are supportive and come in a variety of widths, including extra-wide. They have orthotic insoles for arch support).
No one thinks about rainy days when they are fantasizing about their next vacation but rain can happen any time, any place. So pack a lightweight rain jacket or poncho, just in case.
TIP: Water-resistant footwear will keep your feet dry in inclement weather.
Shore excursion wear for men: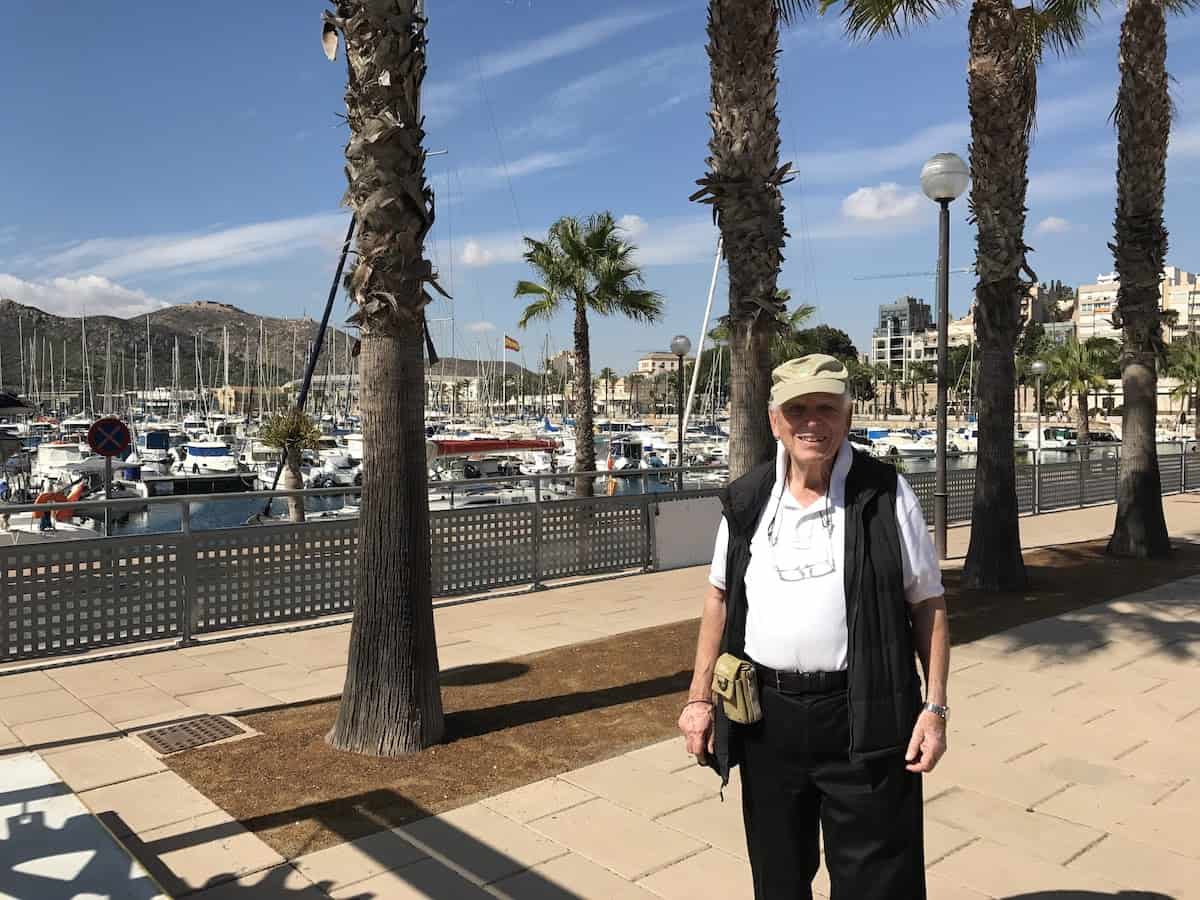 Men can wear collared or uncollared shirts during the day. To my eye, however, a collared shirt (even a colored polo) always looks neater. For a 7- or 10-day journey, three or four shirts of different colors should do the trick.
A lightweight sweater or sweatshirt is useful for chilly mornings or evenings (even on the ship). If the weather gets exceptionally cold, he can layer the sweatshirt or sweater under his jacket.
In terms of outerwear, we prefer packable down jackets because they can squish into a suitcase without wrinkling, taking up space, or adding weight. (This lightweight, water-resistant puffer jacket weighs less than 2 ounces. You'll never lose him in the crowd if he opts for red and he'll match your Viking luggage tag, but it comes in many different colors.)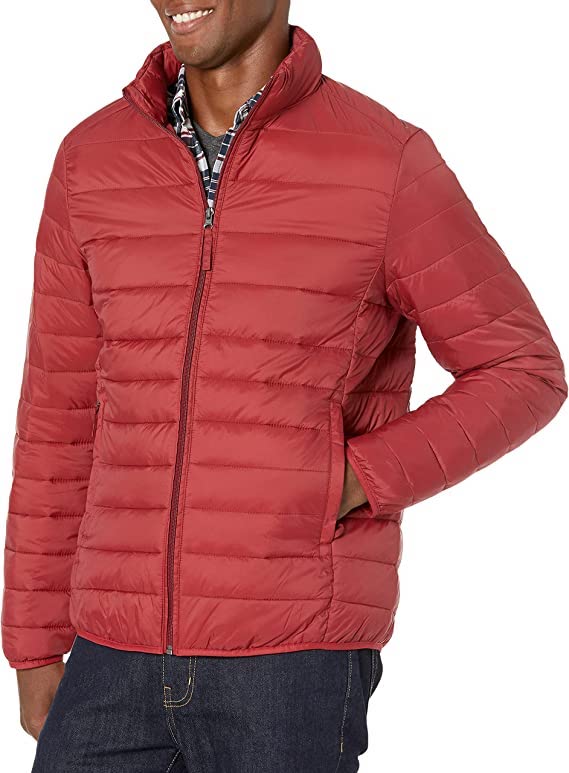 Ever since my husband first began wearing travel vests on our trips, he's been addicted to them. They are so handy for keeping valuables in your pockets as you go through airport security. All you have to do is zip the pockets and put the best on the security conveyer built. On shore excursions, he'll have a place to stow his phone, keycard, etc.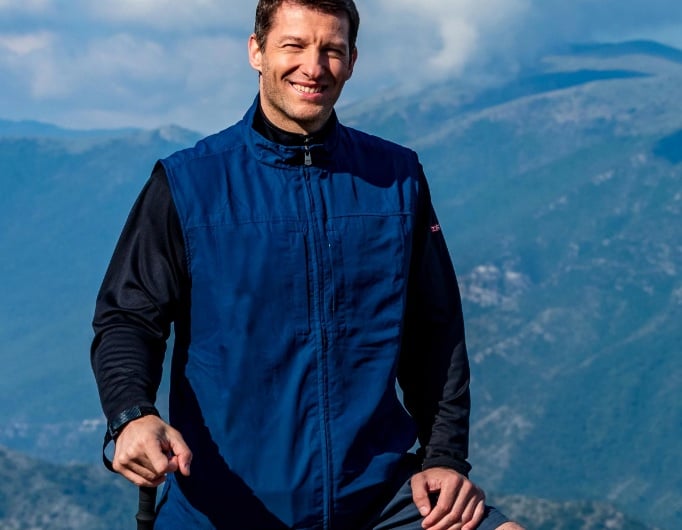 Men also need two pairs of comfortable walking shoes. Easy-on, easy-off sneakers are nice for travel.
3) Packing attire to wear onboard the ship
Bear in mind that most passengers on Viking Ocean cruises aren't clothes horses who change attire several times a day. The dress code is largely relaxed, casual, and comfortable.
Most of the daywear women and men wear for shore excursions is also worn onboard the ship.
Do bring exercise wear if you plan to work out in the fitness center or on the sports deck. Usually lightweight and easy to pack, it's also the perfect attire for a morning walk on the deck.
Women should pack a bathing suit and for men, bathing trunks. You'll need them for swimming in the heated pool, or during the time you spend in the Nordic Sauna or Snow Grotto. (Figure-flattering Miraclesuits are a favorite of mine. I especially love the two-piece models with tankini tops. On a cruise, you can wash the bottom with each wear but wear the top several times.)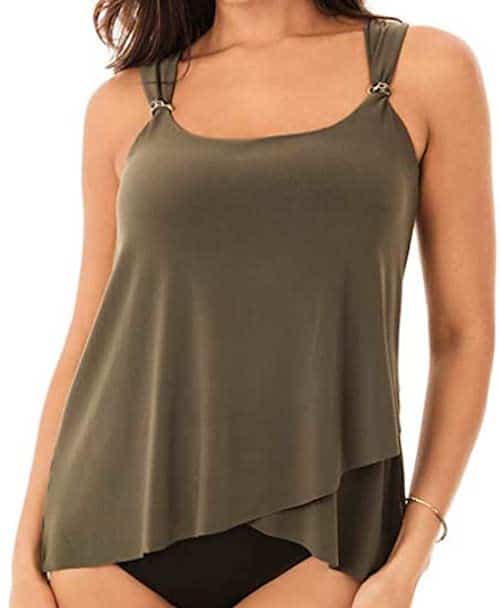 After walking all day, it's nice to have a comfy flip-flop, slide, or another open-style shoe to relax in on the ship, especially when you're in your stateroom or on your balcony. If you want to look stylish, these comfy Aerosol sandals are great.
I like to bring a pair of flip-flops with me. They weigh almost nothing, so they are easy to pack in the space at the side of your suitcase.
After a day on your feet, you'll appreciate having an open shoe to wear in the hotel room. Be cautious about wearing flip-flops outside your cabin but if you're inside your stateroom, you won't have to step on carpets that have been stepped on by countless other travelers.
Havianas are the classic flip-flops that were created in Brazil in the 60s. They come in a wide range of colors and prints (actually 85 different ones). I prefer these gold ones.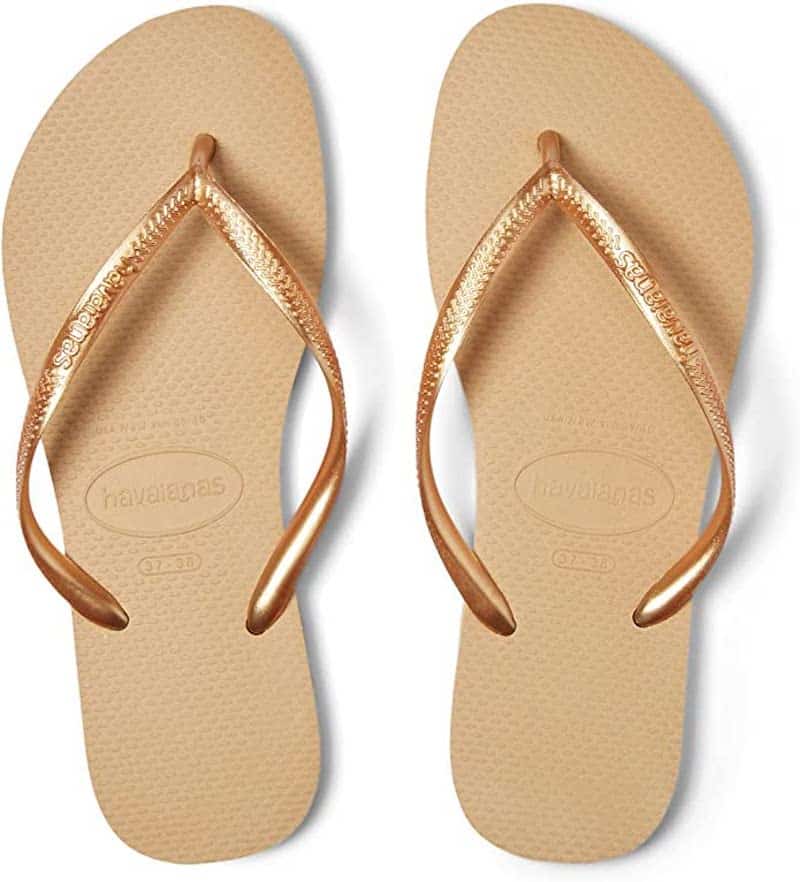 ---
TIP: Many passengers enjoy relaxing at The Spa on sea days or on the deck in warm-weather climates.
I also recommend bringing a pair of comfortable rubber-soled (deck) shoes to wear around the ship.
4) Packing the extras (accessories)
Two separate posts on More Time To Travel list the Best Travel Accessories for Men and Best Travel Accessories for Women. Be sure to take a look at these comprehensive lists to determine those that suit your fancy.
In addition to your medications, toiletries, and other essentials on these lists, remember to bring sunglasses and sunscreen. Even if you aren't headed to the Caribbean, the sun often reflects off the water when you're sailing.
I never travel without a small, lightweight, foldable tote bag to take on shore excursions. The bag can also be a lifesaver if you purchase anything (e.g., a snack or souvenir) that you want to carry back to the ship. The one shown below with a still-life design weighs two ounces and can hold up to 44 pounds. (It can be rolled up with its strap or folded into its zip pocket.)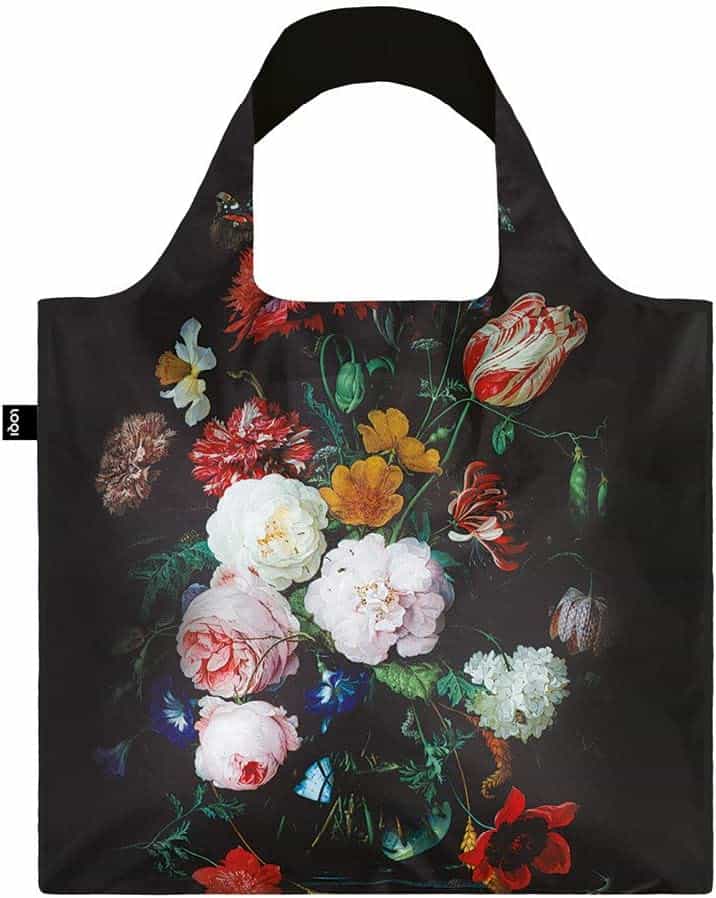 TIP: Bottled water is included at no extra charge on Viking Cruises and you'll probably want to carry a bottle of water with you on shore excursions.
With the risks of COVID and norovirus from touchable surfaces, hand sanitizing wipes (and masks if you like) are certainly a good idea when you are immersed in seas of people at many ports.
Some travelers find a pre-printed packing list to be a helpful tool. This 60-page Packing List offers a checklist of last-minute reminders to trigger your memory. The blank lines (and the back of the page) allow you to add anything that isn't already on the list. You can check items off as you place them in your suitcase.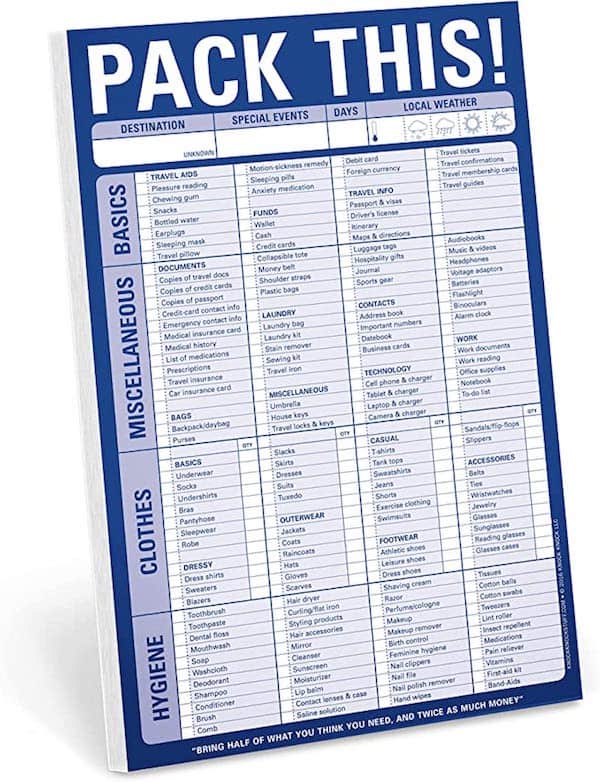 The list also makes a great little gift for any of your friends embarking on a cruise.
---
Still have questions about your Viking Ocean cruise packing list? See the FAQs on the official Viking website.
---
READ MORE:
---
SAVE TO PINTEREST!!