COVID Travel Packing List: 6 Essentials For Any Trip 
Why do you need a COVID travel packing list?
Infection rates have dropped markedly. Masks are no longer mandatory in most situations, at most destinations—even on cruise ships or while traveling on public transportation. Stringent vaccine requirements have also been lifted in most places.
But COVID is by no means over.
In the U.S. alone, more than 400 people are dying of COVID-related deaths each day.
While it's miserable to get sick—even with a bad cold—whatever the illness or ailment, it's always worse to get sick when you're away from the familiarity and comforts of home, and your usual medical resources.
---
This post may contain affiliate links. This means that I may receive compensation if you click a link, at no additional cost to you. For more information, please read my privacy and disclosure policies at the end of this page.
NB: Many of these are Amazon links because it has been a reliable source of last-minute items for travel.
---
The compelling instinct to travel light
Airline baggage weight restrictions continue to grow increasingly onerous. Added to that, the burden of handling bulky luggage can be cumbersome, especially if you are going from place to place.
So we all aspire to travel light—only packing the essentials. But during the pandemic, it's important to balance that instinct and anticipate what we might need to have at hand to prevent or treat the virus.
Depending on your destination or health status, some items might be difficult to find. It can also wind up being a waste of time as well as an added expense to search for small items that we could have taken with us.
Thus, most frequent travelers keep ready-to-go medicine or travel kits packed with basic health and cosmetic items they need to carry on their trip. Less frequent travelers may create a travel packing list or rely on one of the many available online.
Preparing for travel during a pandemic
COVID travel packing does require extra "gear" and more forethought.
When I think about collecting all the stuff we need for travel in the age of COVID, it's somewhat reminiscent of traveling when our son was young. There were always extra items to bring along to meet his needs and make our lives more comfortable, from diapers to toys, snacks to wipes.
Here are six essentials for travelers who are at midlife and beyond to add to their packing list—-to prevent and treat the symptoms of COVID.
---
A COVID Travel Packing List: The Six Essentials
---
1- Over-the-counter COVID tests
Bring along a supply of over-the-counter antigen tests. If you are experiencing symptoms that may signal the onset of COVID, it may be a common cold or it may not.
Or, if you think you may have been exposed to someone who was sick or after attending a large indoor gathering, you'll want to use one of these tests to protect yourself and others.
Since the tests aren't always accurate at the first signs of the virus, you may need to test repeatedly. For a one- or two-week trip, we recommend bringing three tests per person. Here is some additional information from the CDC on at-home, rapid testing kits.
Of course, make sure that the test kits aren't expired and that you follow the directions for their use.
COVID Test Kits Available on Amazon
---
2- A supply of KN95 face masks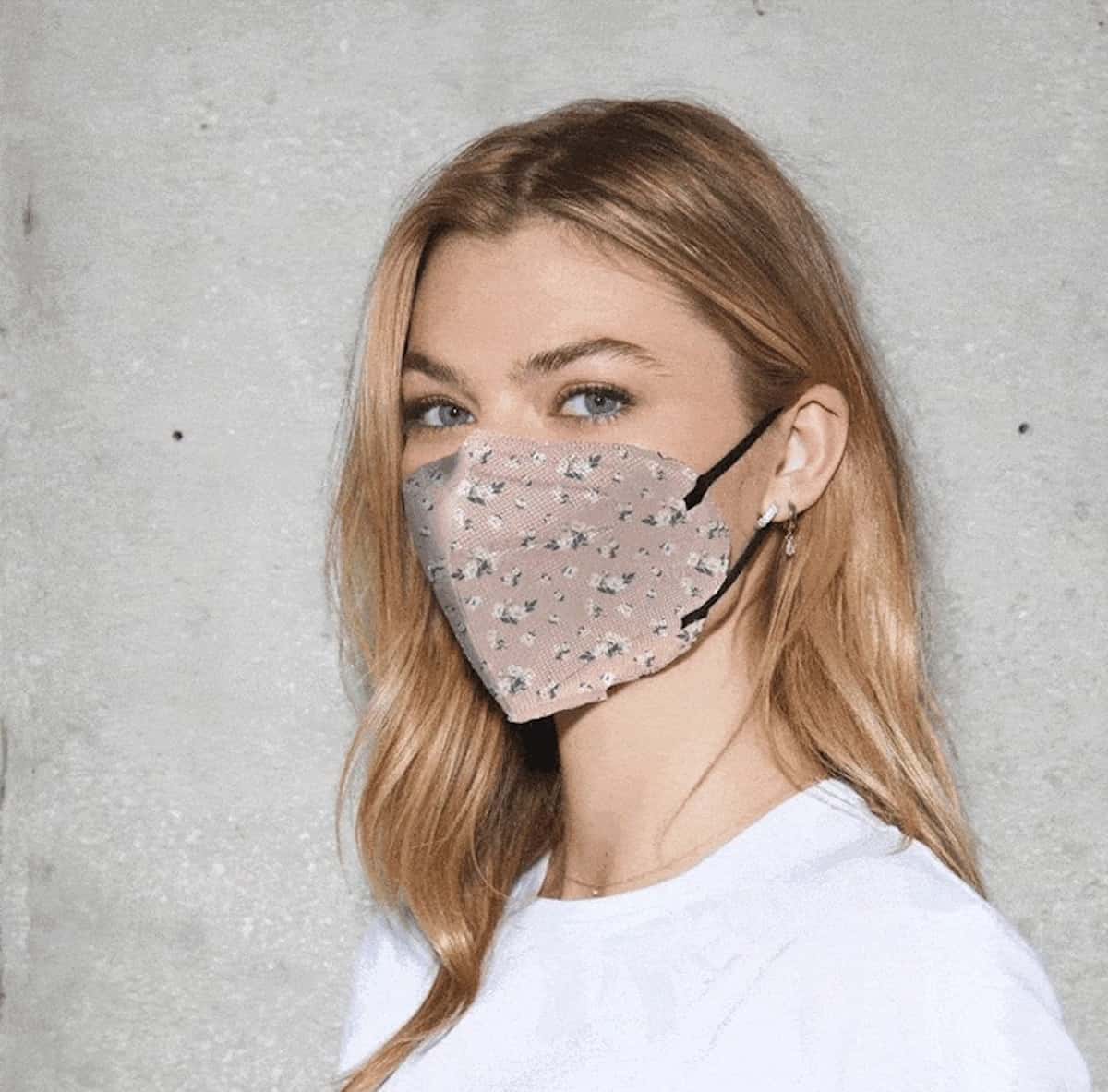 Although still a clear minority, we are among those who haven't given up wearing KN95 face masks, especially when traveling. You'll want to wear them at airports, on public transportation, and any other place where you find yourself in close and prolonged contact with strangers who may be contagious but asymptomatic.
Granted, it can be uncomfortable to wear a mask and you may feel peer pressure to take it off like those around you. I found that these MASKC face masks are breathable, super soft, and attractive.
---
3- Over-the-counter meds
Although common over-the-counter meds don't treat the virus, per se, they can go a long way in helping you feel more comfortable should you develop a fever. They also can help reduce some of the body aches commonly associated with COVID-19.
Experts at the University of Chicago School of Medicine specifically suggest either acetaminophen (Tylenol), naproxen (Aleve), or ibuprofen (Advil, Motrin). They do so with a caveat: Use them judiciously and be certain you don't have a health history or condition that contraindicates their use. Follow the directions on the label and check with your doctor before you leave to make sure they won't interact with prescribed medications.
Another tip: In addition to over-the-counter medications, it's a good idea to bring a supply of extra prescribed medications if you take them. You don't want to run out of medication in the event that you are quarantined and need to extend your trip
---
4- A digital thermometer
It's always useful to have a thermometer with you when traveling, COVID or not.
People with COVID may spike high fevers or have no fever at all. If you do think you have a fever, it's prudent to take your temperature for two reasons:
If your temperature is 100.4℉ or 38 ℃, you should test for the virus if you haven't already done so.
If your temperature is high (generally over 104℉ is considered high for an adult), you should contact a physician.
Whether at the pharmacy or online, there are a number of choices of thermometers. If you already have one, make sure that the battery hasn't gone dead since the last time you used it.
(If you have an old mercury thermometer in your medicine chest, experts suggest not taking or using it because of the risk of it breaking.)
See additional information on COVID and fever.
---
5 – A pulse oximeter
A pulse oximeter is a small, easy-to-pack device, usually clipped onto a finger) that measures blood oxygenation levels. Some smartwatches also can test these levels.
If you contract the virus, even if you aren't having trouble breathing, you probably should get to the nearest emergency room if your blood oxygen level falls below 90%.
---
6 – Hand sanitizing and surface wipes
The CDC recommends washing your hands with plain soap and water for at least 20 seconds after you've been in a public place. But when you're traveling, that isn't always possible/
Because the covid-19 virus can linger on high-touch surfaces (e.g., at airports, on public transportation, in restrooms, etc.), bring a sufficient supply of hand sanitizing wipes or a hand sanitizer with at least 60% alcohol.
I fell in love with this Olika hand sanitizer. It is perfect to attach to your purse so you always have it handy and it comes with a packable refill. It comes in a variety of playful colors.
To make sure my tray table, armrests, and other hard surfaces on my flight are clean, I use PlanetAire Wipes. They contain no added alcohol or ammonia, leave a light herbal scent, and come in convenient, individual throwaway packages.
---
Treatments for COVID
There are two FDA-approved oral antiviral pills for the treatment of COVID-19: Paxlovid and Lagevrio (molnupiravir).
The treatments are authorized for patients with mild-to-moderate COVID-19. Evidence suggests that these medications can reduce the risk of severe disease and hospitalization. However, you can't take them with you.
At present, supplies are limited. Moreover, both are dispensed by health care professionals (and some pharmacists) and require a positive COVID-19 test. If you test positive with symptoms, contact a health care provider to see if these are appropriate options for you.
We hope these reminders are helpful. If you're anything like us, you may discover that your packing skills have gotten rusty since your last trip.
---
Note: None of the above is intended as medical advice. Individuals should consult with their physicians to determine their own specific risks and medical needs.
---
Also on More Time To Travel
---
Save to Pinterest!!
​