What Is A Dopp Kit? What Travelers Need to Know
What is a Dopp kit? Put simply, the term is used to describe a bag used to stash toiletries for travel.
The term is usually reserved for men's toiletry kits.
The female counterpart is more likely to be called a cosmetic or makeup bag.
Both male and female travelers seem to recognize the importance of having some way to segregate their toiletries (personal care and/or beauty items such as medications, deodorant, shavers, toothbrush/toothpaste, other grooming accessories, etc.) from their clothing because of the risk of these items spilling, oozing, or soiling—or of these or other small items getting scattered or buried in a suitcase.
With increasingly stringent TSA requirements, travelers are often required to pack their toiletries in checked bags.
What is a Dopp Kit?
The term Dopp kit is an eponym.
Just like "Kleenex" is often substituted for tissues and "Jacuzzi" for spas or hot tubs, people started using the eponym (or short-hand term) "Dopp kit" to describe male toiletry kits.
History of the Dopp Kit
These bags were popularized and the term trademarked by Charles Doppelt, a German leather maker who produced the first "Dopp-Kit toilet case" in Chicago in 1926.
It had a flap fastener that opened wide at the top and retailed for $3.25. You can see an old advertisement for one of the original leather kits online.
During World War II, Dopp kits were issued to U.S. soldiers and they soon gained popularity as coming-of-age or special occasion gifts to civilians, too.
Samsonite purchased the trademark, which Buxton then acquired before the registration was canceled in 2003. ("Ditty bag" is another oft-used term for the kits, especially by fishermen and sailors.)
Dopp kits are still popular gift choices for milestone occasions (e.g., graduations, job promotions) or simply for a "Bon Voyage" gift before a big trip.
Yet, these days, many younger people (and especially those outside the U.S.) tend to be perplexed when they hear the old term, Dopp kit.
---
This post may contain affiliate links. This means that I may receive compensation if you click a link, at no additional cost to you. For more information, please read my privacy and disclosure policies at the end of this page.
---
How To Choose and Buy A Dopp Kit
Because there are so many choices, here are a few considerations to help you decide:
Dopp Kit Materials
Although the first Dopp kits were made of leather, they're now made in a variety of materials, including leather, plastic, ballistic nylon, canvas and more.
For environmentally-conscious travelers, some are made of recycled materials, like this one made of recycled sails.
---
Leather offers a lux look and many are coated to protect them from scratches and moisture.
It's important to remember that travelers tend to place these kits on bathroom sinks and counters that can be wet.
With more than 10,000 reviews, this KomalC Leather Travel Dopp Kit is one of the most popular ones on Amazon.
Buyers loved the quality of the leather and the roominess of its one large, undivided interior pocket. It comes in a variety of colors.
Ballistic nylon often turns out to be one of the most rip-proof and durable fabrics; it's also easy to clean and generally lighter than leather. Canvas and plastic kits may not last as long but they're also not as expensive.
Also, be sure to look at the material inside and make sure it's resistant to spills and stains.
---
Dopp Kit Shape and Size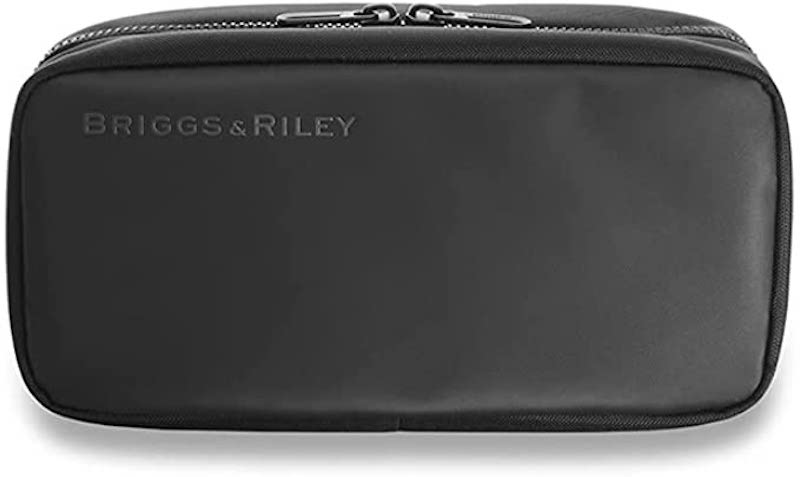 Most Dopp kits are rectangular in shape but there are many variations on the theme.
Some have a "low profile," meaning they aren't very deep and don't take up as much room in a suitcase. Others are larger and boxier but allow for more storage.
Choose a shape and size that will fit your needs.
This Briggs and Riley Baseline Hanging Dopp kit is an example of a low-profile toiletry bag. It's smaller than many bags, just large enough to stow your essentials, but is only 3″ thick.
That allows you to easily tuck it into the side of a suitcase. At your destination, it conveniently hangs to afford easy viewing and access to your items.
Made of 90% nylon, it is water-resistant. The coated lining helps minimize the chance of leaks.
---
Number of Zippered and/or Pocket Compartments
Check out the size and number of compartments.
Many travelers like separate compartments to help organize their belongings. Some compartments are zippered; others are not. (Also, look at the quality of the stitching and zippers.) Also bear in mind that additional pockets and zippers can also add weight.
Sometimes, mesh pockets and/or elastic bands are stitched into the kit to hold objects in place. Having see-thru compartments makes it easier to know what's inside.
---
Hangers and Handles
Kits with a hanger offer the possibility of placing the kit on a hook or towel bar so it's out of your way, especially in small bathrooms with no counter space or when you're traveling with a partner.
Having a small side loop or handle can be another "handy" feature.
---
Dopp Kit Weight
Given luggage weight restrictions, it isn't prudent to choose a heavy Dopp kit.
If it's heavy when empty, it's going to be a lot heavier when filled with your sundries.
I would opt for a Dopp kit that weighs less than a pound unfilled.
This attractive Longchamp Boxford Dopp kit comes in brown, blue, or black with a leather trim.
This spacious case has two zipped compartments and a washable interior with a convenient handle at the end.
It weighs in at just over 10 ounces and makes a lovely gift.
---
Dopp Kit Appearance and Design
Some more costly Dopp kits come in posh leathers with designer logos or labels. They may offer monogrammed nameplates and come in a choice of colors. While they serve the same basic function, these kits offer a "feel-good factor" for those who can afford them.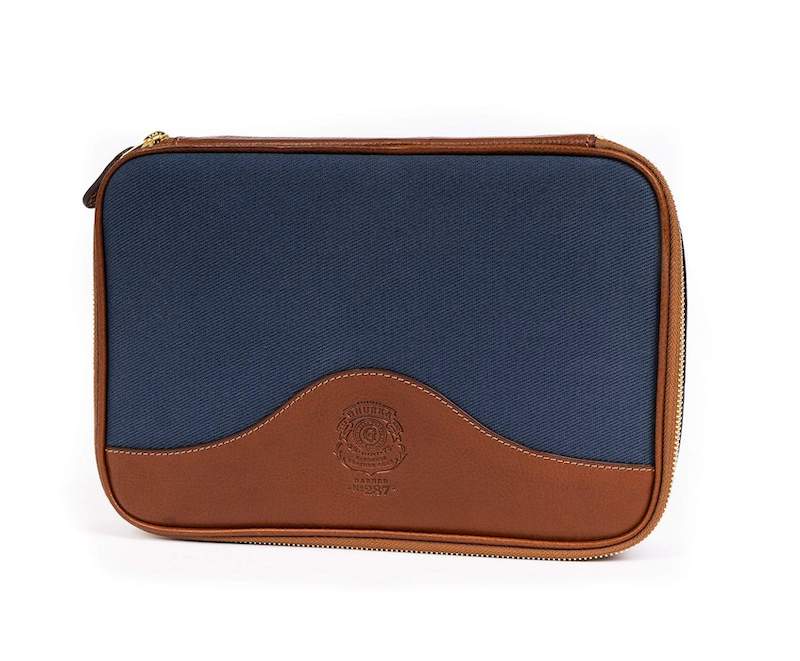 Retailing at over $300, the Ghurka Barber No. 287 Toiletry Bag is a high-end designer Dopp kit.
---
Finding the perfect fit
Many years ago, my husband invested in a ballistic nylon Dopp kit made by Hartmann. It's no longer available but it has stood the test of time and use.
He's carried it all over the world and always remarks how much he loves it. It has a split design that opens in the middle with two zippered compartments on each side.
The bottom line: Choose a Dopp kit that you love and it will become a regular travel companion.
---
Also on MoreTimeToTravel.com
Best Travel Accessories for Men: 35 Great Gifts for Travelers
---
Save to Pinterest!!