Unique Advent Calendars for Travelers 2023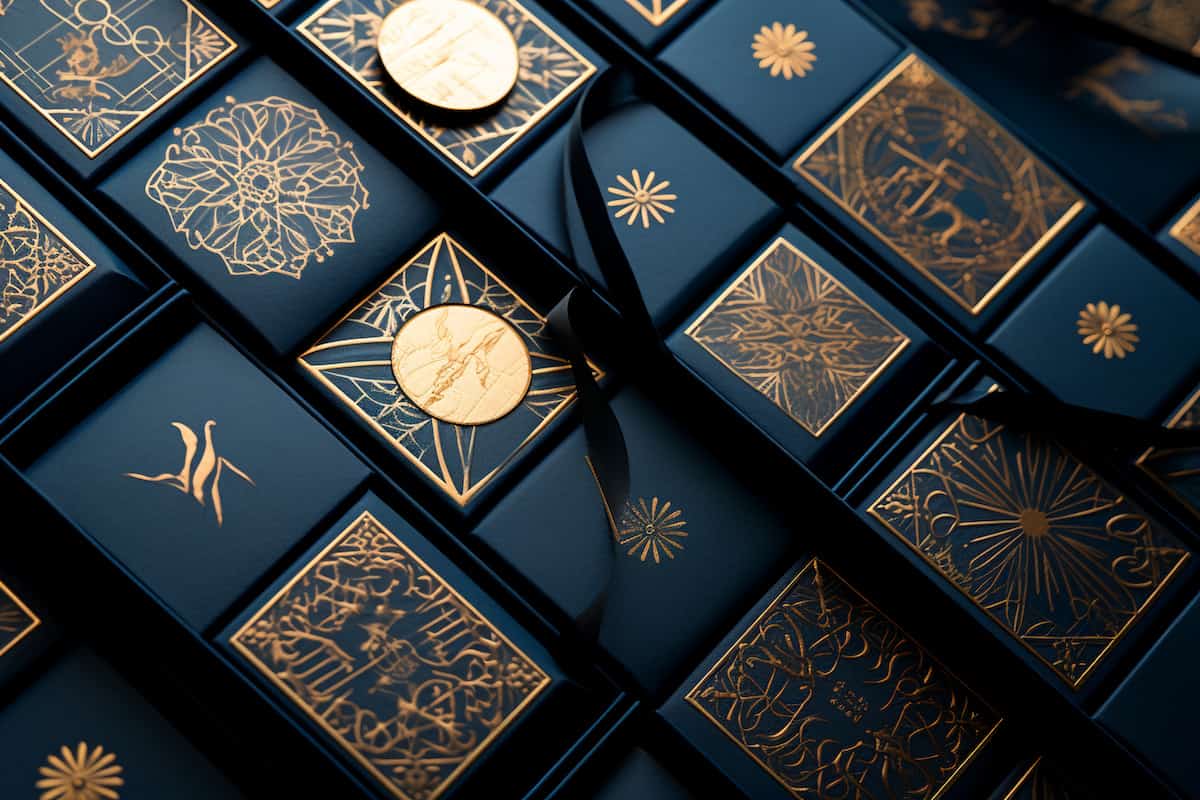 We have curated a list of our favorite advent calendars for travelers. We think we have chosen ones that are truly evocative of a sense of place: Without a passport or long security lines, they effortlessly transport you to destinations you've already visited or ones still on your bucket list.
It's hard to resist the whimsy of an advent calendar that is full of daily surprises. That's what makes them a perfect holiday gift for friends and family—-or even a luxury indulgence for yourself. (To be honest, as I created this list, I couldn't resist the temptation to purchase a few myself).
An article in The Washington Post points to the explosive growth in the market for advent calendars, which are even popular among non-Christians.
It's not surprising. There are calendars designed to appeal to every age and every passion, from countdowns of edibles to fragrances, and we've even seen advent calendars for humans of every age (as well as pets). Sometimes, their packaging is almost as appealing as the contents.
"Buying yourself a gift—really, 25 little gifts—has gone from selfish to self-care, a catchall term that originated in medicine but can now often be used to describe spending money on personal pleasures," writes Maura Judkis in The Washington Post article.
Advent calendars work a bit of marketing magic, too. Once the gift recipient experiences the samples, they will likely find some favorite products to buy or use throughout the year. For that reason, the value of some advent calendars far exceeds their cost to the consumer.
For the uninitiated: When does Advent start this year?
This year, the countdown to Christmas begins on the first Sunday of Advent, December 3, 2023, considered the beginning of the new liturgical year.
In terms of their history, the earliest advent calendars were used in 19th-century Germany, with 24 days of Bible verses.
Tips for purchasing and using an advent calendar
Get an early start. The most popular advent calendars sell out quickly, and shipping may take extra time.
If the current year of your favorite advent calendar (2023) isn't on the website or says its out of stock, check back frequently for new postings.
Some vendors allow you to put your name on a waiting list or to register for presale.
Some companies have limits on the number of calendars that can be purchased by one individual.
Sometimes, you can get a deep discount for ones from prior years. Some sales also may appear in mid-December if sales aren't going as well as expected. Be sure to check the year of your purchase.
Purchase thoughtfully so you choose something that will be enjoyed and cherished by your gift recipient.
The

Better Business Bureau

warns to be aware of scams. They seem to crop up during the holiday season especially.

Be sure to p

urchase from reputable retailers; if the price sounds too good to be true, it probably is.
When you (or the giftee) begin opening the calendar doors, remember to start with #1 and go in sequence.
---
This post contains affiliate links. This means that I may receive compensation if you click a link at no additional cost to you. For more information, please read my privacy and disclosure policies at the end of this page.
---
Advent Calendars for Travelers
We've scoured the internet, and our list of unique advent calendars for travelers includes finds from France, England, Italy, Scotland, Belgium, Germany, Denmark, Israel, Switzerland and India.
---
Advent Calendars That Transport You To France
Bonne Maman Advent Calendar
Bonne Maman is a French brand of jam, marmalade, compotes, desserts, cakes, and biscuits. Privately owned by the Andros family, the company was founded in 1971 in Biars-sur-Cere, a small village in southwestern France.
The name "Bonne Maman" derives from a term of endearment used for French grandmothers. The jams are instantly recognizable by their red gingham covers that are hard to throw away. Many people have dozens collected in their cupboards.
The 2023 Bonne Maman Advent Calendar includes 23 miniatures of unique spreads and one of honey. Some of the flavors, like cinnamon, raspberry chocolate and lemon yuzu, are only available during the holidays.
Diptyque Advent Calendar
We were smitten with the scent outside the spa's lobby when we recently visited the Ritz-Carlton New York Central Park. We asked and learned that it was a fragrance from Diptyque.
The French perfume house, famous for its candles and fragrances, was founded in 1961 at 34 Boulevard Saint-Germain in Paris.
The spectacularly packaged Diptyque Advent Calendar, which glows in the dark, includes 13 candles, a selection of eaux de toilettes, perfume, body balm, and ornaments.
L'Occitane Holiday Classic Advent Calendar
Based in Manosqu, in southeastern France, L'Occitane is a French luxury retailer of body, face, hair, fragrances, and home products.
This L'Occitane Holiday Classic Advent Calendar will fill your home with the scents of Provence. The product includes 24 fan favorites, including soaps, lotions, and seasonal surprises.
Fauchon French Sweet Advent Calendar Gift Box
Fauchon is a Paris epicenter for gourmet gifts, including its chocolates.
The French Sweet Advent Calendar Gift box includes 24 traditional French confections that will appeal to the palate of any sweet lover. The assortment includes a broad range of flavors and textures, from milk caramel Neapolitans to raspberry calissons from Aix-en-Provence and more.
Palais de Thés Tea Bag Advent Calendar
This French tea house was founded by François-Xavier Delmas and a group of 40 friends who decided to source their tea from growers.
The Palis Des Thés Advent Calender offers 25 different tea bags with flavored blends, single estate teas, or infusions. All the tea bags in this holiday assortment are hand-stitched in cotton and individually wrapped in foil.
Sisley Advent Calendar
The Sisley brand took shape in 1976, with all of its products designed and developed in France. The company's headquarters are based in Paris.
This is the very first Sisley Advent Calendar. It was designed by Sisley founder Isabelle d'Omano. The 25 drawers In this stunning case contain skincare, makeup, haircare, and fragrance products, many of which are full-size.
---
Advent Calendars That Transport You To England
Papier Stationary Advent Calendar
From the time I was a child, I always loved (and collected) paper of all kinds. Perhaps, that's what started my writing career.
Founded in Britain in 2015, Papier is an online brand of personalized stationery and other luxury paper products. The Papier Advent Calendar is the company's first advent calendar.
This stunning multilayered box is brimming with 25 individually wrapped treasures whose value far exceeds its cost. (I don't want to spoil the surprise by revealing the contents that await your discovery each day before Christmas.)
The perfect gift for paper lovers (like me), the packaging makes as lovely a presentation as the contents. All the company's products are sustainably sourced paper and recyclable.
Ilchester British Cheese Advent Calendar
This delightful Advent Calendar by Ilchester® British Cheese will please any cheese lover and/or vegan.
In 1962, Ken Seaton, proprietor of a bar in Somerset (in South West England) discovered that his customers loved dipping cheddar cheese into their fine English ales. A buyer from Harrods sourced the "beer cheese" for the luxury department store and the brand was born.
This year's calendar is shaped like a house with 24 individually wrapped cheeses behind each door. In addition, the calendar includes jokes, cheese facts, pairing suggestions, and other tips.
Whittard of Chelsea Hot Chocolate Advent Calendar
Whittard of Chelsea has more than 50 shops in the UK (and one in Taiwan) and is most famous for its teas. The British chain was started by Walter Whittard in 1886, and remained in the same family until 1996, selling tea, coffee, and other products.
Behind each advent door, chocolate lovers will find two servings of 12 different hot chocolate flavors packed in 48 sachets. These include milk chocolate, dark chocolate, black cocoa, and white chocolate.
The hot chocolate comes in a powder form and is recommended to be made with milk (as opposed to water) for the perfect creamy cup.
Harrods of London Beauty Advent Calendar
This Harrods Beauty Advent Calendar is filled with luxury makeup, skincare, and fragrance products, including 21 full-size ones. The makers include Augustinus Bader, Charlotte Tilbury, Dr. Barbara Sturm, 111SKIN, and Acqua di Parma.
The total value of the products is £1,173 (about $1,453.83).
Molton Brown Advent Calendar
This luxury British fragrance brand, born in a hair salon in Mayfair, London, achieved an excellent reputation. In 2012, the company was conferred with a Royal Warrant to supply toiletries by appointment of Her Majesty Queen Elizabeth II.
Decorated with a gold-foiled kaleidoscope of jeweled orange peel, nostalgic cinnamon, and beloved festive spices, the Molton Brown Advent Calendar includes 24 beloved Molton Brown products, including shampoo, fragrance, body wash, hand lotion, soaps and more, that await the gift recipient behind golden doors.
The stunning display is made of 100% recycled materials that are reusable. Although this is a pricey advent calendar, the contents is valued at almost three times its price.
---
Advent Calendars That Transport You To Italy
Venchi Prestige Advent Calendar
This venerable gourmet chocolate company dates back more than 140 years with roots in Turin (Piemonte), one of Italy's chocolate capitals, and has grown into a global powerhouse.
All these delectable chocolates are made with high-quality, natural ingredients; many feature hazelnuts and pistachios from the region that will appeal to anyone with a sweet tooth and/or a love for everything Italian.
The Venchi Prestige Advent calendar offers a selection of 25 Venchi chocolates, totaling 10.93 ounces, with drawers that contain Christmas pictures.
Perugina Baci Advent Calendar
The 100-year-old recipe for the iconic Perugina Baci Kiss is deliciously simple: fine cocoa and finely chopped hazelnuts blended to obtain a soft gianduia center, topped with a whole hazelnut, and covered with dark chocolate.
The Perugina Baci Advent Calendar includes 24 holiday truffles: classic dark, white, milk, and 70% dark gourmet chocolate weighing 10.58 ounces. Made from sustainably sourced cocoa, the chocolates are gluten-free.
Making the gift even more special, each truffle is wrapped in a starry wrapper with a hidden love note.
---
Advent Calendars That Transport You To Scotland
Walkers Shortbread Cookie Holiday Advent Calendar
Walkers all-butter shortbread cookies are a product made in the Highlands in northeast Scotland. Joseph Walker founded the business there as a small village bakery in Aberlour, Speyside, in 1898.
Still family-owned and operated, his grandchildren and great-grandchildren follow the same tradition, using only four ingredients (butter, flour, sugar, and salt) to make these delectable cookies, packaged in an iconic red plaid.
Walkers Shortbread Cookie Holiday Advent Calendar is one of Amazon's most perennially popular advent gifts. The 10.4 oz box includes 28 shortbread cookies in various shapes and flavors.
---
Advent Calendars That Transport You To Belgium
Neuhaus Chocolate Advent Calendar
A Swiss pharmacist, Jean Neuhaus, opened a Brussels boutique selling medicine and chocolate. But his son, Jean Neuhaus, Jr. is credited with inventing the Belgian praline in 1912, the name now used to describe any filled chocolate.
These premium chocolates are still made in Belgium. The cocoa used to make the chocolates is sustainably sourced and the chocolates are non-GMO and palm oil-free.
The imported pop-up Neuhaus Chocolate Advent Calendar includes 25 pralines with a total product weight of 11.4 ounces.
---
Advent Calendars That Transport You To Germany
German Musical Milk Chocolate Advent Calendar by Windel
With a reputation for quality, Windel GmbH is a famous German-based confectionery company founded in 1900.
This modestly priced Musical Milk Chocolate Calendar by Windel is the perfect gift for little ones, with one chocolate delight hidden behind each door for the days leading up to Christmas. The calendar plays "Jingle Bells" to add to the holiday spirit.
Exit: The Game Advent Calendar
Perfect for family fun with teens, this Exit: The Game Advent Calendar includes 24 unique escape room-style puzzles that help players (solos or groups) solve a mystery.
This Christmas-themed game, imported from Germany, was released this year. It is suitable for ages 10 and over.
---
Advent Calendars That Transport You To Denmark
Lakrid by Bulow Gourmet Licorice Advent Calendar
Since 2007, Bulow Gourmet has been creating Danish licorice with the aim of inspiring the world to embrace this Nordic specialty. It all began at a small shop in Svaneke and grew from there.
The licorice is cooked at a "green" factory in Copenhagen that is powered by wind energy. And the company sources all its ingredients from the best suppliers in Denmark and worldwide.
The Lakrid by Bulow Gourmet Licorice Advent Calendar has individually wrapped two-packs of chocolate-covered licorice behind each of 24 doors, offering tastes of various tempting flavors.
---
Advent Calendars That Transport You To Israel
Sabon Advent Calendar
Sabon claims the Dead Sea as its birthplace. In business since 1997, Sabon creates Mediterranean-inspired beauty products and home scents.
The 24-day Sabon advent calendar includes 31 products worth $364, almost three times the price of the calendar. It includes new and full-sized products along with travel items. While you are on the site, be sure to check out the company's Surprise Sale with discounted prices.
---
Advent Calendars That Transport You To Switzerland
Lindt Advent Calendar
Lindt & Sprüngli AG is a Swiss chocolatier, best known around the world as Lindt Chocolates. Founded in Zurich in 1845 by David Sprüngli, it opened a Home of Chocolate in Kitchberg (a chocolate museum) in 2020.
Designed to appeal to kids of all ages, the Lindt Advent Calendar includes 24 of the company's most iconic holiday novelties.
---
Advent Calendars That Transport You To India
VAHDAM Advent Calendar Tea Bags
Said to be Oprah's favorite tea, VAHDAM® India travels all over the country, handpicking high-quality farm-fresh teas and spices, sealed at the source to retain their aroma and potency.
The VAHDAM Advent Calendar includes 24 luscious blends packed in pyramid-style, single-serve tea bags housed in a beautiful gift box.
---
Advent Calendars That Transport You To Spain
Can Bech Just for Cheese Advent Calendar Gift Box
Born as a restaurant in 1981, one of Can Bech's most famous dishes was cheese with candied figs. From that, it developed a popular line of cheese and fruit pairings.
In this Just for Cheese Advent Gift Box, Can Bech has curated 24 special sauces to creatively complement different types of cheese pairings. The cheeses aren't included, but you can also purchase Spanish cheeses from iGourmet.
A product of Spain, the box includes 24 1.28 oz jars that pair perfectly with blue cheese, fresh and soft cheeses, cured and hard cheese, and washed rind cheeses.
---
Have a sweet tooth? See my guide on Finding and Buying Italian Chocolates Online
---
Save to Pinterest!!
---