We've curated a list of some of our favorite travel accessories for men. We hope the list will be helpful to anyone planning a trip or deciding on the perfect gift for a friend, relative, or colleague who loves to travel.  
Although we are usually reluctant to make sweeping assumptions about gender, most men don't "accessorize" with colorful silk scarves and jewelry. Instead, when men choose travel accessories, their emphasis tends to be on electronic gadgets and items that are functional. 
We fully suspect that many women will likely find some of these travel accessories and gadgets just as appealing as men.
---
This post may contain affiliate links. This means that I may receive compensation if you click a link, at no additional cost to you. For more information, please read my privacy and disclosure policies at the end of this page.
---
BEST TRAVEL ACCESSORIES FOR MEN
ChargeTree Swing
This attractive charging "tree" can simultaneously charge three devices at once: A phone, AirPods/AirPods Pro, and an Apple Watch eliminating the need for multiple wires. My husband keeps it on his nightstand and affectionately calls it his Christmas tree. As soon as I saw his, I wanted one for myself.
What we like about ChargeTree Swing:
It is lightweight (8 ounces) and portable; it folds compactly for travel but is just as useful at home.
The design is contemporary and uncluttered with a small footprint, perfect for a desk or nightstand.
It comes in a choice of white or black; we chose white, which is less apt to collect dust.
You can swing the arm, so it faces you when sleeping (or trying to sleep:-).
It works with most Apple, Samsung, or Android phones.
You can charge your phone without removing its protective case (unless the case is metal).
The tree plugs into outlets with a USB-C to USB-C cable and needs a 20-watt wall charger.
Caveat: Make sure you have an AC  charger with a USB-C port to plug the cable into the wall; it doesn't come with one.
---
LG PuriCare Mini Air Purifier
We've been using an air purifier at home, both in our bedroom and in our home offices, to remove allergens and pollutants from the air. EPA guidance suggests that portable air filters can also help lessen the risks of airborne viruses.
Given that COVID is still a concern, we love this little air purifier for travel that gives us some peace of mind. Ultra-compact, it's about the same size and weight as a water bottle.
What we like about the LG Mini Air Purifier
The compact size (about 3"x3"x8") and relatively lightweight (1.17 pounds) make it extremely portable, and perfect for use in a hotel room or bedroom in a rental property. Some people even use it in rental cars.
It's attractive with a convenient saddle-color leather handle strap.
A four-color display on the air purifier alerts you to the air quality in your room.
It's Bluetooth enabled so you can sync it to your smartphone to monitor battery level, filter information, and more.
It comes with the necessary lithium-ion battery.
Caveat: Although great for a road trip, when we are packing for a trip overseas, we have to seriously think about whether or not to add the weight of the purifier to our suitcase.
---
Philips One by Sonicare Battery-Operated Toothbrush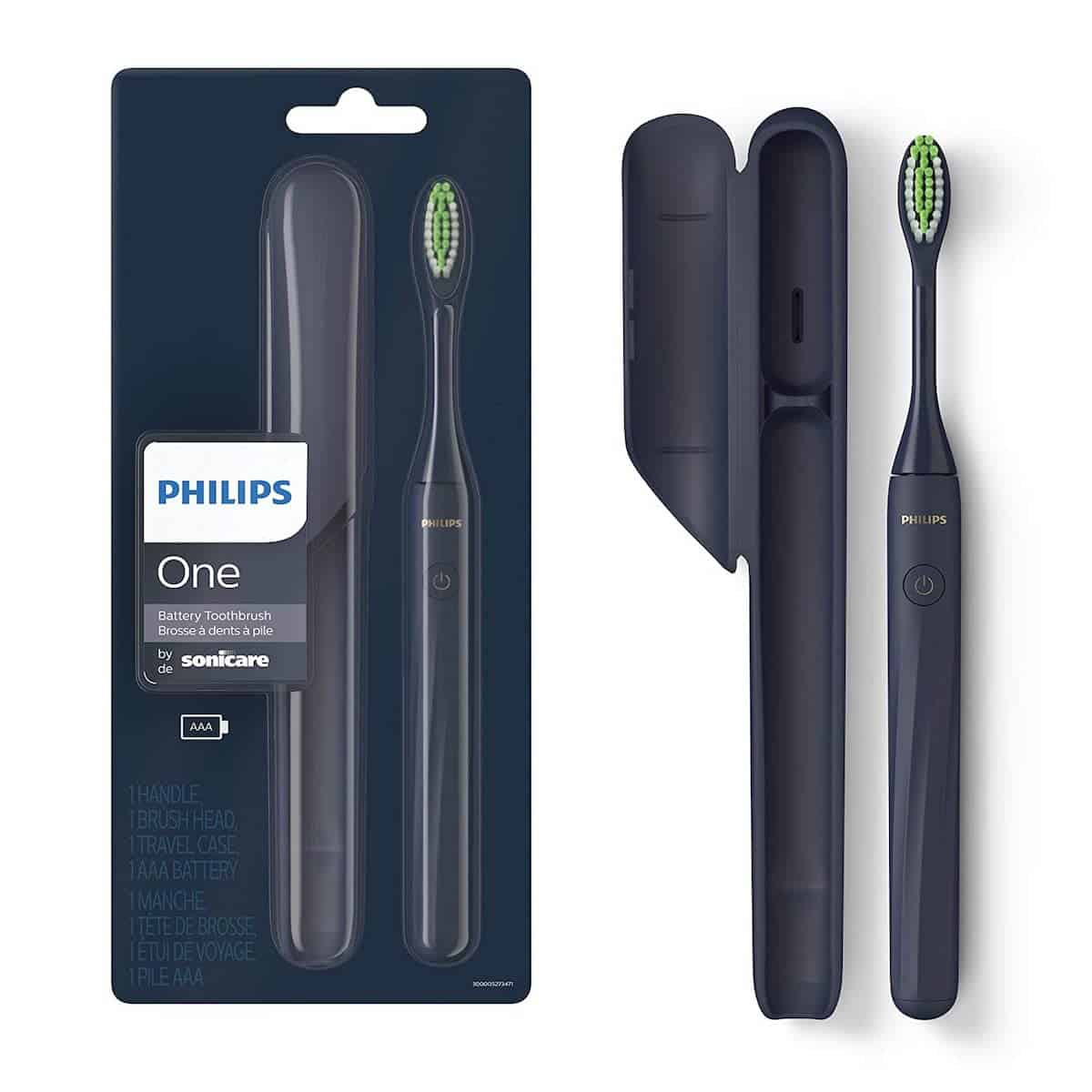 We are addicted to our electric toothbrushes at home but often wondered whether we should travel with them because they take up so much room. This portable, battery-operated toothbrush solves the to-take or not-to-take dilemma. Its size and weight (less than 4 ounces) make the decision a no-brainer.
What we like about Philips One by Sonicare Battery-Operated Toothbrush:
It comes in a sleek travel case to keep it protected and hygienic.
The case protects the toothbrush from cleaning solutions that housekeepers use in hotel bathrooms.
It comes with a AAA battery that lasts up to 90 days, long enough for our lengthiest trips.
Like our electric toothbrushes at home, it has a timer to remind you to use it for at least two minutes.
The brush heads are replaceable.

 
It comes in a rainbow of eye-catching colors, so if more than one person shares a sink, the brushes won't get mixed up.
Caveat: The brush is probably not as powerful as the one you have at home so don't expect it to vibrate the same way.
---
Vintar European Travel Plug Adaptor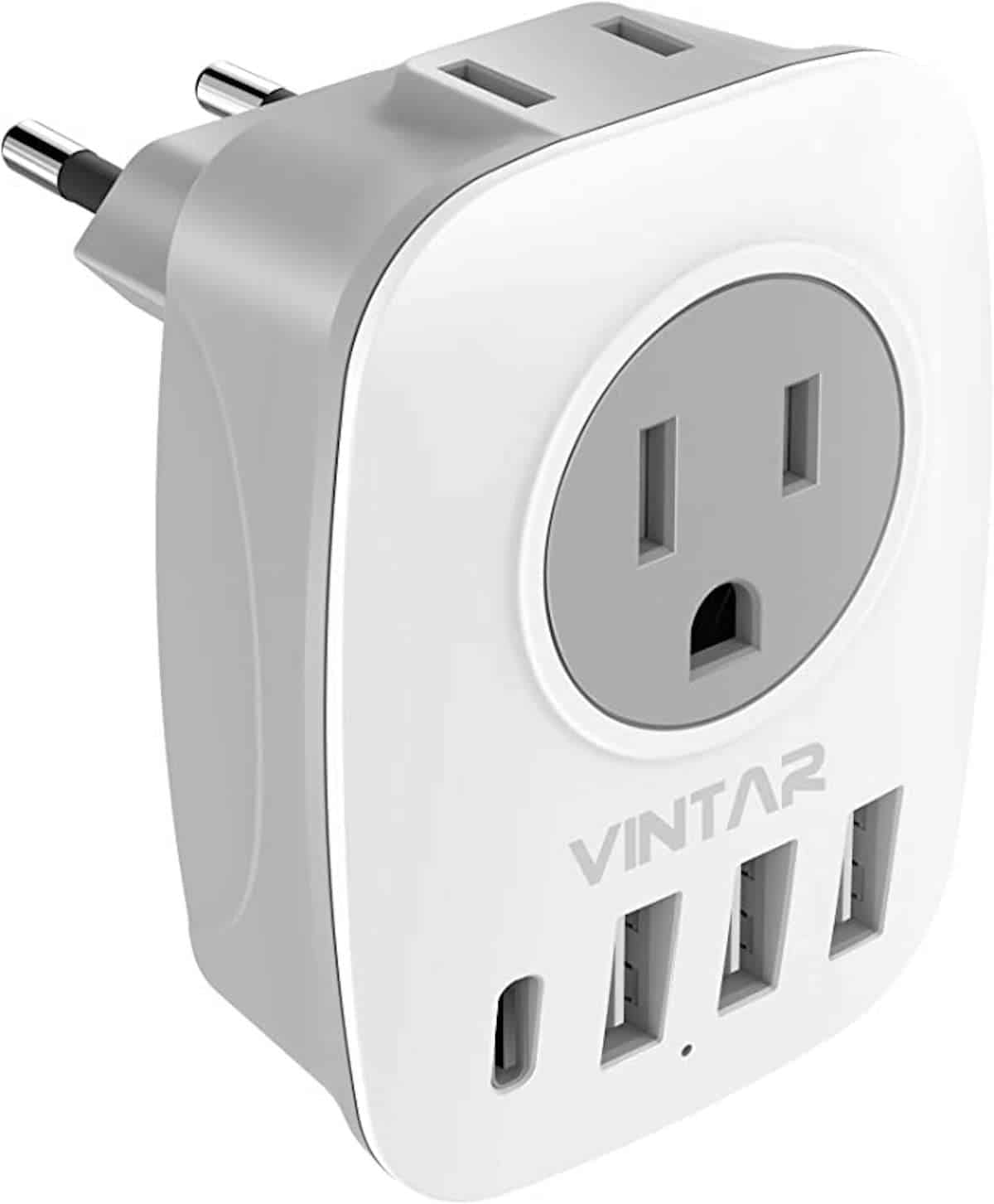 There are so many devices that you need when you're traveling, whether it's smartphones, camera batteries, iPads, iPods, Kindles, or something else. If your travels are taking you abroad, this handy travel plug adapter turns the European socket in your room into two standard American outlets (one grounded), three USB-A ports, and one USB-C charging port. 
What we like about the Vintar European Travel Plug Adapter: 
Compact and weighing less than three ounces, it's convenient to throw into a carry-on or suitcase.
The adaptor allows you to charge multiple devices at once.
The USB ports are compatible with most recent iPhones when using the appropriate lightning cable.
It will work in most countries; such as Austria, Belgium, Croatia, Denmark, Finland, France, Germany, Spain, Turkey, Iceland, Italy, Israel, Switzerland, and in Amsterdam.
Caveat: This is not a power voltage converter! It only functions with 110V-250V compatible voltage devices and can't be used for hair dryers, straighteners, electric toothbrushes, or razors.
---
AquaVault's ChargeCard
Whether you're traveling overseas or spending the day in the city, taking many photographs can quickly drain the battery on your smartphone. A portable, external charger helps avoid the risk of your battery dying when you have to make a call or navigate to another destination.
What we like about the AquaVault ChargeCard:
It is lightweight (2.2 ounces) and ultra slim, the size of a credit card. It can be easily stashed in a wallet, backpack, or pocket.
It offers ultra-fast charging.
You don't need to carry extra cables because it works with built-in USB-C, lightning, and micro USB charging cables.
It is compatible with Apple, Android, and most other smartphones.
Caveat: Although the charger is very thin, it probably won't fit into the slot in your wallet.
---
Eagle Creek Pack-It Essentials Kit
This set of three attractive and lightweight bags helps organize your luggage without adding any heft. It has an antimicrobial shoe organizer for dirty shoes, a medium bag with an internal divider to separate clean from dirty items, and a space-saving compression packing cube. 
What we like about the Eagle Creek Pack-It Essentials Kit:
Eagle Creek products are all made to last; the Essentials Kit has self-repairing zippers.
The poly fabric is ultra-lightweight and durable.
Buying a set is more cost-effective than making individual purchases. And you'll definitely want more than one! 
Caveat: Although these attractive bags come in a variety of colors, we tend to stay away from black. The bright ones are easier to find in your stuffed suitcase.
---
 Save to Pinterest!!
---