Best Travel Accessories for Men: 30 Great Gifts for Travelers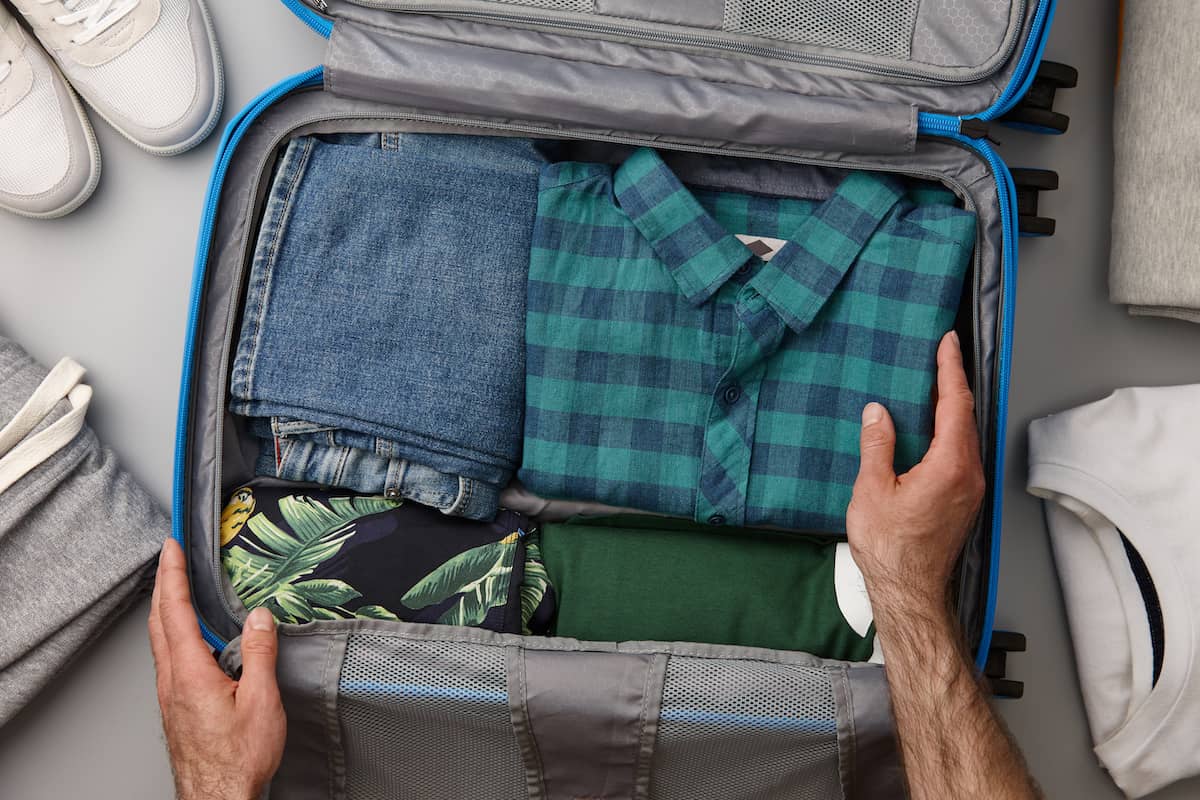 We've curated a list of some of our favorite travel accessories for men.
We hope the list of travel gear will be helpful to anyone planning a trip or deciding on the perfect gift for a friend, relative, or colleague who loves to travel.
Although we are usually reluctant to make sweeping assumptions about gender, most men don't "accessorize" with colorful silk scarves and jewelry. Instead, when men choose travel accessories, their emphasis tends to be on functional electronic gadgets and gear.
We fully suspect that many women will likely find some of these travel essentials and gadgets just as appealing as men.
---
This post with travel gear may contain affiliate links. This means that I may receive compensation if you click a link, at no additional cost to you. For more information, please read my privacy and disclosure policies at the end of this page.
---
BEST TRAVEL ACCESSORIES FOR MEN
1) Panasonic Travel Razor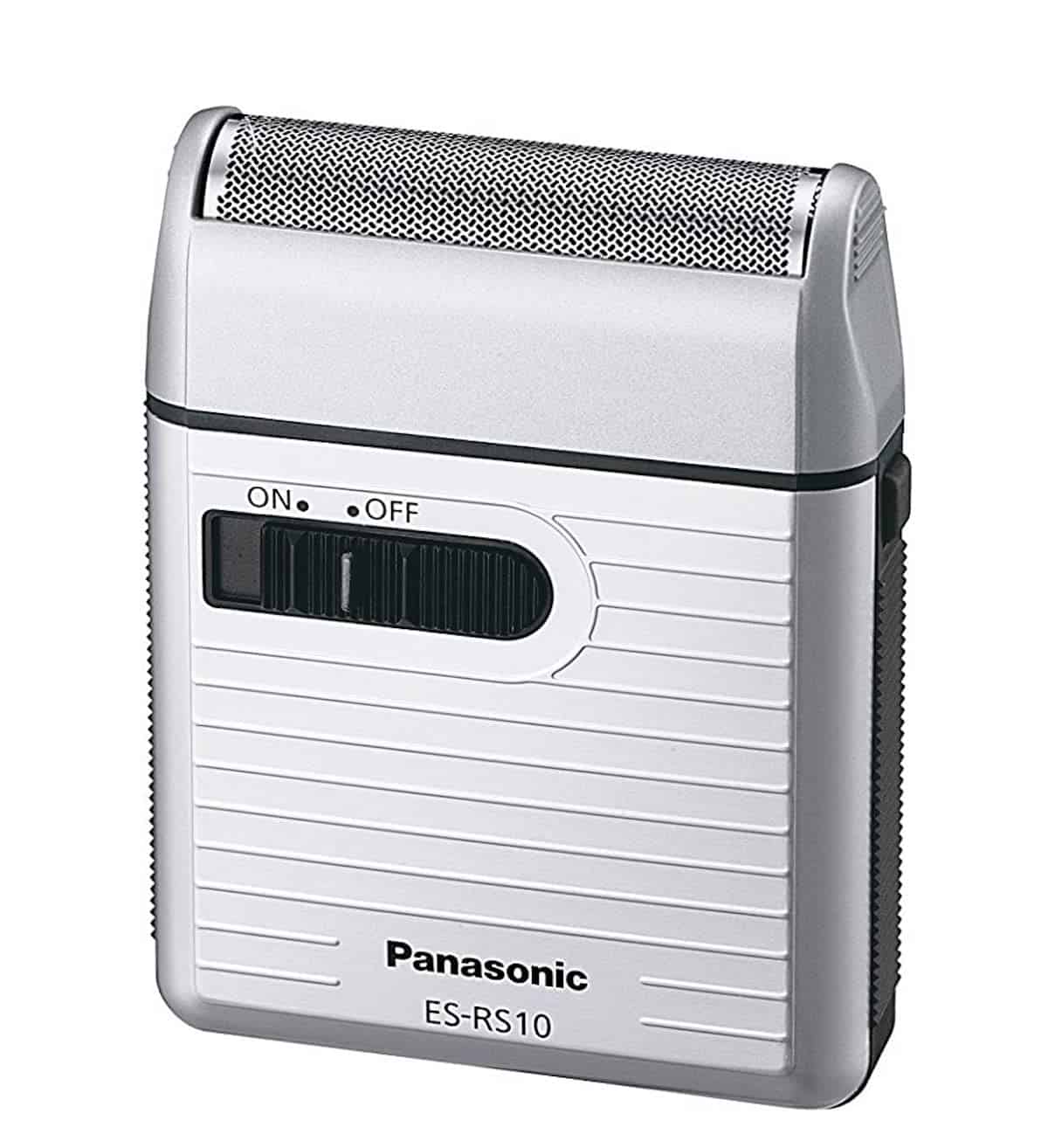 This compact, battery-operated shaver can be used on his face or on a beard and it is small enough and light enough (weighing less than 3 ounces) to stash in a bag or suitcase.
What we like about the Panasonic Travel Razor:
It's small but sturdy with a strong motor.
You won't need to bring the charger on most trips.
If you run out of batteries on the road without a charger, the AA batteries are easy to find and replace.
It comes with a plastic guard to protect the razor head but doesn't have or require a case. This means it is lighter and doesn't take up as much space as one with a case.
The price point is extremely competitive!
Caveat: The case is plastic but is very attractive and looks like metal.
---
2) Belkin BoostCharge Pro 3-in-1 Wireless Charging Pad with MagSafe
When you're traveling, you are likely too tired to plug in all your devices for charging when you finally get to bed.
With this new, sleek magnetic fast charging pad, you can conveniently charge three Apple products (your iPhone, Apple Watch and EarPods) by just placing them atop this device.
What we like about the Belkin BoostCharge Pro 3-in-1 with MagSafe
It's compatible with newer iPhones (12, 13, and 14) models and Apple watches Series 1-7.
Removing your MagSafe cover (case) from your phone is unnecessary.
The pad is compact, modern, and sleek, and is available in black or white.
You can place your watch flat on the pad or adjust it to a nightstand mode.
You can position the charger at whatever angle you want (if, like me, you can't resist checking your devices at night).
Its lay-flat design makes it easy to pack.
Whether you're at an airport, on a plane, or lying in bed, it will charge your phone from 0-80% in about 45 minutes.
We love Belkin products, and this one comes with a two-year warranty.
Caveat: Like most good chargers, it will add a little heft to your travel load; it weighs 22.8 ounces.
---
---
3) Lil Nipper Automatic Nail Clipper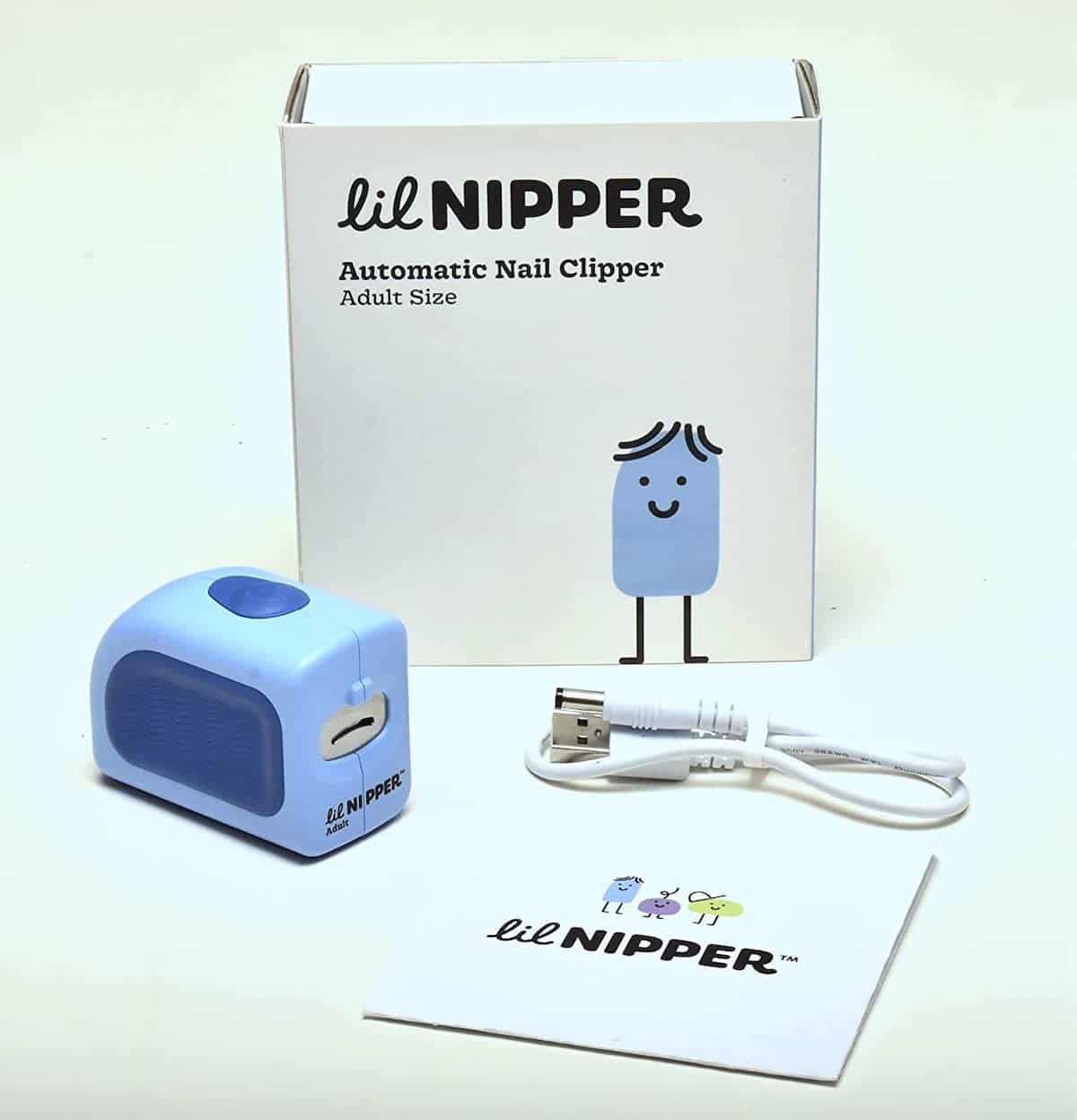 To be honest, we had never heard of an automatic nail clipper and after we did, we had doubts that it would really work. But this little gadget, perfect for travel, is truly amazing.
If you are right-handed, did you ever try to clip the nails on your right hand? It's tough. And being a lefty doesn't make it any easier on your left hand.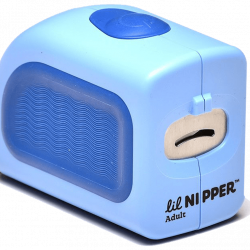 If you have the slightest bit of hand arthritis, clipping nails on either hand can be challenging.
What we loved about the Lil Nipper:
It truly is compact and little, about

2.5 x 1.25 x 1.75 inches, and easy to fit in a toiletry kit.
The gadget catches clipping in a hidden mess-free compartment that opens for disposal.
It is antimicrobial to reduce the spread of germs and bacteria.
When you turn the Lil Nipper on, a small LED light turns on automatically to help you see what you're doing.
The rechargeable battery lasts for about 50 charges so you don't have to worry about bringing the cord on your trip.
It really works well and doesn't require sharpening.
Caveat: We wish it came with a little glass file although it does a pretty good job of clipping so your nails are snag-free.
---
4) Kindle E-Reader
Even the most voracious reader doesn't want to lug heavy books or even a stack of paperbacks on a trip.
A Kindle e-reader makes it easy to download his favorites and have them with him when he encounters unexpected travel delays, is on a long-haul flight, or is relaxing at a hotel or resort.
What we like about the new 2022 Kindle:
It's the lightest and smallest Kindle yet, weighing in at less than 6 ounces. It is compact at 4×6 inches.
It comes with a charging cable.
The battery doesn't need frequent charging and can last up to six hours.
It's one of the most inexpensive Kindles available, a good choice for people who haven't had Kindles before.
It's the antidote for aging eyes because the size of the text can be adjusted. No book can do that!
Because the device is backlit, it's perfect for reading in bed without bothering a companion.
Caveat: Reading books can be addictive. You do have to purchase e-books for download but many public libraries offer them for free.
---
5) Gonex Dopp Kit Travel Toiletry Bag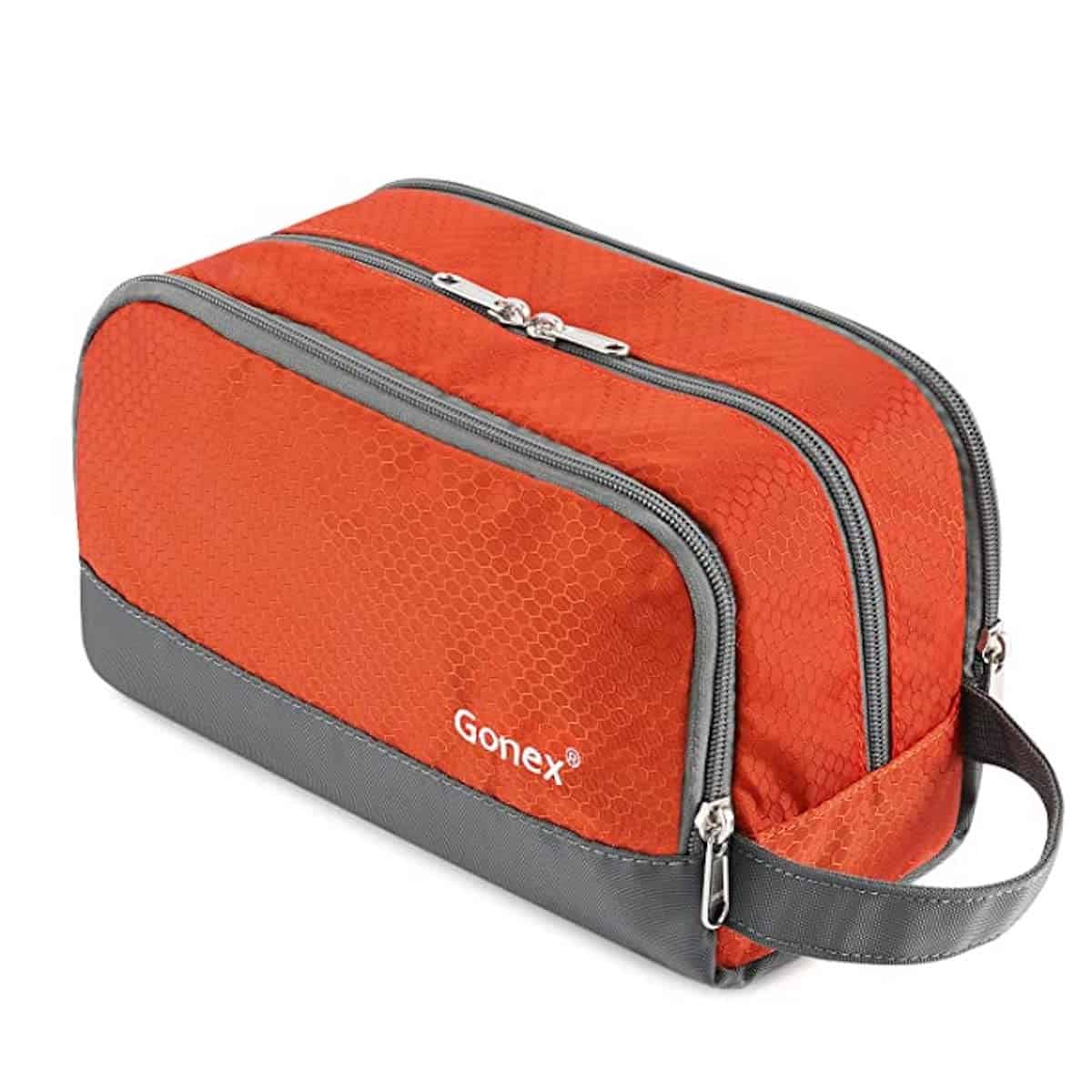 What we like about the Gonex Dopp Kit:
Dopp kits (travel bags used to stash toiletries) come in all shapes, sizes and colors. Their main role: Keeping your personal care and grooming accessories separated so they don't spill or soil other things in your suitcase.
We love this one because it is ultra-light yet right-sized (10.23 x 4.72 x 5.7). It weighs about 4 ounces (unfilled, of course).
It has three separate compartments. A mesh divider allows you to see your smaller toiletries in one compartment; the larger compartment is perfect for holding shampoo, deodorant, toothpaste or other larger items. The outside compartment is handy for your smallest items.
The nylon fabric is water resistant (in case you place it on a wet counter), the zippers are durable, and the side handle makes it easy to carry.
It comes in a rainbow of six different colors. We like the red one because it's easy to spot in a bag and is less likely to get left behind in a hotel bathroom.
Caveat: The toiletry kit is not waterproof (it's only water resistant) so be careful that any liquids placed inside are tightly closed.
READ MORE
---
6) Travelambo Minimalist Skinny Wallet
Unfortunately, travelers often have to worry about pickpockets, even at the most upscale locations.
Before a trip, it is also important to "prune and purge" your wallet so you are only carry the essentials. We have even made a list of at least 14 things you should take out of your wallet before you travel.
We like this minimalist slim wallet that fits into a front pocket, keeps you safe, and reminds you of the perils of pickpockets.
What we like about the Travelambo Front Picket Minimalist Slim Wallet
It is only .12″ thick, so it actually will fit in any pocket, although we recommend a front pocket for safety.
It's been RFID blocking tested.
Although small, it offers slots for 6 of your most frequently used credit cards/IDs and a place for your paper bills.
It is made of leather, comes in a variety of colors and is very inexpensive. We loved the texture of the wallet.
Caveat: If you overstuff it, it might make it challenging to get out individual cards.
---
7) National Parks Packing Cubes
If he's the outdoors type, he'll love these national parks packing cubes to stay organized on his trip. The set of 7 compression bags promises to save 30% of the space in a suitcase.
Additionally, they make it easier to spot your stuff because no two bags are the same.
The cubes are water-resistant, washable, and have reinforced zippers. They allow travelers to easily live out of their suitcases and protect their apparel if they are daredevils that place their belongings in hotel drawers.
---
8) Luggage Travel Cup Holder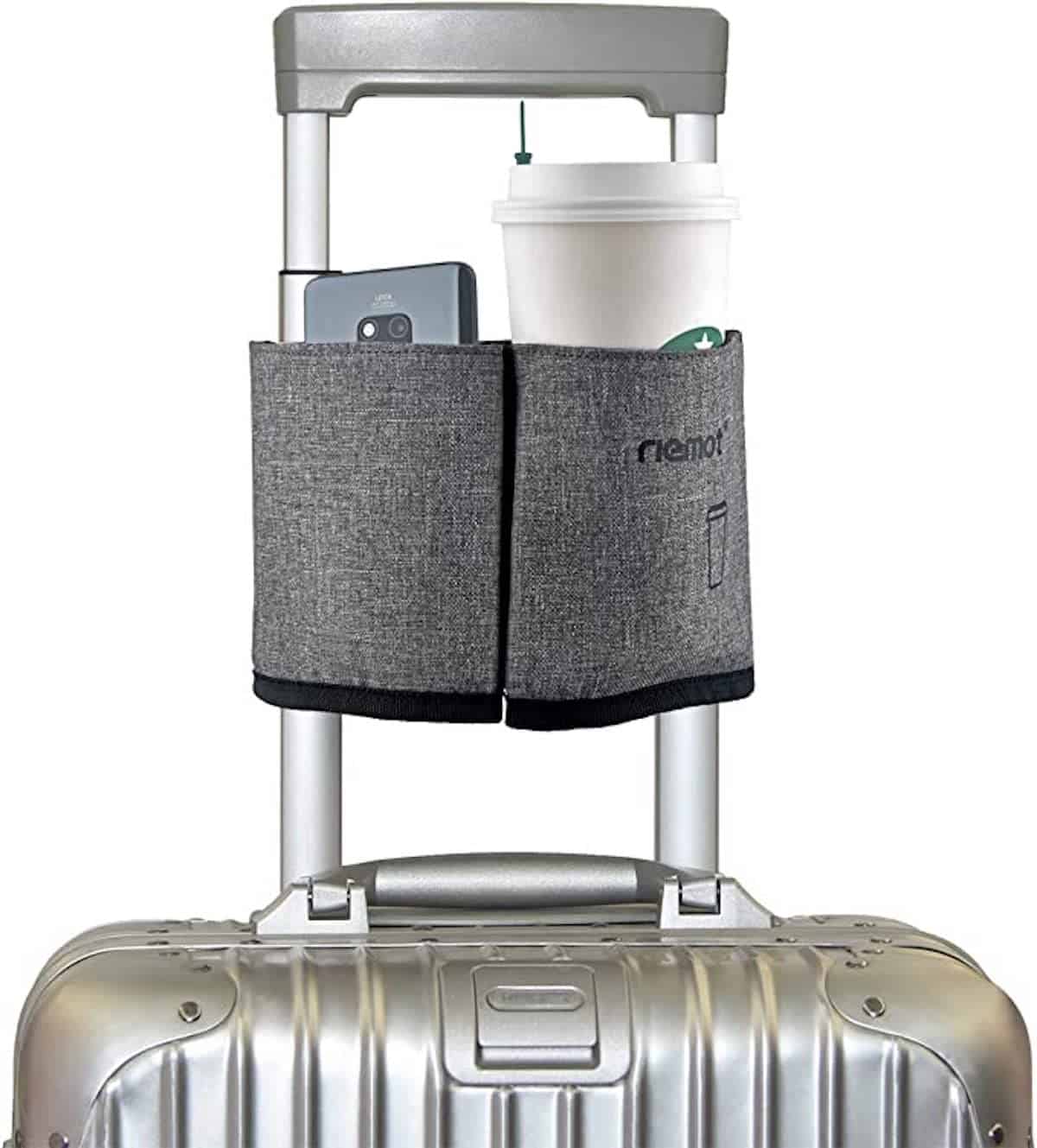 When you're rushing through an airport, you can never have enough free hands, especially if you tend to get thirsty. This convenient luggage cup holder is the solution: It will virtually give you two more!
The luggage cup caddy has three pockets. Two on the front fit water, soda bottles or coffee cups. The third and larger one across the back can hold your cell phone, passport, and other small things.
What we liked about the Luggage Travel Cup Holder:
It's adjustable so it fits most luggage, carryon or larger suitcase.
It's made of a durable, oxford cloth that comes in a choice of 25 colors and prints.
It's easy to attach to the telescoping handle of your rolling luggage.
Caveat: At a crowded airport, you need to keep your eye on any valuables you put in the holder.
---
9) MASKC K95 Mask
Even if the rules are changing and masks aren't required on most types of public transport, we have still been hearing about too many friends returning from a trip with COVID.
I initially found these masks for me, wow-ed by the beautiful colors and then appreciating them for comfort. Then I purchased a 10-pack of the black ones for my husband and these are his favorite go-to-masks.
What we like about MASKC K-95 Face Mask
Of course, first and foremost, we like the protection they afford. They can't keep you totally safe but even one-way masking significantly reduces the odds that you'll come down with COVID.
These masks may even protect you from colds and other viruses often resulting from long-haul flying. Unfortunately, even when passengers are too sick to fly, they do!
The masks hold up well with multiple uses.
They are lightweight and extremely comfortable to wear.
While they offer protection, they are small enough to keep handy in a shirt or jacket pocket.
The adjustable nose bridge is very comfortable.
Caveat: They are more expensive than surgical masks but far more protective and durable.
---
10) Passport and Vaccine Card Holder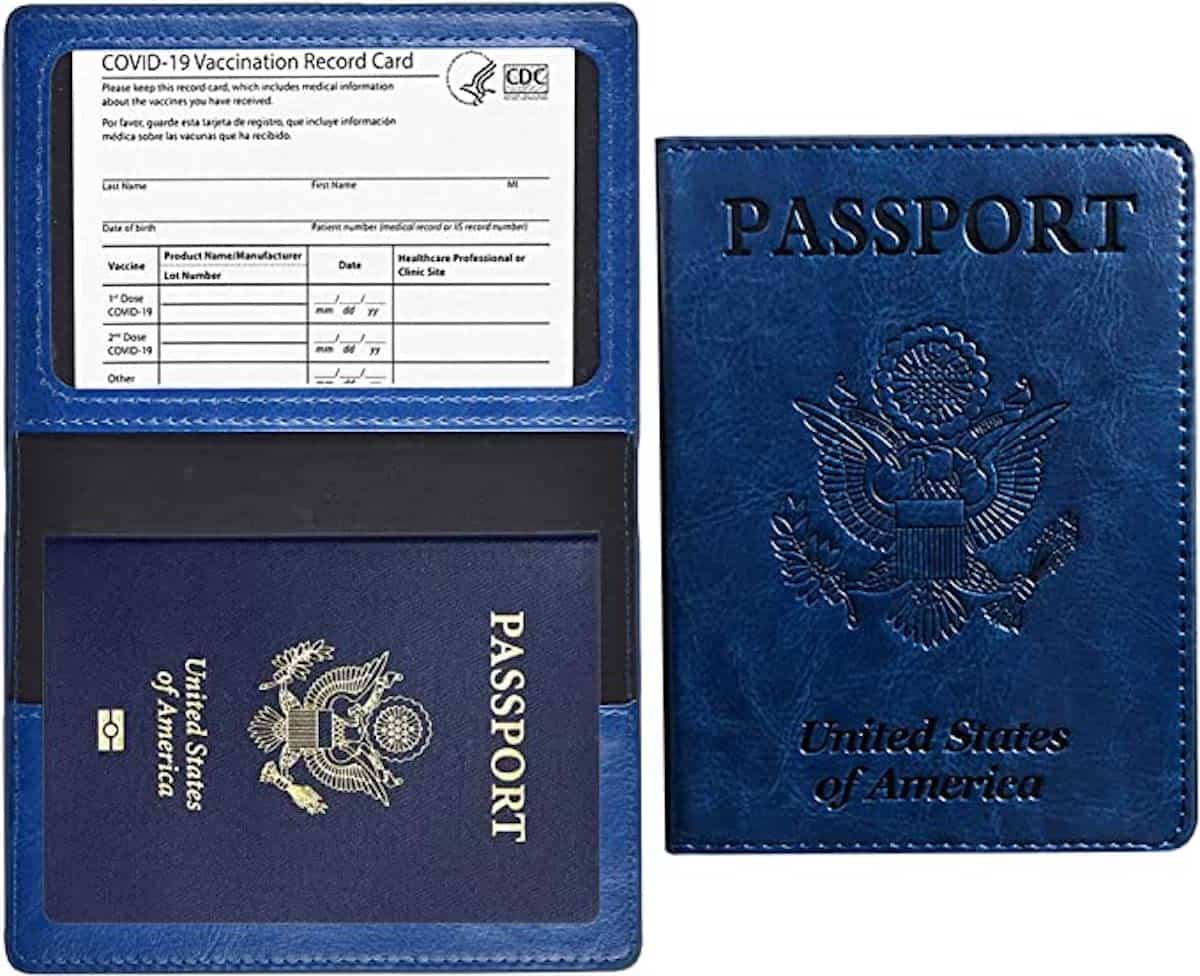 When you're traveling internationally, you may be asked to present your passport and/or.vaccine card.
It's great to have it in a holder that you can easily pull out of your pocket for inspection.
What we like about the Doulove Passport/Vaccine Card Holder:
The leather-like material is soft, durable and easy to grip.
It has a slim profile that easy to stash in a pocket.
It protects both your passport and the vaccine card from getting dirty or frayed.
It's not black! It comes in an array of colors that are easy to find when you're in a rush with a line of people behind you.
Caveat: The case doesn't offer RFID protection
---
11) LG PuriCare Mini Air Purifier
We've been using an air purifier at home, both in our bedroom and in our home offices, to remove allergens and pollutants from the air. EPA guidance suggests that portable air filters can also help lessen the risks of airborne viruses.
Given that COVID is still a concern, we love this little air purifier for travel that gives us some peace of mind. Ultra-compact, it's about the same size and weight as a water bottle.
What we like about the LG Mini Air Purifier
The compact size (about 3"x3"x8") and relatively lightweight (1.17 pounds) make it extremely portable and perfect for use in a hotel room or bedroom in a rental property. Some people even use it in rental cars.
It's attractive with a convenient saddle-color leather handle strap.
A four-color display on the air purifier alerts you to the air quality in your room.
It's Bluetooth enabled so you can sync it to your smartphone to monitor battery level, filter information, and more.
It comes with the necessary lithium-ion battery.
Caveat: Although great for a road trip, when we are packing for a trip overseas, we have to seriously think about whether or not to add the weight of the purifier to our suitcase.
---
12) Easy-On, Easy-Off Slip-On Loafers for Breezing Thru Airports
Save time and the hassle of tying and untying sneakers when you're going through TSA Security at the airport. These Skecher Slip-On Loafers will also feel good on those long walks between gates.
What we like about the Skecher Loafers
They have a comfy memory foam insole.
They look smart, come in a choice of colors, and can even be worn at dinner without causing a distraction.
They're moisture-wicking when traveling in hot climates.
They're pretty lightweight to pack (12 ounces).
Caveat: Some people say they offer a snug fit (which also makes them less likely to slip off your feet) so you may want to size up.
---
13) Philips One by Sonicare Battery-Operated Toothbrush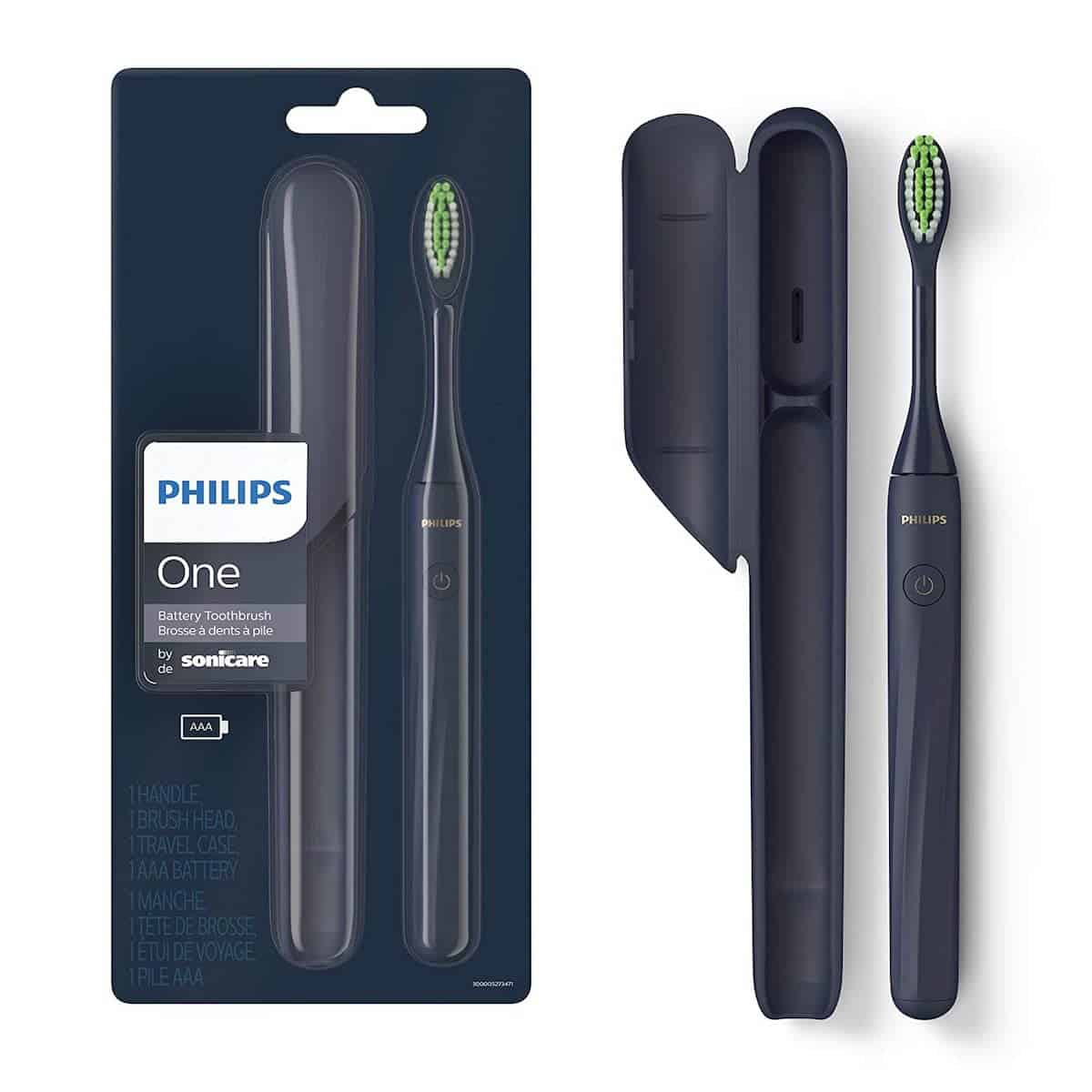 We are addicted to our electric toothbrushes at home but often wondered whether we should travel with them because they take up so much room.
This portable, battery-operated toothbrush solves the to-take or not-to-take dilemma. Its size and weight (less than 4 ounces) make the decision a no-brainer.
What we like about Philips One by Sonicare Battery-Operated Toothbrush:
It comes in a sleek travel case to keep it protected and hygienic.
The case protects the toothbrush from cleaning solutions that housekeepers use in hotel bathrooms.
It comes with a AAA battery that lasts up to 90 days, long enough for our lengthiest trips.
Like our electric toothbrushes at home, it has a timer to remind you to use it for at least two minutes.
The brush heads are replaceable.
It comes in a rainbow of eye-catching colors, so if more than one person shares a sink, the brushes won't get mixed up.
Caveat: The brush is probably not as powerful as the one you have at home so don't expect it to vibrate the same way.
---
14) Vintar European Travel Plug Adaptor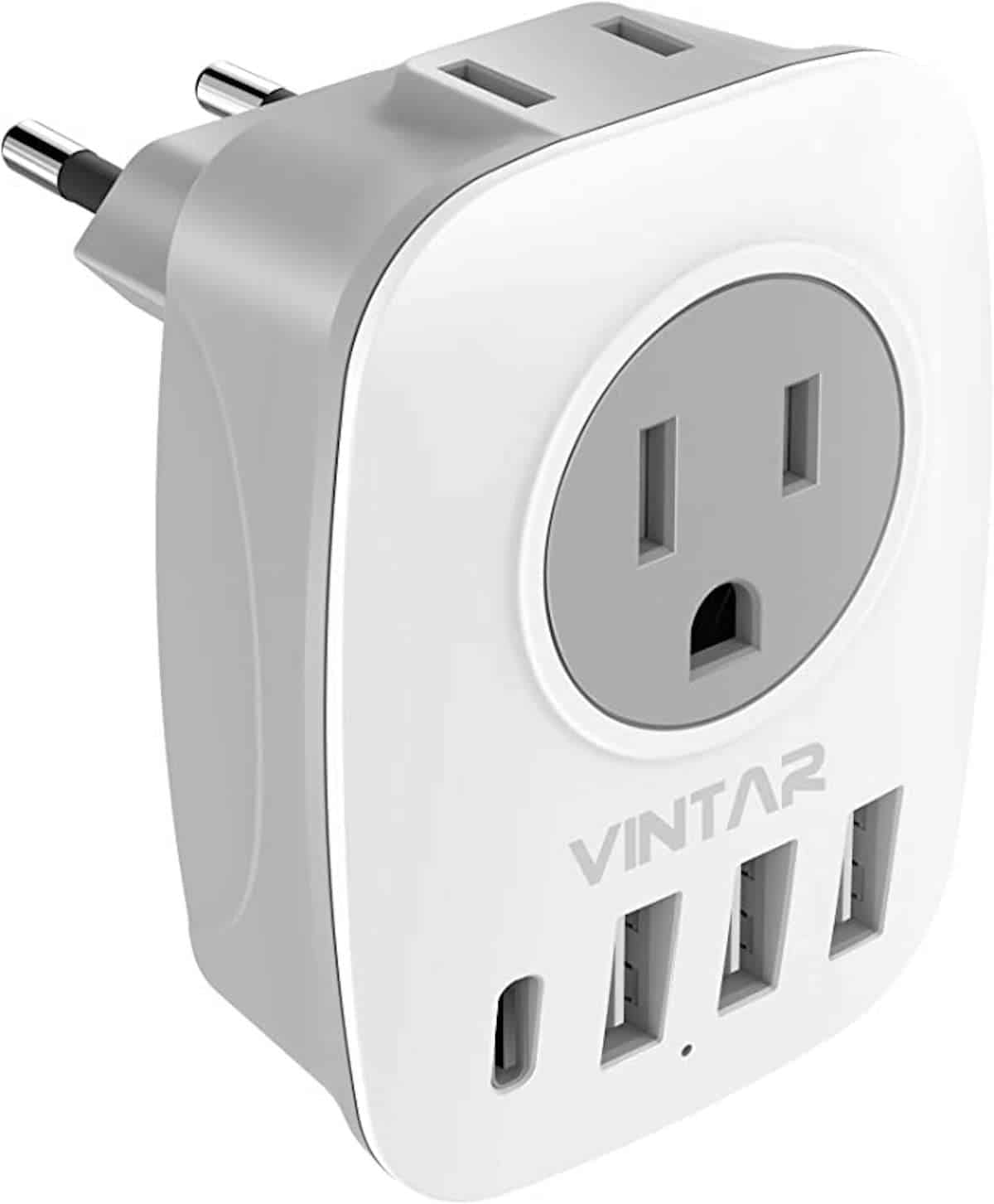 There are so many devices that you need when you're traveling, whether it's smartphones, camera batteries, iPads, iPods, Kindles, or something else.
If your travels are taking you abroad, this handy travel plug adapter turns the European socket in your room into two standard American outlets (one grounded), three USB-A ports, and one USB-C charging port.
What we like about the Vintar European Travel Plug Adapter:
Compact and weighing less than three ounces, it's convenient to throw into a carry-on or suitcase.
The adaptor allows you to charge multiple devices at once.
The USB ports are compatible with most recent iPhones when using the appropriate lightning cable.
It will work in most countries; such as Austria, Belgium, Croatia, Denmark, Finland, France, Germany, Spain, Turkey, Iceland, Italy, Israel, Switzerland, and in Amsterdam.
Caveat: This is not a power voltage converter! It only functions with 110V-250V compatible voltage devices and can't be used for hair dryers, straighteners, electric toothbrushes, or razors.
---
15) Voltage Converter with 4-Port USB International Travel Adapter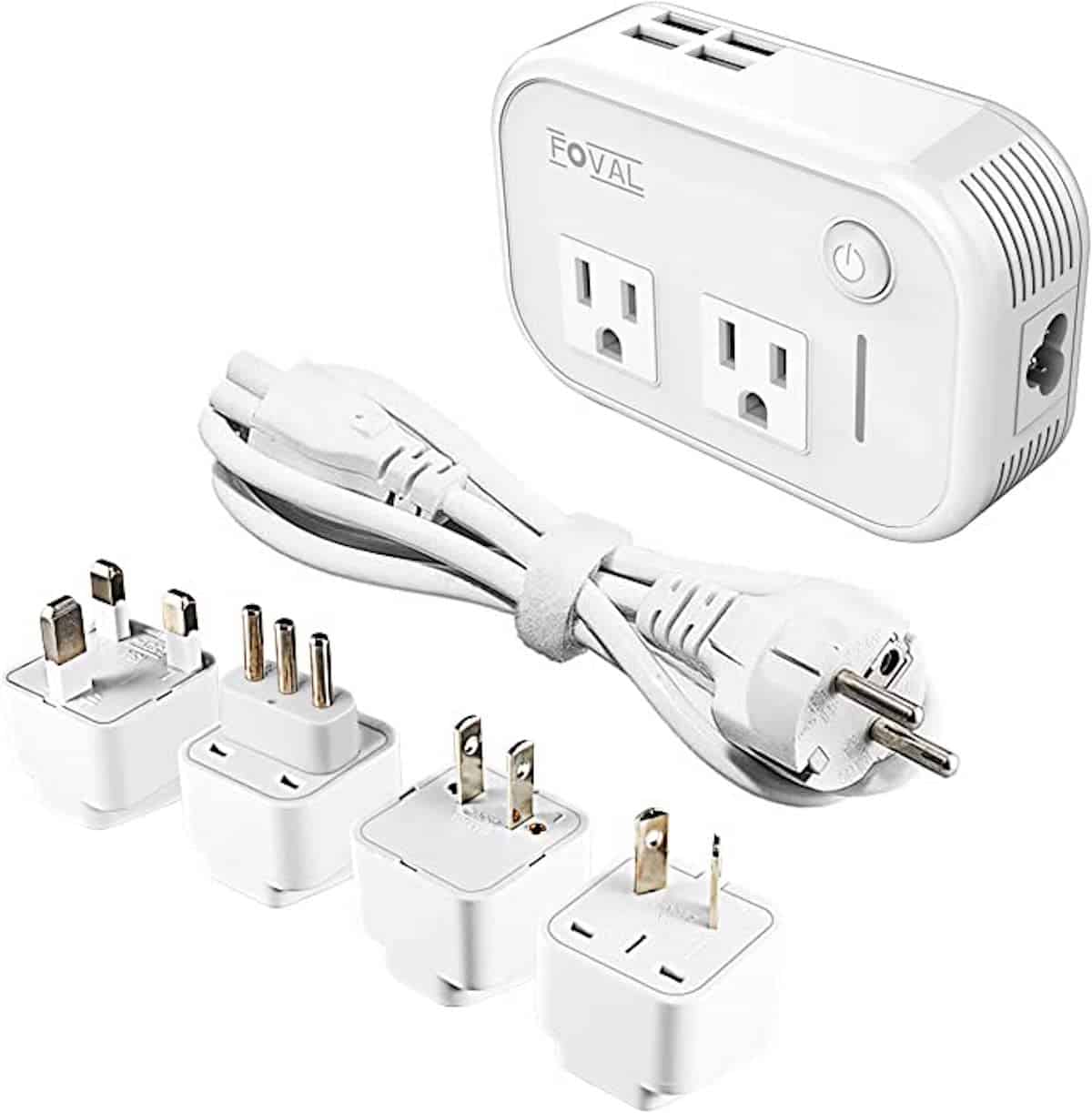 We wish we had brought this gadget on our last trip to Europe.
To use American devices overseas, you need adapters (to fit in outlets) and a voltage converter that steps down 220V to 110V. This gadget does both.
It can be used for hair straighteners, curling irons, hot air brushes, CPAP machines, game consoles, and electric shavers and toothbrushes.
What we like about the FOVAL travel voltage converter set:
This compact unit (only

4.8 x 3.1 x1 5 inches) is about the size of a passport so it's easy to pack (it weighs 1.1 pounds).
It comes with a 5-foot detachable power cable and travel bag.
A built-in fan protects the gadget from sudden surges and overheating.
It works in 150 different countries.
Caveat: You won't need to use this device if you already have dual voltage appliances (e.g., computers, some haIrdryers).
---
16) AquaVault's ChargeCard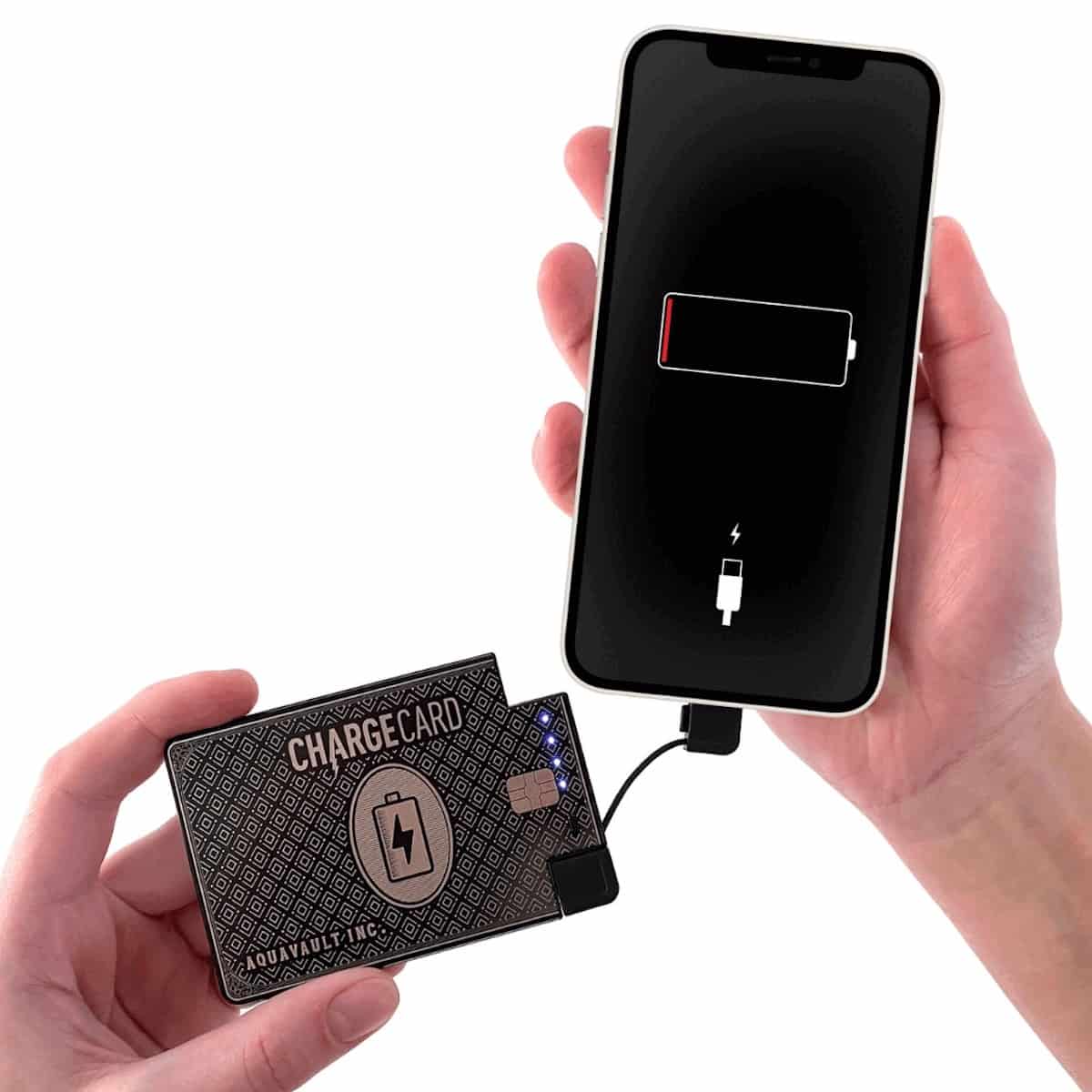 Whether you're traveling overseas or spending the day in the city, taking many photographs can quickly drain the battery on your smartphone.
A portable, external charger helps avoid the risk of your battery dying when you have to make a call or navigate to another destination.
What we like about the AquaVault ChargeCard:
It is lightweight (2.2 ounces) and ultra slim, the size of a credit card. It can be easily stashed in a wallet, backpack, or pocket.
It offers ultra-fast charging.
You don't need to carry extra cables because it works with built-in USB-C, lightning, and micro USB charging cables.
It is compatible with Apple, Android, and most other smartphones.
Caveat: Although the charger is very thin, it probably won't fit into the slot in your wallet.
---
17) C. O. Bigelow Travel Size Shaving Cream for Men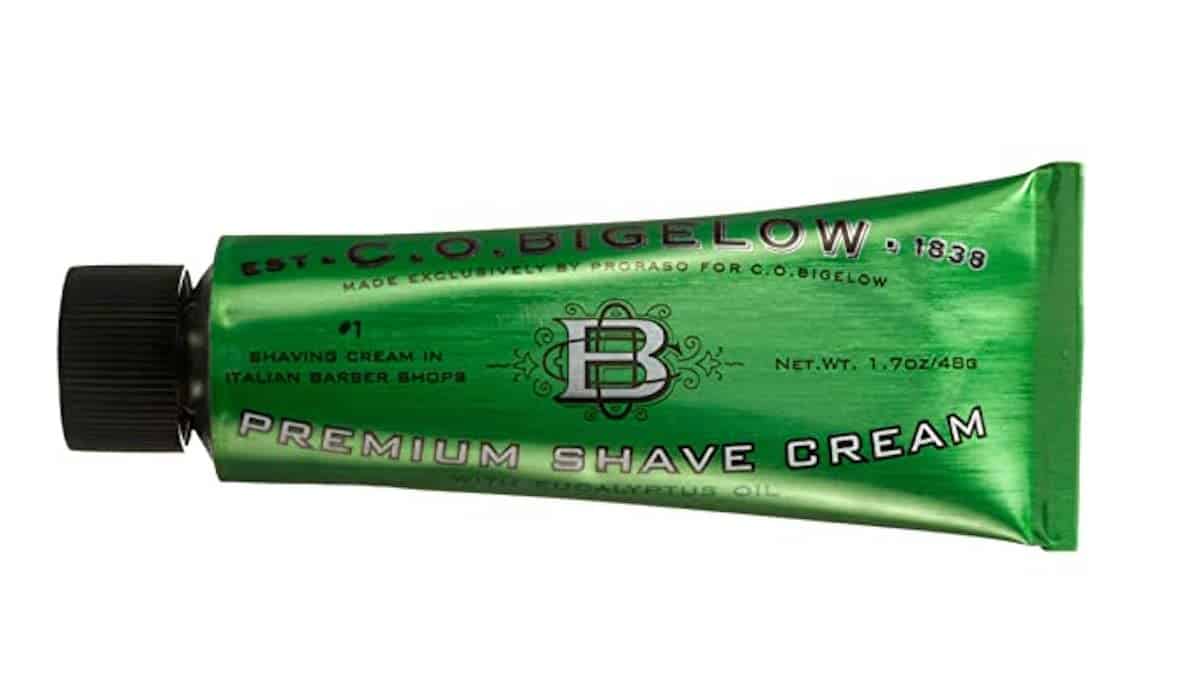 What we like about C.O. Bigelow Travel Size Shaving Cream
If you travel with a disposable razor to save weight and space in your dopp kit, you might be tempted to leave a clunky can of aerosol shaving cream at home.
Taking this small tube of Bigelow shaving cream will save you from unnecessary skin irritation.
The combination of coconut and eucalyptus oil are soothing and prevent razor burn on all types of skin.
It leaves a refreshing menthol tingle.
We love the 1.7-ounce size, which happens to be TSA-compliant, but it also comes in larger sizes for lengthier trips.
It's sold by the oldest apothecary in New York and sourced in Italy.
Caveat: Unlike a can, you'll need to use two hands to dispense it.
---
18) Eagle Creek Pack-It Essentials Kit
This set of three attractive and lightweight bags helps organize your luggage without adding any heft.
It has an antimicrobial shoe organizer for dirty shoes, a medium bag with an internal divider to separate clean from dirty items, and a space-saving compression packing cube.
What we like about the Eagle Creek Pack-It Essentials Kit:
Eagle Creek products are all made to last; the Essentials Kit has self-repairing zippers.
The poly fabric is ultra-lightweight and durable.
Buying a set is more cost-effective than making individual purchases. And you'll definitely want more than one!
Caveat: Although these attractive bags come in a variety of colors, we tend to stay away from black. The bright ones are easier to find in your stuffed suitcase.
---
19) Men's Travel Convenience Kit: For the Last-Minute Packer
Perhaps, he's not the most organized packer in the world. Or he often has to pack at the last minute.
This convenience kit with 15 pieces has all the toiletry and grooming essentials (and more) that he'll need for his next trip.
What we like about the Men's Travel Convenience Kit:
You don't have to go searching for items because the kit is already assembled.
All the products are travel-size and TSA compliant.
The kit includes popular national brands.
It comes with its own TSA compliant travel case.
Minimalists can purchase a 10-piece set.
Caveat: The price you pay for convenience is that you might not use some of the items that are included. If you don't need to use the Advil, be thankful:-).
---
20) Apple AirTag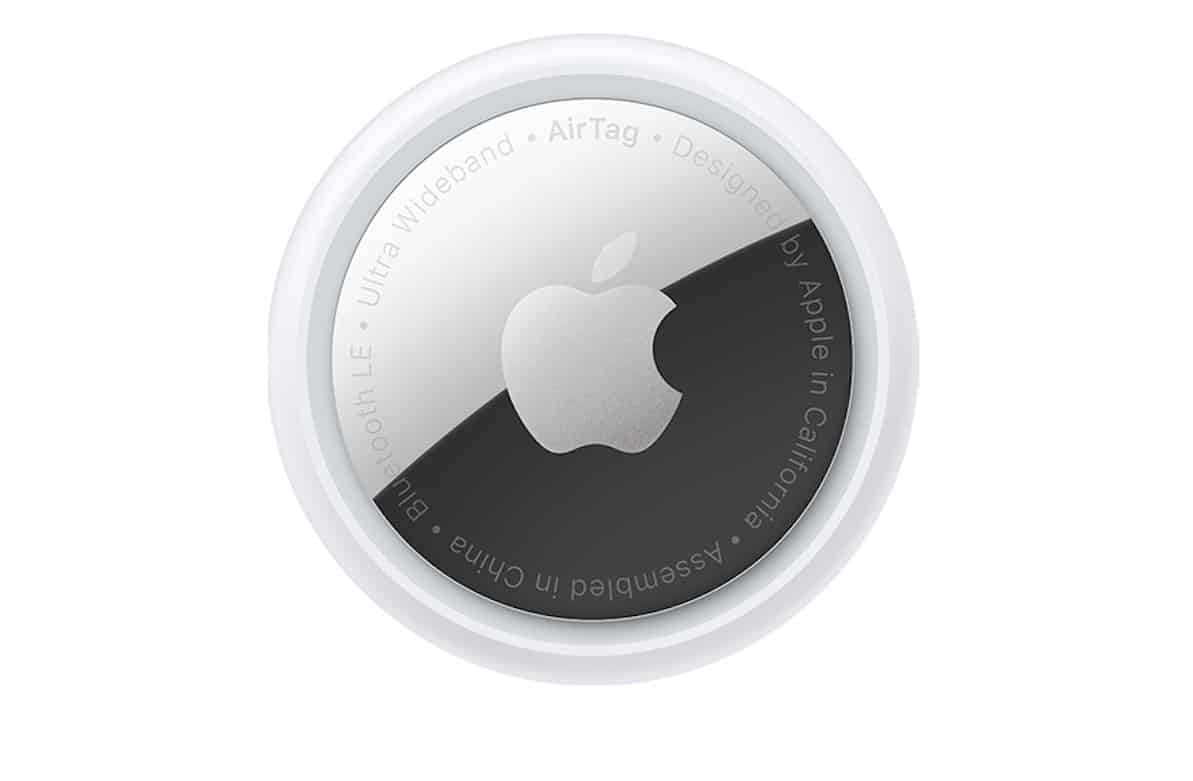 It is estimated that by this year's end, Apple will have sold some 35 million AirTags, 20 million more than last year. The highly practical device is soaring in popularity.
The AirTag sends out a secure Bluetooth signal to iCloud that allows you to trace the location of your luggage or other items (e.g., an attache) on your phone.
What we like about the Apple AirTag
It offers travelers peace of mind by letting them know the whereabouts of their luggage (e.g. whether it make it onto the plane during the very short layover).
It is affordable and makes a great little gift.
It weighs only .39 ounces.
The battery is long-lasting.
Caveat: It requires a key ring or loop to make sure it doesn't get lost.
---
21) Anti-Itch Bug Pen
This is the niftiest fix for anyone who ends up with a bug bit. In the shape of a pen, it's easy to keep in a dopp kit, backpack or pocket.
Dabbing on the bite provides instant itch relief for bites from mosquitoes, fleas, ticks and other common insects.
What we like about After Bite
It is compact, non-drip and easy to use.
It works quickly and provides relief in minutes.
Caveat: It's a bit expensive but how much is it worth to stop an annoying itch?
---
22) Mini Travel Umbrella
This compact travel umbrella is convenient for any traveler, whether they're going abroad or into the city for the day. It comes in a variety of colors.
What we like about this Sy Mini Umbrella
It's compact and lightweight (7.5 ounces).
It's easily stashed in a purse or briefcase.
The aluminum frame is rust-resistant.
Caveat: If you are looking for fuller coverage, you don't want a mini. This one is 37.5 inch when open. It also doesn't open automatically.
---
23) Folding Beard Comb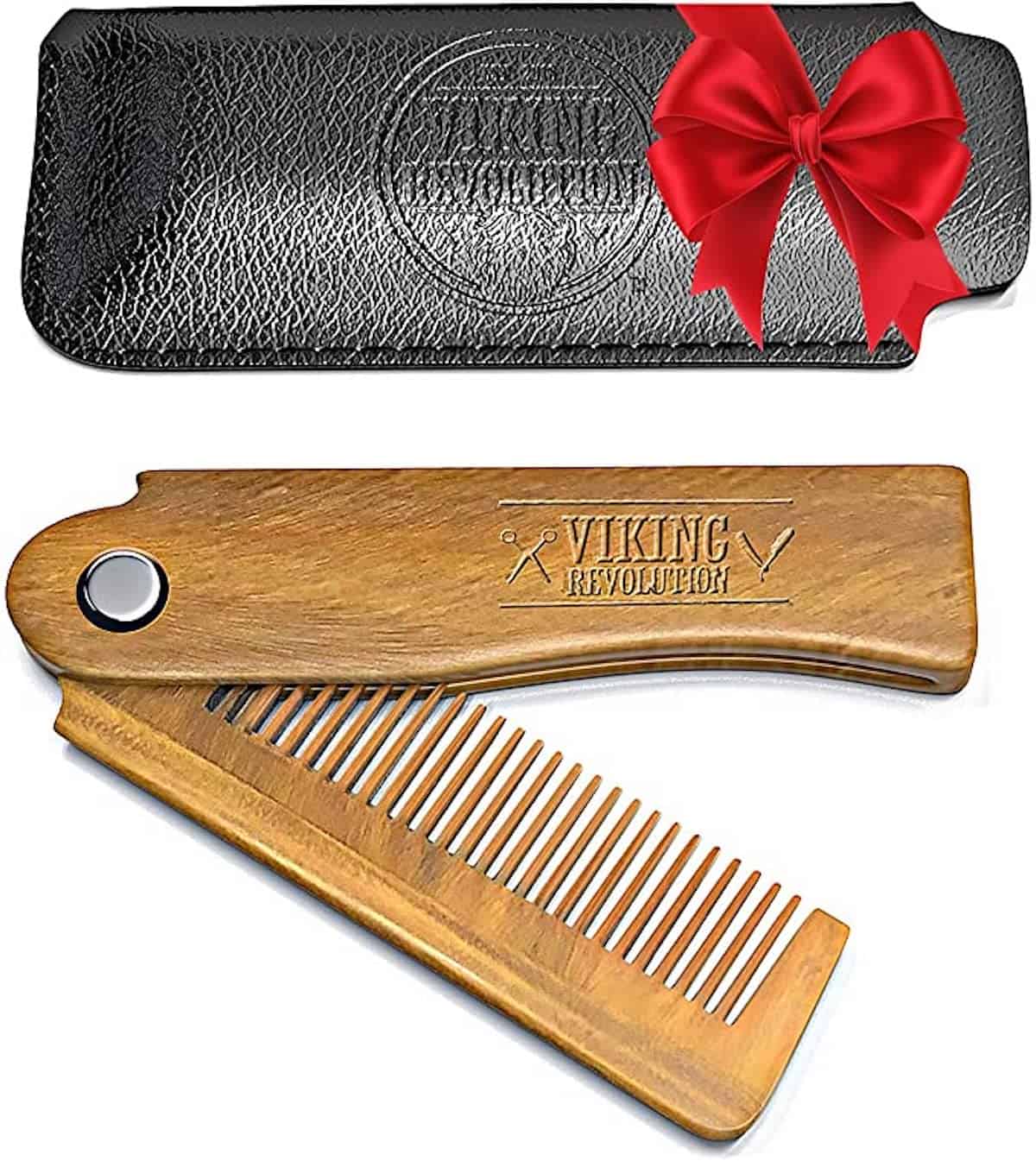 This sandalwood comb with its own case sure ranks high on the cuteness scale.
What we like about the Folding Beard Comb
It's unique, he probably doesn't have one.
It's perfect for the bearded traveler who wants to be well groomed without knots or food from his last meal stuck in the crosshairs.
It's easy to stash because it's only 4" when folded.
Caveat: Does he really need it?
---
24) Travel Shoe Bags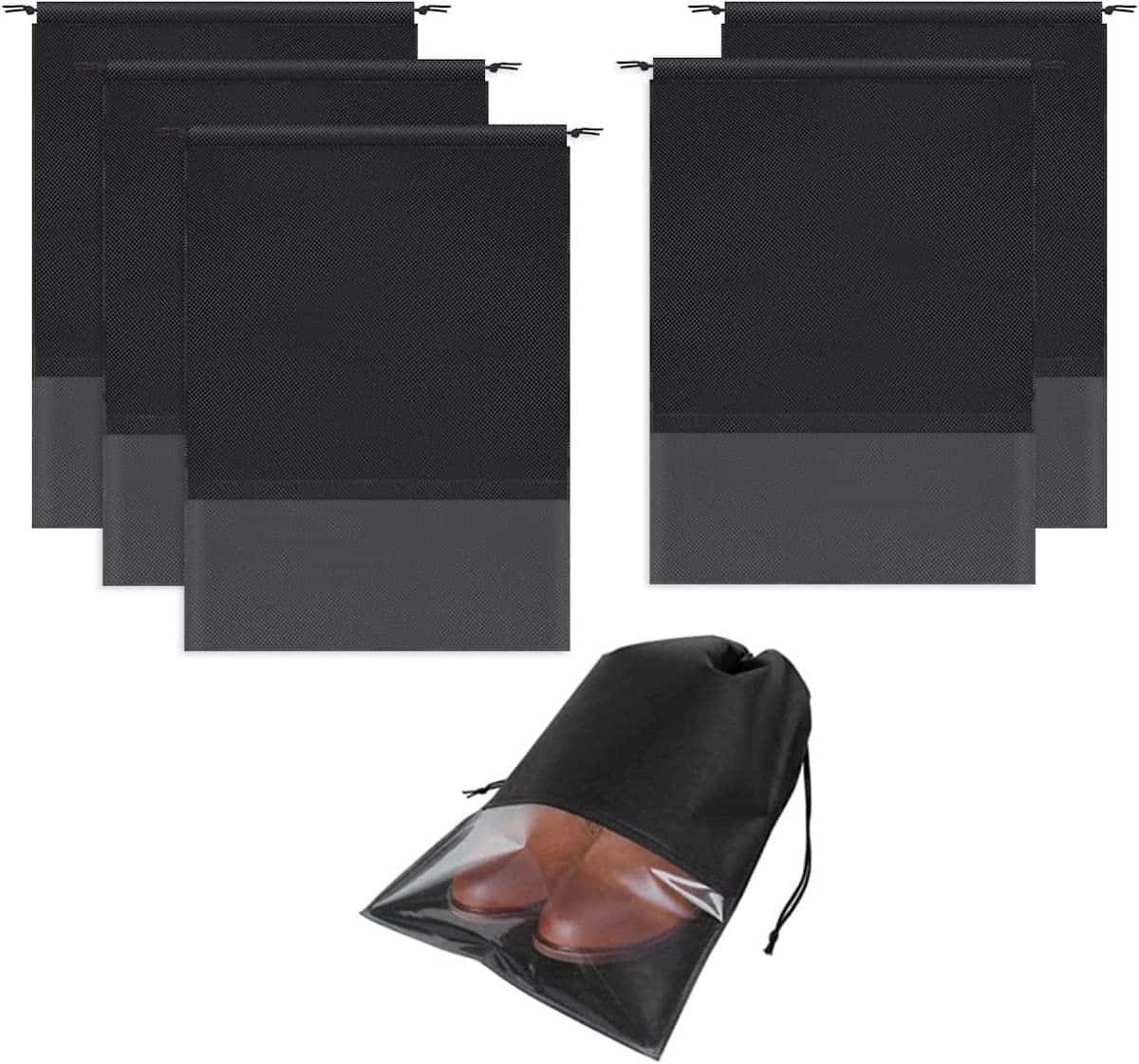 One never knows what they've stepped in on the street. With this uncertainty, you don't want shoes to have direct contact with your clothes.
These nylon shoe bags don't add any weight or take up space in your suitcase. Yet, theyt allow you to separate sneakers or shoes from underwear and more.
What we like about the Shengqidz shoe bags:
They're easy to use with a drawstring opening.
The clear "window" at the bottom of each bag allows you to easily see what's inside.
Unless someone has a shoe fetish, the pack of 5 bags allows the gift recipient to share the set with a travel companion.
Caveat: They're not high-quality but they're inexpensive and can be replaced from time to time.
---
25) MLVOC Memory Foam Travel Pillow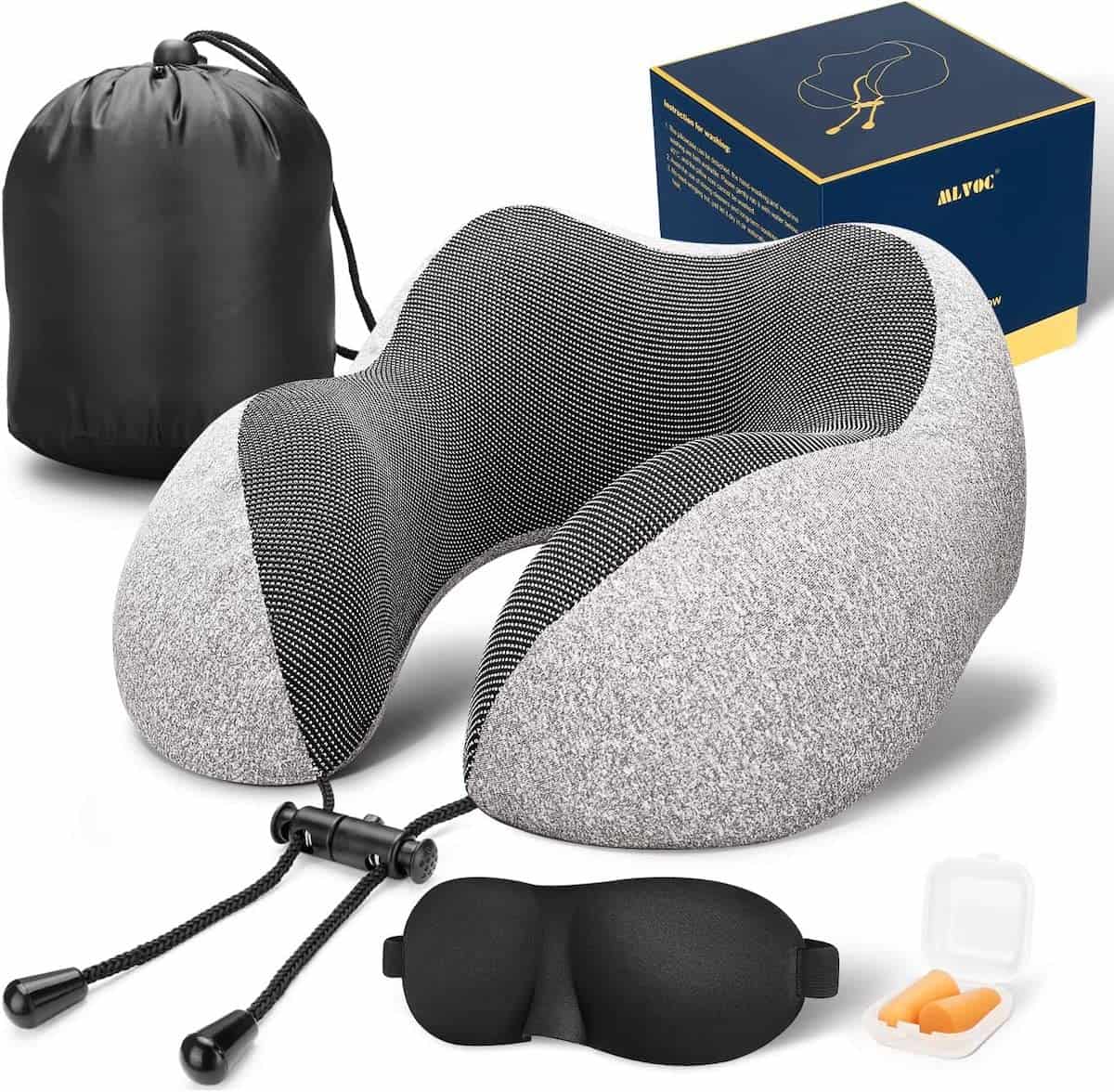 This adjustable memory foam pillow will help keep your neck upright if you're lucky enough to catch a nap on your flight.
What we liked about the memory foam travel pillow:
It's comfortable and molds to your neck.
It's easy to inflate for use and deflate for storage.
It's covered with an attractive, breathable fabric that can be removed for washing.
It's lightweight (.6 lb.) and compresses into a small bag that you can easily tie to your suitcase.
It's gift-ready in a box with earplugs and an eye mask.
Caveat: The downside: It has to be inflated. The upside: You don't have to carry a bulky pillow with you.
---
26) A Portable Luggage Scale
Travel is stressful enough without having to worry about overweight luggage. Having this handy little scale with him before he goes eliminates the guesswork.
He can transfer items to a carry-on or leave them at home if the weight is a tad over. If you've done too much shopping while traveling, you can see whether it's more cost-effective to mail a package home rather than pay the airline.
What we liked about the portable luggage scale:
It's small enough to tuck into a carry-on or briefcase.
This scale measures weights up to 110 pounds.
It has a convenient digital readout.
It comes with a two-year warranty.
Caveat: If he's the kind of person that accumulates papers and souvenirs, it's can't be left at home. It may be even more important for him to weigh his suitcase before he heads home.
---
27) Sea-Band Anti-Nausea Wristbands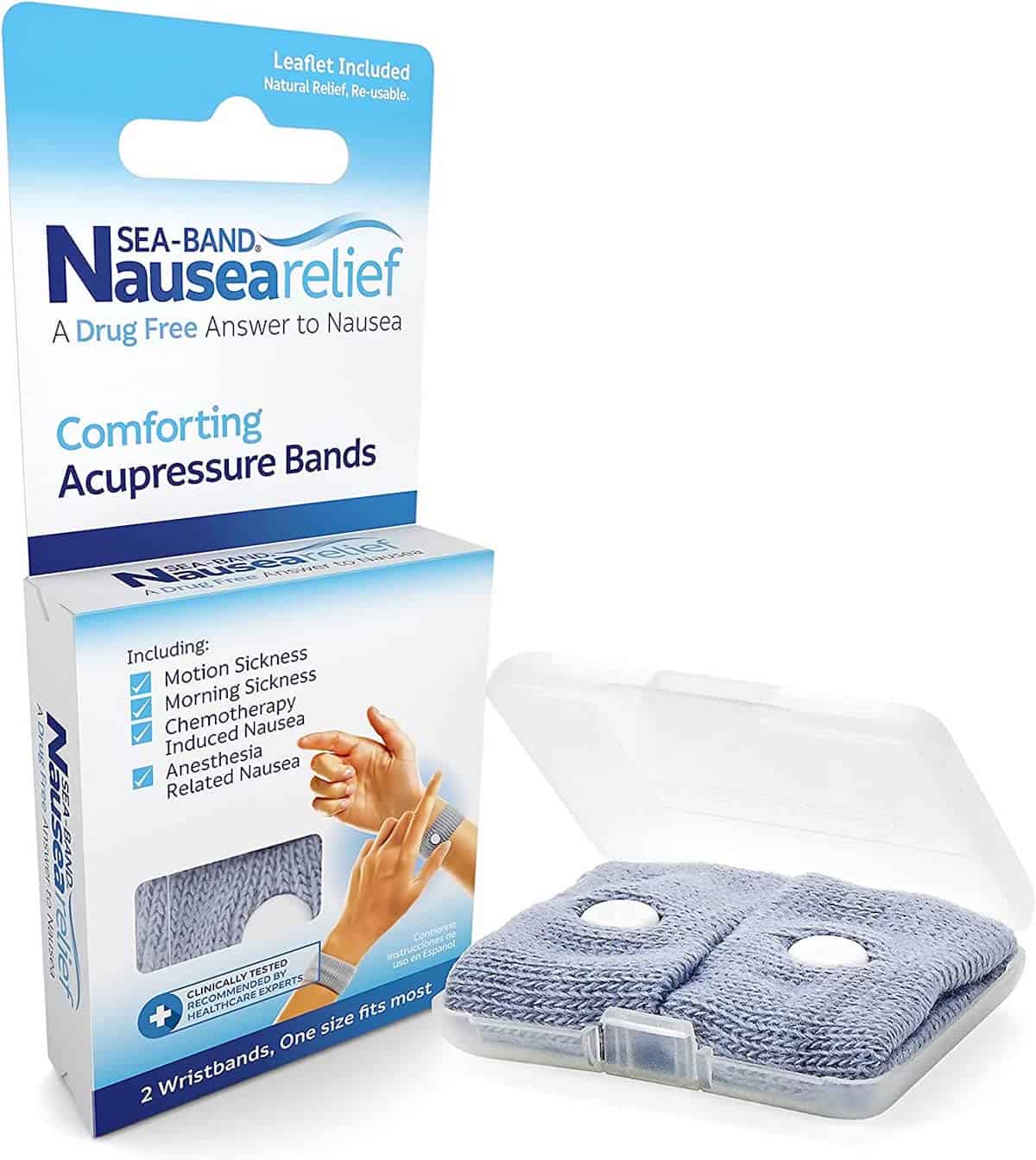 If you're taking a cruise and have any tendency towards seasickness, you'll definitely want to have these anti-nausea wristbands with you.
Ironically, one of our friends took a cruise with no ill effects but realized she had to wear these to prevent nausea on long tour bus rides.
What we liked about the anti-nausea wristbands:
They can be used to help prevent nausea and also to alleviate it once it's started.
They offer relief without the use of medications and their potential side effects.
If you choose, they can be used with Dramamine.
They don't make wearers feel drowsy.
Easy to put on, carry, and pack "just in case."
Caveat: Although these wristbands receive highly positive reviews on Amazon, like any remedy, they don't work for everyone.
---
28) Iron Flask Sports Water Bottle
If you're on a day trip or hike, you may not have access to fresh water or find the cost of purchasing bottled water exorbitant. Bringing your own water bottle can be a prudent choice.
This Iron Flask stainless steel, insulated sports water bottle comes in a range of different sizes and colors to suit any traveler's needs.
What we liked about the Iron Flask Water Bottle:
It keeps drinks hot for 12 hours or cold for 24 hours.
The lid is leakproof so you don't have to worry about stowing it in a backpack.
It's 100% BPA-free, non-toxic, and guaranteed never to rust.
Caveat: A small number of the almost 24,000 reviewers on Amazon say they didn't like drinking from the spout (but it also comes with straws).
---
29) Portable Watch Charger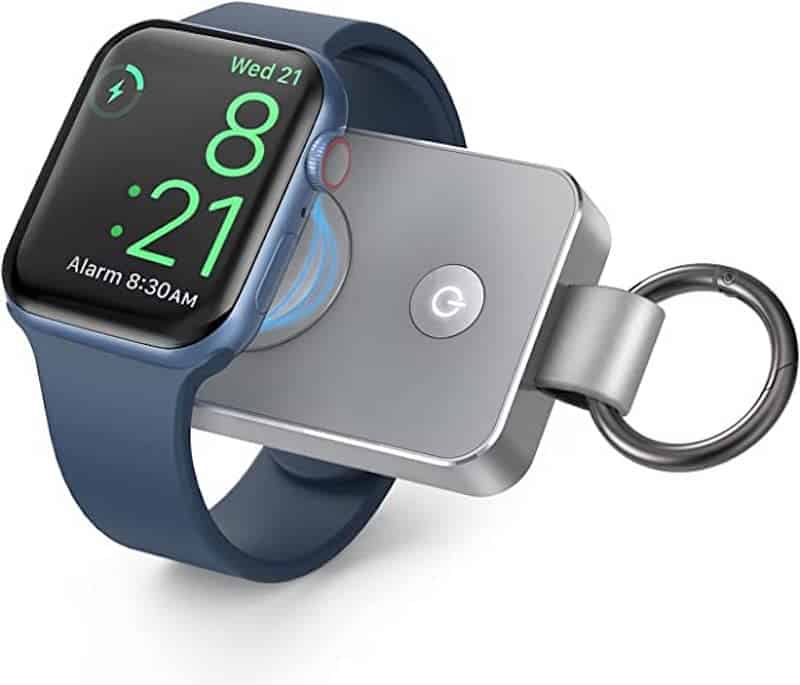 Anyone who owns an Apple watch comes to rely on it for so many different functions. The one closest to my heart is using it to find my misplaced iPhone. If you run out of "juice," this Portable Apple Watch Charger will restore your watch to full power in 2-2.5 hours.
What we liked about the Portable Watch Charger:
It's compact and lightweight (just over two ounces).
It conveniently fits in a pocket or backpack.
It comes with its own micro USB cable for recharging.
the watch is Apple-compatible but relatively inexpensive.
Caveat: When you desperately need a charge, you hope the device might do it a bit more quickly.
---
30) The Ultimate Packing List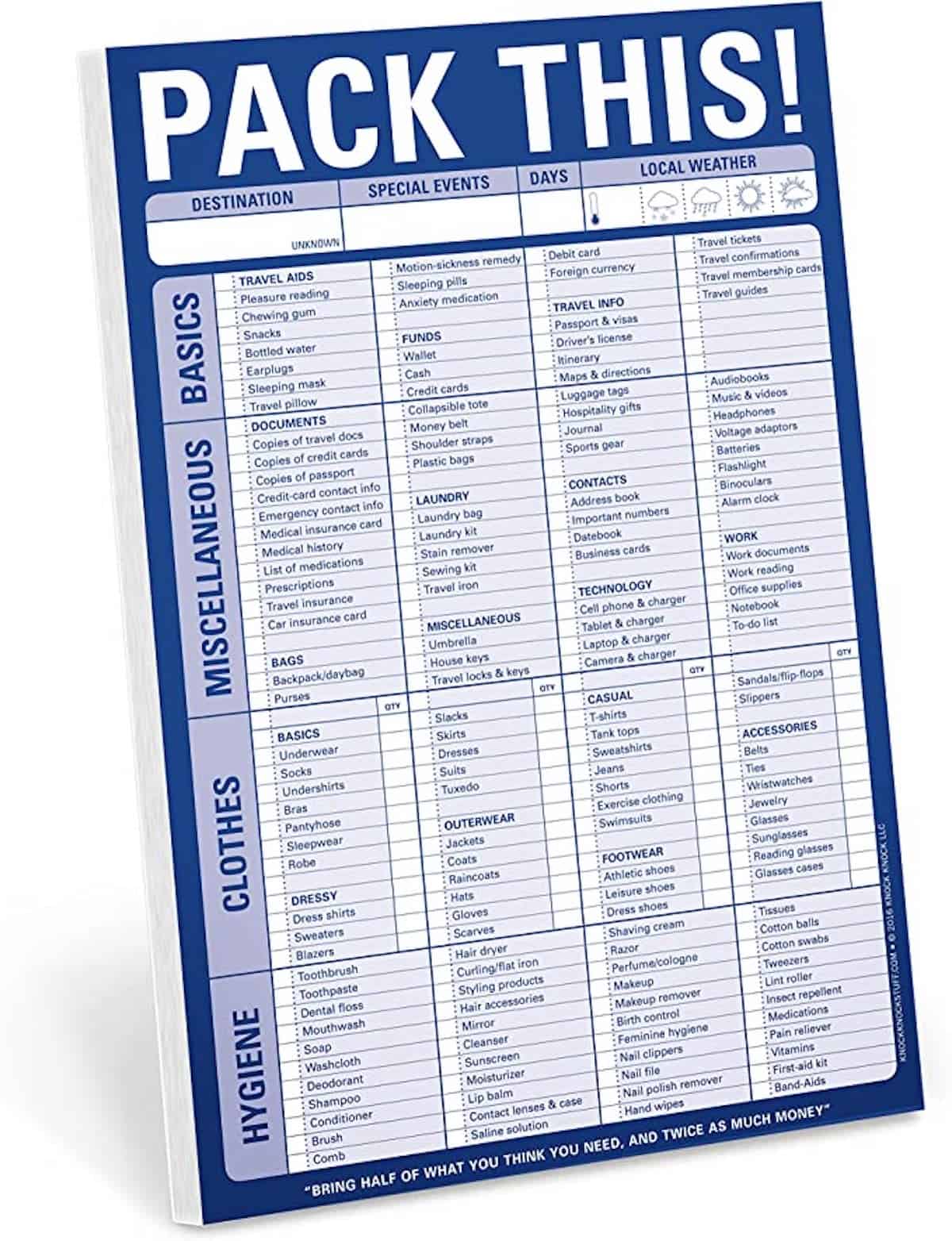 If he's a last-minute packer, a forgetful one or an obsessive, he'll love having a packing list to make sure he's not leaving anything important behind.
What we like about this packing list:
The list is exhaustive with space to add additional items.
It can be adapted for business or leisure travel, warm or cold weather climates.
It's easy to use. He can add or delete items to meet his needs and the nature of the trip.
Caveat: Some men prefer electronic rather than paper lists.
---
Hope you liked our list of travel accessories for men!
---
Also on MoreTimeToTravel.com
---
Save to Pinterest!!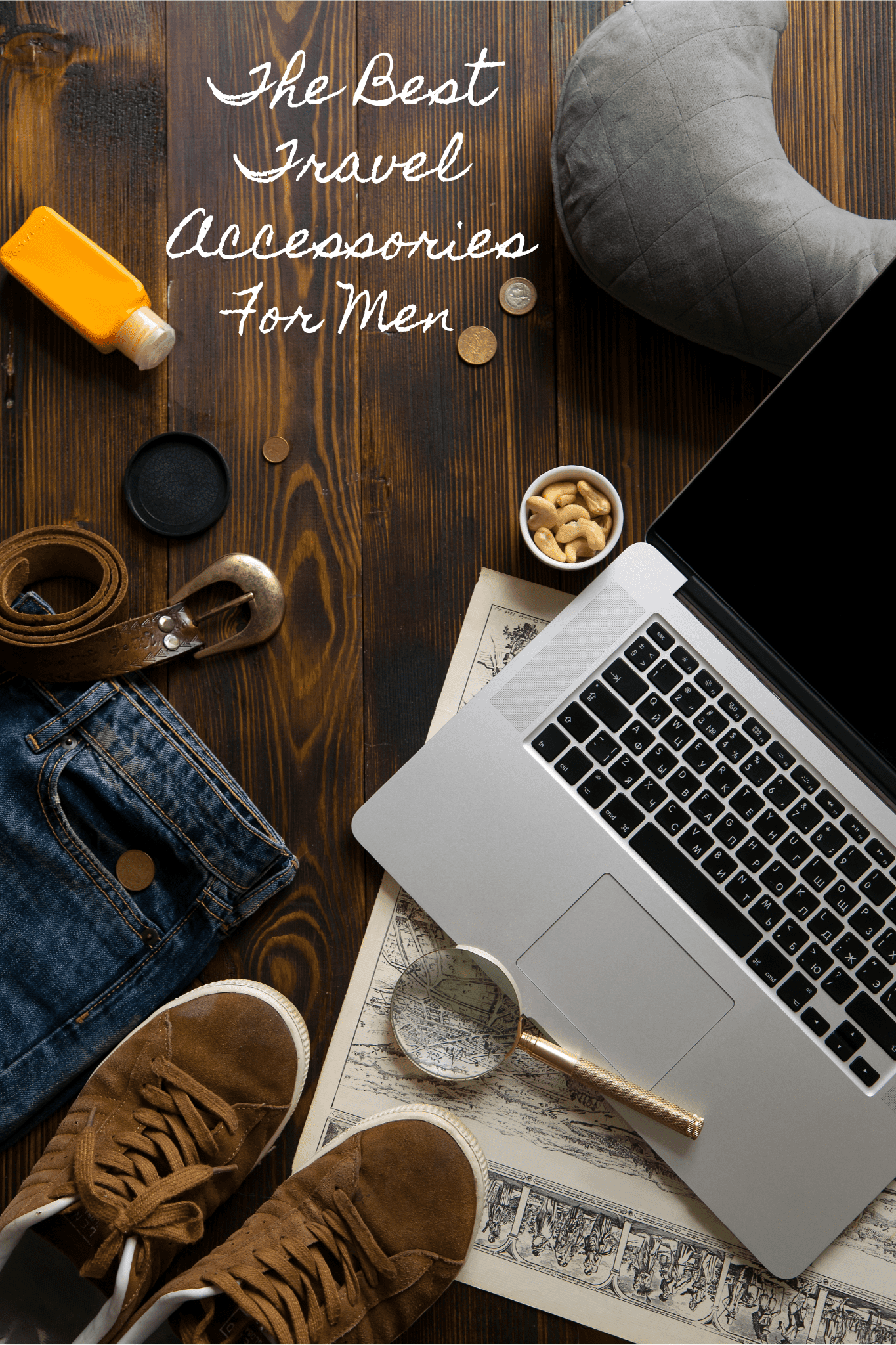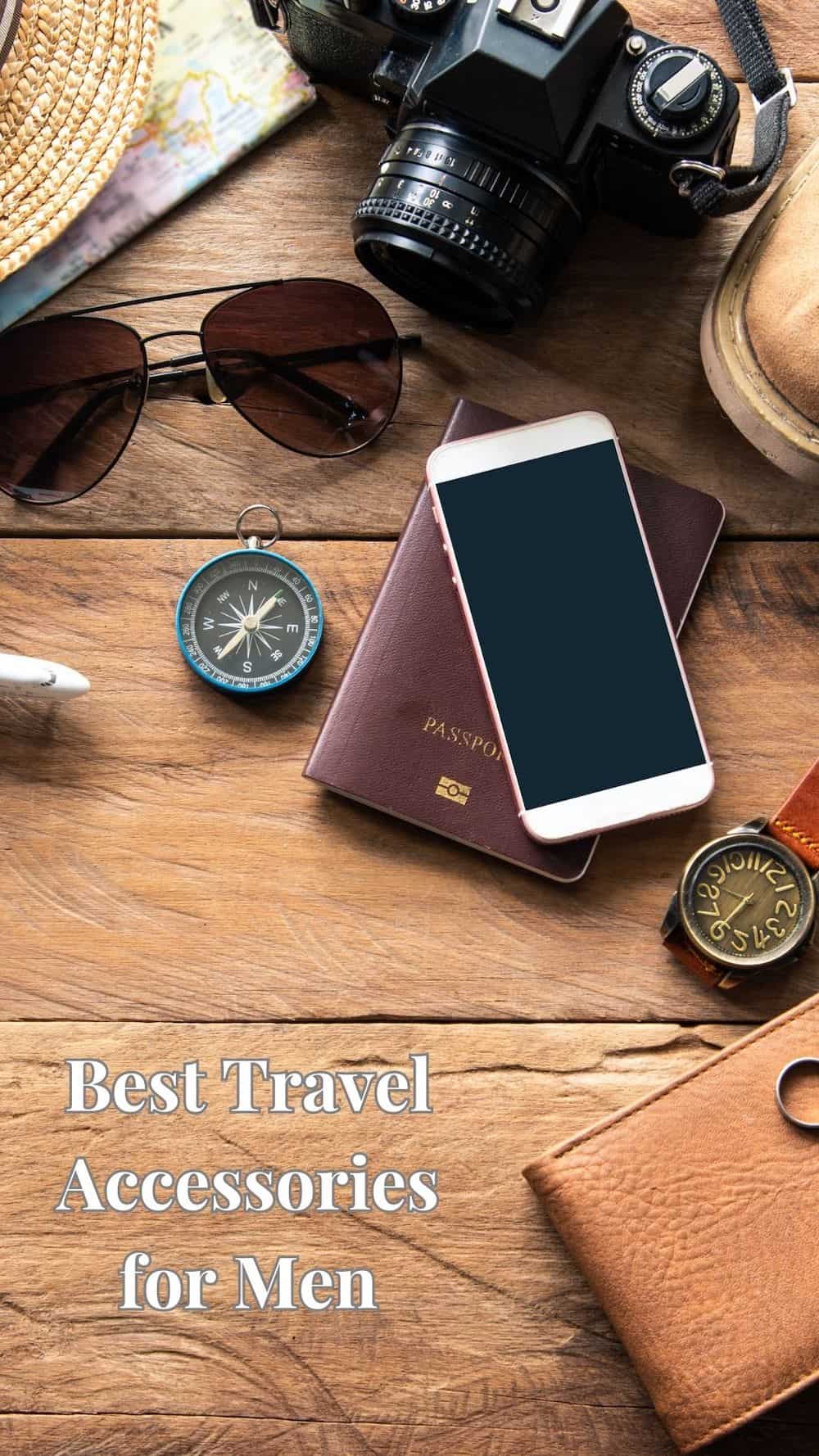 ---