Travel Essentials For Women
I looked through some of my own packing lists and scoured the internet to find the most important travel essentials for women, particularly those over the age of 50.
Many of these items are things I've taken with me over and over on my own trips. Some are items I didn't have with me and wished I did, either on a land journey or cruise, both domestically and abroad.
The internet abounds with generic packing lists that aren't always age-appropriate or don't quite fit the unique travel styles of women over the age of 50. Admittedly, any single individual's travel essentials might be considered superfluous inessentials to someone else.
You'll also notice a singular thread running through all these selections: Packing light is always at the top of my mind.
I try to get away with the smallest, lightest suitcase I can manage, and avoid packing any item that adds additional weight or heft.
With that in mind, here are some of my favorite lightweight travel necessities that might give you some ideas for your next trip and help you create your own personal travel list:
---
---
Travel Essentials for Women Over-50
---
---
Note: This post contains affiliate links and I will be compensated if you make a purchase after clicking through my links.
Compact Jewelry Organizer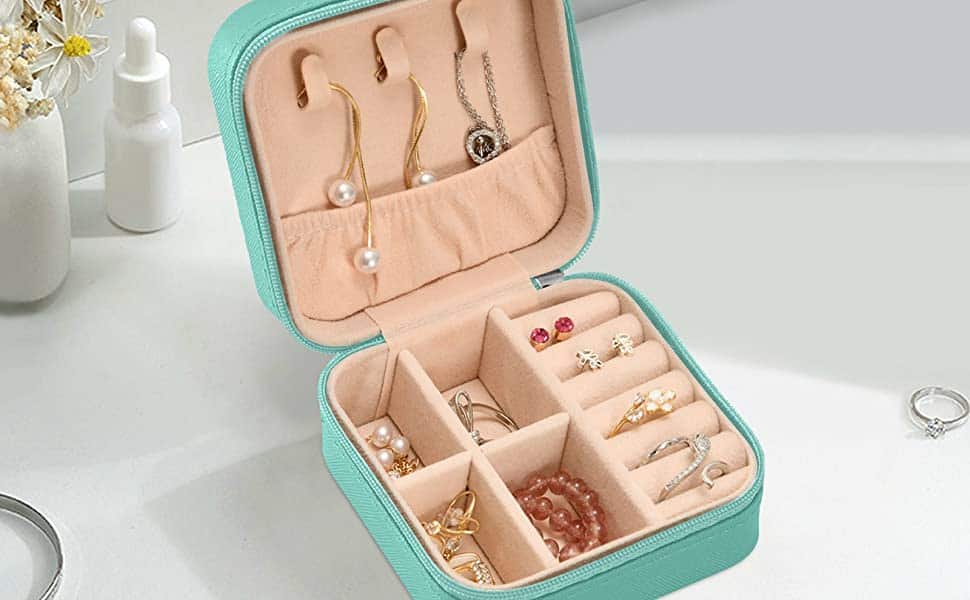 Whether you take real or costume jewelry with you on a trip (I prefer the latter), it's so easy to misplace pieces or for long chains to get knotted in transit.
This faux-leather Tatenale jewelry organizer is lightweight (less than three ounces) and compact (3.9 x 3.9 x 1.97). Smaller than your palm, it is small enough to slip into your purse, so nothing gets lost. It allows you to keep your valuables with you safe and secure or to lock the organizer in the safe in your hotel room or on your cruise ship.
It has three necklace and bracelet hooks, seven positions for rings or earrings, a compartment with a removable cross board, and a small elastic bag for other small items like hairpins or hair bands.
It's available in a variety of different designs and colors. What a fun gift for friends who travel!
---
Easy-To-Slip-On Sneakers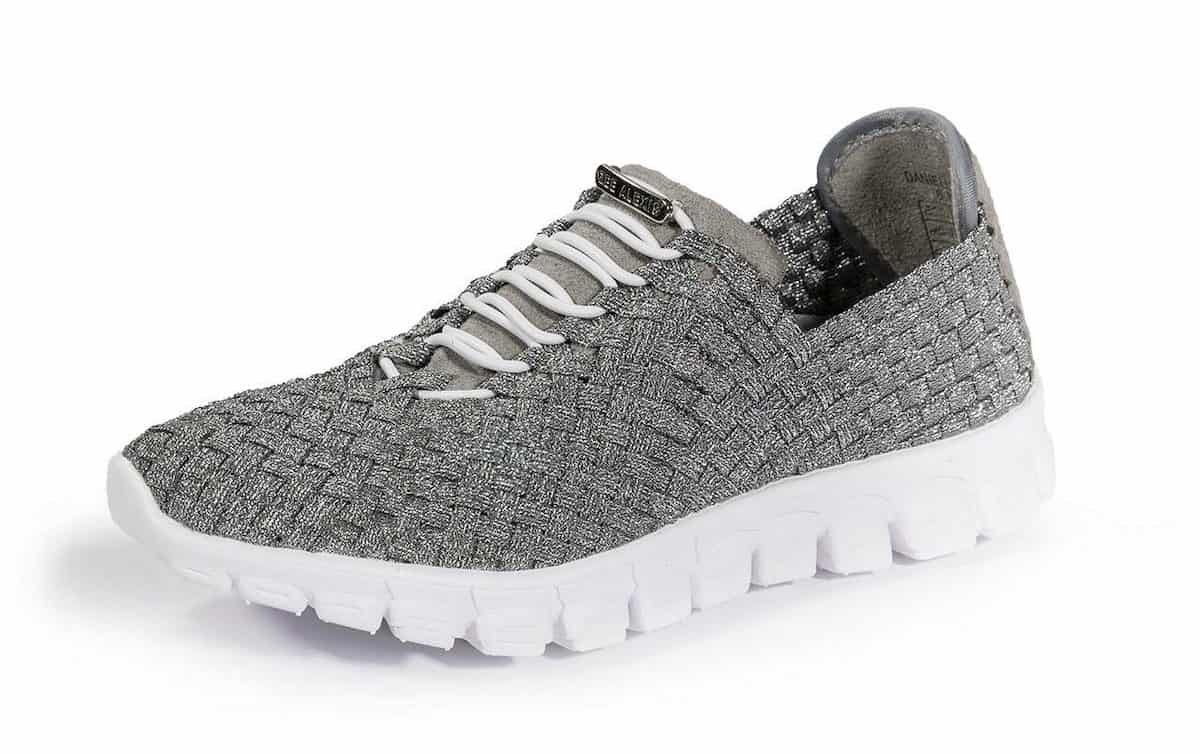 Although I wouldn't recommend these for long treks, I love these comfy, no-tie Zee Alexis Danielle Sneakers because they are so easy to throw on and off. (After my neighbor's knee surgery, these laceless sneakers were the only ones she could get on and off by herself.)
You can wear them on a ship, at the gym, in your room at a hotel or rental property, and almost anywhere else because they're as comfortable as a pair of bedroom slippers (likely due to the memory foam insole). In addition to being easy on and easy off when you're in a hurry, they're also lightweight and easy to pack.
The woven elastic bands, aside from being elegant, are very forgiving for those unfortunate women among us with bunions or callouses. My silvery Zee Alexis Danielle Sneakers in Pewter go with any outfit but they come in a rainbow of fanciful colors: The next pair I buy will probably be Champagne. Color me neutral. Available on Amazon.
---
Comfy Black Leggings
I always travel with a pair of black leggings because of their versatility. The essential denim leggings from HUE are comfortable, figure-flattering, and much lighter weight for packing than ordinary jeans. The front is flat on the tummy (with faux pockets and fly); the rear pockets are real and functional. They aren't as form-fitting as most spandex leggings and can transition from day to evening casual by pairing them with a fancier top.
I've machine-washed and dried mine over and over and they still look like new. These HUE leggings come in five different colors so you might also want to add a pair of blue denim leggings to your travel list.
---
Convenient Packing Cubes
This set of Eagle Creek Pack-It Cube Organizers will help you keep travel essentials neatly organized in your suitcase or even after you arrive at your destination. The zip-around cases are extra light (less than 7 ounces for the entire set!) and come in three sizes, extra small (4.5 x 7.5), small 7.25 x 10, and medium, 10/15.25).
They're great for keeping all the smaller items in your suitcase together (including lingerie) and I love the see-through mesh front design that allows you to know what's inside. These are NOT the best bags for toiletries; I'd opt for the Eagle Creek Isolate Cubes (that comes in matching colors) that are fully enclosed and water-resistant.
This set of cube organizers is great for a shorter trip; they also come in larger sizes for longer stays. Choose one of four colors: I'd opt for the Moss Green or Sahara Yellow ones because anything that's black gets lost in my suitcase (and under my car seat).
---
Stylish, Light Rain Jacket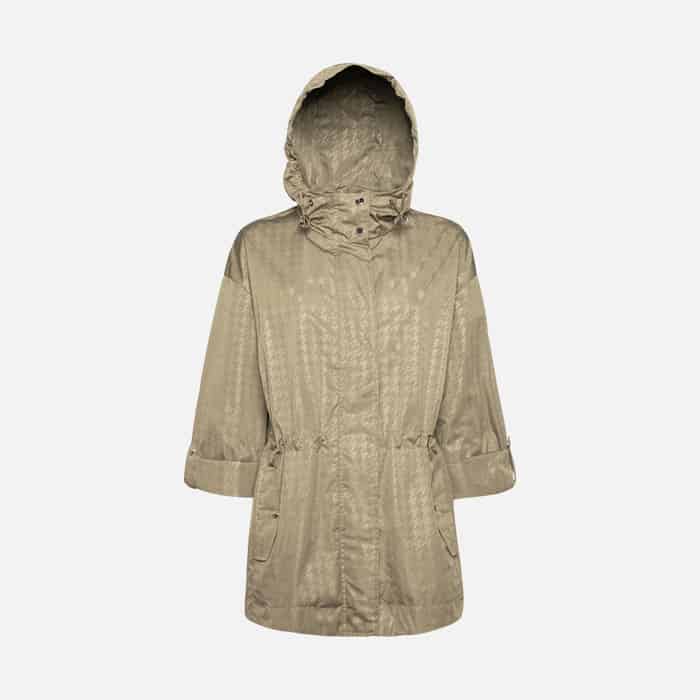 Each time we plan a trip, we picture our destination bathed in sunshine. But that isn't always the case. You never know when there'll be an unexpected downpour or chill in the air. For those times, I love having my Geox Fabiola Rain Jacket.
As is the case with other Geox products, I love the lightweight, windproof, waterproof but breathable embossed fabric with a slight sheen. This oversized raincoat is long-enough for almost any outfit; has a hood (so you don't have to carry an umbrella), and is nicely styled.
The sleeves can be worn pulled down to full-length or rolled up three-quarters. It comes in two beautiful colors, one a dark beige and the other a burnt olive; both are relatively impervious to dirt or stains.
---
Featherweight Travel Vest
My husband has always been a huge fan of Scottevest apparel, even down to his underwear. In fact, the vest that he's used for the last six or so years is the one piece of apparel he takes on every single trip.
He loves the convenience of being able to load the vest pockets with his smartphone, camera, backup charger, wallet, keys, passport, and more. So I decided that what's good for the goose is good for the gander, so to speak.
The Scottevest Women's Featherweight Travel Vest is lightweight, especially great for spring and summer journeys. It's easy to pack, stylish, and versatile.
With 16 pockets and compartments, there will be times when you can stash your purse in a room safe and just use this for a tour, city outing or shore excursion. At the airport—instead of going through the arduous task of emptying your jacket pockets—you can simply remove the vest, fold it, place it on the conveyer belt, and pick it up at the other end. Everything remains safely tucked inside the pockets, ready to pick up and go.
The vest is machine-washable and comes in a choice of three colors: black, cadet blue, and gray. My black vest seems to go with everything.
---
Lightweight, Slim Crossbody Bag
Although I always love the feel and scent of a luxurious leather handbag, I know it's prudent to choose something lighter and more flexible for travel. The Baggallini Modern Everywhere Crossbody Bag is a perfect compromise.
It offers quick-access pockets (including a phone pocket) on the outside so you don't have to open your bag each time you need something. The detachable, adjustable 52" strap is perfect for cross-body wear that helps reduce the odds of being a victim of pickpockets.
As a bonus, the bag comes with a matching removable RFID wristlet, with card slots so you can use it when you don't need to carry the whole kit and caboodle each time you go out. For instance, it's right-sized for carrying your phone and some paper money for tips when you're on a cruise ship or sitting by a hotel pool.
Although the crossbody bag is roomy (10 x 10.5 x 1.5), its fashionable slim profile isn't bulky. It weighs in at less than 1 pound and comes in a palette of 11 different colors to capture your mood and the season.
---
Easy-to-Manage Bric's Carry-On Suitcase
What we like about this "newer-than-ours" Bric's 21" X-Travel Style Montagne Carry-On is that it's ultra-light, weighing in at just five pounds (we have an older version of the same carry-on). Bric's is an Italian brand so, of course, the company prides itself on its design. It looks smart! The exterior is made of a synthetic polyamide material that is virtually abrasion-resistant. The tanned leather trim adds a nice style accent.
If you start with a rigid, hard-sided piece of luggage, you'll have a harder time lifting it up (ouch I felt that in my shoulder) and fitting it into the overhead bin. On some aircraft, we were even able to wiggle this 22 x 13 x 9 piece under a seat. Also convenient for stowing are the two handles: one on top and the other on the side.
We've had our soft-sided Bric's carry-on for ages so I can attest to the durability. Granted, soft-sided luggage generally isn't as protective as hard pieces but the former offers the advantage of a roomier interior. Our experience has been that this carry-on always offers a forgiving spot to tuck in a last-minute gift you've purchased at the airport gift shop. This classic bag also has a handy outside pocket and two utility straps.
---
Ultra-Thin Portable Phone Charger
I always carry a portable phone charger when I'm on the go. Especially when traveling, you don't want to run the risk of having your smartphone battery go dead when you need to make a call or navigate to a destination.
AquaVault's ChargeCard portable phone charger is a lightweight, ultra-slim charger that comes in an attractive and durable stainless steel case. Even though it offers ultra-fast charging, it's only the size of a credit card (3.3 x 2.3 x. 0.18") and weighs 2.2 ounces. So it's convenient to stash in a wallet, purse, or pocket.
No need to carry extra cables with you either because it comes with built-in USB-C, Lightning, and Micro USB charging cables that work with Apple, Android, and most other devices.
---
A Face Mask that's Pretty & Protective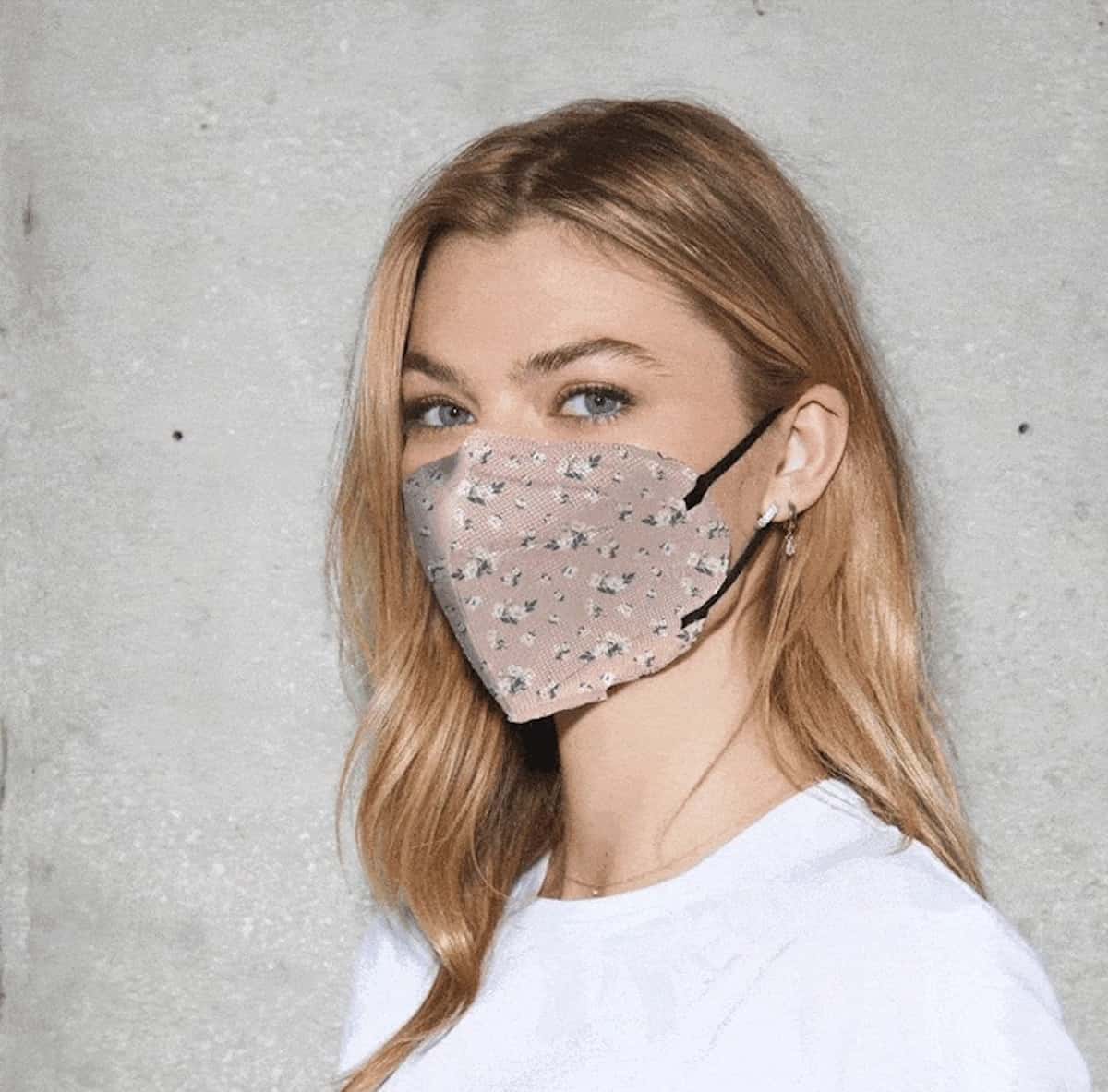 Many moms, like me, haven't given up wearing KN95 face masks, especially when traveling.
I ordered these masks as soon as I saw my friend Sheryl wearing one. These MASKC face masks are perfect for spring and summer and come in a 10-pack with pretty florals in pink, teal, yellow, light blue, and blush. They are breathable (great for running or working out) and are super-soft and comfortable. (When you click on the link below, search for the KN95s on the toolbar at the top of the page.)
---
Relief for Bunions
If you have bunions, you'll fall in love with these socks. They offer immediate relief!
The bunion socks have a split toe, similar to the style of a mitten. So your big toe and bunion stay protected and separated from each other.
By far, they are the most comfortable pair of socks I've owned since I developed bunions on both my feet. Available as an ankle sock, crew or sport sock in different colors and patterns.
---
Packing List To Stay Organized!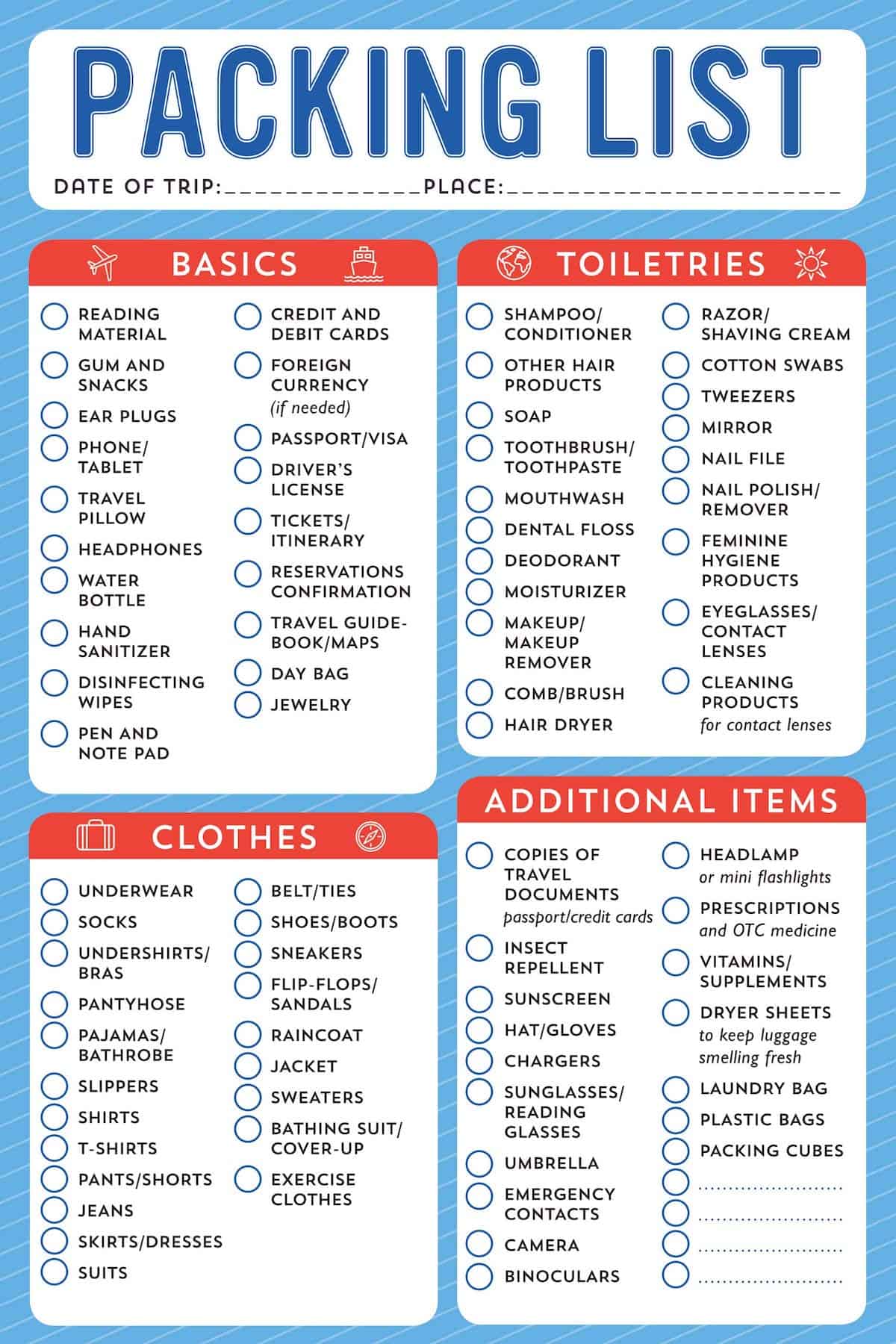 If you're like me, you always realize you've left something essential at home. This handy, inexpensive, 60-page Packing List from Peter Pauper Press offers a checklist of last-minute reminders to trigger your memory so that doesn't happen. Moreover, you can use the blank lines (and the back of the page) to add essentials of your own. Check items off as you place them. If you forget something that isn't on the list, you can easily add it to the next page for your upcoming trip! Measures 6 x 9″ with tearable sheets. Makes a great little gift for friends who travel, too.
---
Disclosure: I am a participant in the Amazon Services LLC Associates Program, an affiliate advertising program designed to provide a means for sites to earn advertising fees by advertising and linking to Amazon.com at no additional cost to you. Additionally, several other affiliate links allow me to earn a small commission from any purchase. We would never recommend products or services that we wouldn't want to use ourselves.
---
Also, see my COVID Travel Packing List
---
Also on MoreTimeToTravel
---
Save to Pinterest!!!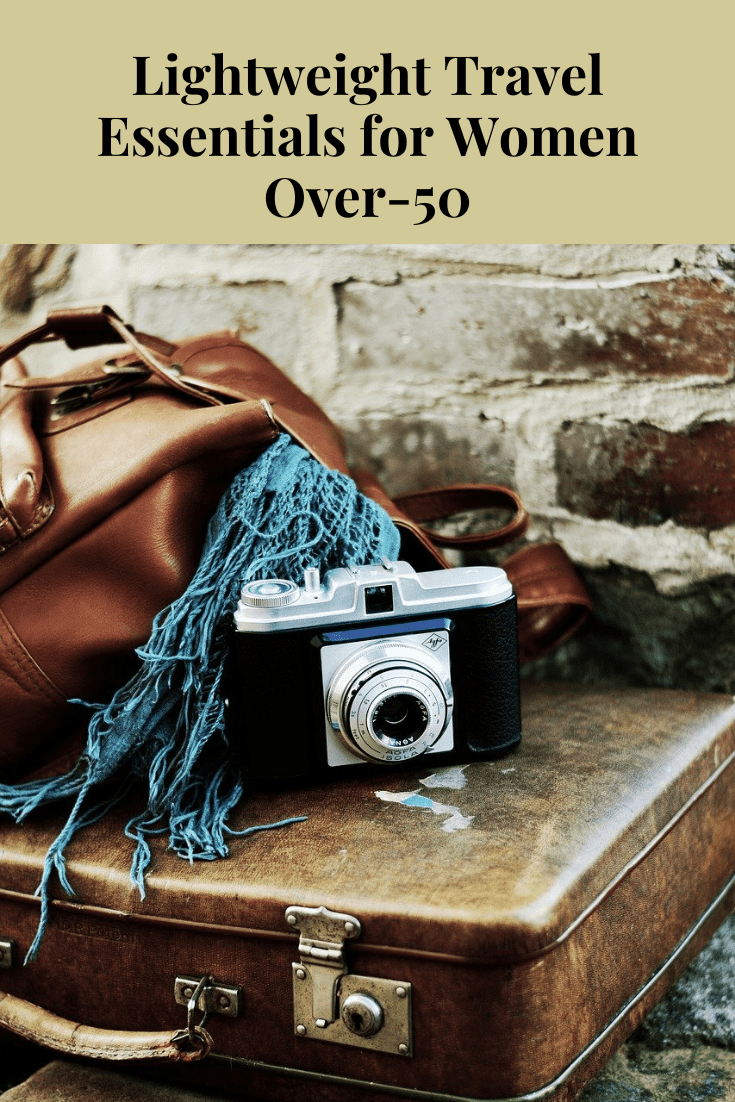 ---