Luxury Aosta Valley Hotels with Five Stars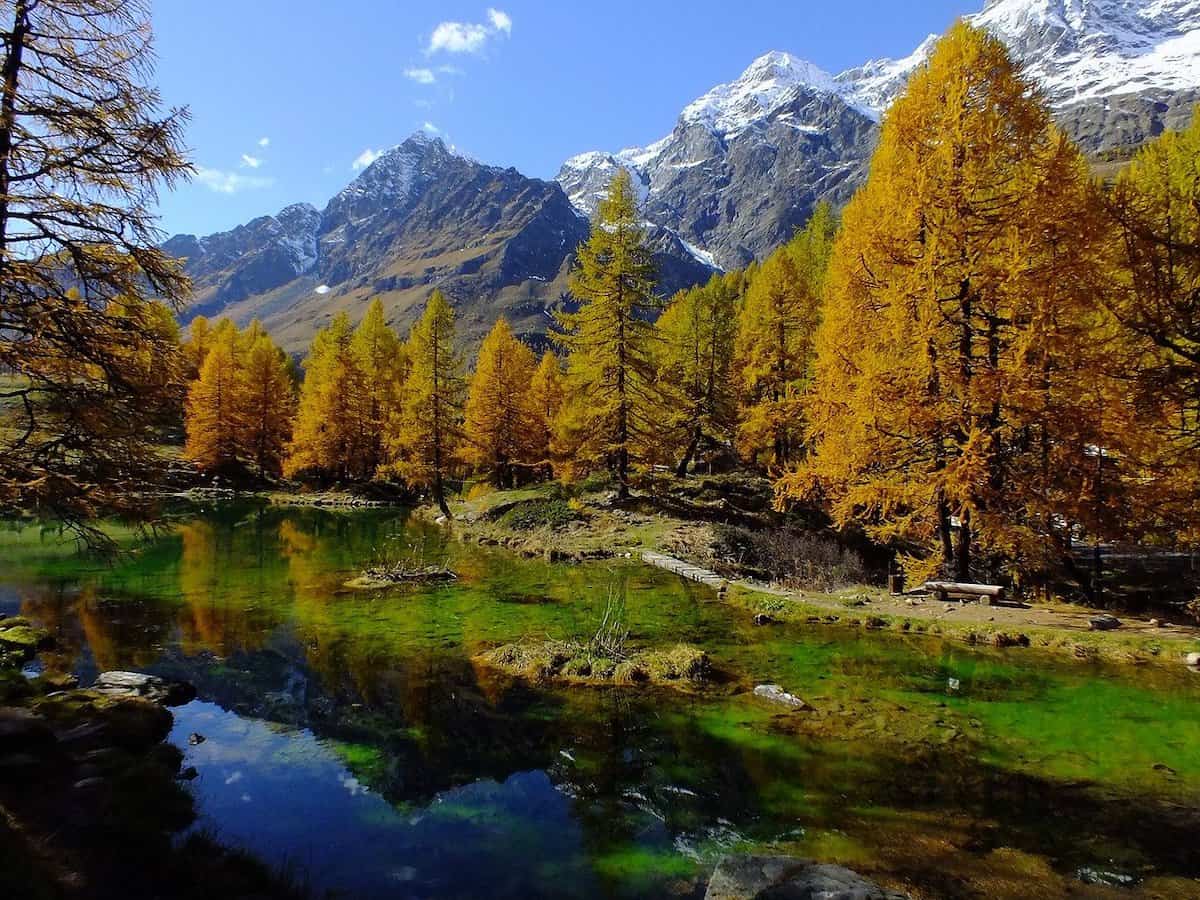 Although the Aosta Valley (Valle d'Aosta) is the smallest region in Italy, it offers a choice of luxury hotels and resorts that promise a five-star experience. If you're reading this post, you probably are already thinking about traveling to this hidden treasure tucked in the northwest corner of the country.
Love of nature and a passion for outdoor sports are the biggest draws of the Aosta Valley, with its miles of hiking trails and opportunities for two-season skiing.
But the area is also a mecca for wellness and relaxation devotees who come to its spa resorts. Other visitors come to savor the unique Alpine foods and wines of the Aosta Valley, discover epic wildlife adventures, and gamble at the largest casino in Europe.
Surrounded by 40 mountain peaks, the Aosta Valley is known for its stunning beauty and warm hospitality. Visitors find that many residents and shopkeepers are multilingual because although the area is Italian, it is bordered by France and Switzerland and a popular destination for international tourists.
---
This post may contain affiliate links. This means that I may receive compensation if you click a link, at no additional cost to you. For more information, please read my privacy and disclosure policies at the end of this page.
---
Finding a place to stay in the Aosta Valley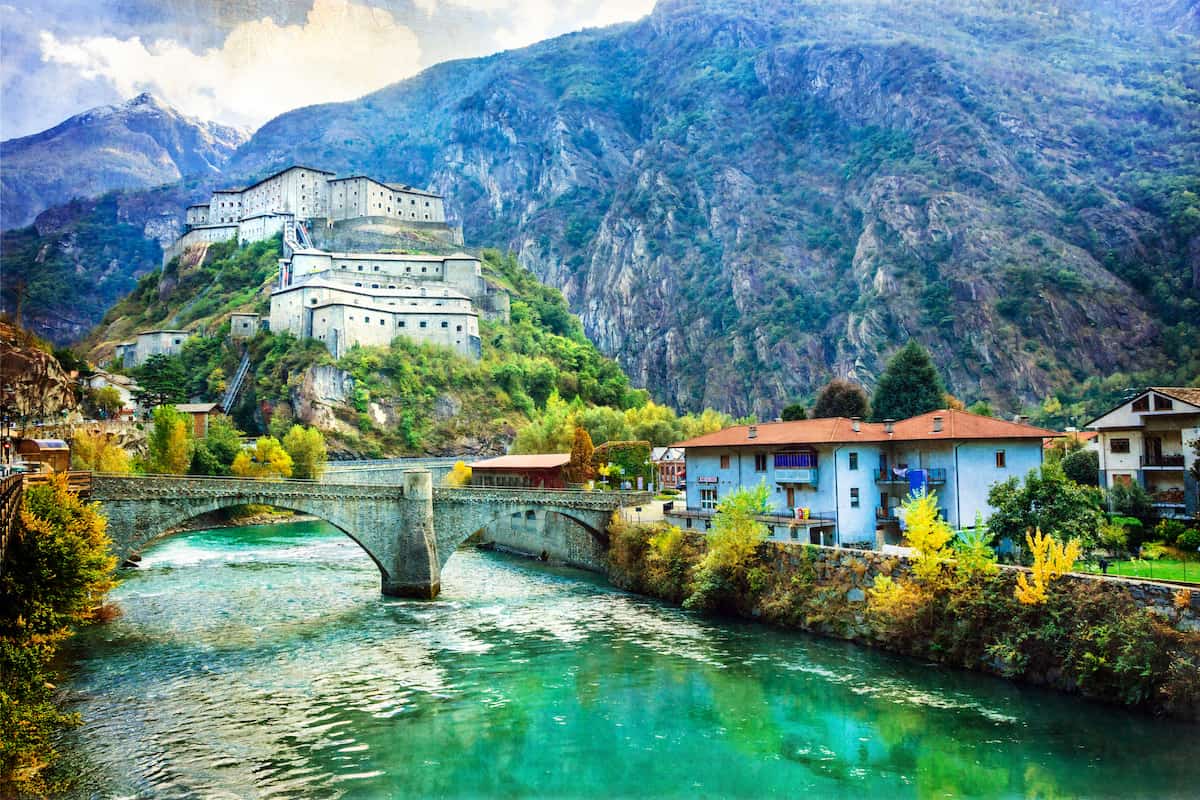 Many of the hotels in the area are constructed with wood and stone indigenous to the area, making them blend seamlessly into the environment.
Deciding where to stay in the Aosta Valley is likely to be guided by several considerations:
Location – The area encompasses 1,260 square miles. You may want to be within walking distance of one of the small towns and villages or closer to the slopes.
Type of property – You won't find any high-rise hotels in the Aosta Valley, but there is a range of accommodations with different types of amenities, some geared more to adults and others to families with kids in tow.
Price – Given that accommodations in the Aosta Valley can range from modest camping sites, huts, and refugees to hostels and five-star hotels, costs can vary tremendously.
Top Luxury Aosta Valley Hotels
For those who want to visit the Aosta Valley in the lap of luxury, you might want to choose from some of the region's top five-star hotels and resorts:
CampZero
This intimate 30 rooms and suites at the five-star CampZero resort immerses guests in the beauty of Aosta'a natural surroundings. Each unit is two stories, affording mountain and forest views.
Located in the Monte Rosa ski area, the luxury resort offers plenty of activities that will appeal to both couples and families, including a spa, indoor and outdoor pools, indoor and outdoor climbing walls (and an ice wall), and a 9-hole pitch and putt golf course.
Where is CampZero located?
CampZero is located at the foot of Monte Rosa in the village of Campoluc in the Italian Alps. The area is popular for skiing, hiking, and mountaineering enthusiasts.
Rates and Additional Information
---
Mont Blanc Relais & Spa
Oversized picture windows on the wood and stone building frame views of the majestic peaks of Mont Blanc. The 49 rooms and suites at the romantic, five-star Mont Blanc Relais & Spa feature Alpine-style handcrafted furniture and decor, each unit with a large terrace or patio.
The resort is a perfect base for summer and winter sports in the Courmayeur-Mont Blanc ski area. Emphasizing relaxation and wellness, it has a swimming pool with a cave, and a Turkish bath and sauna. Guests appreciate the very personal service.
Where is Mont Blanc Relais & Spa located?
Mont Blanc Relais & Spa is located in the picturesque village of La Salle, Italy, in the heart of Valdigne, between Courmayeur and La Thuile. La Salle is known as a producer of DOC Alpine wine.
Rates and Additional Information
---
Grand Hotel Courmayeur Mont Blanc
Built in 2014 and part of the Mythos Group, Grand Hotel Courmayeur Mount Blanc offers comfortable, contemporary rooms decorated in mountain style with modern amenities. The 72-room property has four main buildings: a central clubhouse, and three chalets. A 17-minute drive to Mont Blanc, the resort has a dedicated wellness center, called Elysium, that features an indoor pool with a circular waterfall, hot and cold alternating showers, and more.
Note: Depending on your needs, you may want to opt for a Premium stay, which is more inclusive (without charges for the spa, a full buffet breakfast, parking, and a shuttle to the slopes).
Where is Grand Hotel Courmayeur Mont Blanc located?
Grand Hotel Courmayeur Mont Blanc is located in a residential area of Courmayeur, Italy, within walking distance of the town center. The property offers a roundtrip airport shuttle service from Turin International Airport.
Rates and Additional Information
---
Grand Hotel Billia
Grand Hotel Billia was built in 1908, architecturally stunning inside and out. The five-star hotel has 69 fully renovated and updated rooms and suites spread over three floors.
The hotel is the site of the largest casino in Europe. Other hotel amenities include an outdoor pool with a lounge area; and a spa with a sauna, hot tub, and steam room. The 1908 Restaurant, one of two on the grounds, overlooks the pool and pays homage to the hotel's rich history. Surrounded by the majestic peaks of the Grand Paradiso, the nearby ski slopes can be easily reached by car.
Where is Grand Hotel Billia located?
Grand Hotel Billia is located in Saint-Vincent, Italy, a town known for its mineral baths and is very popular as a summer tourist destination. The hotel is within walking distance of the town and convenient to the Autostrada.
Rates and Additional Information
---
Au Charmant Petit Lac Ecohotel Parc & Spa
Au Charmant Petit Lac Ecohotel Parc & Spa is a great choice for those seeking to travel sustainably. Only open since 2019, this 5-star hotel couples high-tech luxury with respect for the environment. The hotel operates solely on renewable energy, and the 26-room structure is built with recycled wood and glass. The designer furnishings and decor are also made from natural materials to maximize energy savings.
The hotel offers five different room categories to choose from, and the property is largely all-inclusive; Breakfast, Wi-FI, snacks, use of the health center, parking, and more are included in the rack rate.
Where is Au Charmant Petit Lac EcoHotel Parc and Spa located?
The hotel is located at the foot of Monte Rosa (many rooms have views of the mountains), a 10-minute walk from the center of the village of Campoluc, Italy.
Rates and Additional Information
---
Grand Hotel Cervino
This is another 5-star property in Aosta operated by the Mythos Group. From a distance, this contemporary, only recently opened property looks like it is tucked into the mountains. All of its 68 rooms and suites have terraces.
The resort caters to both fitness and wellness aficionados. In addition to the fitness center, there is a spa with a swimming pool, Jacuzzi, sauna, steam bath, Himalayan salt room, and relaxation area.
Where is Grand Hotel Cervino located?
Grand Hotel Cervino is located in Valtournenche, part of the Breuil-Cervinia ski area. It's a 14-minute walk to the cable car at Plateau Rosa, and the hotel offers a shuttle service to the town center of Cervinia.
Rates and Additional Information
---
Hermitage Hotel & Spa
Located in Breuil-Cervinia, the Hermitage Hotel & Spa is currently closed; scheduled to re-open on 11/24/22.
---
Nira Montana
This 55-room boutique five-star property is a member of DesignHotels. The hotel is surrounded by Monte Rosa, Grand Paradiso, and Mont Blanc and most rooms have patios or terraces to soak in the views. Even the interiors reflect a forest-themed decor.
The stylish hotel has a spa with a sauna and Turkish bath;l offers summer and winter packages; and has family-friendly suites and a Kids Club. The fitness center is equipped by Technogym.
Where is Nira Montana located?
Nira Montana is located in the ski resort area of La Thuile, northwest of Aosta. It's five minutes from the center of town.
Rates and Additional Information
For more options and information, read about Best Towns To Stay in the Aosta Valley.
---
READ MORE
Need more inspiration to draw you to Valle D'Aosta? What to see and do?
**The Aosta Valley Tourism Bureau offers a wealth of information and ideas including a searchable list of all hotels in the region, sorted by town.
---
Save to Pinterest!!
(photo credit: Valle d'Aosta Autonomous Region Archive)
---