European Barge Cruises: Everything You Need To Know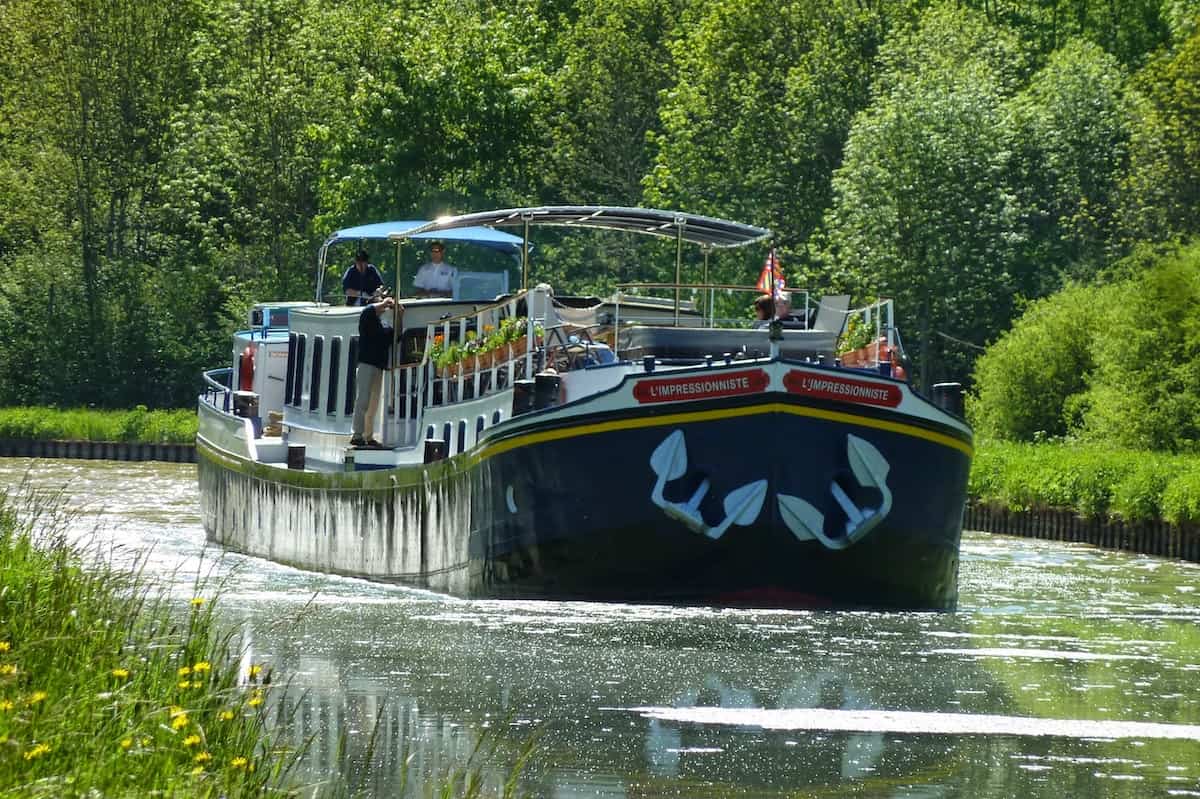 Luxury European barge cruises are one of the most bespoke, intimate, leisurely, and convenient ways to travel.
They offer a slow and up-close way to explore small villages and historic cities while traveling along Europe's canals, inland waterways, and rivers.
Whether you love or loathe riverboat or ocean cruises, you'll discover that luxury barge cruises offer a distinctly different experience.
A barge cruise couples the best of two worlds: the feel of a river cruise that touches the shores of small towns and villages with the gourmet cuisine and personal service of an ultra-luxury ocean cruise.
Here are some common questions people ask about barging:
How many passengers and crew are on a European barge cruise?
Hotel barges are quite small, even compared to riverboats. They usually carry no more than 20 passengers (and often less). Riverboats can carry as many as 200 guests.
Crew sizes on barges average 4-6 persons—a captain, chef, driver/guide, deckhands, and housekeepers/waitstaff—a team that works together seamlessly.
Because of its diminutive size, a barge offers an ambiance more akin to sailing a skippered yacht (with crew) than a commercial vessel.
How fast and how far do hotel barges travel?
Barges only travel short distances—at very slow rates of speed—usually in one region.
They generally travel less than four miles an hour, making numerous stops at locks along canals.
For example, on a six-night barge trip, passengers might only travel 30-50 miles from the time they embark on the trip until the end of their journey.
What are some popular European barge itineraries?
Some of the most popular barge itineraries include routes in France (Canal du Midi, northern and southern Burgundy, Champagne, Upper Loire, Gascony, Alsace Lorraine, Canal du Centre, and Provence), Italy (Po River), Germany (Mosel River), England (Thames River), Netherlands, Ireland and Scotland.
When is the best time to take a barge cruise?
Barge season usually starts in late March and runs through the end of October. The most popular times to take a barge cruise are spring or fall.
Barges don't operate in winter, and summer isn't ideal because of the surge in tourism.
What is included and not included in the cost of a barge trip?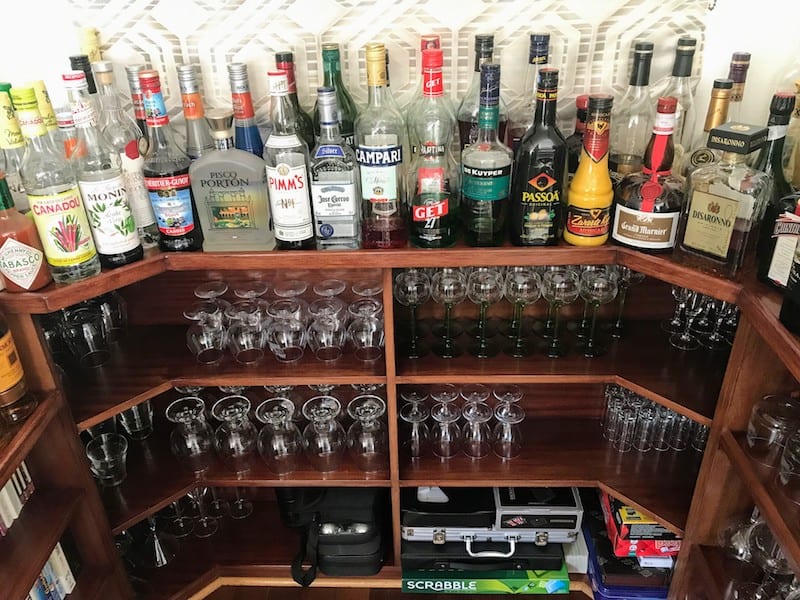 You always have to read the fine print, but luxury barge cruises are one of the most cost-inclusive ways to travel. Guests know the cost of their accommodations upfront, which includes three meals a day (some may be in a fine restaurant off the boat) and a well-stocked open bar.
Most barge trips include daily excursions to nearby points of interest— such as short minivan drives to nearby chateaux and vineyards, museums, historical sites, and visits with local artisans or food producers.
Passengers generally pay their own airfare to get to the barge's departure point and are responsible for gratuities.
Because departures are generally from small towns along the waterways, barge operators provide complimentary van transportation from a central meeting point to the barge.
What are accommodations like on a luxury barge?
Although very comfortable, barge cabins tend to be much smaller and less posh than those on cruise ships and riverboats.
Most are below deck, generally have no balconies, and may or may not have portholes instead of opening windows. Bathrooms are private and offer modern amenities.
Why do people consider barges a hassle-free way to travel?
Like ocean and river cruising, guests only need to pack and unpack once. In essence, it feels like you are traveling in a home that travels with you.
Passengers don't have to deal with the logistics of getting from place to place, booking accommodations, or making reservations for meals and activities.
What are meals like on a barge cruise?
Food plays an integral role on any cruise, but barge travel takes gastronomy to another level. Cuisine on luxury barges is likely to please the palates of even the fussiest food and wine enthusiasts.
Each vessel has a chef who tailors menus based on the destination and season.
With the limited number of guests, onboard chefs are able to cater to food aversions, allergies and preferences. If a guest has a passion for foie gras or a certain type of Cremant, they can simply tell the chef or captain.
Although menus are tailored to gourmet tastes, mealtimes are easy and quite informal. Most meals are served in the dining area of the main cabin. If weather permits, some
lunches may be organized on the outside deck.
Most foods are locally sourced (e.g., warm bread or croissants may come from a local baker each morning or cheeses from a nearby farm).
After-dinner cheese courses are common, offering an opportunity to learn about different local cheeses.
Passengers can taste regional foods and recipes and learn their history and how to prepare them from the chef and other crew.
Since many barge trips operate in celebrated wine regions, oenophiles can enjoy visiting vineyards, chatting with winemakers, and tasting different wines paired with lunch and dinner courses.
Do barge cruises offer entertainment?
There is little to no onboard entertainment other than music and conversation with fellow passengers.
If someone is interested in gambling or theater productions, barging isn't the way to go. Entertainment on a barge is more low-key.
Ex-sailors, yachtsmen and other nautical types who love operating and exploring boats will enjoy watching the Captain and crew navigate the vessel, negotiate the canals, and tie up overnight. Interested passengers are often invited to the wheelhouse. Many guests enjoy watching other vessels, mostly smaller ones, sail beside them.
Photo enthusiasts will be dazzled by the changing landscape along the canals. Church steeples and castles dot the countryside. Cattle can be seen grazing. There's also an abundance of birds and sea life around the barge.
Locals may pass by on the towpath, walking a dog or taking their kids for a stroll.
Because canals tend to be narrow (in places, just wide enough to fit the barge), the views are close-up and personal, and slow speeds afford many chances to capture that perfect photo.
Will I have opportunities to exercise and work off the calories of the great cuisine?
Taking a relaxing barge trip isn't synonymous with being sedentary. True, barges don't have the space for gyms or fancy workout equipment.
But most barges have complimentary bicycles on board; guests can borrow them to explore a small village on their own and meet up with the barge at an agreed-upon point later in the day.
Similarly, passengers can walk, run or jog at their own pace along the towpaths (roads or trails beside the canal) while the vessel is moving and meet it at one of the next locks.
There are also opportunities to walk during tours to larger villages and cities along the route. Some barge cruises depart from cities worth staying at longer (either before or after your trip), like Strasbourg, France.
Is it easy to make new friends on a barge cruise?
Because of the vessel's small size and relaxed ambiance, passengers tend to make "fast friends."
Everyone eats meals together, usually around one big table. The availability of unlimited complimentary wines, liquors, and cocktails helps act as a social lubricant.
Can there be "too much" togetherness with such a limited number of passengers?
Introverts, who prefer to socialize in smaller groups or one-on-one, usually prefer this more intimate type of cruising to sailing on mega ships or even riverboats that can carry hundreds.
If someone is shy or introverted and needs to recharge after too much social contact, there are opportunities and spaces to be alone, too. Passengers can retreat to the deck or to their cabins to read a book or walk along a towpath.
Families (including multigenerational groups) or groups of friends have the option of chartering an entire vessel for themselves.
Are there risks in traveling in close quarters with strangers?
Although unlikely, you could wind up on a barge with a fellow passenger who is personally grating. (Controversial political discussions aren't recommended.)
Is it comfortable to take a barge cruise as a single person?
Unlike Noah's Ark, where the animals were boarded two by two, barges tend to be a comfortable choice for solo travelers.
Almost immediately, passengers (and the small crew) feel like a family, ensuring no one feels alone or left out.
Compared to other types of solo travel, there is a sense of safety and security in traveling with a small group of kindred spirits.
Is someone likely to get seasick on a barge cruise?
Many people don't want to cruise because they are prone to motion sickness or are fearful they would feel claustrophobic on a ship.
The odds of getting seasick on a barge are slim because the barge doesn't have the sway of larger ships, hardly ever listing or making waves at all.
Because the barge moves so slowly, passengers can hop on and off for a period of time and catch up to the barge at the next lock. Also, barges don't cruise at night like bigger vessels.
What is the history of barging?
In the mid-1800s, before the advent of rail transport, it was common for flat-bottomed barges to transport heavy goods, like coal, iron ore, and wine, along canals. These vessels fell into disuse because rail freight was so much more efficient.
During the 1960s, many of these old workhorses were repurposed, renovated, and found second lives as floating hotels.
The same picturesque lockhouses constructed long ago are still along the banks of canals, inhabited by lockkeepers (and, sometimes, their families) who manually open and close nearby locks as barges pass.
Lockkeepers often arrive via a bicycle or moped when a barge is approaching a lock.
How does someone book a barge cruise?
Barge cruises can be booked directly with companies—like European Waterways, French Waterways, Les Bateaux Belmond, Abercrombie & Kent, and CroisiEurope—or through luxury travel advisors or specialized travel agencies like The Barge Lady.
The compelling lures of a luxury barge cruise
If you like the idea of slow, immersive travel, taking a barge cruise is a great alternative to cruising on oceans or rivers.
These bespoke cruises offer intimacy and personalized service at a truly relaxing pace.
---
READ MORE
---
All photo credits: Jerome Levine
---
Save to Pinterest!!