A Mediterranean speed date on the Oceania Marina
As I packed my suitcase for our Mediterranean cruise on the new Oceania Marina, the thought of hitting 11 cities in 12 days felt mildly reminiscent of the folly of my youth. My first trip to Europe was a one-week escorted tour of London, Paris, and Rome. Yet, there's a reason why that tri-city speed date still remains popular so many years later; travelers love to dip their toes in the water before they dive in.
My husband and I soon realized that cruising on a luxurious five-star floatel makes it not only possible, but pleasurable, to savor the taste of a dozen or so cities along the Mediterranean in one grand gulp. Having the same haven to return to each night, without packing and unpacking, eliminates the hassle of transfers between trains, planes, and hotels. This left us with long days, either to take advantage of a variety of interesting tours offered by the cruise line or to create self-directed ones on our own.
Our "Pearls of the Riviera" itinerary extended from Barcelona to Rome (Civitavecchia)–with stops in-between at Valencia, Palma de Majorca, Marseille, Saint-Tropez, Monaco, Portofino, Livorno, Amalfi, and Sorrento. The lively pace of active days with relaxed evenings was a sublime mix on the elegant new Marina (launched in February 2011).
Days on the ship assumed a comfortable rhythm. We would thrill to spectacular sunrises on our balcony, eat a light breakfast in our cabin, and spend the days exploring on shore. With a healthy sense of exhaustion, both from so much walking and the exhilaration of seeing so many new things, we generally arrived back at the boat by 4PM for tea in the Horizon Lounge (served with a choice of pastries or finger sandwiches) or by 5PM for two-for-the-price-of-one cocktails at the bar while listening to a string quartet. We relived the day by flipping through photos on our digital cameras. Public spaces never felt crowded because there were so many of them.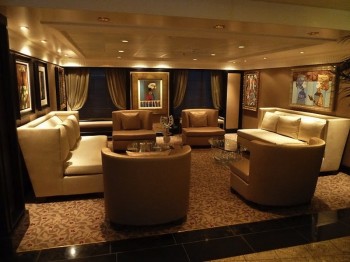 Every port was a different adventure. At some, we opted to travel on bumpy open-air, on-off, double-decker buses or to use public transportation. At others, we indulged in the not-inexpensive shore excursions with excellent guides on luxury coach buses that allowed us to visit places beyond the port city. We got a taste of more than we could have ever imagined on one trip: a cooking lesson in Sorrento; a walk through the James Bond casino in Monte Carlo; a wine-tasting at a small village in Tuscany; relaxed strolls through the sculpture park at the museum of Art and Science in Valencia and the outdoor market in Nice; a visit to cathedrals and castles in Marseilles, Palma de Majorca, and to the medieval village of Eze; shopping within the well-preserved walls of Lucca, and time to meet up with old friends from Italy at a bar in Livorno, and more. Spending a week in Barcelona prior to our departure was like eating dessert first. We fell in love with the city's Catalan cuisine and culture, its unique neighborhoods, and modernist architecture.
The Marina has no climbing walls, Vegas-style productions, or bling (except for a Lalique crystal staircase) but offers all the upscale amenities as well as the spacious feel of a luxury hotel, one with enough cabin space to walk around three sides of a bed made with 1000-thread count linens. Our penthouse suite (Cabin 10009 on the tenth deck) had a desk and separate dressing table, a table for in-suite room-service breakfasts (which also lengthened our days), and a sitting area with a comfortable loveseat placed across from a flat-screen TV. In muted tans and seafoam greens, the colors and fabrics felt homey and there was even a cashmere throw in a closet cubby in case it got chilly.
The 420-square foot cabin had surprisingly ample storage space too, with a walk-in closet large enough for suitcases (without having to wedge them under the bed) and floor-to-ceiling racks to keep shoes out of the way. The bathroom had a full-size bath, a separate stall shower (with a rainshower head), and his-and-her medicine cabinets stocked with Bulgari toiletries.
On most days, there was still enough time before dinner to squeeze in hands-on cooking lessons with a CIA-trained chef in the beautifully appointed Bon Appetit Culinary Center; to get a massage or sunbathe on the private deck outside the Canyon Ranch Spa; to take one of several free digital photography courses; or to curl up in a cozy nook in the library or on a shaded deck lounge. Soft drinks, bottled waters, and specialties coffees (like cappuccino and espresso served at Barista's bar or from the room minibar) were complimentary, so we never felt nickel-and-dimed. In terms of cost, Oceania is considered on the upper end of premium (rather than luxury) cruise lines.
Meals onboard were clearly fit for serious foodies. We had made reservations, in advance, to dine at each of the four no-surcharge specialty restaurants on the ship: the Italian-themed Toscana, the Polo Grill steakhouse, Asian-fusion-themed Red Ginger, and at the signature Jacques Pepin French bistro (Pepin is executive culinary director of Oceania). The menu was extensive; the food excellently prepared and beautifully presented. Even though we were eating on the ship, the chef highlighted local ingredients and recipes from the various ports of call. Other nights we either ate in the Grand Dining Room, alone or with other guests, or retreated to our cabin for dinner where we were served by a butler.
Whether on ship or shore, being able to travel so effortlessly and to savor so many new experiences made twelve days pass far too quickly and whetted our appetites to return to our favorite spots in the region.
---
[This article was previously published in The Huffington Post.]