Young Adult Cruises: What You Need To Know
There is still no such thing as young adult cruises, per se, but modern cruise lines are adding amenities and activities to woo this group.
Cruises often get a bad rap among young adults. Some even write them off entirely as a vacation option.
That's because stereotypes seem to abound about cruising. To mention a few:
Cruising is only geared to old people and young adults don't take cruises.
Cruises are too expensive for someone just embarking on a career.
Cruising is boring and sedentary, with nothing to do.
Cruises don't allow for individuality and personal freedom. Passengers are forced to follow tour guides with lollipops like schoolchildren on shore excursions.
Meals in large dining rooms feel excruciatingly long and repetitive.
Of course, some teens and even young adults are still willing to travel with their families. They may join family members on a cruise to celebrate a milestone occasion or take advantage of a free trip they couldn't afford on their own.
Cruise lines are increasingly wooing young adults
Clearly, the winds are changing. In fact, the cruise industry has started catering to young adults' energy and interests.
While there is still no such thing as "young adult cruises," per se, most modern cruise lines realize that to attract a wide universe of clientele, they need to offer programs and activities geared to a broad range of people of different ages, interests, and activity levels.
The industry is well aware that young adults aren't one homogenous group. Some people are more social, others are intellectually curious, and others are more physically active. But cruises potentially offer something for everyone.
The age range among "young adults" is large. The term is used to embrace people in their late teens, 20s, and even early 30s—including those still in school, those working remotely, and those working in an office.
Like passengers of any age, young adults need to do their homework and look at what the various cruise lines offer in terms of the size of the ship and its amenities, varied itineraries and excursions, and costs.
Some young adults opt to travel solo and others travel in small groups.
Young Adult Cruises: Four popular choices
Here are several popular cruise lines to consider for young adult cruises:
Virgin Voyages: The closest thing to a young adult cruise
Virgin Voyages comes closest to being a young adult cruise because of its thoroughly modern style, ambiance, high energy, and sense of whimsy.
The line offers an emphasis on parties and a range of engaging nightly entertainment. Instead of a large main dining room, guests can choose from 20 different onboard restaurants and eateries at no additional charge and unlimited fitness classes.
Because the line is adult-only, there aren't any children or younger teens on board and it attracts people in their 20s to 40s. One of owner Sir Richard Branson's mottos: "Why break the rules when you can make your own?"
There are three ships in the Virgin Voyages fleet, each carrying some 2,700 passengers.
Carnival Cruise Line: Fun Ships
Carnival Cruise Line is also popular with young adults because of the line's reputation for fun, festivity, and non-stop entertainment.
Although onboard venues and activities vary by ship, almost all include multiple bars (from piano bars to sports bars) and eateries. Popular night spots include the Nightclub, the Limelight Lounge, and the Mega Deck Party (which takes place under the stars). They also offer dance parties, dive-in movies, karaoke, and gaming tournaments.
The ships have dedicated teen clubs for the youngest of young adults. Beer lovers can even find craft breweries on Carnival Vista and Carnival Horizon.
Carnival Firenze and Carnival Venezia are Italian-themed ships. The newest vessel in the fleet, Carnival Jubilee, is set to debut in Galveston in December 2023.
The 27 Carnival ships in the fleet are large, each housing thousands of passengers. Celebration is the largest ship in the fleet, with a passenger capacity of 6,631 guests.
Because of their attractive price point, the line draws diverse guests, including young adults, couples, families with children, and older travelers on a budget.
Royal Caribbean International: Active adventure
Royal Caribbean will appeal to active young adults with surf simulators, indoor ice rinks, and zip lines. The ships also have dedicated sports decks with rock climbing, basketball, and mini golf.
Caribbean, Mexican Riviera, and Alaska itineraries are especially appealing to this younger demographic.
Anthem of the Seas has a skydiving simulator and a robotic bartender at the Bionic Bar that is able to mix martinis. The line's private island, CocoCay, has white sand beaches and a waterpark.
Best known for its Caribbean cruises, Royal Caribbean operates 26 ships, ranging from 2-31 day voyages. The shorter itineraries enable younger people to whet their appetite for cruising.
Norwegian Cruise Lines: Solo Travel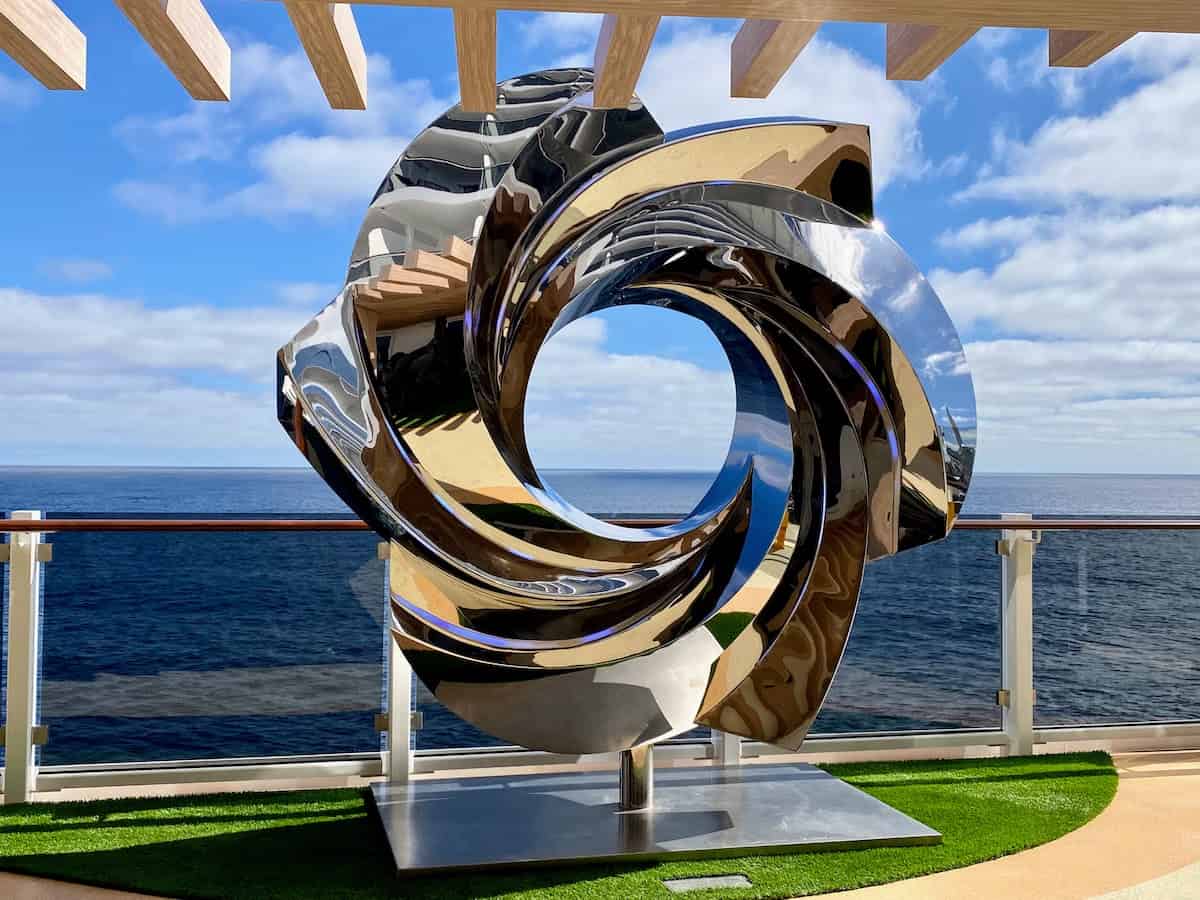 Norwegian Cruise Lines pioneered a unique solo cabin configuration.
This is a real allure to people who don't want to share a cabin (even with their very best friend) or pay a single supplement.
Called The Studios, these staterooms have full-size beds. Although about half the size of other cabins, they are attractively outfitted and offer key-card access to an inviting, two-story common lounge with a bar, plasma TV, and seating area.
Solo cruisers also have access to the rest of the ship and all its amenities (which include go-karts, waterslides, bowling, basketball, and mini-golf), nightlife and entertainment.
Flexible dining options allow young people to choose from fast-casual, casual, and fine-dining restaurants without conforming to a rigid meal schedule.
Norwegian operates 18 cruise vessels, although all of them don't offer single cabins. Porthole Magazine named NCL the "Best Cruise Line for Solo Travelers" six years in a row.
Other considerations for choosing a young adult cruise
Here are some other things to think about before choosing a cruise:
Timing
Christmas and holiday seasons tend to attract the greatest number of families with children. Spring break is a popular travel time for college students.
Length of cruise
Older cruisers (many of whom may be retired) have the time and money to opt for longer cruises. Chances are you'll find more younger people on shorter itineraries, such as voyages to beaches in warm places like Mexico or the Bahamas.
Cost
Mega-ships often offer lower fares because of the economy of scale. Older ships also can be less expensive, although they may not have all the bells and whistles of newer ones.
Budget-conscious travelers will want to compare the cost per day of one ship to another and find out what is or is not included.
Another way to save money is to choose an itinerary leaving from a port close to home (so you don't have to pay for air travel). Extras (such as drinks and spa treatments) can add a lot to the bottom line.
Minimum age requirements to book
Most cruise lines set a minimum age requirement of 21 years old for young people to book cruises from ports in North America when they are unaccompanied by an adult.
Be sure to check with the respective lines.
Minimum drinking age on cruise ships
The minimum drinking age on cruise ships is usually 21 years of age.
Norwegian Cruise Lines allows young adults to belly up to the bar at 18—but only if they are in international waters and have parental permission. Margaritaville at Sea allows those 18 and over to drink once in international waters.
Because the rules can be confusing, see this article on Drinking Ages on Cruise Ships.
Wellness
Cruise ships also offer spa treatments, fitness centers, and exercise classes. Menus offer healthy meal choices for those who can resist indulging.
Expedition cruising is another option
Expedition cruising is soaring in popularity, with a bevy of new ships setting sail in recent years.
The ships are specifically built to allow guests to explore remote destinations and inland canals, which might appeal to many adventurous young adults, especially those who are already well-traveled.
Expeditions offer the chance to hike, snorkel, paddleboard, and kayak while observing and learning about wildlife and sea creatures in regions such as the Arctic and Antarctic.
Cruising is inherently social
Cruising is an easy way to make fast friends.
Passengers are thrown together with people doing the same thing at the same time in a relaxed environment. There is the opportunity to engage in conversation at meals, around the pool, in the hot tub, or even while doing laundry in the self-service laundromat.
On the other hand, ships have spaces for introverts, too. Guests can always find a quiet corner to read or recharge. (The smaller the ship, the easier it might be to avoid crowds).
All in all, this may be the best time ever for young adults to cruise because there are so many choices.
Ready to give it a try?
---
READ MORE
---
Save to Pinterest!!
---