Regent Seven Seas Splendor Review: Caviar for Breakfast
Contributors John and Sandra Nowlan offer a candid Regent Seven Seas Splendor review, describing an ultra-luxury experience at sea
As much Atlantic Canadian lobster as you want. Prime filet mignon on the menu each night. Unlimited caviar at Sunday brunch. Just three of the culinary indulgences on a cruise line with the motto, "Luxury Refined".
Regent Seven Seas holds a unique place in the world of cruising. The five ships in this high-end brand of its parent company, Norwegian Cruise Line, are considered in the rarified ultra-luxury category.
But Regent stands out by offering a complete all-inclusive package. Included in the price are a spacious suite with a balcony, all meals (including specialty restaurants), drinks (including beer, wine, spirits and cocktails), tours (with a wide variety of choices in each port), gratuities, airport and hotel transfers, and even laundry and pressing. In some categories, first-class flights and pre-cruise hotels are included.
Janice Davidson. Regent's VP for Creative and Brand Management, told us her greatest marketing challenge is price. "We're trying to educate people about what comes with all-inclusive," she said. "With our single upfront cost, guests could actually pay less than on other lines."
Boarding Seven Seas Splendor
As soon as we boarded Seven Seas Splendor, Regent's newest ship, for a week-long Caribbean cruise from Miami, the luxury and service stood out. Walking around with welcome champagne glasses in hand, the 46,000 square feet of fine Italian marble on walls and floors and more than 500 stunning chandeliers created an ambiance unlike any we've experienced in 25 years of cruising.
The ship, launched in 2020, has a capacity of just 750 guests, all in balcony suites ranging from an impressive 307 to more than 4000 square feet. The crew of 550 provides the best staff-to-guest ratio at sea. Their friendliness, training and attentiveness to guest needs were evident all week.
Living the "Suite Life"
We were in one of the smaller suites but were impressed with the layout and generous storage spaces, including a walk-in closet. The long couch and convenient work desk were separated from the bed area by privacy blackout curtains. And the balcony, with its generous table and two cushioned wicker chairs, was one of the largest we'd ever seen.
The bed itself was extremely comfortable with high thread count sheets and excellent adjustable reading lights. There were several convenient USB and power outlets. The thermostat was controlled by up and down – warmer and cooler – arrows rather than an actual temperature setting.
The small fridge could be filled with whatever complimentary drinks we wanted. The marble-lined bathroom had just one smallish sink but a large shower area with both a regular shower head and a rainforest-style shower.
Our suite was near the back of the ship so we could occasionally hear engine rumble, especially when getting underway or docking. But we think the general stateroom soundproofing is excellent since the ship was full and we didn't hear a sound from any of our neighbors.
Unlike some of the cruise lines that have gone to once a day post-pandemic, staterooms are cleaned and refreshed twice a day with newspaper summaries (from the USA, Canada, Britain and other countries) put on the bed each evening along with tomorrow's schedule (the spacious library includes a daily, full edition of the New York Times).
The large, high-resolution TV had many free movies available but broadcast channel choices were very limited.
One negative aspect of not just the suites but throughout the ship was the poor internet service. Regular, free but slow internet is available for all guests. We booked the premium, extra-cost package but it was only marginally better. Email and YouTube worked fairly well but posting photos on Facebook wasn't possible. The technical head of the ship told us that satellite improvements are coming.
Dining on Regent Seven Seas Splendor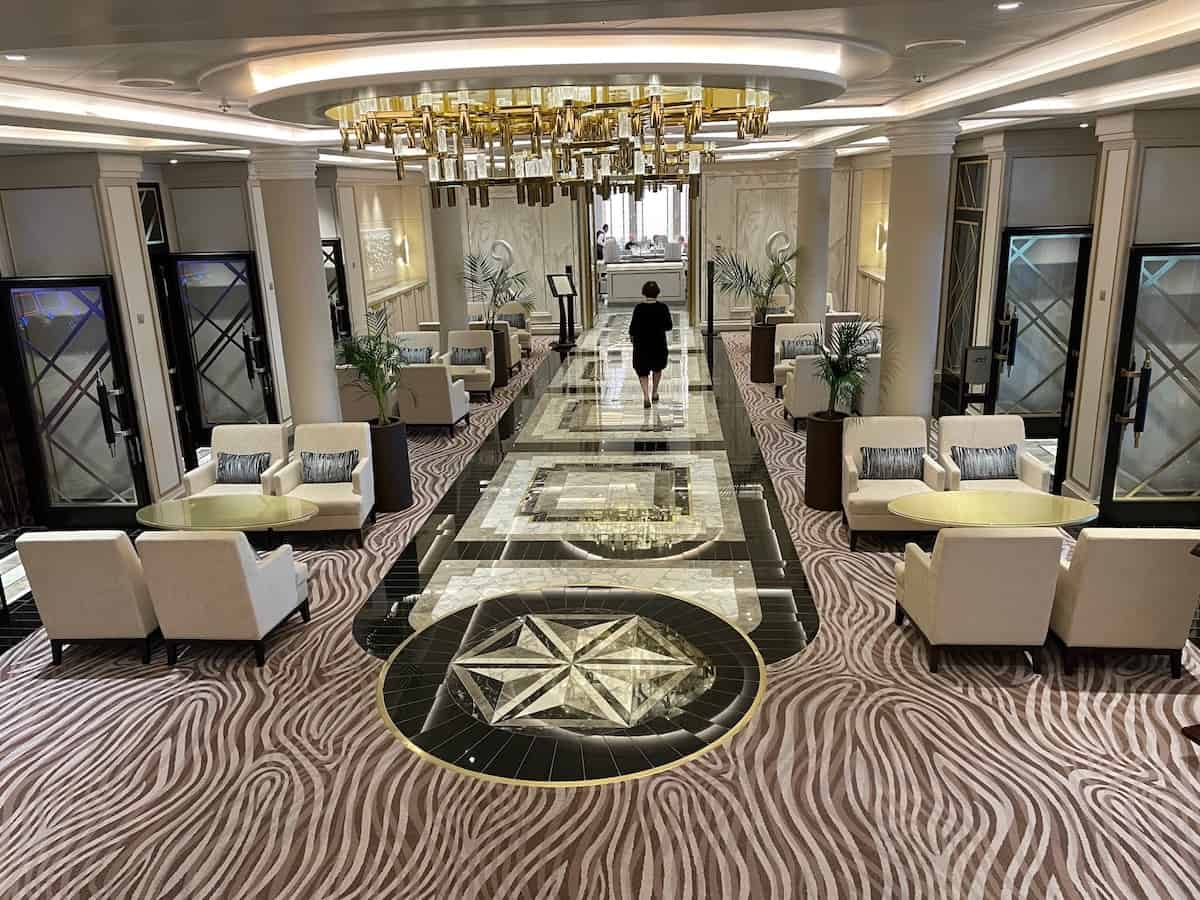 Regent continues to excel in its culinary program. The hotel general manager, Anatoli Makaev, told us that food costs, per person, are the highest at sea. Regent, he said, is spending three times more on food than before the pandemic.
Unlike other lines, there have been no cutbacks in quality or quantity. Chefs continued to get paid during the COVID years and their commitment to guest satisfaction is evident.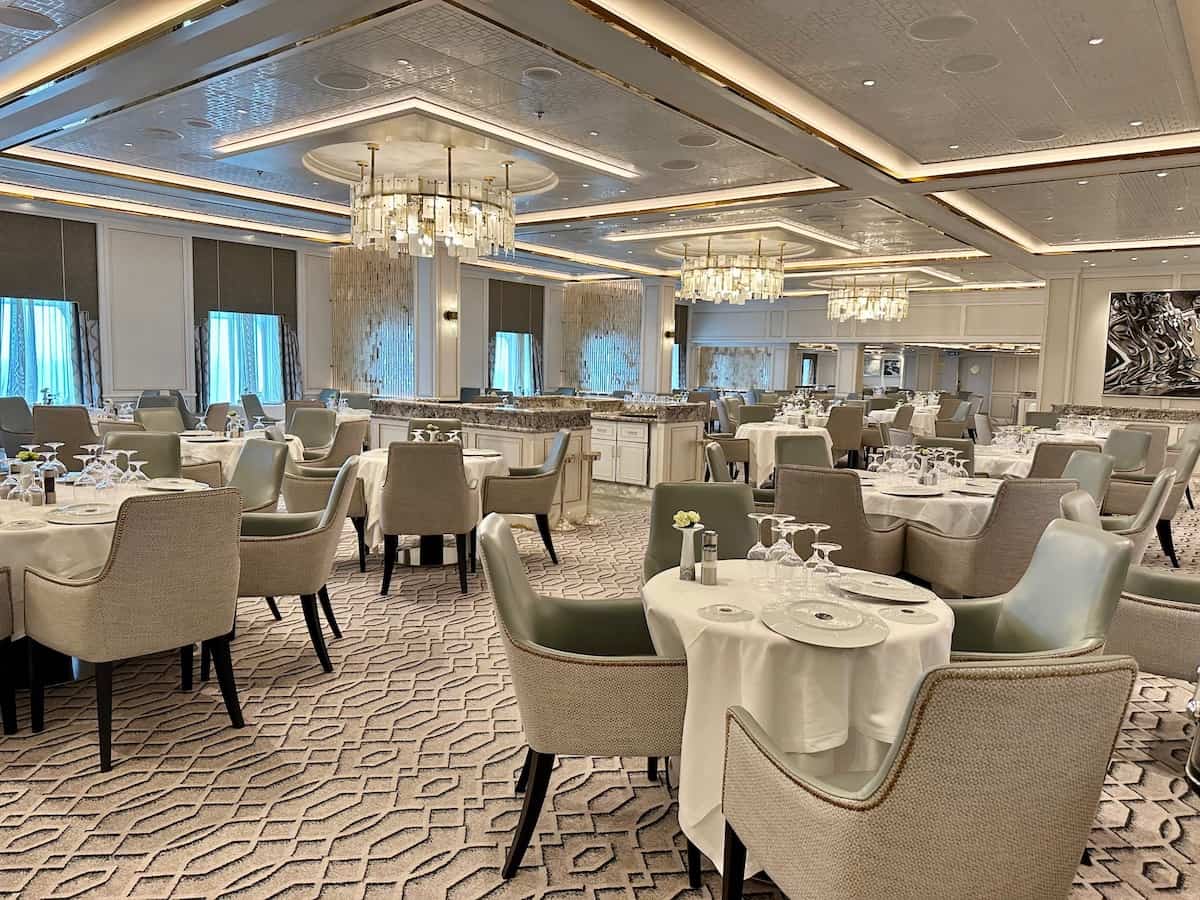 For a ship with fewer than 800 passengers, the restaurant and menu choices were remarkable. Every evening in the main dining room, Compass Rose, guests could choose from an "Always Available" menu (from Alaska Crab to New Zealand lamb) or the daily specials including the Executive Chef's six-course "Gourmet Tasting Menu." A healthy Spa menu was also available.
Three uniquely decorated specialty restaurants offer French cuisine (Chartreuse), Asian fare (Pan Pacific) or steaks and seafood (Prime 7). At all the dining rooms, good quality red, white, rosé or sparkling wines were offered without extra cost each day, even non-alcoholic wines if you wish.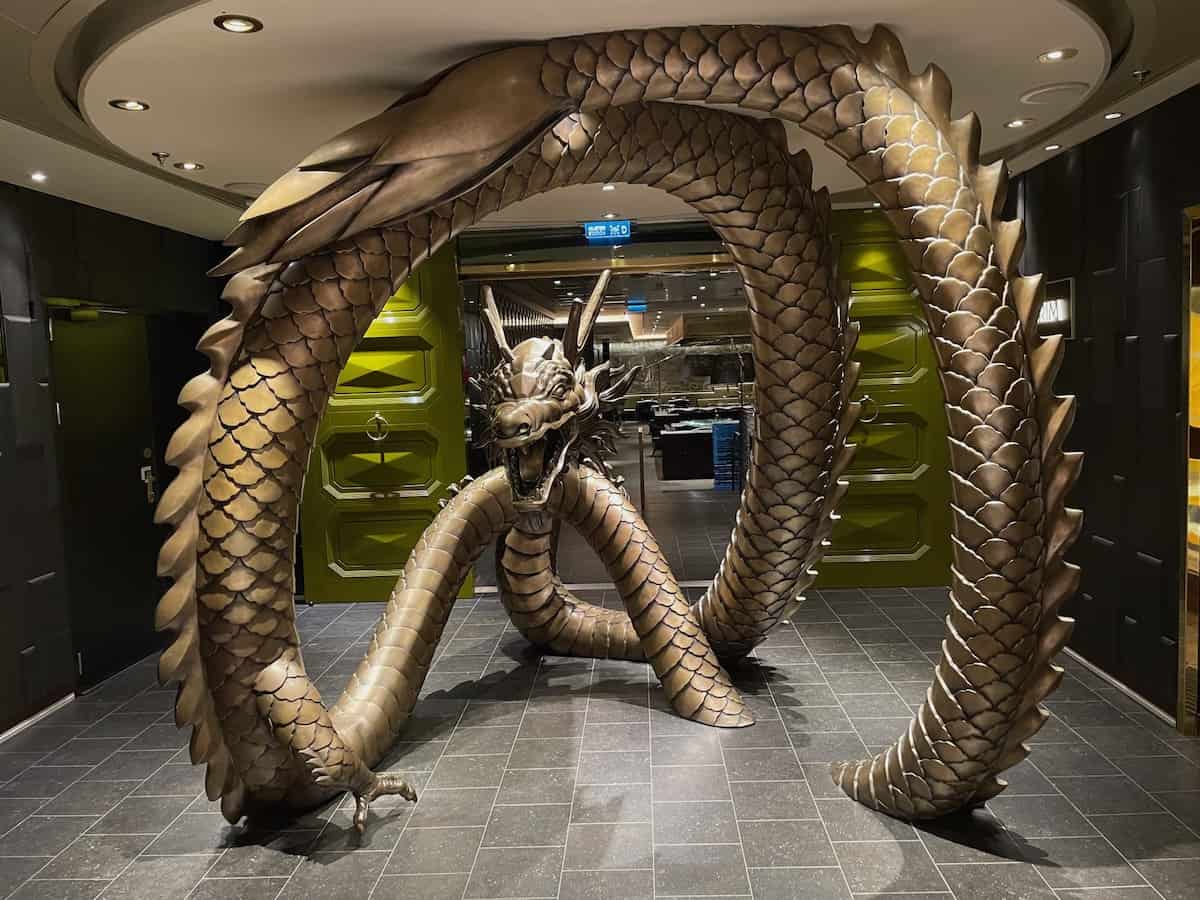 The large buffet restaurant on Deck 11, La Veranda, has an excellent selection of breakfast and lunch items. White tablecloths are standard throughout the area (most unusual for a cruise ship buffet) and are a classy touch in the evening when much of La Veranda becomes a fine Italian restaurant, Sette Mari.
Coffee quality in the buffet was only fair but outstanding brews were always available at the 5th deck Coffee Connection.
Exploring Regent Splendor deck plans and entertainment
Seven Seas Splendor has a well-equipped fitness center and a spa at the stern of the ship.
We discovered the uncrowded Infinity Swimming Pool as part of the spa and preferred it to the large, main pool on Deck 11.
Splendor's entertainment was, as expected, of a high caliber with a dozen talented singers and dancers, accompanied by the ship band, putting on several complex main-stage productions in the evening. The Regent Signature Orchestra, the Cocktail pianist, and a DJ also played music for listening or dancing each evening in several lounges throughout the ship.
On our final evening, a few band members and singers put on a lively Beatles music night, with dancing encouraged, in the Atrium. We were disappointed that the ship's entertainment did not include a string quartet or even a solo cello or harp. Classical music would have been a lovely touch in the pre-dinner period.
There was no shortage of games and puzzles throughout the ship. Trivia, Bingo, darts, shuffle golf and bean bag toss were among several ways guests competed for coveted Regent points and prizes at the end of the cruise.
We were also pleased to see and hear a retired history professor give illustrated lectures about subjects ranging from Mayan civilization to the Caribbean connection in World War II. Another special treat was seeing actor John O'Hurley (best known as J. Peterman on Seinfeld) perform his brilliant one-man show – music and musings – called A Man With Standards.
Visiting the Caribbean ports of call
The ship itself was clearly the star of our week-long cruise from Miami but the itinerary was fascinating too.
We docked in Roatan, Honduras, for an island tour and swim, then stopped the next day in nearby Belize, the only English-speaking country in Central America. Sandra joined a tour to a spice farm where the two chefs from the Culinary Arts Kitchen collected spices to be used in a hands-on cooking class back on the ship. Guests prepared prawn biryani with garam masala and white pepper crepes with cardamom ice cream. In the meantime, John visited a typical Mayan village off the grid where a chocolate maker showed how cacao beans were harvested and turned into popular sweet treats.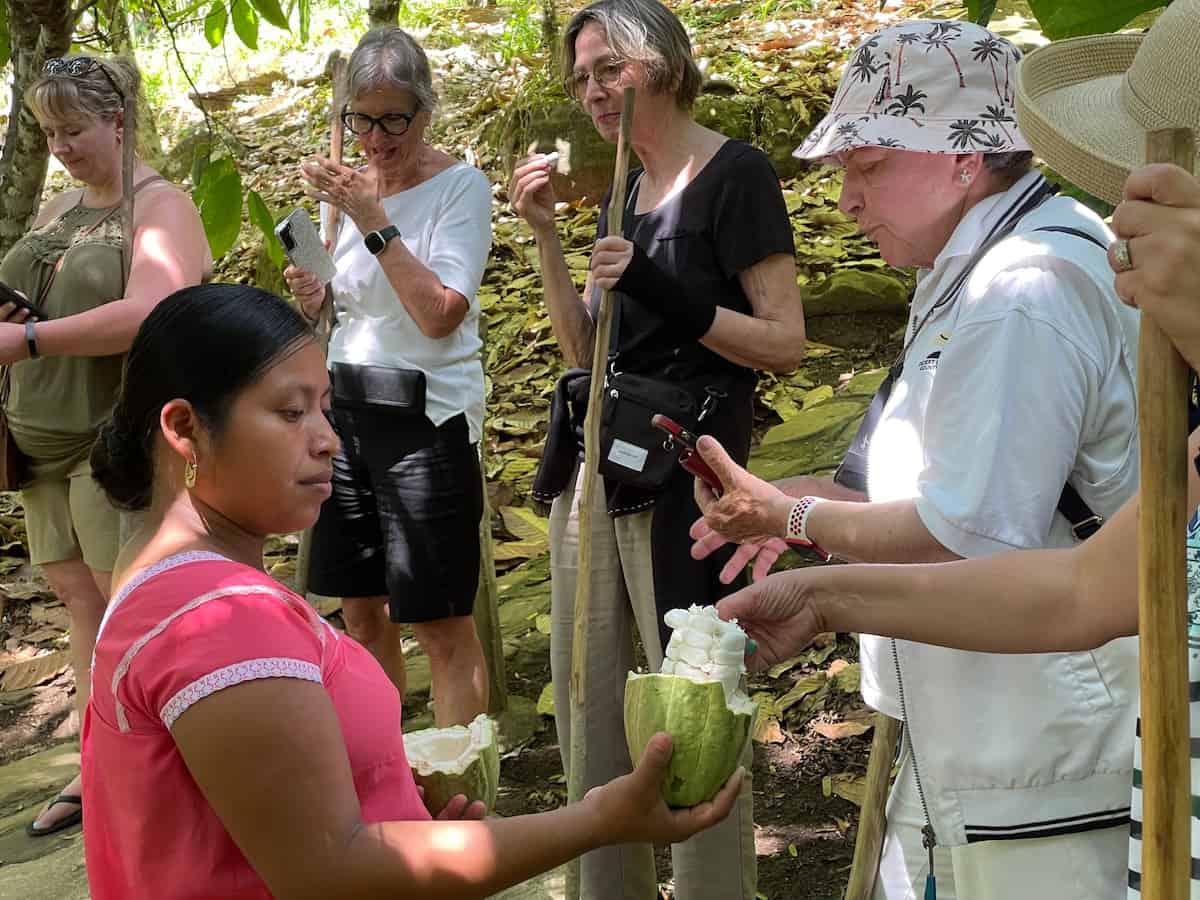 Our planned stop in Costa Maya, Mexico, was canceled because the seas were too rough to dock but Cozumel was more tranquil and we relived our youth by boarding a two-person mini speedboat and racing through choppy water with other boats before stopping for a snorkel in warm, pristine waters filled with tropical fish.
Seven Seas Splendor has been called, "the most luxurious cruise ship in the world". In many ways, it's true. But later in 2023, Regent is launching Seven Seas Grandeur, a sister ship to Splendor. With subtle improvements, Grandeur may claim the coveted "most luxurious" title. It will be fun to find out.
---
All photo credits: John and Sandra Nowlan
---
Disclosure: The Nowlans were guests of Regent Seven Seas but any opinions expressed in this post are their own.
---
Also, on More Time To Travel:
---
Save to Pinterest!!