Ludwig Bemelmans Art on Display in Rhode Island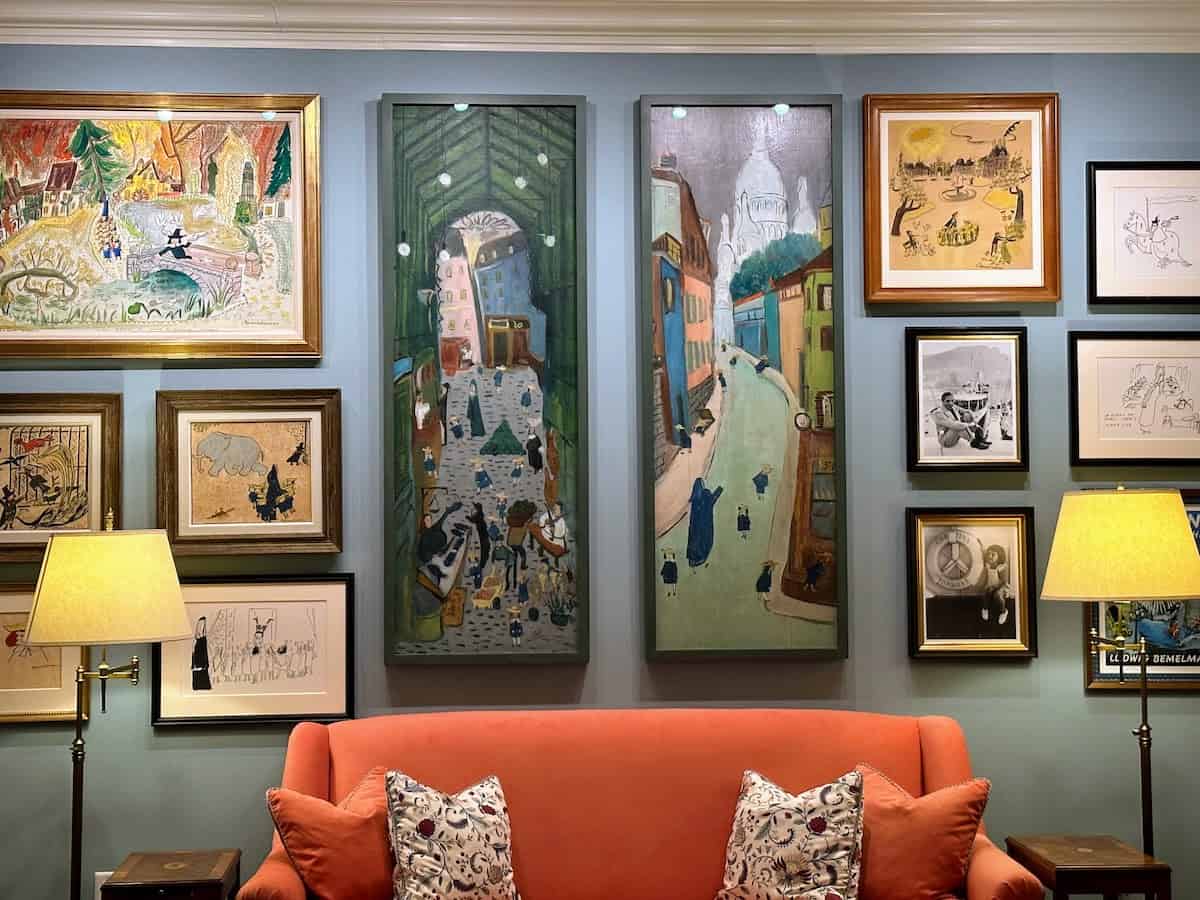 Fans of the beloved Madeline series will enjoy the recently-opened, one-of-a-kind Ludwig Bemelmans Art Gallery, a permanent exhibition of the author and illustrator's work installed at the Ocean House resort in Rhode Island.
Charles and Deborah Royce, proprietors of the historic coastal New England hotel, have created a unique opportunity for art lovers, children, and kids at heart to visit the largest private collection of work by Bemelmans on public display in North America.
"Ludwig Bemelmans was an iconic, prolific, and witty artist and writer who continues to appeal to people of all ages," said Deborah Goodrich Royce in announcing the new gallery. "Many of his works portray all levels of society with humorous 'behind-the-scenes' glimpses of hotel and cafe life."
The artist's impressive work can also be found at The Eric Carle Museum of Picture Book Art (in Massachusetts), the Museum of the City of New York, The New-York Historical Society, The Metropolitan Museum of Art, and the Museum of Modern Art.
A peek at the new Bemelmans art exhibit
First published in 1939, Bemelmans' 15-book Madeline series has been called a "cultural touchstone" by The New York Times.
The timeless, whimsical art and rhyming text have captured the imagination of readers for more than 75 years.
In addition to this series, the curated collection showcases the breadth of Bemelmans' artistry, including original illustrations, architectural commissions, murals, and product campaigns—all, characterized by vivid color, imagery, and creativity.
On the hotel's intimate lower level, Bemelmans' simple but evocative pieces are beautifully displayed, along with explanations beside them that place them in the context of the celebrated artist's life.
When the Royces first saw Bemelmans' "Farewell to the Ritz" collection displayed at Bergdorf Goodman, a luxury department store in Manhattan, it was the catalyst that sparked their interest in the artist's work.
The exhibition at Ocean House includes those 21 drawings, depicting Bemelmans experiences as an employee of the Ritz-Carlton in New York, where he was banquet manager.
Also on display are the "La Colombe" murals that Bemelmans designed for the Parisian bistro of the same name, which the artist purchased in 1953. After it closed down, the murals were removed and stored in a barn outside the city.
When the Royces learned they might be available for sale, they flew to Paris, promising the owners they would restore them so they could be widely enjoyed by guests from around the world.
Of course, the pièces de résistance of the exhibit are the Madeline illustrations of 12 schoolgirls, residents of a boarding school, strolling the streets of Paris, showcasing the city's parks, gardens, L'Arc de Triomphe, and a bridge over the Seine River.
Two original, tall Madeline paintings, once part of a collection of 15 panels commissioned for the children's dining room on Aristotle Onassis' yacht, Christina O, are also on display.
The unique "Gallery" setting
Ocean House is an independently-owned, boutique property with only 49 rooms and 20 signature suites, an idyllic destination for a getaway laden with history.
Known for its exceptional cuisine and gracious hospitality, the waterfront resort is located in the tiny village of Watch Hill (in the town of Westerly) nestled on the southwesternmost peninsula in Rhode Island.
The five-star Relais & Chateaux property has a white, sandy beach, an indoor lap pool, a full-service spa, and a seasonal program of activities, both on-site and at nearby historical, cultural, and sports attractions.
The original hotel was first built in 1868, shortly after the Civil War. But after years of decay (including devastating fires and hurricanes) that eroded its wood structure, the building was beyond repair and condemned in 2003.
Watch Hill summer residents and philanthropists Charles and Deborah Royce rallied to preserve the landmark hotel, which resulted in a five-year, $140 million total rebuild. The planning, architectural, and design teams were careful to preserve its style and restore it to its once glory.
Since reopening in 2010, Ocean House has resumed its role as a mecca for residents and summer visitors.
In addition, the hotel recently added ten spectacular cottages, called its Cottage Collection. These structures range in size from two to nine bedrooms and offer abundant space and privacy for get-togethers of multigenerational families or groups of friends, as well as company retreats.
Celebrating the 125th anniversary of Ludwig Bemelmans' birth, the hotel will be unveiling a Bemelmans Suite this May with original pieces of his art.
In addition, copies of two of the author's books, To the One I Love Best and Hotel Splendide will be placed in all hotel accommodations.
A shared legacy of hospitality
Like the Royces, Bemelmans had a long-standing appreciation of hospitality.
He was born into a hotel family in Austria and, at age 16, secured employment as a busboy at the Ritz Hotel soon after moving to New York. He worked his way through the ranks to become the banquet manager at the same hotel.
Later, he created murals for hotels, one of the most famous at the Carlyle Hotel in New York City.
Bemelmans' literary and artistic works draw heavily on his own work and travels, offering a glimpse into the everyday lives of the people he met along the way.
"Naturally these playful pieces fit perfectly into our hotel setting," says Mrs. Royce. "We are thrilled to share his storied legacy with our valued guests and visitors.
Both Bemelmans art and Ocean House exude enduring charm. The new gallery offers one more reason to visit Ocean House.
---
All photo credits: Jerome Levine, unless otherwise shown
---
READ MORE
On Forbes: Ocean House Rhode Island Expands Its Cottage Collection
On MoreTimeToTravel: Ocean House Rhode Island Getaway: A Perfect Overnight Getaway or Day Escape
---
Save to Pinterest!!