The case for visiting Amsterdam on King's Day
If you're lucky enough to be a tourist visiting Amsterdam on King's Day, the happy festivities are worth any inconvenience.
We were excited to book a two-night, pre-cruise stay at The Dylan, a boutique hotel in the historic heart of Amsterdam, until we received the response to our room request from the hotel management. It read:
"April 27th is King's Day in the Netherlands, making it impossible to arrive at the hotel, with road closures and cars not being permitted in the old town center that day."
Even as frequent travelers, we're often ignorant of holidays abroad and have unknowingly arrived to find museums and restaurants shuttered. But what kind of holiday could prevent us from getting into the city center by bus, tram or taxi?
We booked a one-night stay at another hotel about 15-minutes by foot from the center of Amsterdam and soon after our arrival that morning, rushed out to experience firsthand the hoopla surrounding King's Day.
What is King's Day?
April 27th marks the birthday of King Willem-Alexander, which is celebrated as a national holiday throughout the country (unless it falls on a Sunday when it's celebrated on the 26th). Until two years ago (when the Netherlands had a Queen), the holiday was called Queen's Day.
The dress code is orange—a symbol of national pride in honor of the royal House of Orange. We are swept up in a sea of it: Everyone (including babies in carriages) dons something outrageously orange, whether they are boa scarves, balloon hats, formal suits and ties, tee shirts, stretchy bodysuits, socks, wigs, sunglasses or whatever.
What's it like in Amsterdam?
Amsterdam is the epicenter of this giant street party with an estimated 700,000 people flocking to the already crowded city from other places. DJs are perched on balconies at almost every intersection as music fills the air.
The level of excitement and enthusiasm of the revelers is no less than that of the Mardi Gras in New Orleans, Carnival in Venice, or New Year's Eve in Times Square.
Vendors line the streets, parks and canals selling Dutch and international foods. Beer and liquor stands are ubiquitous so the number of people "pleasantly inebriated" far outweighs the occasional waft of marijuana (for which Amsterdam is well known).
Instead of a parade with decorated floats, a flotilla of party boats and barges pass through the canals. The boats are so crowded that passengers can't sit. Rather, they stand shoulder to shoulder moving to the beat of loud music. On the holiday, many stores close down, too, as the city hosts the world's largest flea market, called the vrijmarkt, with everyone bringing second-hand items onto the city streets for sale.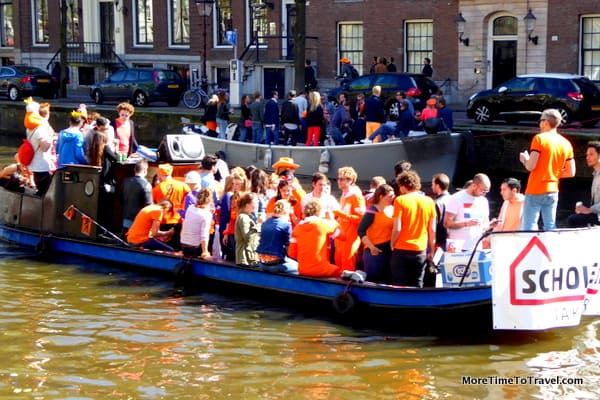 The best place to see the action
King's Day isn't for the faint-hearted. With hoards of people, even getting through the crowds can be formidable but everyone is in remarkably good spirits. Three out of four locals in Amsterdam (an amazingly high proportion even for a European city) own and ride bicycles so we had to be cautious of bikes whizzing past us on some less crowded streets.
On a beautiful day with the sun glimmering on the water, we realized that the bridges crossing the canals are probably the best vantage point for getting a sense of this one-of-a-kind celebration that seems to coincide with tulip season and spring! It's a perfect time for visiting Amsterdam.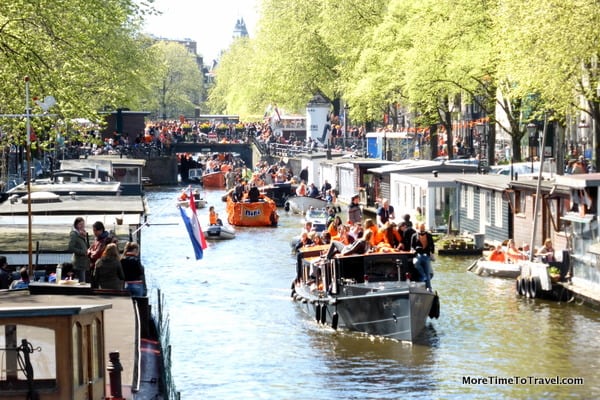 ---
IF YOU GO
King's Day FAQs from the Amsterdam Tourist Board can be found on I amsterdam.
Watch our YouTube video of one of the party boats on the canal: