Pampered Luxury: What Is It Like To Take A Barge Cruise?
Gazing at the huge plane trees lining both sides of the canal while holding a cocktail, one of our fellow travelers remarks, "It's like slow cooking, it brings out all the flavors." His comment aptly captures the richness of what it's like to take a barge cruise through the Alsace and Lorraine regions of France on European Waterways' 12-passenger hotel barge, Panache.
Barging is distinctly different than either ocean or river cruising. It is slower, far more intimate and also more authentic, taking passengers to smaller locales that are inaccessible to larger vessels.
Slow and steady
A form of slow travel, barging fully immerses travelers in their surroundings. Hotel barges leisurely meander through canals (and, occasionally, other relatively small inland waterways) at speeds averaging no more than 4 or 5 miles an hour.
There are often only inches of space to spare between the boats and the banks of the canals that hug them. The motion of the boats is so gentle that it's virtually impossible, even for the most squeamish guest, to feel queasy.
Each evening, barges moor until the next morning at places too small to be called ports. (Barges aren't allowed to travel after dark).
Barges bring travelers up close to the small towns and villages dotting the landscapes; each place seems to have its own personality. The forests and fields are marked with vineyards, churches, castles and characteristic homes.
Given slight encouragement, locals—who ride bicycles, walk their pets or jog along the towpaths—are eager to wave, say hello and engage in conversation with passersby.
Typically, a barge passes through a number of locks each day. Operated either manually (by lockkeepers) or mechanically, these marvels of engineering equalize the levels between two stretches of water.
The captain and deckhands on the barge skillfully navigate the locks. Some of the small lock houses are still inhabited and decorated with cascading flowers.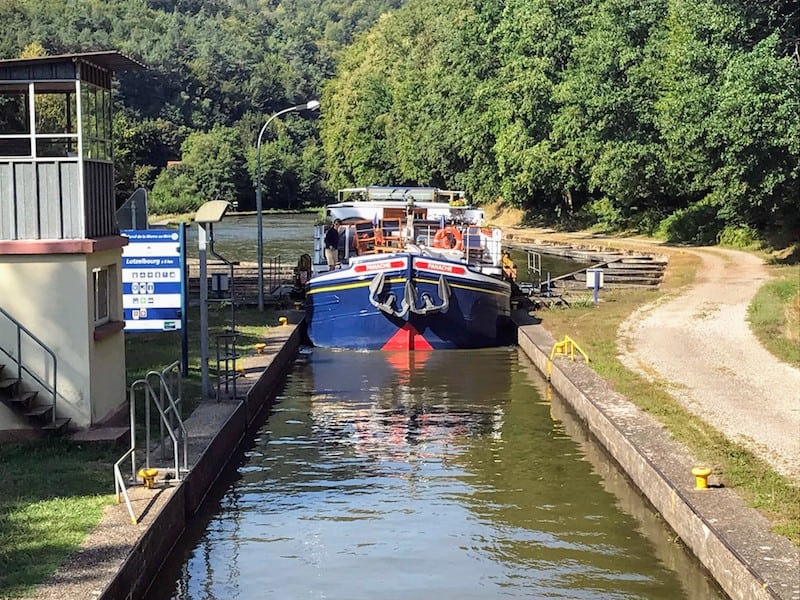 Guests can opt to get off the boat, to walk or bicycle along the towpath, and figure out where to meet the barge at an upcoming lock. They can get to observe the indigenous birds and wildlife, and cattle grazing in pastures.
Intimate and small
Barges vary in size. Some hold up to 20 passengers, although most are smaller.
Panache has room for 12 guests but only five others are on our trip, making us a group of seven: two other couples from Australia and a young woman from New York.
Small groups like this make for fast friendships. Passengers are generally sophisticated travelers, kindred spirits who are open to new people, foods, ideas, and cultures.
Before long, everyone feels close, almost like a family. Ours took a young millennial under wing and we learned that she had much to teach us boomers.
The impressive crew: passenger ratio (6:7 on our barge) allows for very personal service. If we want something, we simply ask, but the experienced and solicitous crew generally anticipates any need.
This cohesive, multilingual team includes a captain, pilot, deckhand, two servers/housekeepers and a French chef. They're knowledgeable, experienced and friendly. Experts at efficiency, they seamlessly trade roles to make sure everything goes smoothly.
Luxury devoid of glitz
Barging is a luxury product that has the patina of age.
Before the advent of the railroads, flat-bottomed barges used to carry heavy goods up and down the waterways of Europe. Many were repurposed and converted into floating hotels when they fell into disuse in the 1960s. Although the vessels are continually updated, they look their age.
The 150-square-foot junior suite on Panache is smaller than most staterooms on ocean and river-going vessels but is extremely comfortable and well-equipped.
Although below deck, a large window over the queen-size bed in our air-conditioned stateroom often puts us face to face with elegant swans. The private bathroom has a full-size shower and double sink stocked with L'Occitane toiletries.
The stealthy twice-a-day housekeeping service keeps everything shipshape. Each evening, we find fine chocolates on our pillows.
Food, glorious food
Mentioning the chef only in passing is a grave understatement. Few culinary experiences can compare to the gourmet food and wine experiences one has on a barge trip in France.
Although there's an occasional visit to a local restaurant, most meals take place at the elegant dining table, a gathering place on the main floor of the barge, beside the large bar/sitting area.
Chef Holly creates farm-to-table meals that rely on seasonal local products, often from artisanal producers.
He asks about and accommodates each guest's food allergies, aversions and preferences.
His beautifully presented creations often make food look like art, an accomplishment made all the more remarkable given the diminutive size of the galley where he works. He explains each delicious dish, often tracing its DNA back to a family recipe.
Before we awaken each morning, one crew member runs to a local bakery bringing back fresh breads and croissants. The buffet breakfast includes juices, fresh fruits and cereals, and made-to-order hot specialties.
One morning, we wake up early to participate in the bakery run and watch a fifth-generation boulanger (baker) make French bread.
At lunch and dinner, one of the two servers alternately assumes the role of sommelier, introducing us to the two or three new regional wines that are paired with our multi-course meals.
Our wine education is paralleled by our introduction to French cheeses during every cheese course that follows lunch and dinner.
Truly all-inclusive
Barge guests can place their wallets in their cabin safes until it is time to disembark. In addition to the premium wines served with dinner (many Grand Cru and Premier Cru) and creative cocktails before, guests partake from a very well-stocked open bar 24/7.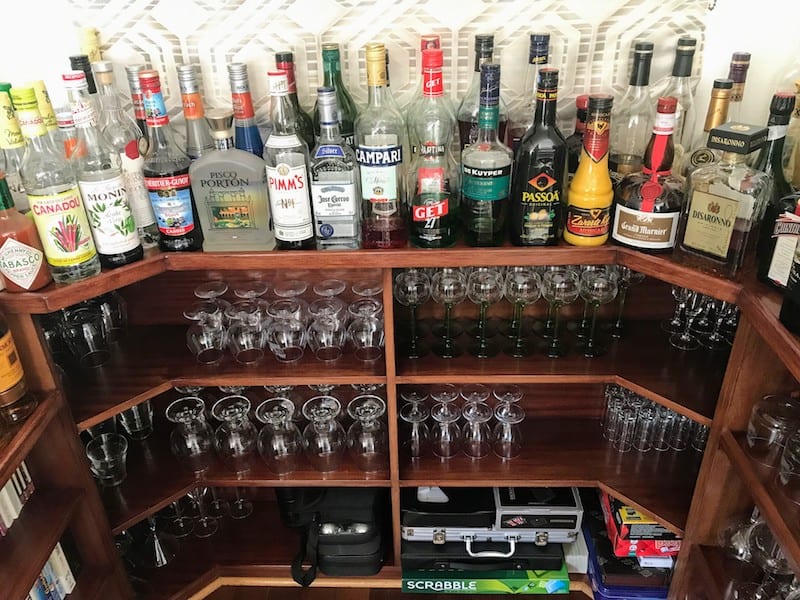 During our 7-day/6-night voyage, we visited museums, vineyards, breweries and churches, and took city tours, always without any additional charges. (Another post will recount the whirlwind of experiences that filled our days).
From the meeting point to the canal and back, local transportation is in a spiffy, company-owned, air-conditioned Mercedes van, again at no extra cost. Gratuities are not included but rewarding people who work so hard to please is a pleasure.
Looking back: What is it like to take a barge cruise?
Our European Waterways barge trip to Alsace didn't take us very far (about 35 miles) but the experience was a deep and intimate one.
We felt pampered by crew and made new friendships that we hope will endure. We returned with wonderful memories of the foods, wines and culture of a region of France we had only known from afar.
---
All photo credits: Jerome Levine
---
---
Also on MoreTimeToTravel:
My Article on Forbes:
---
Read my friend and colleague Jo Castro's wonderful article:
---
Disclosure: A portion of our barge cruise was sponsored by European Waterways but any opinions expressed in this post are our own.