2016: Recounting our travels
Looking back at our travels in 2016 and hoping for 'more time to travel' in 2017!
Even though we're both no longer consumed with our once 9-5+ jobs, it doesn't always feel like we have "more time to travel," or perhaps, "enough time" to travel.
Our travel style: We tend to plan travel primarily during shoulder seasons, when the weather tends to be better and crowds are fewer. Whenever possible, we extend individual trips (reducing the number) so we can take advantage of having additional time at our destination or nearby, adding more depth to our experience, without incurring additional airfares.
This year, the process of downsizing has made (and is continuing to make) a dent in our travel time. We're consumed with the emotionally wrenching and time-sapping task of letting go of stuff (and recounting the memories) we've collected in a home we've lived in for more than 20 years.
We're finally ready to acknowledge that there are an abundance of possessions in cupboards, closets and the basement we'll never use, some of which we may have never even needed. Naturally, this exercise has made us take stock of where we've been and where we're going. As a result, our guest room looks like (and is) an E-Bay distribution center! By the summer of this year, we hope to be nestled in our now-being-built townhouse where we will live a more minimalist life.
Oddly, trying to recount a year of travel is somewhat reminiscent of looking through those personal belongings. We became attached to certain people, places and photographs and it's tough to distill them into a manageable form but here are some highlights from our year:
---
Hamilton, Bermuda
The reopening of the historic Hamilton Princess Hotel & Beach Club was a great excuse to visit Bermuda. Like many people, we hadn't visited the island in many years and forgot how beautiful it is. A development boom is taking place to create more beds and attract more visitors. We enjoyed the beach, aquamarine waters, spotting Moon gates, and meeting Chef Marcus Samuelsson (who has a signature restaurant at the Hamilton Princess) and sipping a Dark "N' Stormy or two.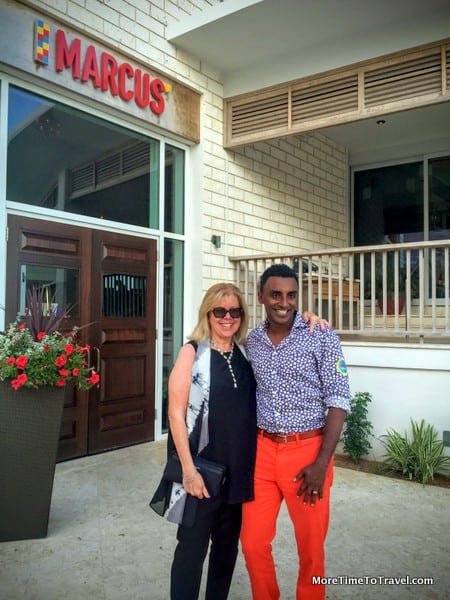 This slideshow requires JavaScript.
---
Viking River Cruises' Douro Valley Cruise
We cruised the Douro River on Viking's River of Gold Voyage. This was our third cruise on the line and each one seems to get better! Perhaps it's because we feel so at home in the comfortable longship cabins, and relish waking up each morning at a new port waiting to be explored. The river views of the terraced hillsides of the Douro were spectacular.
This slideshow requires JavaScript.
We visited wineries and small towns with big personalities in Northern Portugal, including Lamego, Pinhao, Favaios, Vega de Terron, Castelo Rodrigo, Villa Real, Regua, Alheira, Guimaraes and Coimbra.
Along the way, we were fortunate to meet and have dinner with food and travel writer Anita Breland and her husband Tom at Restaurante Ponte de Pedra Torrão on the river.
---
Lisbon, Portugal
Our river cruise began with a land tour and free time in Lisbon. We took long walks on the city's stunning sidewalks of limestone and basalt, enjoying the city's food, history and culture, and listening to traditional Fado music at night.
This slideshow requires JavaScript.
---
Charleston, South Carolina
When Certified Angus Beef invited us to Charleston for the weekend, we couldn't resist. We took a great cooking class at Le Creuset and had a lot of wonderful beef at some of the city's finest restaurants. The Bonus: We got to visit our friends who live on nearby Seabrook Island.
This slideshow requires JavaScript.
---
Miami, Florida
We always associate Miami with sun and sand but on a long weekend visit we didn't have a moment to dip our toes in the water. We learned that the city is filled with interesting art, architecture and culture. We were wowed by the street art in the Wynwood Art District; impressed by the breadth and quality of performances we took in at the Adrienne Arsht Center for the Performing Arts (including a live Flamenco performance); viewed the edgy, contemporary art installations at the Perez Art Museum; and enjoyed a fascinating architectural tour of the downtown Miami historic district (juxtaposed with all the new skyscrapers).
This slideshow requires JavaScript.
This slideshow requires JavaScript.
---
This slideshow requires JavaScript.
---
Tuscany, Emilia Romagna and Umbria, Italy
We spent several weeks touring some of the larger cities and small towns of three Italian provinces—Emilia Romagna, Tuscany and Umbria—with two other couples and also got to visit friends in Castellina in Chianti. We started our road trip in Bologna, a city that has come to feel like our home away from home in Italy. Even the locals have begun to ask us why we visit so frequently. It may be a two-day tourist town to others but to us, it offers endless riches. One of the highlights of our visit was the time we spent in Dozza, the home of the Enoteca Regionale of Emilia Romagna. The town's murals are breathtaking.
This slideshow requires JavaScript.
Another special find was the very small and picturesque village of San Gusme in Tuscany. Someone told us there were only 80 full-time residents. We loved walking through the alleys and looking at the views of the valleys below. We returned several times during our stay at a nearby VRBO property in Castelnuovo in Berardenga.
This slideshow requires JavaScript.
We also visited Castelfalfi, Mantalone, Panzano (where we met the famous butcher), Colle di Val d'Elsa, Siena, Florence, Gaiole in Chianti, Perugia, San Gimignano, Castelnuevo dei Sabbini, Bucine, and Cervia.
---
Los Cabos, Mexico
We've been visiting Los Cabos, our winter paradise, for more than a decade. It's the place where we totally unwind and relax and our #1 son comes to join us. We had owned a fractional property there that we returned to each year but the wrath of Hurricane Odile wrought such terrible damage that we could no longer afford to maintain our share. We'll miss our spot but always find a new corner of warmth in one of the stunning resorts that dot the resort Corridor between Cabo San Lucas and San Jose del Cabo.
This slideshow requires JavaScript.
---
Viking Star Cruise to Puerto Rico
What fun it was to embark on the Viking Star on its first departure from New York to the Caribbean. It's a fantastic ship that's perfect for the over-50 traveler. While we didn't have the opportunity to experience port stops and shore excursions, we did get a good sense of life onboard during four delightful sea days on the way to San Juan. Hopefully, we'll be sailing it again, for longer!
This slideshow requires JavaScript.
---
And then there were staycations at home~
We are so fortunate to live in a bedroom community that's only a short distance from the greatest city in the world. That means we get our share of visitors and also opportunities to explore New York City and the Hudson Valley. When one of my fellow boomer bloggers, Suzanne Stavert, came to visit, I enjoyed sharing stops at Kykuit, the historic Rockefeller residence and Dan Barber's Blue Hill (which has been called the best restaurant in America), both of which are located practically in our backyard.
Thanks to Hampton by Hilton, for which we are brand ambassadors, we also got to spend a Seekender Weekend visiting some of the city sights that locals like us need an excuse to visit. And, of course, whenever we weren't traveling, we also savored all the other treasures close to home. We are so blessed to have had a wonderful year!
This slideshow requires JavaScript.
Thanks for following our travels~