It's easy to fall in love with Los Cabos although the reasons vary for different visitors.
---
This post was updated on 6/26/21 to include COVID-19 information and to reflect new information about the destination.
---
Located on a peninsula at the tip of Baja California (Land's End), Los Cabos, Mexico is cradled by the aquamarine waters of the Pacific Ocean and the Sea of Cortez on its coasts. Visitors (primarily from the U.S. and Canada) come as vacationers and snowbirds, many returning year after year because of its many lures, which include miles of pristine sandy beaches.
Here are 9 reasons why they fall in love with Los Cabos, sometimes at first sight:
1) The Weather
For those of us who leave home expecting to find reliably sunny skies on vacation, the arid desert climate of Los Cabos rarely disappoints. The average number of sunny days each year is 350. Temperatures hover as high as 90° between May and October but compared to the tropics, humidity is low. The heat of the day usually drops off in evenings with cool ocean breezes coming off the water. Rainfall is minimal, less than 10 inches per year.
2) One Destination: Three difference ambiances
Two towns anchor Los Cabos: Cabo San Lucas and San Jose del Cabo. In-between is an 18-mile stretch of modern highway that runs adjacent to the Sea of Cortez, called The Corridor. Visitors can find accommodations at each of these three diverse locations.
Cabo San Lucas is a bustling port of call with restaurants, a contemporary shopping center, clubs and other nightspots, and a world-class marina.
San Jose del Cabo is an older, more traditional Mexican town perfect for evening strolls. On Thursday nights, a popular Art Walk draws visitors to the restaurants and galleries located on the small streets off the historic square on Thursday nights, from 9-5PM between November and June.
Some of the most posh resorts with dramatic ocean views sit along the Corridor (Corredor Turistico) that links the two towns, with picturesque desert terrain across the road.
3) Range of Accommodations
When a destination has more than ten thousand hotel rooms—in addition to thousands of condo and villa rentals—competition is keen, upping the levels of amenities and service, and providing visitors with a wide array of choices to fit every taste and budget. Many properties offer all-inclusive rates.
Some of the private villas and ultra-luxury properties like Waldorf Astoria Los Cabos Pedregal, One&Only Palmilla, Esperanza, and Rosewood's Las Ventanas al Paraiso have consistently drawn A-list Hollywood celebrities whose faces (and bodies) have appeared on the pages of People magazine.
The destination recently achieved the distinction of having 11 of its luxury properties accepted into the Virtuoso portfolio. These properties include:
Timeshares are popular, too, many with shared amenities attached to nearby hotels and resorts. In 2020, Hilton announced the opening of La Pacifica Los Cabos. The 74 new studio, one-bedroom and two-bedroom suites are located within the Hilton Los Cabos Beach & Golf Resort, between the towns of San Jose del Cabo and Cabo San Lucas. 
Hotel and residence construction in Los Cabos continues to grow, even amidst the uncertainty of the pandemic.
Sales of The Residences at The St. Regis Los Cabos first launched in January 2021 with a projected opening date of Fall 2022. This boutique collection of 74 units will be sited on a secluded 2.5-mile white beach, within the award-winning Quivira Los Cabos at the Southern tip of the Baja Peninsula. The community has a

Jack Nicklaus Signature golf course.
The

Amanvari

, an Aman resort is also slated to open in 2022 in the East Cape region, several miles east of San Jose del Cabo. The resort promises multiple dining venues and Aman Spa.
Along with new openings, unfortunately, there have been several hotel closures. According to a local, English-speaking newspaper, the Gringo Gazette, Solaz closed down for unexpected infrastructure repairs, Montage closed for remodeling, and Viceroy is not accepting reservations between 8/15 and 10/9 2021 for maintain and enhancement projects. 
4) Spas for Body, Mind & Spirit
Wherever you stay, you're likely to find an extraordinary spa on-premises or nearby, offering treatments and products that build upon Mexican traditions. As long as reservations are made in advance, most resort spas are open to the public as well as guests.
A few examples:
The ocean view Auriga Spa at Pedregal bases treatments on the different phases and energies of the lunar cycle. It was named one of the top 270 spas in the world by Condé Nast Traveler magazine with perfect scores for treatments, staff and facilities.
The One&Only Palmilla Spa offers a unique experience even for spa veterans; it is set in a sybaritic garden where treatments seamlessly flow between indoors and outdoors with birds and butterflies circling overhead.
Treatments at the Spa at Esperanza take place in private suites with the door left discreetly open to the elements, using products that harness the healing powers of local plants. 
5) Water Sports
With proximity to both the Sea of Cortez and Pacific Ocean, Los Cabos offers unparalleled opportunities for water activities including snorkeling, swimming with whale sharks, whale-watching, parasailing, or exploring the waters in a glass-bottomed boat.
Between mid-December and Mid-April, the migration of thousands of whales can often be seen right from the shore or even your hotel room.
Jacques Cousteau called Los Cabos "the aquarium of the world." Anglers can rent fishing vessels to snag marlin, swordfish, snappers, dorado and more. The Bisbee's tournament held in October has been drawing sports fishermen to the area for more than 30 years. Many restaurants offer "catch and cook" service to prepare the fish you catch.
Some complain that the vast majority of beaches in the area (even at resorts) are unswimmable because of rough waters and the strong undertow but several public beaches are safe for swimming, among them Lover's Beach near Cabo San Lucas and the one at Chileno Bay on the Corridor. In addition, the destination offers a multitude of infinity pools at water's edge with swim-up bars. Who can beat that?
6) Great Dining
Regional cuisine, Baja wines and tequila take top billing at many hotel and resort dining rooms and bars (which are usually open to the public) as well as at the informal taquerias, snack bars and restaurants in the two towns and along the Corridor. Because the weather is temperate, many are open-air without roofs, offering dining under the stars or even on the beach.
While the desert may seem antithetical to organic farming, farm-to-table dining has taken off in Los Cabos. For example, Chef Enrique Silva operates a charming farm-to-table restaurant at Los Tamarindos that offers roll-up-your-sleeves cooking classes for individuals or groups. His tamarind margaritas are to die for.
Not too far away is Flora Farms, another lovely setting for an authentic organic experience. Singer-songwriter Adam Levine of The Voice got married there.
Some of my other favorites:
For an elegant night out, El Farallon, the restaurant at Waldorf Astoria Pedregal is perched on a high cliff above the ocean. Diners choose their dinner from a stand that looks like a fish market (featuring fresh fish from local waters)and then the fish is prepared and served tableside.
Edith's restaurant, located in downtown Cabo San Lucas near Medano Beach, serves prime cuts of grilled meats and fish along with more traditional Mexican specialties. The vibrant decor and linens, homemade tortillas, oversized Margaritas and lively music combine for a fun evening with a splash of local color.
A more economical choice: For gargantuan size shrimp cocktails served in goblets or fresh fish tacos, try Taqueria Rossy in San Jose del Cabo. (Local legend has it that George Clooney eats here). Pork lovers will swoon over the carnitas at Los Michoacanas, with locations in both San Jose and Cabo San Lucas.
The destination's growing number of culinary offerings is showcased each December at Sabor a Cabo, a weeklong wine and food festival.
7) Golf Courses
Known as the golf mecca of Latin America, Los Cabos has 18 championship golf courses (public and private) that include ones designed by Jack Nicklaus, Greg Norman, Tom Fazio, Robert Trent Jones, Jr. and Peter Dye. The greens fees are high but the settings are unique. The one at Cabo del Sol, for example, has both Ocean and Desert courses. 
More new courses are expected to open in the next few years.
8) Ease and Accessibility
Los Cabos is an easy place to land, both literally and figuratively. United, Alaska Airlines, American Airlines, Sunwing Airlines, Spirit Airlines, Air Transat, Westjet and Air Canada all have flights into Los Cabos International Airport (SJD). The airport is located about 8 miles north of San Jose del Cabo and 23 miles northeast of Cabo San Lucas.
It serves about 40 destinations with many connections to U.S. (Dallas, Los Angeles, Portland, San Diego, Seattle, San Francisco, San Jose, Orange, County, Denver, Newark, Houston, Washington, Atlanta, Detroit, New York JFK, Minneapolis, Salt Lake City, Kansas City, St. Louis, Austin, Baltimore, Charlotte and Phoenix) and Canadian (Toronto, Calgary, Vancouver, Edmonton, Regina, Montreal, Winnipeg, Saskatoon, Victoria and Kelowna) cities.
New and improved roads have halved the time it takes to get to the arty town of Todos Santos and La Paz (capital of the state).
Once you hit the ground, English is spoken almost universally and distances aren't great getting to and from the airport or from one side of town to the other, so you can rent a car or use taxis–or simply ride a horse along the beach. The dollar (as well as plastic) is accepted as currency in most places so American visitors don't need to worry about converting money. 
9) The People
However, the biggest draw that makes me and others return year after year and fall in love with Los Cabos is the warmth and hospitality of the Mexican people, evident in their smiles and eagerness to welcome and engage with visitors.
---
Los Cabos COVID-19 Update (3/10/21)
Los Cabos/Baja Sur
Los Cabos reopened to travelers on June 15th, 2020 and is continuing to welcome visitors.
Under the Baja California Sur's State authority's mandate, all individuals must wear masks or face coverings at all times when interacting with people who are not members of their household—in public or private spaces, except for certain instances, such as when eating, drinking, swimming, etc.
Most hotels and resorts have instituted strict protocols to protect the health and safety of their guests. Be sure to check the respective website of any property you intend to visit and call the front desk if you have questions or concerns. You'll find that many upscale resorts offer transportation services to and from the airport.
The rate of COVID-19 infections around the world is continually in flux. Real-time updates of COVID-19 in Baja California Sur can be found here: https://coronavirus.bcs.gob.mx/english/     
Mexico
In response to the global impact of COVID-19, on March 20th, 2020, the U.S. announced the temporary closing of the U.S. and Mexico land border to nonessential travel for anyone crossing by car, commuter rail, and ferry travel. However, airports remain open to international and domestic flights. 
COVID-19 testing is not required for entry although there is a cursory health screening upon arrival.
Air passengers entering returning to the U.S. from Mexico are required to show proof of a negative COVID-19 test within three days of their return flight. Masks are required on planes and on all public transportation.
Mexico is currently under a Level 3 (Reconsider Travel) Travel Advisory. See the website of the U.S. Department of State for more information and updates.
The Centers for Disease Control and Prevention (CDC) has issued a Level 3(High)Travel Health Notice for Mexico due to COVID-19, advising visitors to avoid all travel to Mexico, whether they are vaccinated or not.   
In June 2021, the Los Cabos Tourism Board announced a joint effort with the International WELL Building Institute (IWBI) to promote evidence-based health and safety measures throughout the coastal region by adopting IWBI ratings across all its hotels, resorts, restaurants and other local tourist destinations.
---
For additional information: Los Cabos Tourism Board
---
All photo credits: Jerome Levine, unless otherwise noted 
---
Save to Pinterest!!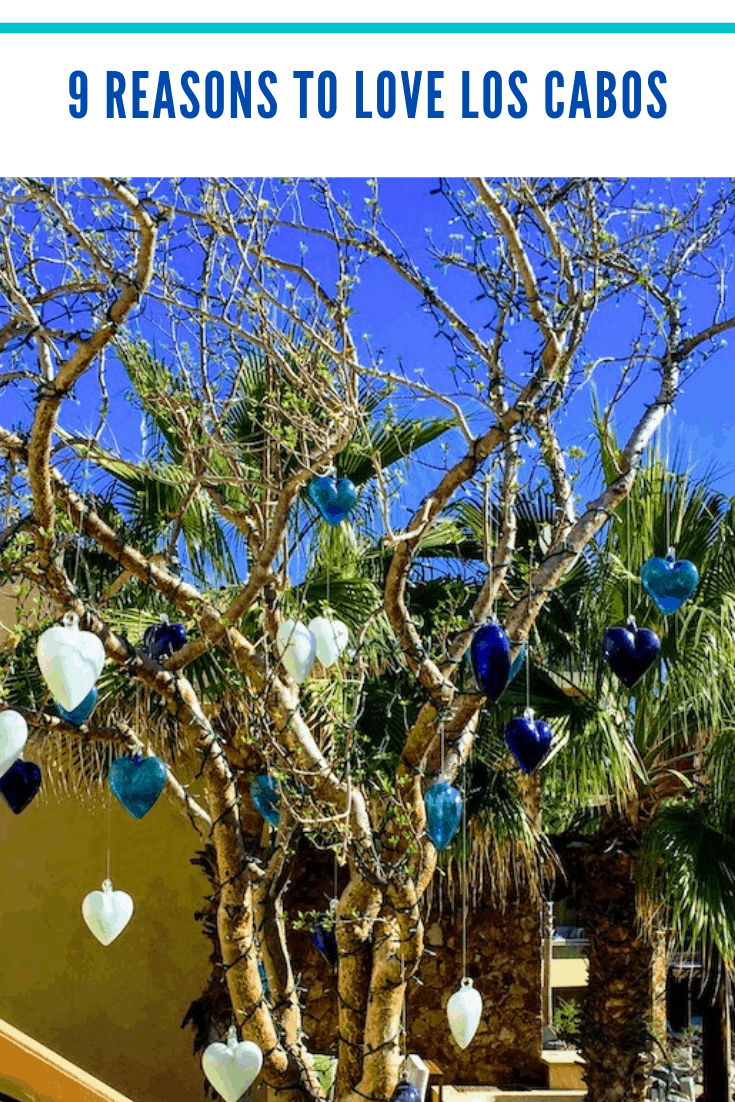 ---