Blue Hill at Stone Barns: A Restaurant Worth The Trip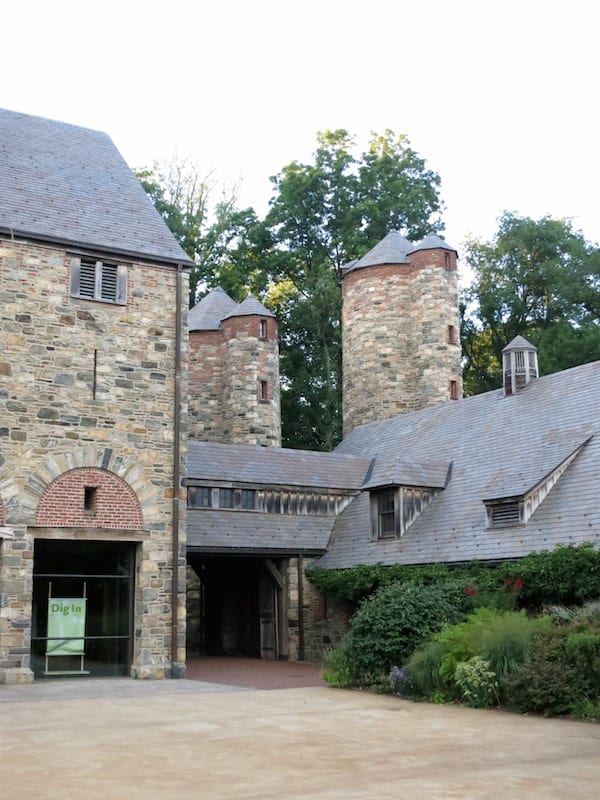 Culinary wizard Dan Barber enhances the Rockefeller legacy with Blue Hill at Stone Barns
POCANTICO HILLS, N.Y. — With no menus, countless courses and a setting so relaxed you can eat farm-fresh veggies with your fingers, a meal at Blue Hill at Stone Barns is a one-of-a-kind experience along many dimensions.
Located about 25 miles north of New York City in Westchester County, the contemporary 75-seat main dining room is housed in a renovated stone dairy barn where philanthropist John D. Rockefeller Jr. once milked his cows to teach his children about the relationship between eating and farming. It has multipaned windows, a trussed roof, wide plank floors and a wall-to-wall mural of a bucolic pasture.
Almost since it opened in 2004, snagging a reservation has been as tough as securing seats at the U.S. Open tennis finals. Guests from New York and nearby states book as far as two months in advance. Through word of mouth and its ranking on the Pellegrino List of the World's 100 Best Restaurants (No. 54 for 2014), it's become a mecca for foodies as far away as Asia, Australia and Europe. On Yelp, one devotee named Jess (who has notably contributed more than 2,600 reviews) posted that the meal she had was the best in her life.
The role of the Rockefellers
The back story of the restaurant and the hamlet where it resides are interwoven with the values and generosity of generations of the Rockefeller family. In 1893, patriarch John D. Rockefeller Sr. began acquiring 4,000 acres in the area of Pocantico Hills, dotted with fields, forests, lakes and streams. At the highest point on the property, he built a 40-room Georgian mansion with views of the Hudson River (calling it Kykuit, derived from a Dutch word for "lookout").
Committed to the preservation of open spaces, he and his son, John D. Jr., gave more than 800 acres of the property to the people of New York State and endowed funds for its maintenance. With subsequent bequests from the family, the Rockefeller State Park Preserve now encompasses 1,400 acres of unspoiled public parklands.
In the late 1990s, David Rockefeller, a former president and CEO of Chase Manhattan Bank (the youngest and only surviving child of John D. Jr.), and his daughter began planning the Stone Barns Center for Food & Agriculture to be built on 80 acres of the property as a tribute to his late wife, Peggy, co-founder of the American Farmland Trust.
The ambitious mission of the center is to improve the way America eats and farms through educational programs, classes and tours offered to the public year-round.
In addition, the center's Growing Farmers Initiative trains young farmers in sustainable methods so they become stewards of the land for future generations. An on-site restaurant was proposed to help support the working farm and nonprofit educational center.
A chance meeting
It was through a New York City restaurant that the idea for the Stone Farms restaurant grew. In April 2000, chef Dan Barber, a graduate of the International Culinary Center, opened Blue Hill restaurant in Greenwich Village with two partners, his brother and sister-in-law, David and Laureen Barber. Located below ground in a landmark building that once was a speak-easy, it is named after the Barbers' 138-acre family farm in Great Barrington, Mass.
"We worked the farm as kids, and I guess it rubbed off on me and David," said Dan Barber, who has become a visionary leader in the farm-to-table movement.
The menu at Blue Hill New York City emphasizes fresh, sustainable foods from small farms in the Hudson Valley. (President Barack Obama and the first lady famously had a date night there in 2009.) One of the restaurant's patrons, David Rockefeller, appreciated this approach to dining, setting the stage for the center by inviting the Barbers to run the restaurant in Westchester County.
Something special
You have to be gutsy to open a restaurant along a two-lane road in a hamlet without any other commercial businesses and a population so sparse that it has no high school.
"Lots of people were telling us it wouldn't work, that people from the city wouldn't make the trek, but we had the advantage of a really singular, extraordinary location," Barber said.
The sprawling grounds include 22 acres of pasturelands, 8 acres of farmland and a greenhouse. The restaurant buys ingredients from Stone Barns Center at fair market prices and from purveyors in the surrounding Hudson Valley. "We aim to have diners connect with the agricultural landscape," Barber said.
The exceptional dining experience is hard to describe. For one thing, it differs from day to day, hour to hour and table to table. This is a theater of improvisation, creativity and whimsy, truly a la minute, where no guest is likely to be served the same meal twice. Instead of a menu, each guest receives a small journal listing seasonal ingredients month by month.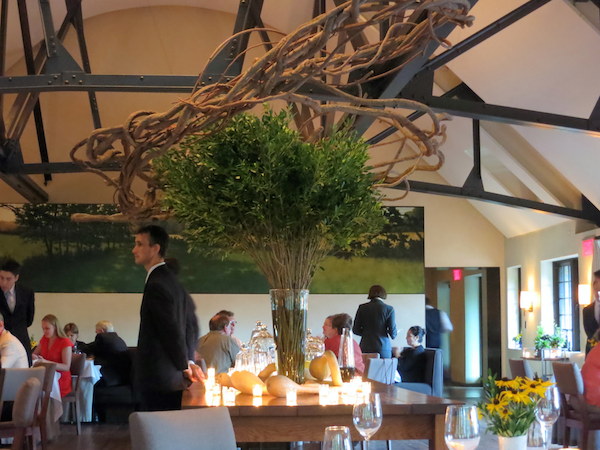 After disclosing food allergies and aversions, diners have only two decisions to make: whether they want their dinner paired with wines and whether to order the "Feast" menu or the more ambitious "Grazing, Pecking and Rooting" menu. Barber explained that dining room captains tailor the menu progression to fit the preferences of guests. Some days, certain foods like purple cauliflower (served with caviar foam) are available in such small quantities that the captain directs the dish to tables where guests express certain tastes and interests. The engaging and highly professional waitstaff tells stories about each small plate, acting as tableside food educators.
Presentation is so novel that it's raised to an art form. Baby carrots and radishes are brought to the table, arranged like miniature soldiers impaled on metal spikes atop a piece of wood. Fennel leaves blanket a carved log. Pea shoots potted in dirt are snipped off with garden shears.
An average meal lasts three hours, but even with writing them on the blank journal pages, it's hard to keep track of the courses.
Recipe for success
"I'm a lucky chef who has been able to ride a wave of interest I didn't start," Barber said humbly. "I've been the beneficiary of the work of chefs, activists and others who care about how our food is grown."
But many acknowledge Barber's remarkable contributions. "Dan Barber should be commended for his approach to sustainability, farming practices, hyper-seasonality and teaching of all these and getting it right," said chef and restaurateur David Burke, based in New York.
In fact, Barber has gotten plenty of notice. He was listed as one of Time magazine's 100 most influential people in the world in 2009.
Barber's patron saints of cooking, without doubt, have been the farmers, both at Stone Barns and throughout the region. "They have provided me with the canvas on which to work on these ideas," he said. "I'm fortunate to be involved in the most exciting social movement in America today."
---
Dan Barber's new book The Third Plate: Field Notes on the Future of Food is set for release May 20, 2014.
---
IF YOU GO
Blue Hill at Stone Barns is at 630 Bedford Road, Pocantico Hills, N.Y.
By train, take Metro-North from New York's Grand Central to Tarrytown on the Hudson Line, about 35 minutes on the express train. Taxis are waiting for the 10-minute drive to Blue Hill. Trains leave every 15 minutes during peak hours and every half-hour off-peak.
Grazing, Pecking and Rooting Menu, $208 per person (wine pairing add $150); Farmer's Feast, $148 per person (wine pairing $110)
Nearby attractions:
[An earlier version of this article was published in the Sunday section of the Chicago Tribune on May 4, 2014.]