The Most Romantic Night of the Year in Italy
Since 2016, Italians have celebrated La Notte Romantica (Romantic Night in Italy), which takes place each year on the first Saturday after the summer solstice.
For many, being a tourist in Italy is synonymous with romance.
Whether you're on a gondola in Venice; taking a passeggiata around the shores of Lake Como; visiting Verona, home of Romeo and Juliet; or watching the water glisten in the moonlight off the Isle of Capri, evenings in Italy tend to be dreamier than they are in most other places.
But, without a doubt, Romantic Night in Italy is truly one of the most romantic times to celebrate love in Italy, both for locals and visitors.
Each year, more than 1 million people participate in these festivities.
The tradition of Romantic Night in Italy
This special tradition is sponsored by the Association of I Borghi più belli d'Italia (Association of the Most Beautiful Villages in Italy).
This national event takes place in many of the 361 small villages the Association has recognized and certified as "most beautiful" in Italy.
Make no mistake. These aren't the large, iconic cities that are frequented by tourists. Instead, they are carefully curated, off-the-beaten-track destinations that are amazingly rich in terms of their history, traditions, art, architecture, culture and natural beauty.
From the north to the south and east to west, each of the participating borghi (small villages) interprets Romantic Night in a unique way befitting the character of its setting and citizenry.
Illuminated by candlelight and fireworks, scheduled events often center around film, dance, music, theater, concerts, playful competitions and more—all themed around love and romance. There are also organized mini-events geared to singles and those looking for love.
However, two traditions, intended to unify the villages and bring them together, are adhered to by all the participating villages:
1- Each year, one chef is chosen to create a special dessert recipe that is shared with all the other villages. That recipe is then prepared in each of the village's restaurants on Romantic Night.
For example, one year, Michelin-star Chef Donato Episcopo of Villa Abbazia in Follina (a beautiful village in the region of Veneto) created an appropriately named dessert, Pensiero d'amore (love thought).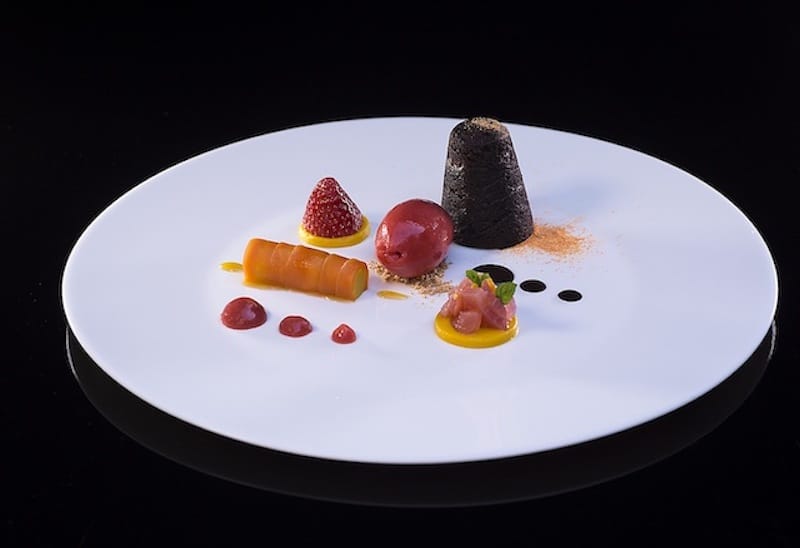 2- At midnight, everyone participates in the tradition of the "midnight kiss," at which time 1000 balloons are launched into the sky culminating a special evening.
A special opportunity for tourists
Events similar to the Romantic Night simultaneously take place in Spain (Los Pueblo Mas Bonitos de Espana), France (Les Plus Beaux Villages de France), and Wallonie, Belgium (Les Plus Beaux Villages de Wallonia). The organizers hope that the Romantic Night will one day embrace all European countries.
Tourists traveling to Italy (or one of the other participating countries) during this period of time will have a unique opportunity to enjoy these small-town festivities and interact with locals while enjoying new foods and sharing new customs.
A bucket list for Italophiles
Is your curiosity piqued to see these charming small towns with stone walls, cobblestones streets, castles, villas, true farm-to-table restaurants, farms, craftspeople, wineries and sweeping views of the countryside? Places that have been preserved or restored since the Middle Ages or the Renaissance?
Those who can't arrange travel to Italy in June to coincide with this once-a-year event may want to plan a trip that takes them to one or more of these beautiful villages that are waiting to be explored throughout the year.
Organized by regions, the Association of the Most Beautiful Villages in Italy website describes every village and provides links for further information.
My article on Forbes.com describes five small villages we have personally visited (Montefalco (Perugia), Dozza (Emilia Romagna), Locorotondo (Puglia), Montaione (Tuscany) and San Leo (Emilia Romagna) and, hopefully, offers a sense of how much they have to offer.
In addition, other most beautiful villages we've visited include:
---
Watch the Association's video on YouTube to get a feel for the ambiance of these borghi:
---
Save to Pinterest!