Antonio Canova Sculptures: From Paper to Marble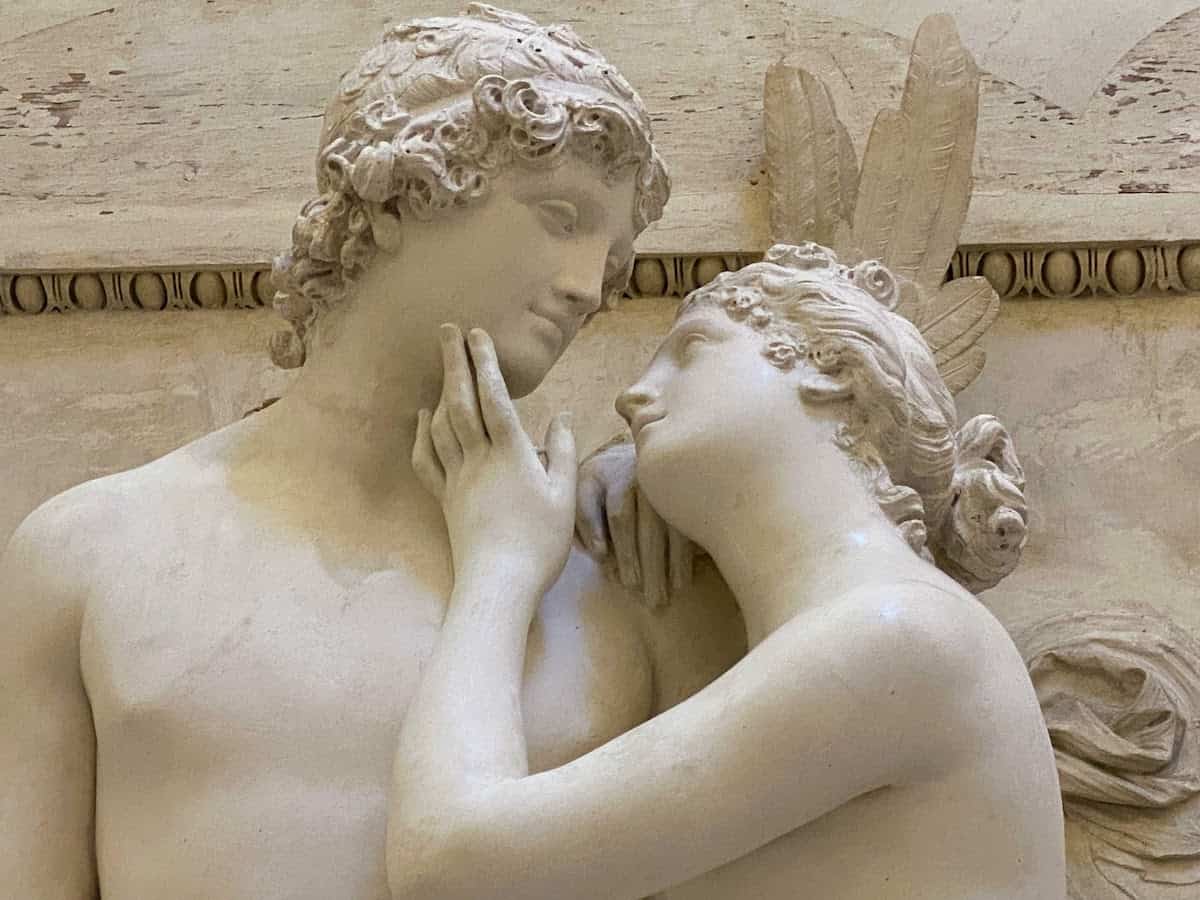 A new exhibit, Canova: Sketching in Clay, featuring works of neoclassicist sculptor Antonio Canova will open at the National Gallery of Art in Washington, DC, from June 11 to October 9, 2023. Canova is considered a titan of neoclassical sculpture and one of the most famous people of his time.
The small-scale, beige terracotta (fired clay) statues that will be on display represent three dozen of the 60 Canova's surviving clay "sketches" held in public and private collections across Europe and the U.S.
Afterward, the same exhibit will head to the Art Institute of Chicago, where it will be displayed from November 19, 2023 to March 18, 2024.
Antonio Canova: The steps from paper to marble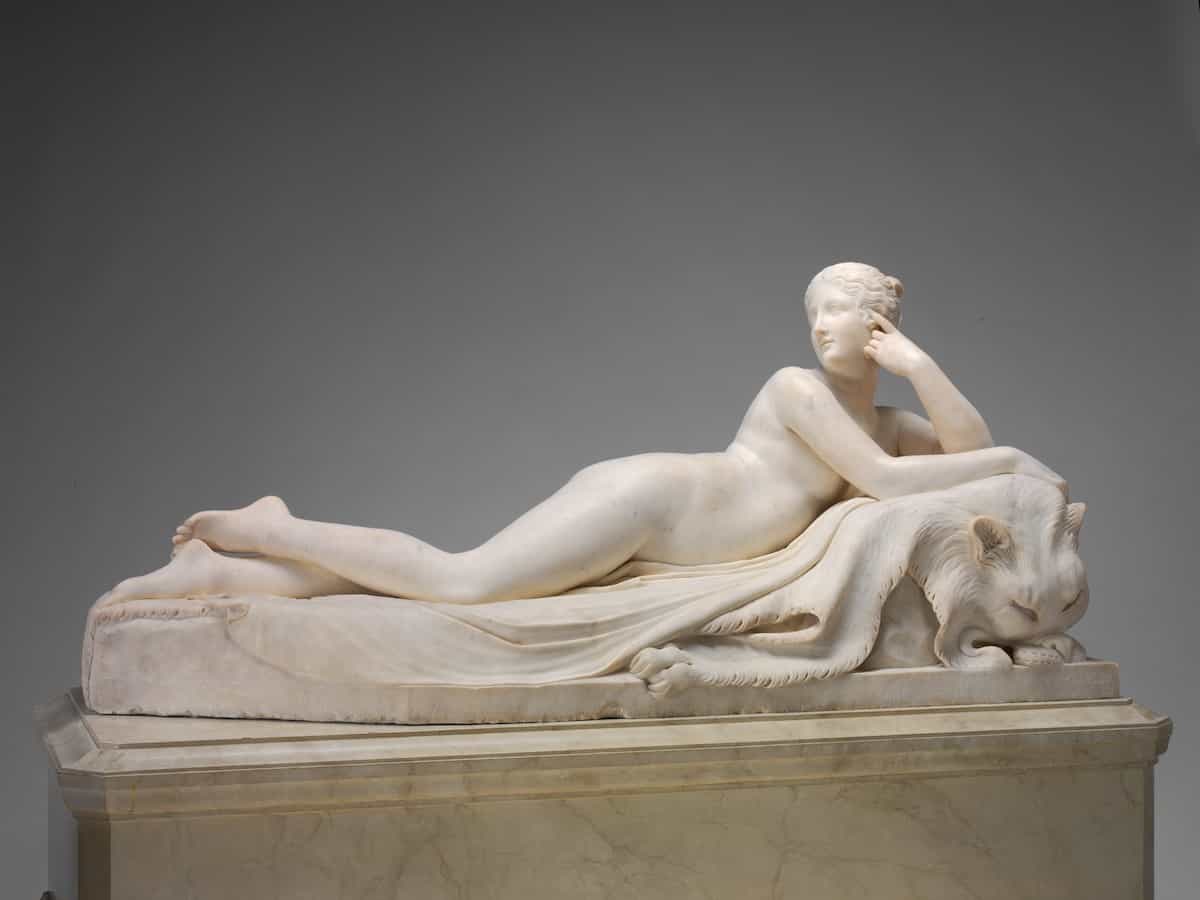 To create his statues, Canova followed a number of steps. First, he would sketch his ideas on paper using a pencil or charcoal.
Once he was pleased with the sketch, he would begin to sculpt in soft clay using his fingers to create a detailed and lifelike model. Then he would use knives, chisels, and other tools to refine his clay vision of what would become his finished work. Because of the malleable nature of clay, he could easily experiment with different positions and poses.
He would create a plaster cast from the clay model by pouring liquid plaster into a mold made from the clay. And the plaster cast would serve as the final model before he carved it in Carrara marble.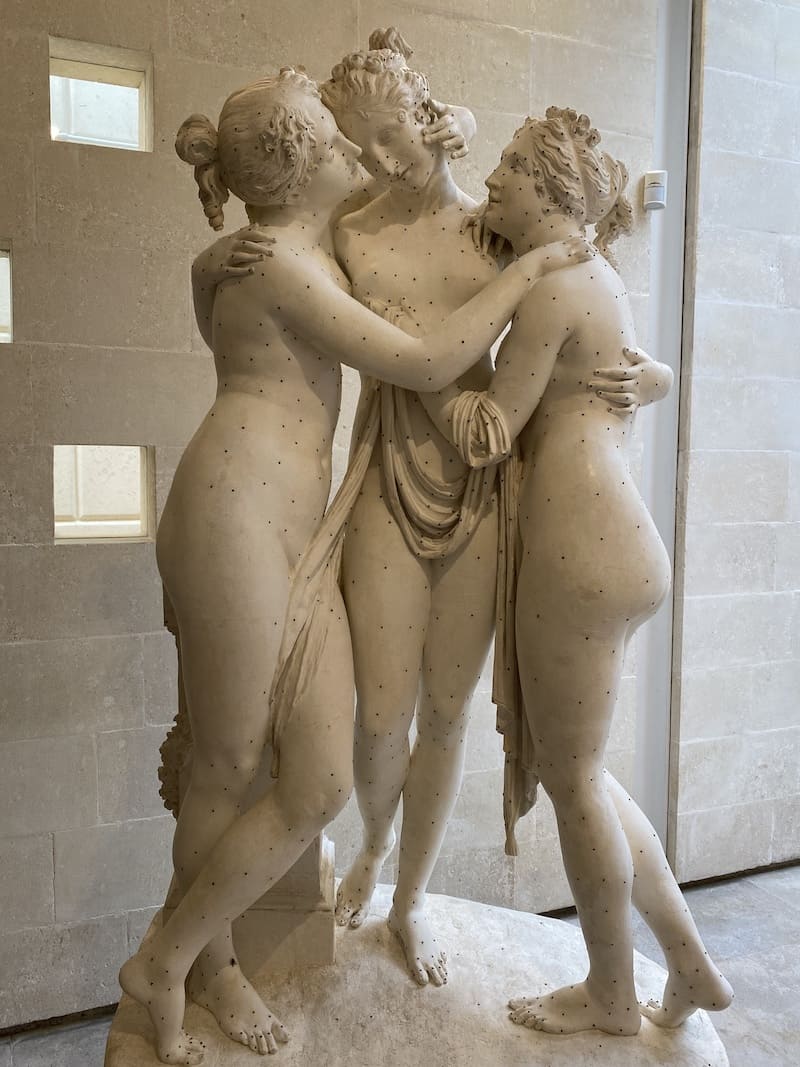 Notes from the Art Institute of Chicago announcing the forthcoming exhibit explain that the "lesser-known but unforgettable work in clay reveals how the artist developed his ideas—from the first brilliant spark of imagination to his laboriously finished statues."
Antonio Canova in Possagno
Travelers to the Veneto region of Italy who visit the Museo Gypsotheca (plaster cast gallery) in Possagno, Italy, will gain an even broader appreciation of Antonio Canova's life history and work.
Antonio Canova was born in this small comune (town) in the province of Treviso, which lies at the foot of Mount Grappa, in 1757.
After his father died when Canova was very young, the child was entrusted to the care of his grandfather, a stone mason, who helped nurture his grandson's studies and interest in working in marble.
Recognizing his extraordinary talent at an early age, the grandfather arranged for him to study with Giuseppe Bernardi, a local sculptor, when Canova was only fourteen years old. Later, he went on to study in Venice and then in Rome.
By 1800, Antonio Canova had become one of the most celebrated artists in Europe, attracting the interest of wealthy and powerful patrons like Napoleon.
Canova died at the age of 64 in 1822. Before his death, he asked his brother to use his entire estate to complete the design and construction of the town's Roman Catholic parish church, Tempio Canoviano (Temple of Canova).
Canova's body rests in the neoclassical-style Tempio Canoviano, located on a hilltop in Possagno, only a short distance from the museum. But his heart is buried at Venice's Basilica di Santa Maria Gloriosa dei Frari. And his right hand, which he used for sculpting, is preserved in a vase at the Venetian art academy (Accademia di Belle Arti di Venezia), where he was once a student.
Writing for the Metropolitan Museum of Modern Art, Christina Ferando notes: "The degree of his fame can be measured by the treatment of his corpse, as if it were a saintly relic."
Visiting Museo Gypsotheca in Treviso, Veneto
The idea of creating a building to preserve the artist's legacy was conceived by Canova's stepbrother, Bishop Giovanni Battista Sartori. After Canova's death, Sartori transferred all the works from the artist's workshop in Rome to the building in Possagno that would become a museum.
The plaster sculptures were carefully restored by Pasino Tonin, the museum's first curator, before it opened in 1833.
Unfortunately, during World War I, the building was hit by a grenade that destroyed many plasters and ruined others. But in 1922, father and son Stefano and Siro Serafin brought the dedicated gallery of plaster casts back to life. Adjoining the museum are Canova's home and a library.
In this captivating museum, visitors can walk among the life-size plaster models of Canova statues, which are exhibited in marble at the world's most important museums including the Louvre, the Hermitage, Museo Correr (in Venice), and Kunsthistorisches Museum in Vienna.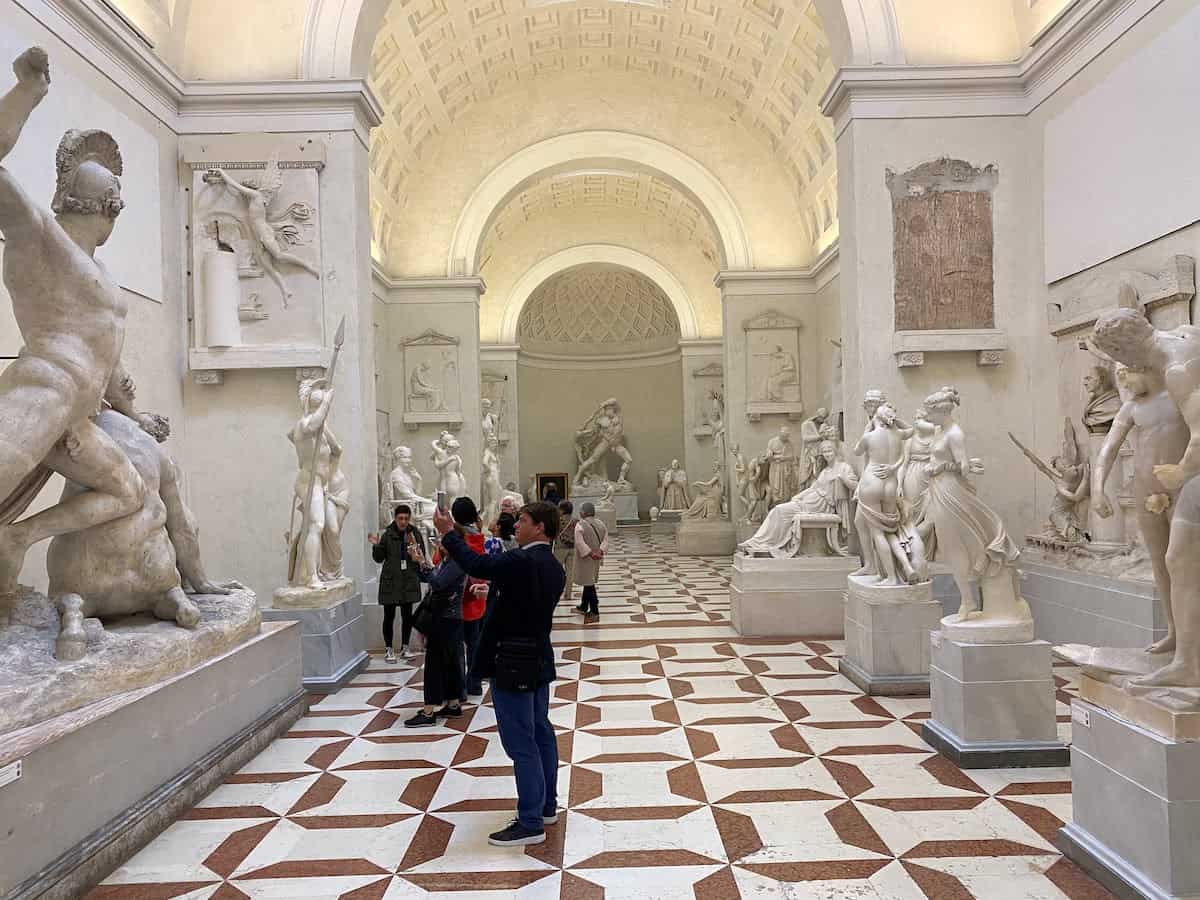 The dozens of plaster sculptures, bathed in light, look lifelike. The high ceilings and white walls of the museum's two rooms add a sense of unworldliness to the stunning architectural space. The museum also displays some of the master's oil and tempera paintings, sketches, and tools.
The experience is enriched by guided tours that are offered in English, if reserved in advance.
Other famous Canova works in the U.S.
Although the most recent, this isn't the first opportunity to see this master's magnificent sculptures on U.S. soil.
The bronze molds of the Canova Lions, copies of the marble ones placed at the tomb of Pope Clement XIII in St. Peter's in Rome, were installed in front of the Corcoran Gallery of Art in Washington, DC, in 1860.
In 1995, the Getty Museum acquired Canova's marble statue of Apollo Crowning Himself (1781-1782), the sculptor's first work carved in the Neoclassical style for which he would become famous.
Other sculptures are in the permanent collections of many U.S. museums, including the National Gallery of Art in Washington, DC.
Canova's sculptures remain highly coveted by museums and private collectors. A bust of Helen of Troy by Canova was recently put on the market by Christie's of London. The less than 20-inch bust is estimated to sell for between $3 million to 5 million.
---
READ MORE
---
Save to Pinterest!!
---