Memories: A three-generation travel resort with a water park and world-class beach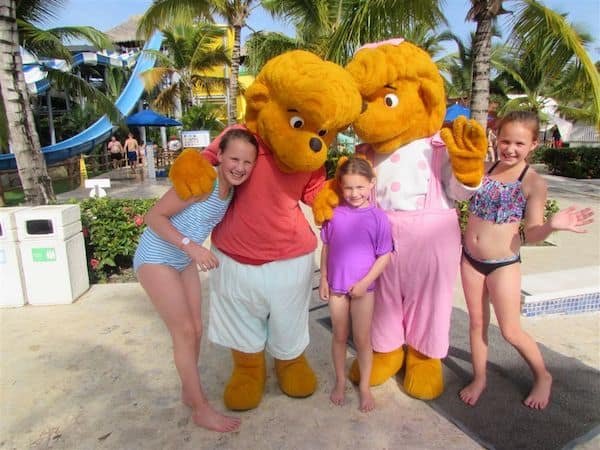 A "three-generation vacation" at an all-inclusive resort in the Dominican Republic creates wonderful memories for contributors John and Sandra Nowlan and their family.
The excitement grows as we approach Punta Cana. We're about to spend five days at the Caribbean's biggest on-site water park and our plane is descending over miles of pristine white sand and turquoise waters at the far eastern end of the Dominican Republic. A three-generation family, we're with our daughter Laura, her husband Dan, and our three granddaughters ages 7, 9 and 11.
We're as excited as the kids since we also love water parks and the chance to spend quality time with our whole family.
Multigenerational travel is soaring in popularity
As we travel more, we're finding that three-generation family vacations are becoming quite common. We often see happy grandparents accompanying their children and grandchildren on cruises and at all-inclusive resorts. It's a wonderful trend.
Our home this time was Memories Splash Punta Cana Resort & Casino, a 525-room all-inclusive property a half hour ride from the busy Punta Cana airport. The spacious and well-groomed tropical resort has five pools (including active, music-filled ones and, thankfully, a couple of large, quiet ones), an extensive buffet, three a la carte restaurants and, most important to kids, endless ice cream.
We had our own clean, comfortable room (although the slippers provided were for tiny people) with a balcony facing palm trees and the quiet pool while Laura, Dan and the children had two adjoining rooms just one floor below. It was an ideal arrangement.
Where water is the headliner
The early morning wakeup and long flights were forgotten as soon as we arrived at the resort and the water park was spotted. With seven monster slides, a wave pool and several smaller slides for the younger ones, the Memories Splash water park was truly impressive. Hours are restricted (9 am to 5 pm) and the lifeguards are very firm in enforcing safety rules. But fun was the name of the game and our family immediately chose favorite slides.
There's a high, four-lane one that's great fun together and an even higher, narrow one called Kamikaze that plummets almost straight down. One funny slide is called Space Bowl (the kids preferred to call it Toilet Bowl!) where, at the end, you spin around in a big tank before being dumped into a pool of water. A couple of slides use inflatable rafts including The Black Hole where the grandchildren dared John to join them. Sitting in tandem with 11-year-old Eva on the raft, the ride has many sharp turns and takes place totally in the dark before the tunnel ends and the raft splashes loudly into a pool. The children thought their grandfather was very brave.
To the beach
During our five days at Memories Splash, the water park was priority number one. But our family also loves the beach and Memories guests have free access to its sister property, the adjacent Royalton Punta Cana Resort & Casino. This slightly more upscale 485-room resort sits directly on 10 mile long Bavaro Beach, one of the most glorious stretches of sand in the Caribbean. It's an easy walk from Memories but there's also a trolley that shuttles between the resorts every few minutes. On the beach there are plenty of beach loungers, servers come by regularly offering drinks and, best of all, the freeWi-Fi (available all over both resorts) works very well on the beach.
With over 100 resorts and hotels in the Punta Cana area, the management of Memories and Royalton have focused on providing innovation along with all-inclusive luxury and value. We were particularly impressed with its technology leadership. In addition to the free Wi-Fi, phone calls to the US and Canada (plus some European countries) are complimentary and there's Bluetooth connectivity in all rooms. Even the room keys reflect new technology. Instead of a card or metal key, the fashionable wrist bands that everyone wears include a chip that activates the door lock. Never again do you misplace your room key! We suspect other resorts will soon copy this great idea.
Almost all large resorts now have a spa and the one at Royalton (serving both properties) is outstanding. It includes individual rooms for manicures, pedicures and even a couples massage (Laura and Dan had one while the children were enjoying the well-supervised Kid's Club). There's also a hydrotherapy circuit and adjacent outside pool.
Food glorious food
Food is always important at an all-inclusive resort and we took advantage of the great variety available at both Memories and Royalton (although Royalton has more a la carte options). Each restaurant has an appealing, distinctive design.
The beef, imported from the U.S. and Canada, was always excellent and the buffet usually had plenty of shrimp, crab and Caribbean lobster. We were hoping there'd be more fresh, locally caught fish (like snapper and grouper) but management admitted that it's difficult to get a steady supply of local seafood with the quality and safety they demand. But tasty local fruit and fresh juices were always available.
The Japanese Teppanyaki restaurant was a special treat (the sushi, fried rice, chicken, beef and shrimp were outstanding) but, unlike other resorts we've visited, the chef wasn't very entertaining. That's half the fun. On our last night, before an excellent show in the large theatre (the Circus acts were awesome), we ate at the Hunter Steakhouse at Royalton (named for the owners) and it became our favorite restaurant.
In the summer, a lot of Europeans and South Americans visit the Dominican Republic (prices are cheaper than in the winter) but we were surprised by the number of Canadians and Americans we met. We weren't surprised by all the three-generation families like ourselves. The manager at Royalton told us that resorts are a great way to bring families together because there's always so much to do for all age groups.
Summing it up
As Eva, our oldest granddaughter observed, "I give thumbs up to travelling with grandparents. More family means more fun."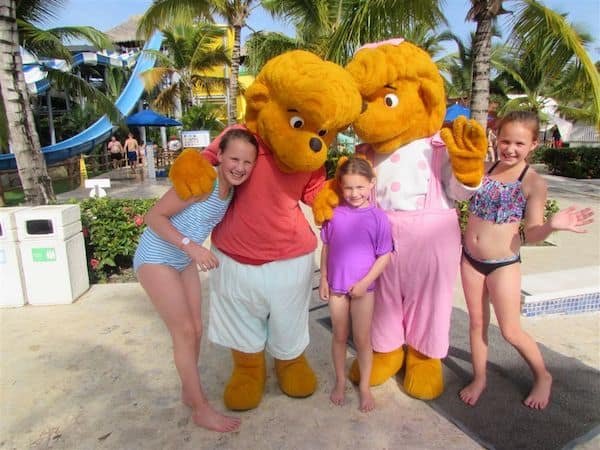 We met fun-loving William Lis, a grandfather from Montreal, who was at Memories Splash with his family of eleven. Last year they went to Memories in Cuba and knew they had to do it again in 2017. Another set of grandparents from Arizona told us they travel every year with their daughter and grandson, now 11.
The secret for three-generation travel success? "Go with the flow. Do what the grandchildren want…and be flexible."
---
*John and Sandra Nowlan are travel and food writers based in Halifax, Nova Scotia. All photo credits: The Nowlans.
---
IF YOU GO:
Memories Splash Punta Cana Resort & Casino
---
Previously on More Time To Travel: