Guest Post – Napa Valley and beyond
Napa Valley vineyards and hills (Credit: John and Sandra Nowlan)

John and Sandra Nowlan discover more than they expected

in California's Napa Valley and beyond.
Hot springs, mud baths and an Old Faithful geyser. These were the totally unexpected treats in California's Napa Valley.
What we did expect, and received in full measure, were the outstanding wines and creative cuisine that make this region of the Golden State a foodie's paradise.
The Napa Valley is reached by a 90-minute drive north from San Francisco. Flanked by mountains on the west and east, this famous grape growing area has the perfect Mediterranean climate and soil to produce world class wines, particularly Cabernet Sauvignon and Chardonnay. The Valley is only one-eighth the size of the Bordeaux wine region in France (just 50 kilometres long and 8 kilometres wide at its widest) but it's home to more than 450 wineries including major producers like Robert Mondavi, Beringer and Sutter Home. The first commercial vineyard began here in 1858. Everywhere there's not a winery or a town, there are grapevines as far as the eye can see.
About 110,000 people live in five communities along the Napa Valley floor. We stayed in the northernmost town of Calistoga at the historic Indian Springs Resort. The fault lines that cause many earthquakes in this region also release multiple thermal geysers and hot springs. Indian Springs takes full advantage of this geology. The resort has two swimming pools (one Olympic size) fed in part by hot mineral water that creates billows of steam rising above the property.
The constant thermal activity also provides heat for the famous Indian Springs mud baths and we both took advantage of this unique experience. Shedding all our clothes we were gently helped into large shallow tubs filled with local volcanic ash, heated by thermal water to a perfect temperature. It was sticky and gooey but, oh, so relaxing. After about 15-20 minutes we got out of the tub, used our hands to scrap off as much mud as we could and then showered the rest away. After a 10-minute soak in a large bathtub filled with hot mineral water, we were invited into a steam room and then could use the Olympic-size pool for a final dip in the warm water. Afterwards, we both agreed that our skin never felt better.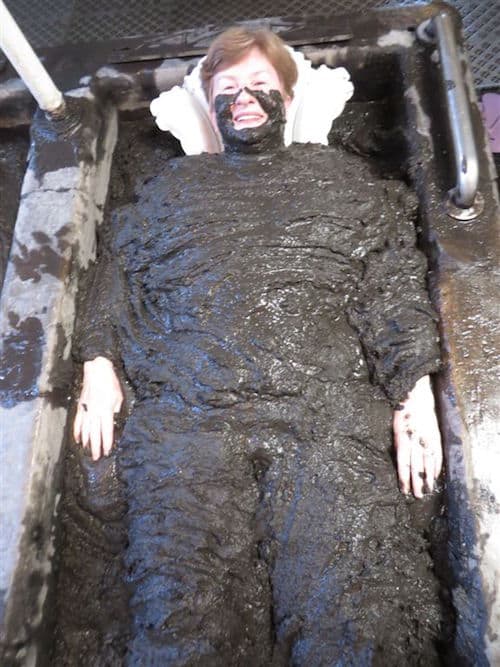 Calistoga is also home to one of only three geysers in the world allowed to be called "Old Faithful." An innocent looking pond of water has a few boulders in the middle but every thirty minutes or so it's showtime! A continuous spout of scalding water rises 20 to 30 metres above the pond and lasts for several minutes before, literally, running out of steam. On a clear day it's a spectacular sight.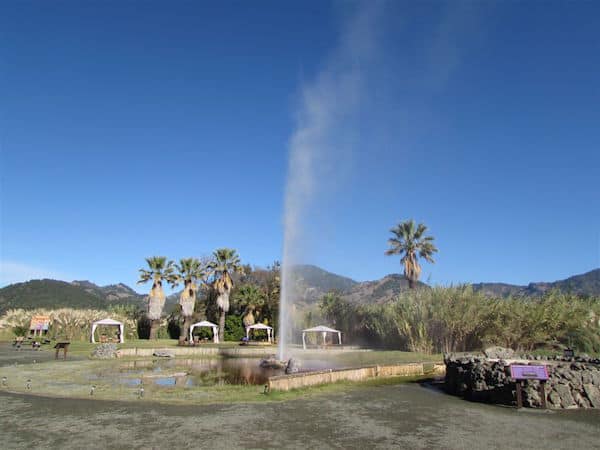 But the food and wine we experienced in the Napa Valley were just as impressive. Most of the seven wineries we visited included creative food pairings with generous samples of the best Valley vintages. In some cases, like the Hall Winery in nearby St. Helena, the house chef led a discussion of her exquisite pairings.
At the B Cellars in Oakville, the resident sommelier took us on a tour through the vineyard and herb garden before a sampling of four outstanding red and white wines accompanied by small, imaginative bites of fresh, local cuisine. We also enjoyed the wine and small bites at the Madrigal Family Winery, the Romeo Vineyards and the small but mighty Phifer Pavitt Winery (where the expression, "Cabernet is King in the Napa Valley" might have originated).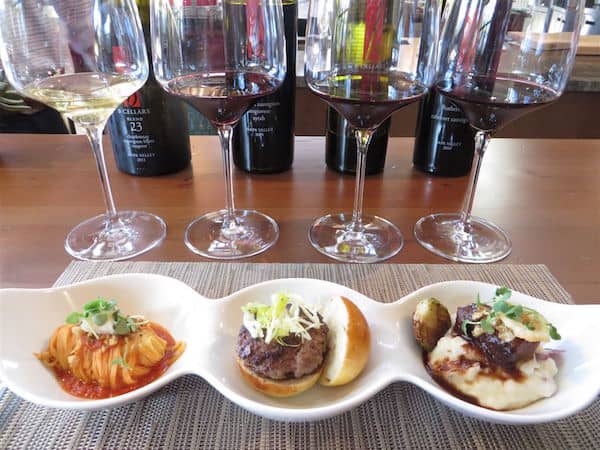 Along with the Sterling Winery (reached by a cable car) the most impressive looking building in Napa is the Castello di Amorosa, a giant 107-room replica of a 13th century Tuscan castle built by a wealthy Italian-American and opened in 2007. It includes 8,000 tons of local stone and 850,000 bricks imported from Europe (along with many antique artifacts) in more than 200 cargo containers. In the basement are wine producing and storage areas and even an authentic looking torture chamber including an iron maiden. The wine is sold only by mail order or at the castle but the tastings and food pairings are delightful and very popular.
Our best dinner in the Napa Valley was at JoLe in Calistoga. Chefs and owners Matt and Sonjia Spector include a four, five or six course tasting menu that combines locally sourced savoury ingredients with perfectly matched wines chosen by sommelier James Certa. James said he's constantly tweaking his wine selection as the menu evolves each day.
Before heading back to San Francisco, we visited another wine growing region just south of Sacramento that, with more than 100,000 acres of vineyards, produces more grapes than Napa and Sonoma combined. The Lodi viticultural area, with warmer days than Napa and cooler evenings along with ideal sandy loam soil, is best known for its variety of zinfandel wines (from light bodied to rich and robust) but the vineyards also produce excellent merlot, chardonnay, cabernet sauvignon and sauvignon blanc.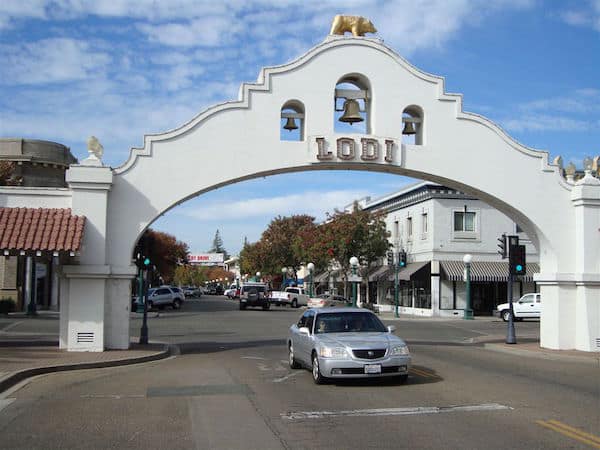 Wine and Roses is the ideal place to stay in Lodi, a city of 65,000 known as "The Zinfandel Capital of the World." The resort has excellent accommodations and a restaurant that provides outstanding cuisine. We'd rate our meal there as among the best we enjoyed.
During the day we toured three excellent wineries near Lodi – Viaggio with its Italian influences, Michael David, best know for its cleverly named flagship zinfandel, "Seven Deadly Zins", and the Klinker Brick Winery, a small, family run operation with outstanding zinfandels.
In the evening we experienced a unique treat. Wetlands near Lodi attract the annual migration of up to 7,000 sandhill cranes, a magnificent bird with a wingspan of more than two metres. At sunset they cease feeding and swoop in like storm clouds to settle into shallow ponds for the night. The combined chattering of these thousands of birds is almost deafening. It's a sight and sound to remember.
Before we flew back to Canada we stayed at the San Francisco Airport Marriott Waterfront, a very convenient and friendly hotel directly across the water from the main runway of the busy San Francisco Airport. It was an ideal location and a quick hop to the Air Canada counter and our flight home. Needless to say, our checked luggage contained a few bottles of very nice wine.
---
IF YOU GO
---
Guest contributors John and Sandra Nowlan are travel and food writers based in Halifax.
Disclosure: The Nowlans were invited guests of VisitCalifornia but any opinions expressed are their own.
---
Previous articles about Napa Valley on More Time To Travel: