12 Things you MUST see and do in the Napa Valley
When it comes to figuring out what to see and do at any destination, every traveler derives special pleasure from discovering the hidden gems and authentic experiences that uniquely define a place and its people. It can entail tasting new foods, stumbling upon a local with an interesting story, or finding a picturesque trail to hike or take a walk.
Most hard-core travelers find a way to balance time spent seeing the "tried and true" vs. time "getting off the beaten path." It may be trendy to disparage any attraction that reeks of mass tourism but who wouldn't want to see the Leaning Tower in Pisa or the Eiffel Tower in Paris?
Indeed, there are times when it's worthwhile to follow the hoards of tourists who have been there before us. At least, that's what I found when we visited the Napa Valley. We retraced the steps and followed the advice of our friends, fellow bloggers, Yelpers, and TripAdvisor members to see and do some of the things that have drawn hoards (estimated at close to 3 million people in 2012 alone) to visit and return to the Napa Valley.
If you are visiting Napa, we strongly recommend that you see and do some of our favorites:
1) Take a photo in front of the Welcome Napa Valley sign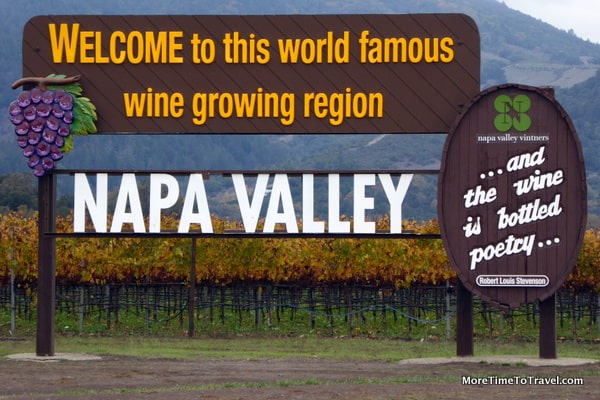 There are actually two Welcome Napa Valley signs along Route 29, one in Oakville and another in Calistoga, and the iconic signs got a facelift last year. The signs are probably too wide for selfies but there's nothing wrong with asking a friendly stranger to take your picture. There will likely be someone around to oblige.
2) Walk the hallowed ground of Thomas Keller
In addition to the Michelin three-star French Laundry, Chef Thomas Keller has two other excellent restaurants in Yountville—Ad Hoc and Bouchon—and also oversees operations at the original Bouchon Bakery (which was later cloned in New York). If the restaurant prices are out of your ballpark, take a no-cost early morning walk through the Chef's organic farm, located across the street from the French Laundry.
3) Visit the Oakville Grocery
When you step into the recently renovated Oakville Grocery that was once a gas station, you feel like you've stepped back in time. Founded in 1881, it is the longest continually operating grocery story in California although I'm quite sure it didn't always stock the same gourmet and artisanal food items it does today. Next door to the grocery is one of the best public bathrooms on Route 29.
4) Grab a burger at Gott's Roadside Diner
The popularity of this retro-style burger joint, which first opened in St. Helena in 1999, has spread as quickly as some California wildfires. There are now branches of Gott's Roadside in downtown Napa as well as in the hinterlands of San Francisco and Palo Alto. The concept is one of fast food with great ingredients. On a sunny day, it's fun to sit outdoors on the picnic tables.
5) Take the Napa Valley Wine Train
During the three-hour ride on the restored vintage Pullman cars of the Napa Valley Wine Train, you'll be served a gourmet meal (cooked onboard in the Kitchen Car) while you sip wine and see all the town centers and wineries between Napa and St. Helena. There is also a Tasting Car stocked with 30-40 boutique wines, where you can sample four different ones for $10.
6) Dine on the terrace of Auberge du Soleil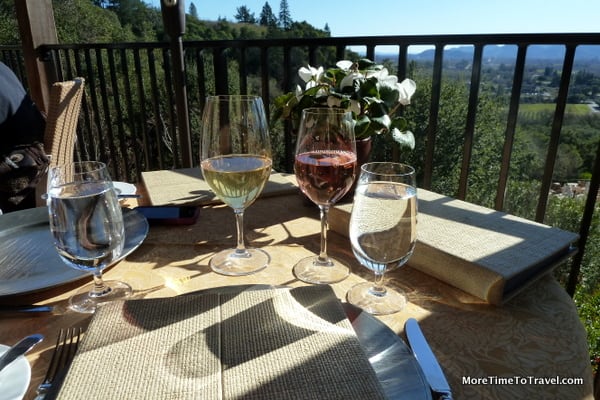 On a clear day, you can almost see forever. At lunchtime, the terrace of Auberge du Soleil in Rutherford offers one of the most breathtaking views of the Valley and Chef Robert Curry's farm-to-table menu is inspired. Reservations are a must.
7) Visit a barrel room
One of our favorites was the Robert Mondavi Winery barrel room in Oakville. A 90-minute "experience" features a walk through the vineyards and cellars as well as a sit-down guided wine tasting. It can be challenging to figure out which of the 400 Napa wineries to visit first, second or third.
8) Take a Segway tour
With a temperate Mediterranean climate, lots of sunshine year-round and a valley with a flat floor, Segway tours can be fun. It's a great way to glide through Napa and cover a lot of ground.
9) Visit a Tuscan Castle
The owner of Castello di Amoroso says he was fascinated by Italian medieval architecture. But it takes guts and tenacity for any individual to build an eight-level castle on 171 acres near Calistoga, chiseled out of 8000 tons of stone with 107 rooms, ramparts, towers, a drawbridge and moat. You can read the amazing history of the project here. Definitely worth a peek and the general admission ticket allows you to visit two levels of the castle and enjoy a five-wine tasting.
10) Visit a Tasting Room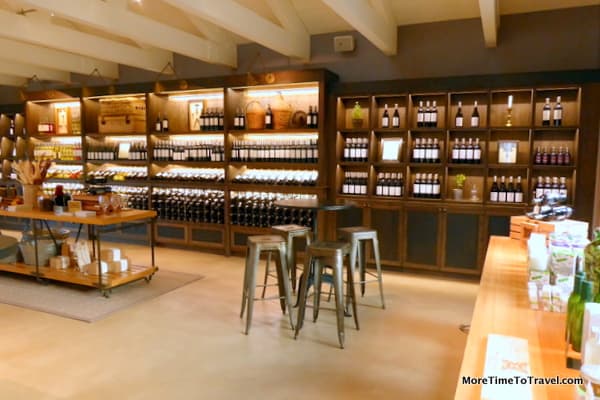 The contemporary tasting room at the Caridean Estate in St. Helena is one of the newest—and most attractive. Some 95 percent of wineries in the Valley are family-owned as is this one. Owners Edwin and Stacia Williams offer 23 different wines from their small-batch boutique winery and are creating a village on the 55-acre property that includes a deli and The Farmer and The Fox, the only British-style gastropub in the Valley. Tell James, the bartender, I sent you.
11) Take a walk through St. Helena
The picturesque main street of St. Helena is filled with upscale boutiques, restaurants, shops and galleries housed in old buildings. If you love architecture, look up. Three blocks of the town have been designated a National Historic District on the National Register of Historic Places. If you have a yen for contemporary Mexican food, stop at La Condesa for tacos and Margaritas. Chocolate-lovers swear by the handmade Woodhouse Chocolate shop; even if you are on a diet, check out the window displays.
12) Take an artwalk
Both Napa city and Yountville have wonderful public art walks; there are galleries and museums to visit throughout the Valley. DiRosa in Napa is a unique art museum that displays more than 2000 pieces of art indoors and outdoors, in a variety of media, all by Bay-area contemporary artists.
---
For an infinite number of things to see and do, see the Visit Napa Valley website.