Grand Velas Riviera Maya: Perfect Ambiance For A Multigenerational Vacation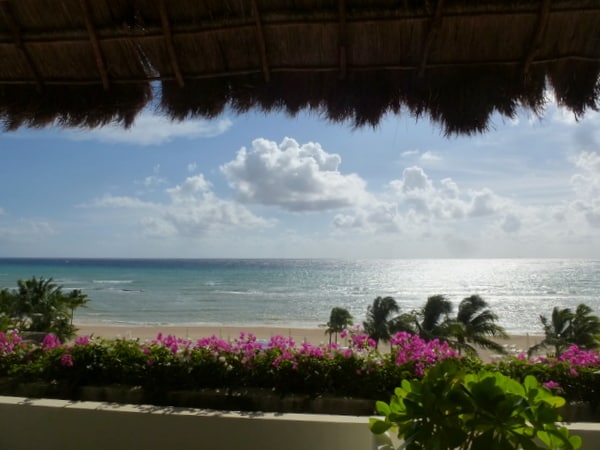 A multigenerational vacation at Grand Velas Riviera Maya offers flexibility for family members of different ages.
Planning a multigenerational vacation isn't always easy: It entails finding a destination that can flexibly accommodate the diverse needs of people of varying ages, who usually have different needs, interests and lifestyles.
Whether a family is celebrating a milestone birthday or anniversary, or simply want to relax and spend time together, Grand Velas Riviera Maya is ideal for these multigenerational get-togethers. Located along the southeastern coast of Mexico on the Yucatan Peninsula, this all-inclusive resort offers varied accommodations, activities and amenities so there's something for everyone.
Three Ambiances: Suitable for multigenerational travel
Grand Velas Rivera Maya is set on 205 sprawling acres of tropical jungle, located only 40 minutes from Cancun International Airport.
After passing through a dramatic walled entrance to the property, guests are transported along a meandering mile-long interior road that cuts through lush vegetation until it reaches a 1600-foot sandy beach beside the Caribbean Sea.
The resort is subdivided into three discrete sections, called ambiances, nestled throughout the property: Grand Class, Ambassador and Zen Grand—each one differentiated by style, location on the grounds (beach vs. jungle), special amenities and price points.
Grand Class
With only 90 oceanfront suites, Grand Class has the feel of a luxury boutique hotel.
The 1377-square-foot units are enormous, larger than most hotel rooms and even many apartments. They have floor-to-ceiling sliding glass doors that open to expansive patios or terraces with private plunge pools.
Our suite, 3067, couldn't have been more spacious or luxurious: A large flat-screen TV on a swivel divided it into a living area with comfortable seating and a king-size bedroom, both with views of the sandy beach and aquamarine waters.
The mammoth marbled bathroom had a walk-in closet, water closet, large Jacuzzi tub, stall shower, and double sinks with a huge countertop.
Limited to adults and families with children over the age of 12, Grand Class guests have access to a private oceanfront pool, 24-hour concierge service, and a fully stocked minibar with domestic and premium liquors as well as snacks.
It might especially appeal to grandparents, aunts or uncles on a multigenerational vacation who want to be near but apart from the rest of the brood elsewhere on the grounds.
Ambassador Class
Families traveling with kids would probably elect to stay at the 195-unit Ambassador Class ambiance.
A high-tech Teens Club (for teens 13-18) offers electronic games, videos and movies, pool, table hockey and foosball. At night, it morphs into a mini-disco with karaoke.
The Kids Club (for kids 4-12) offers an inviting space that allows children to participate in supervised play and educational activities as their parents unwind.
Many of the 1270-square-foot suites have ocean views and connecting doors for families with multiple children. The adjacent infinity pool has a splash area just for kids.
Zen Grand Class
Surrounded by jungle and nature to promote relaxation, the 206 family-friendly Zen Grand suites are only slightly smaller.
Many are sited along a series of water canals, where guests can sit on their spacious patios and see lily pods and water turtles. The ambiance also offers a series of lovely pools and lounge areas set among the mangroves and walking paths that lead to a greenhouse and meditation garden where kids and adults can spot birds and animals.
It also has its own Kids Club. Although Zen Grand Class is located about ¾ of a mile from the beach, the resort has vans that loop continuously from place to place on the property.
Meals on a multigenerational vacation
The shops, restaurants, and tourist attractions of nearby Playa del Carmen are only five minutes away by car but there is little reason to leave the grounds or the excellent on-site dining venues.
Grand Velas Riviera Maya has six bars and five gourmet restaurants with a range of options for multigenerational travel: Frida (Mexican), Sen Len (Asian Fusion), Lucca (Italian), Piaf (French, recipient of a Four Diamonds Award from AAA) and Cocina de Autor (Basque-inspired).
Cocina de Autor is the first all-inclusive restaurant ever to receive an AAA Five Diamonds Award. In addition to 24-hour room service, guests can choose from the extensive buffet at Azul or order off the menu from the Bistro or Chaka during daytime hours. In every venue, the menus were inventive and the food beautifully presented.
A world-class spa and other amenities
The property's impressive Grand Velas Spa (named best spa in the world by Virtuoso) and Convention Center, each with about 90,000 square feet of space, are located adjacent to the Zen Grand Class ambiance. With 40 spa suites, guests can indulge in a variety of organic health and beauty treatments inspired by indigenous cultures.
The sensuous 7-part Water Journey at the Grand Velas Spa (with separate facilities for men and women) includes an experience pool, steam room, clay room and ice room. The setting and service were so relaxing that I hated to leave the premises. In fact, I seized the opportunity for try my first fish pedicure.
Well-equipped gyms are located in both the Ambassador and Grand Zen ambiances.
Bottom line: Why Grand Velas Riviera Maya is perfect for multigenerational vacations
Although my husband and I would return to Grand Velas Riviera Maya in a heartbeat for a long romantic weekend, I couldn't help but think that it is also ideally suited for a multigenerational vacation (I'm hoping I get to return someday for that reason, too). Here are just a few of the reasons why:
Easy airport access but immersion in a totally unique and natural setting
Beautiful eco-friendly beachfront/jungle setting with temperate climate much of the year
Range of ambiances that appeal to different generations and unless one person in the group has deep pockets to pay for all, accommodations at a range of price points
Plenty of relaxing gathering spaces: group meals indoors and al fresco, or meeting on the beach, around the pool or inside the spacious suites—as well as opportunities for privacy and spending time apart
Range of onsite activity/entertainment options that appeal to guests of all ages (including children and teens) as well as the opportunity to take advantage of nearby recreational, ecological and cultural attractions
Variety of dining venues fit for foodies with options for picky eaters as well as individuals with food allergies and/or food sensitivities
All-inclusive pricing that allows groups to budget upfront without any surprises; rates not only include food and liquor but also in-suite food service, minibars, fitness classes, non-motorized water sports, concierge service, parking and all taxes and gratuities (spa treatments and premium alcoholic brands are extra)
---
IF YOU GO
]
---
Disclosure: Our stay at Grand Velas Riviera Maya was hosted by the property but any opinions expressed in this post are our own.
---
All photo credits: Jerome Levine
---
Also on More Time To Travel:
---
Read more about Grand Velas Resorts in Mexico.