Destination Jamestown, N.Y.: Go for the Comedy, Stay for the Recreation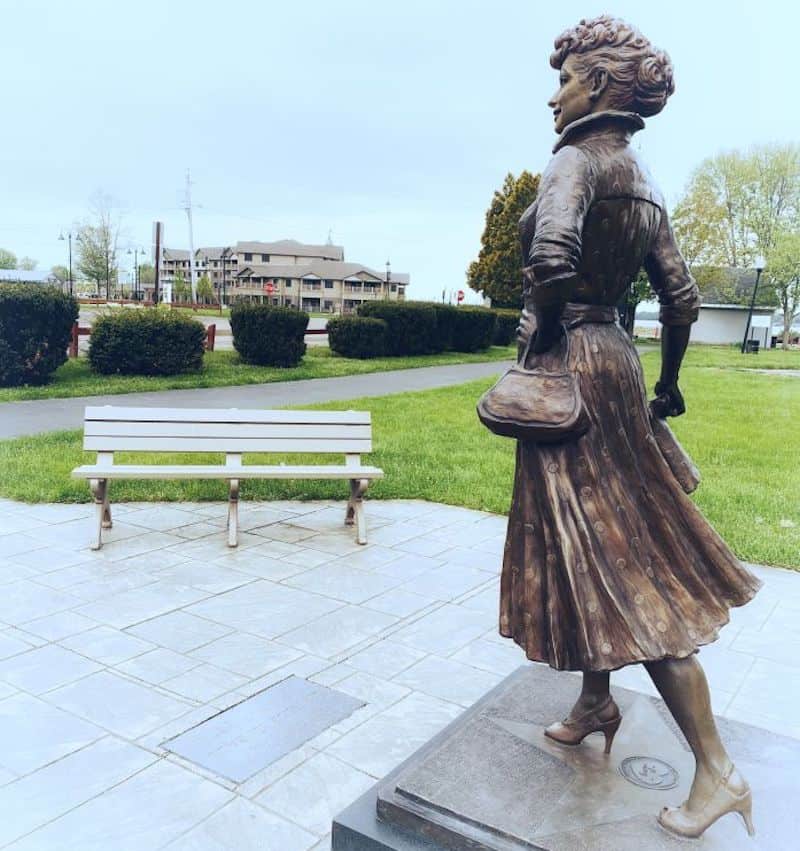 Contributor Lori Tripoli takes a road trip to Jamestown, N.Y. and finds a destination rich with comedy, culture and more.
.Jamestown, N.Y. is not the historic settlement of the same name that was formerly full of English colonists. Instead, this city is associated with a certain redhead who made a very different kind of history: Lucille Ball.
Born in 1911 to a young mother who before long would become a young widow, Ball grew up in humble circumstances, shuttling between various family members and moving from Jamestown to its suburb of sorts, Celoron, before she grew up, went to the big city, failed large, and returned home before leaving to try again.
Lucille Ball certainly drew attention to Jamestown, N.Y., but this place offers quite a lot to visitors who would never consider themselves to be Lucy-Desi groupies.
Spoiler alert: Lucille Ball made it big—really big—by starring with then-husband Desi Arnaz in the I Love Lucy sitcom about a zany housewife and her Cuban, bandleading husband in a television show that would make history of its own. The world got to see a wife with career ambitions in a so-called (for the time) "mixed marriage." Lucy played a woman who juggled those goals with relatively late-in-life (for the time) parenthood. Ball turned 42 the year little Ricky Ricardo was born in an era when the word "pregnant" could not be uttered on air (instead, Lucy was enceinte). Little Ricky's birth in a January 1953 episode of the show just happened to coincide with the birth of her real-life son, Desi Arnaz IV (known as "Desi Jr.").
Where to find Lucy in Jamestown N.Y.
The reason so many of us grew up on I Love Lucy reruns was because Lucy and Desi's performances were filmed before a live audience using a pioneering three-camera system. At that time, other programs aired live. In short, episodes of I Love Lucy could be aired again and again and again and possibly into perpetuity. Visitors at the aptly named Lucy Desi Museum in Jamestown, N.Y. learn this and so much more about this one-time power couple.
The Ball-Arnaz duo also formed Desilu Productions. After Lucy and Desi divorced, Lucy bought Desi out and became the first woman to helm a major television studio. She also okayed a science fiction program, Star Trek, which became the first TV show on which a character uttered the word "pregnant." Lucy ultimately sold Desilu to Gulf + Western.
After becoming a star, Lucy never forgot her roots in western New York. She and Desi/Ricky, and Ethel and Fred can still be found elsewhere around town. Murals depict scenes from the old TV show, and a statue of Lucy appears in Lucille Ball Memorial Park in nearby Celoron.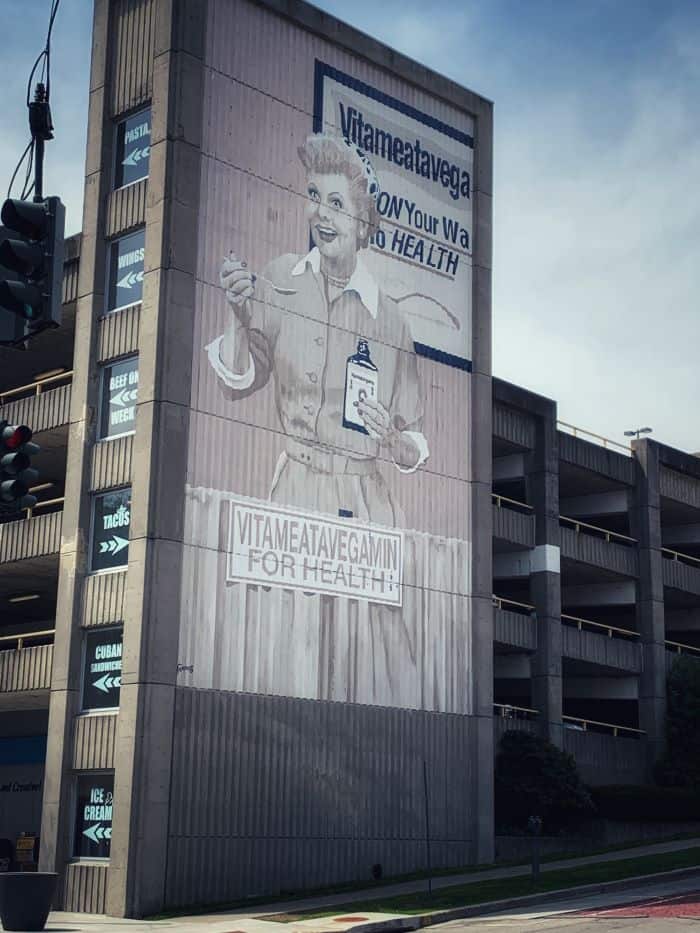 At the Lake View Cemetery in Jamestown, follow the red hearts with an L inside them to find Lucy's gravestone.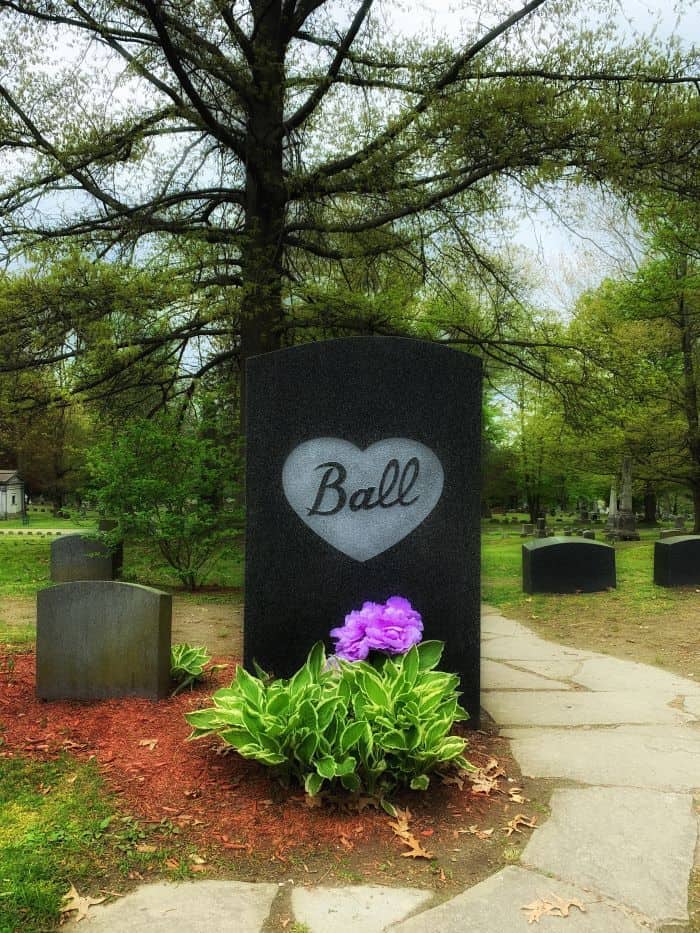 Advancing comedy as an art form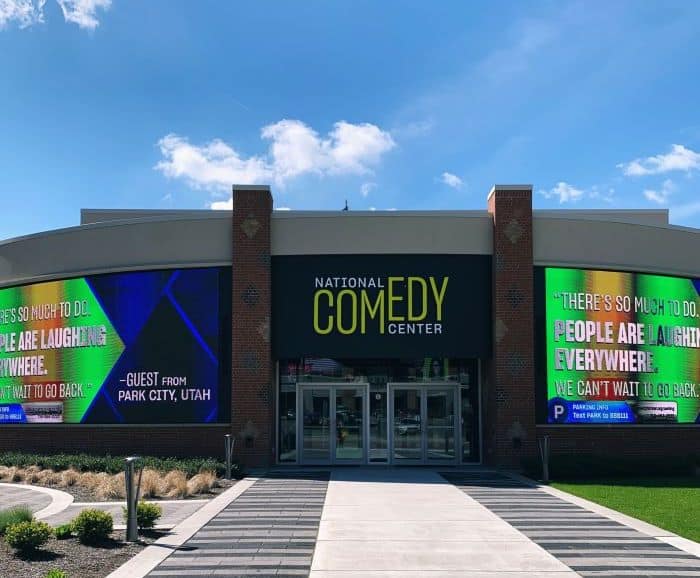 Walk from the Lucy Desi Museum (stop by the charming Crown Street Roasting Company next door if you need a quick jolt of caffeine) to the newly opened National Comedy Center just a few blocks away for an interactive, immersive experience. Yes, there's comedy karaoke for those who are especially brave, and an opportunity to make your own meme.
Comedy's role in advancing culture thanks to bold comedians willing to criticize, with laughter, certain entrenched institutions is covered well here. Back then, those nervy comics would get arrested for being so candid. Comedian Lenny Bruce's trials on obscenity charges most definitely get attention at the National Comedy Center. So does comedy's role in soothing a nation following trauma. Remember then-Mayor Rudy Giuliani's appearance on Saturday Night Live just weeks after 9/11? The National Comedy Center does.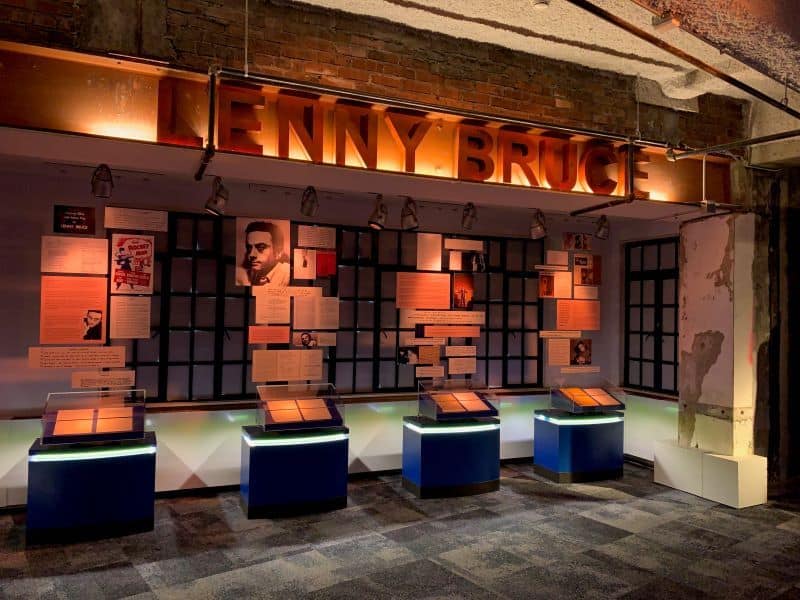 It also pays tribute to writers, to props, to connections, to comics and cartoons. Visitors learn their own sense of humor profile as they advance through the museum, which is housed, in part, in Jamestown's former train station. Plan to spend more time than you think you will here. It is hard to leave because there is just so much to do, and learn.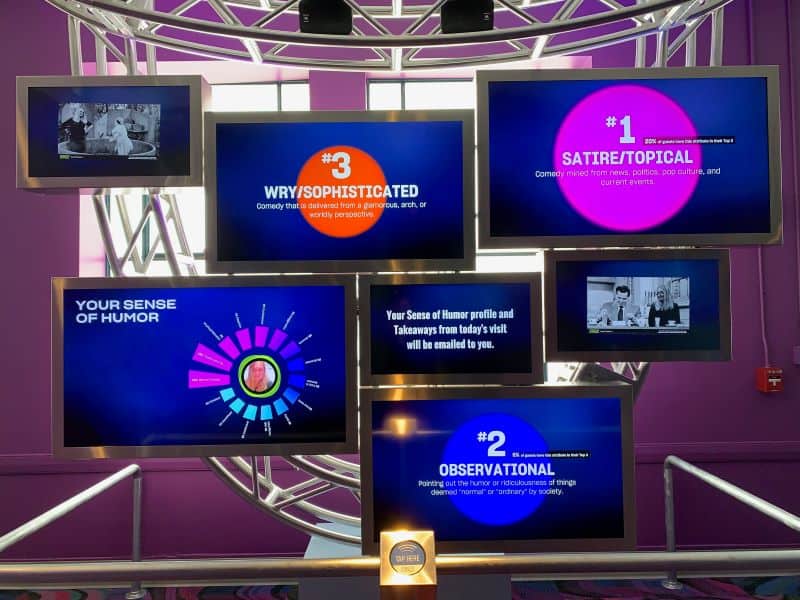 Plus, one cannot help but like a place that, upon learning that it earned the No. 2 slot in USA Today's 2019 10 Best New Attractions, issued a press release touting its pride in being a second banana.
Mix college and summer camp at Chautauqua Institution
For those who like mind-bending of a slightly different sort, a visit to the nearby Chautauqua Institution may well be in order. Part college, part summer camp, this summer community based in Chautauqua on Chautauqua Lake offers nine weeks of arts, recreation, education, and a little bit of religion (including Catholic, Jewish, and Muslim religious services). There's swimming and golf and tennis, and sometimes lectures by Supreme Court justices and well-known authors and others.
Susan B. Anthony advocated women's right to vote here back in 1892, and President Franklin D. Roosevelt gave his "I hate war" speech on these grounds in 1936. Navigator Amelia Earhart landed her plane on the 14th fairway of the Institution's golf course in 1929, had lunch, and then gave a lecture on her cross-Atlantic flight the year before.
In more recent years, Wynton Marsalis and Sheryl Crow have both performed here. Think of the Chautauqua Institution as the Davos of New York state without all the pretentiousness.
An intellectual powerhouse: The Robert H. Jackson Center
Looking to keep those intellectual juices flowing? Head to the Robert H. Jackson Center in Jamestown. Housed in a mansion built in the 1800s (President Ulysses S. Grant stopped by for lunch in 1875) and later owned by the Masonic Lodge, the center is dedicated to promoting liberty under the law—and to the memory of Robert H. Jackson, a local lawyer who ended up with quite an impressive career as a U.S. Supreme Court Justice and as the Chief U.S. Prosecutor in the Nuremberg trials. He is credited for defining "crimes against humanity" as felonies.
This not-so-large center draws some impressive speakers. Bob Woodward, who covered the Watergate story for the Washington Post in the 1970s and who has written extensively about political matters ever since, is slated to appear later this summer; Chief Justice John Roberts made an appearance here about a half-dozen years ago. Should you take a tour of the mansion, be certain to ask your docent about upcoming and recent appearances by big names with important stories to tell.
Where to stay: The Chautauqua Harbor Hotel
For Lucy lovers, the Chautauqua Harbor Hotel, which opened in 2018, is conveniently located right across from the Lucille Ball Memorial Park in Celoron. Photos of young Lucy grace the hotel's hallways, and, thanks to the hotel's partnership with the National Comedy Center, a mini-exhibition adds more charm to its lobby.
The hotel offers a Hilarious Getaway package featuring hotel accommodations, two tickets to the National Comedy Center and the Lucy Desi Museum, and a $30 meal voucher to the Lakehouse Tap and Grill. A welcome gift bag includes Groucho Marx glasses. Wear yours to the Lakehouse Tap and Grill and get a complimentary dessert!
The hotel serves as a perfect weekend getaway all on its own—it is situated right on the water, has indoor and outdoor pools, a hot tub, a putting green, firepits for cool, breezy evenings, an onsite bar and restaurant, and the outdoor Carousel Bar, so named because the Chautauqua Harbor Hotel is on the site of an old-time amusement park that, sadly, burned down in the 1960s. There is also plenty of banquet capacity for weddings and other large get-togethers at this hotel with 135 guestrooms that is open year-round. (A winter Fire & Ice event featured ice sculptures, a martini luge, and fireworks.) Boating, water sports, and golf outings can be arranged via the hotel's concierge service.
---
Where is Jamestown N.Y.?
---
IF YOU GO
---
All photo credits: Lori Tripoli
---
Disclosure: The author's trip was hosted by Hart Hotels Harbor Hotel Collection.
---
Lori Tripoli is a freelance writer and editor in Bedford, N.Y. She blogs at BashfulAdventurer.com and is a regular contributor to GettingOnTravel.com.
---
Share on Pinterest!
---
---