Sailing on Sea Cloud: A Luxury Tall Ship Unlike Any Other
Before our recent sailing on Sea Cloud, we've had many different luxury ship experiences: voyages on cruise ships and ocean liners; meandering on riverboats that touched the coasts of large cities and small towns, and winding through canals and locks on restored barges once used to transport goods before the advent of railroads.
Admittedly, we love the convenience of cruising: It allows for unpacking and packing only once without the logistical hassles of arranging for hotels, restaurants, local transportation and tours. So each of these cruise experiences has been beyond pleasurable. But we must say, none were quite as unique or as steeped in history as our recent Caribbean voyage on Sea Cloud, a five-star, multi-masted tall ship.
Departing from Bridgetown, Barbados, we made port stops in St. Vincent and the Grenadines, St. Lucia, Guadeloupe, the Virgin Islands, and St. Barts before disembarking in Antigua.
Sea Cloud's backstory in short
Christened in 1931, Sea Cloud was once a private yacht that belonged to Marjorie Merriweather Post, the founder of General Foods, and her husband, financier E.F. Hutton. The heiress was influential in overseeing the ship's design and décor, and her sense of style and good taste are still evident throughout the ship today.
The couple commissioned the Windjammer to travel to small ports at exotic locales as they entertained family, friends, statesmen and celebrities. The ship also had a stint as a weather recording station during World War II. You can read more about the ship's fascinating history in my article on Forbes, Sea Cloud: A Tall Sailing Ship Steeped in History.
James Michener, Walter Cronkite, Donald Rumsfeld, Ross Perot and Robert McNamara are just a few of the luminaries that have sailed on Sea Cloud.
Discovering what Sea Cloud is and what Sea Cloud is not
Guests whose sailing experience has been limited to large cruise ships will quickly recognize the distinctions between Sea Cloud and the rest of the pack.
Sea Cloud is intimate with only 32 cabins and an ambiance that remains more like that of a private yacht rather than a passenger ship. It draws a diverse, international clientele of mature, seasoned travelers although the line is especially popular with German guests. The ship never feels crowded.
After a day or two onboard everyone seems to know each other, creating a real sense of camaraderie—and fast friendships. A large proportion of the guests (estimated at 60 percent) are "repeaters" who return over and over to what has been dubbed "the most romantic ship in the world."
Be forewarned: This isn't a modern cruise ship with a lot of shiny bling. Sea Cloud has no balconied staterooms, no room service, no television, no in-cabin Wi-Fi, no specialty restaurants, no swimming pool or spa, no casino, no children's programs (or children) and no elevators.
But if what Sea Cloud doesn't have doesn't dissuade you, any initial disappointment will melt away given all that sailing on Sea Cloud DOES offer:
Reasons for sailing on Sea Cloud
You covet an authentic sailing experience
Many of our fellow passengers were avid sailors, having owned ships in the past or owning large sailboats now, but who came on board because they were seeking a true vacation from dealing with the maintenance and responsibilities of their own boats. Other guests might be categorized as aspiring sailors.
Because Sea Cloud sails slowly (at a maximum speed of about 10 knots or 11.5 MPH), passengers feel close to the sea. Rather than relying on computer-controlled sails (like some other tall ships), Sea Cloud is one of a small number of passenger sailing ships on the sea today that is hand-rigged without electronic controls.
This means guests can look up and witness the marvel of crew rigging the sails above them. With the tallest of the four masts towering some 178 feet above the deck, climbing up rope ladders to furl and unfurl the sails requires considerable agility.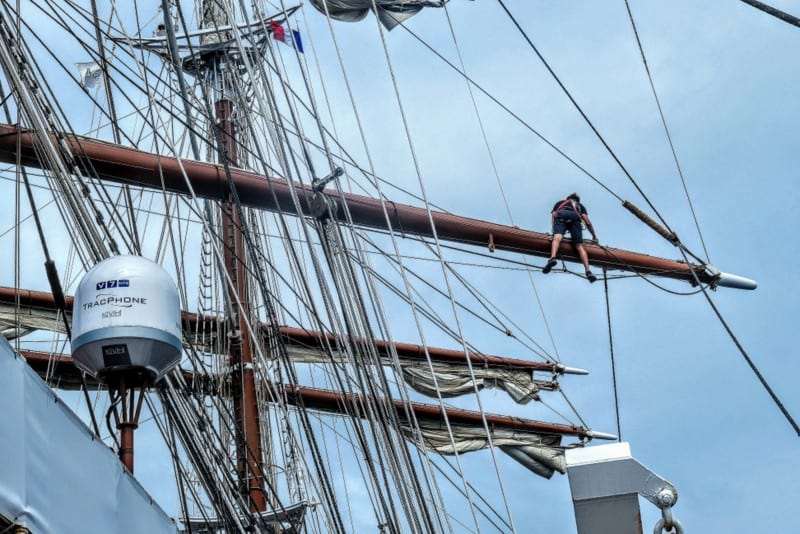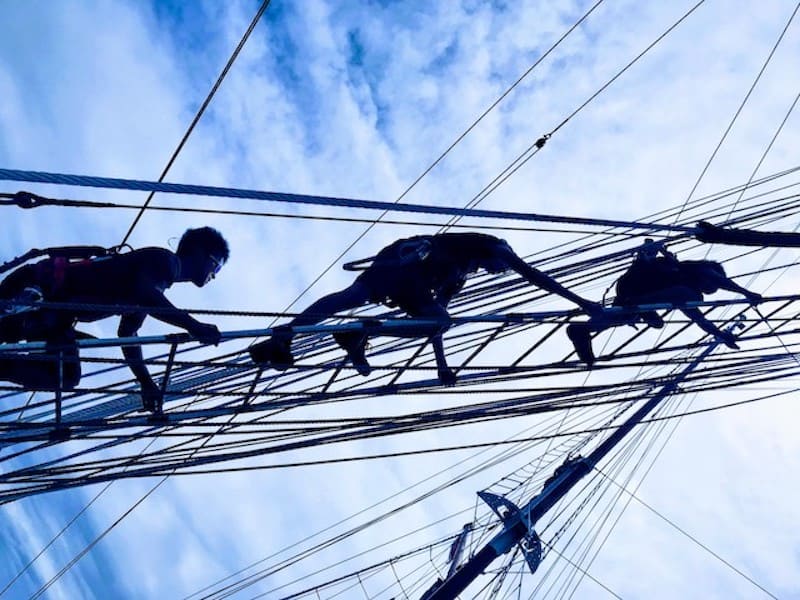 The salty ship itself, totally overhauled and refurbished in I979, is lovingly maintained and evokes a sense of nostalgia. It's rich with mahogany and teak woods and brass fittings. The massive masts are made of wood rather than aluminum. Public areas have beautiful moldings and mullioned windows, and some sport antique furnishings.
Not only are guests welcome to visit the open bridge and chat with the Captain but they can also handle lines and find other ways, depending on their inclinations and abilities, to work alongside the crew.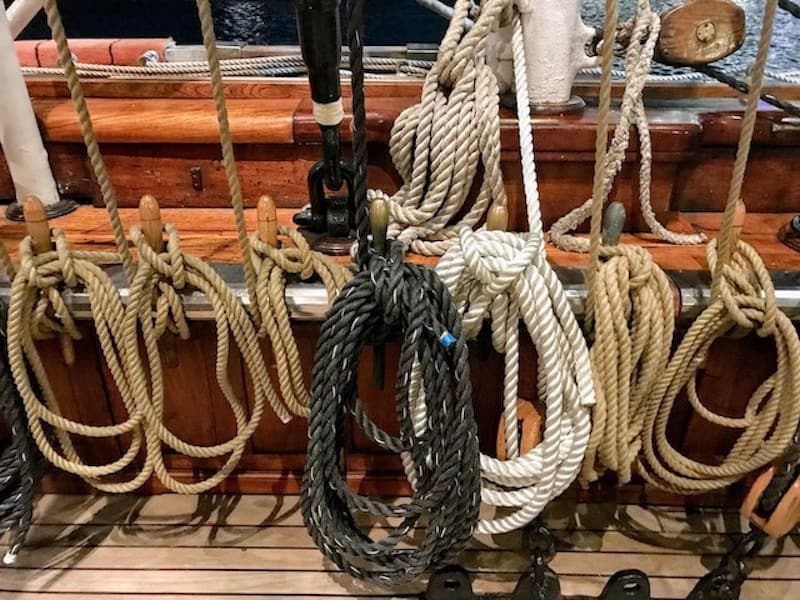 With 60 crew and a maximum passenger capacity of 64, there's always someone around to address (or anticipate) your needs. Crew genuinely feels a kinship with Sea Cloud and its passengers, some of them having worked on board for decades.
The cabins are tended to twice a day with complimentary fresh fruit, bottled water and soft drinks available in each cabin. The marble bathrooms are stocked with L'Occitane toiletries.
When boarding the tenders and Zodiacs for snorkeling, visiting beaches or other shore excursions, there are always extra hands to help you get on and off the ship. Before long, the barman knows what you want to drink and the waiter knows how you like your coffee.
We were amazed at the talents and output of the small kitchen crew working out of a tiny galley. Ingredients, preparations and presentation were all top-notch.
Served in the private dining room and bar area (where Merriweather Post, guests and her daughter, Dina Merrill) usually dined, breakfasts each day included a full buffet with hot and cold dishes, as well as the possibility of ordering à la minute plates.
A dinner bell chimed to signal times for lunch and dinner; both meals paired with complimentary wines and beers. Lunches were typically served buffet style on the Lido Deck under ocean breezes.
They included an abundance of choices to please even the most finicky eater, relying on fresh, local ingredients. A whole suckling pig was air freighted from Germany; fresh tuna came from fishermen at a nearby port.
Multi-course dinners, again served in the dining room, were Michelin-star quality, offering guests several choices of entrées.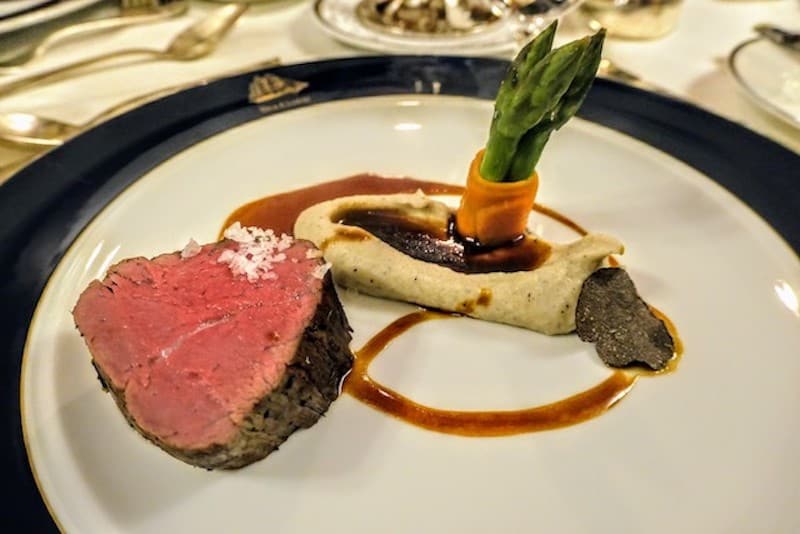 The Sea Cloud difference
Yes, there are other tall sailing ships but the five-star Sea Cloud is in a class of its own because of its yacht-like size and the proportion of time it spends under sail. It's a perfect choice for discerning, sophisticated travelers who want to relax and enjoy a seaworthy experience unlike any other.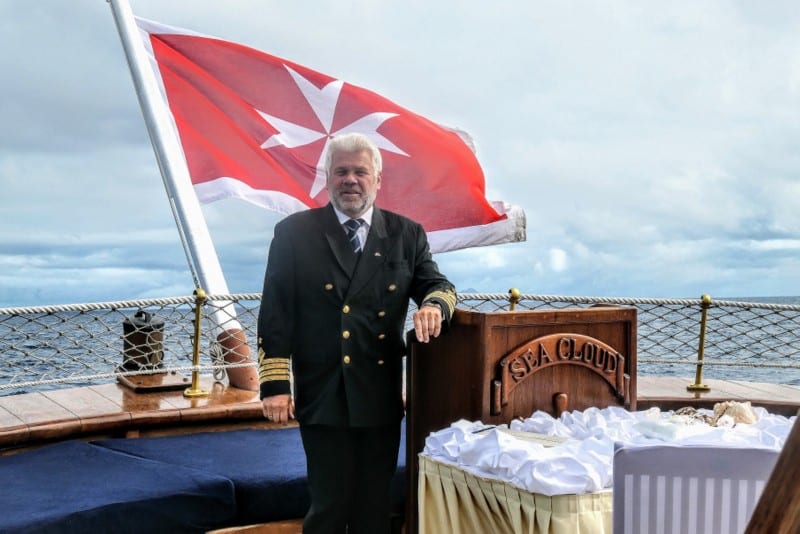 Sea Cloud Cruises also operates the 94-passenger Sea Cloud II. (As the weather gets warmer, Sea Cloud I and Sea Cloud II head for Europe.) The company recently announced plans to expand its fleet. It will launch a new-build, 136-passenger ship with expanded itineraries in the fall of 2020.
---
---
All photo credits (unless otherwise noted): Jerome Levine
---
Save to Pinterest!
---