The case for riverboat cruising on an AmaWaterways Tulip Cruise (Part 1)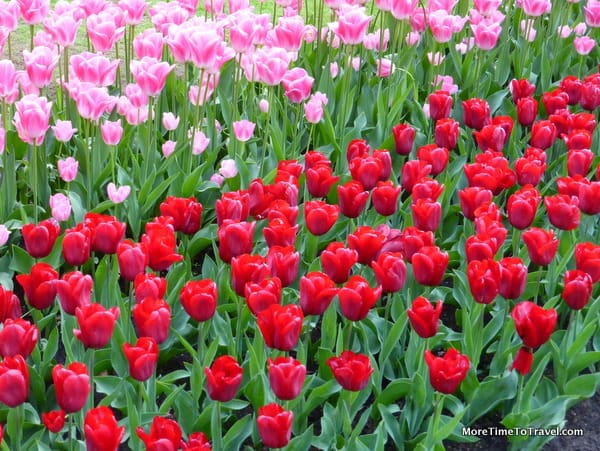 An AmaWaterways Tulip Cruise makes the case for the ease and convenience of river cruising.
This is the first of a two-part blog post. This post describes the advantages of river cruising and the onboard experience on AmaSonata.

A companion post, The Magic of A Tulip Time Cruise on AmaWaterways (Part 2), describes the cities and towns we visited.
Riverboat cruising has exploded in popularity over the last 12 years. New ships and itineraries are rapidly being introduced in the U.S., Europe and Asia in response to the growing demand of the boomers filling their cabins.
In 2015, 16 of 22 new ships launched were river ships, according to cruise trade association, Cruise Lines International Association (CLIA). Last year, 12 of 18 new ships launched were river ships. Our recent AmaWaterways Tulip Time Cruise to the Netherlands and Belgium reminded us of why we love this type of travel.
The advantages of river cruising
When traveling across Europe by air or train, we tend to visit large cities with airports or train stations. But the convenience of a river cruise, with a boat as our home base confers the much-appreciated blessings of:
-Not having to make reservations at hotels and restaurants
-Not having to check in and check out
-Not having to pack and unpack; and
-Not having to make transportation arrangements to get from city to city
And for those short on time (Let's face it—Who among us, working or retired, ever feels as if we have enough time?), river cruising offers the invaluable perk of traveling distances while you are sleeping, and having an experienced travel planner create a hassle-free touring itinerary with a menu of choices.
Thus, for many boomers and others, river cruising is a convenient (and somewhat economical) way of visiting bucket list destinations as well as smaller cities and even towns that were never on their radar.
Our Tulip Cruise on AmaSonata
AmaSonata, the sister ship of AmaCerto, was newly launched in 2014. When filled to capacity, it holds 164 passengers. Many people have the mistaken idea that river cruises are leisurely, perhaps because the boats travel at slower speeds and cover shorter distances than ocean-going vessels. To the contrary, unless someone opted out of excursions, our AmaWaterways Tulip Cruise was very active with hardly any downtime.
Depending on the distances between ports, the ship cruised during the night and, sometimes, between morning and afternoon excursions while we enjoyed lunch on board. (Thus, anyone who prefers leisurely "sea days" might opt for an ocean cruise.) Often, we were challenged to make the difficult decision of choosing between simultaneous excursions at the same destination.
Public areas on AmaSonata were welcoming and tastefully decorated. The voyage was so rock steady that if you didn't look out the windows, it was hard to tell you were moving. Getting seasick is highly unlikely on a riverboat.
Our cabin just off the atrium lobby (#202) was modern and comfortably appointed with sufficient space to relax, stow our belongings, stay organized, and prepare for each offshore foray. A balcony offered two comfy seats from which we could watch the passing landscape in early morning, sometimes dotted with cows and sheep.
After dinner (and sometimes through the night), my husband, Jerry, was glued to the oversized 27" Apple iMac in our stateroom, an infotainment system with Internet, TV, movies, and a closed-circuit bow camera with beautiful views of the countryside.
The onboard Chef's Table Restaurant (available to guests, at no extra charge, one evening each cruise) was a lovely treat. It holds 30 guests and offers a creative and beautifully presented degustation menu. Other meals in the main dining room offered a choice of buffet or menu service for both breakfast and lunch, and an extensive menu of continental and regional specialties for dinner. Our favorite new-to-us dish tried onboard: Dutch mustard soup.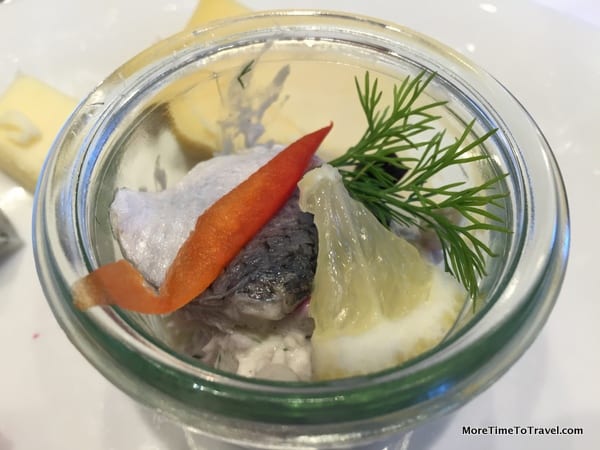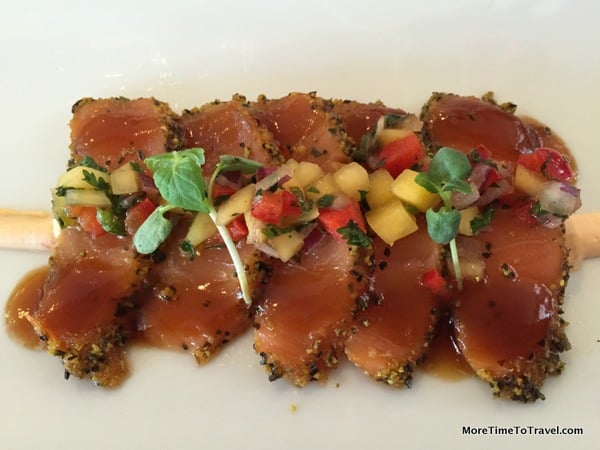 Our Captain, Christian, and Dutch Cruise Manager, Rolf, were extremely amiable, conscientious, and made sure every aspect of the cruise was "shipshape." Cabin stewards and wait staff were also friendly and efficient. You miss the little things like housekeeping and turndown when you're home.:-)
The cruise was "mostly-inclusive" with free wine and beers at meals; free bottled water refurbished daily; complimentary wireless Internet through the ship; and one or more free excursions at every port with experienced local guides. Tips were not included, nor were premium alcoholic drinks or drinks between meals, but let's face it, who had time to belly up to the bar?
Another nice touch of the cruise line: When we returned home, we received a welcome home and thank you card from the AmaSonata crew.
---
IF YOU GO
AmaWaterways Tulip Time Cruise
Prices start from $2499 per person, double occupancy.
Tulip season, from mid-March to the end of May, is time-limited and subject to the unpredictable weather common to the area. This year (2015) AmaWaterways offered 15 departures on three of its ships between March 23 and May 6th.
---
Also see this companion post to this one on More Time To Travel:
---
Disclosure: Our cruise was hosted by AmaWaterways but any opinions expressed in this post are our own.
---
This post is part of a LinkUp with Noel Morata's Travel Photo Discovery.