A Luxury Land and Sea Adventure on Sea Cloud
Guest contributors John and Sandra Nowlan embark on a luxury land and sea adventure on Sea Cloud, one of the most world's most luxurious tall ships.
According to the Berlitz Cruising and Cruise Ships Guide, Sea Cloud is "the most beautiful cruise-sail ship in the world…and one of the world's best travel experiences."
Easy embarkation in Barbados
What makes this 64-passenger square-rigger, now almost 90 years old, even more interesting is the opportunity to sail on a voyage that starts and ends in Barbados. This tropical paradise, very popular with North Americans, is the ideal location to begin one of Sea Cloud's Caribbean itineraries.
The friendly, former British colony is blessed with some fine beach hotels and excellent restaurants. We stayed at a resort that combines both. The Fairmont Royal Pavilion is located on a superb stretch of sand with every room overlooking the turquoise Caribbean. Fairmont's enhanced culinary focus has made it even more attractive, especially the new steakhouse, Palm Terrace, with some of the best beef we've ever enjoyed.
It's a 20-minute taxi ride from the resort to the busy Barbados cruise port in the capital, Bridgetown. Three big cruise ships were tied up but the vessel that stood out from the rest was our sleek windjammer, Sea Cloud. The tallest of its four masts rises 184 feet above the waterline. The sails were tied up, of course, but the eight miles of hemp ropes and rigging evoked another era.
Sea Cloud: A storied vessel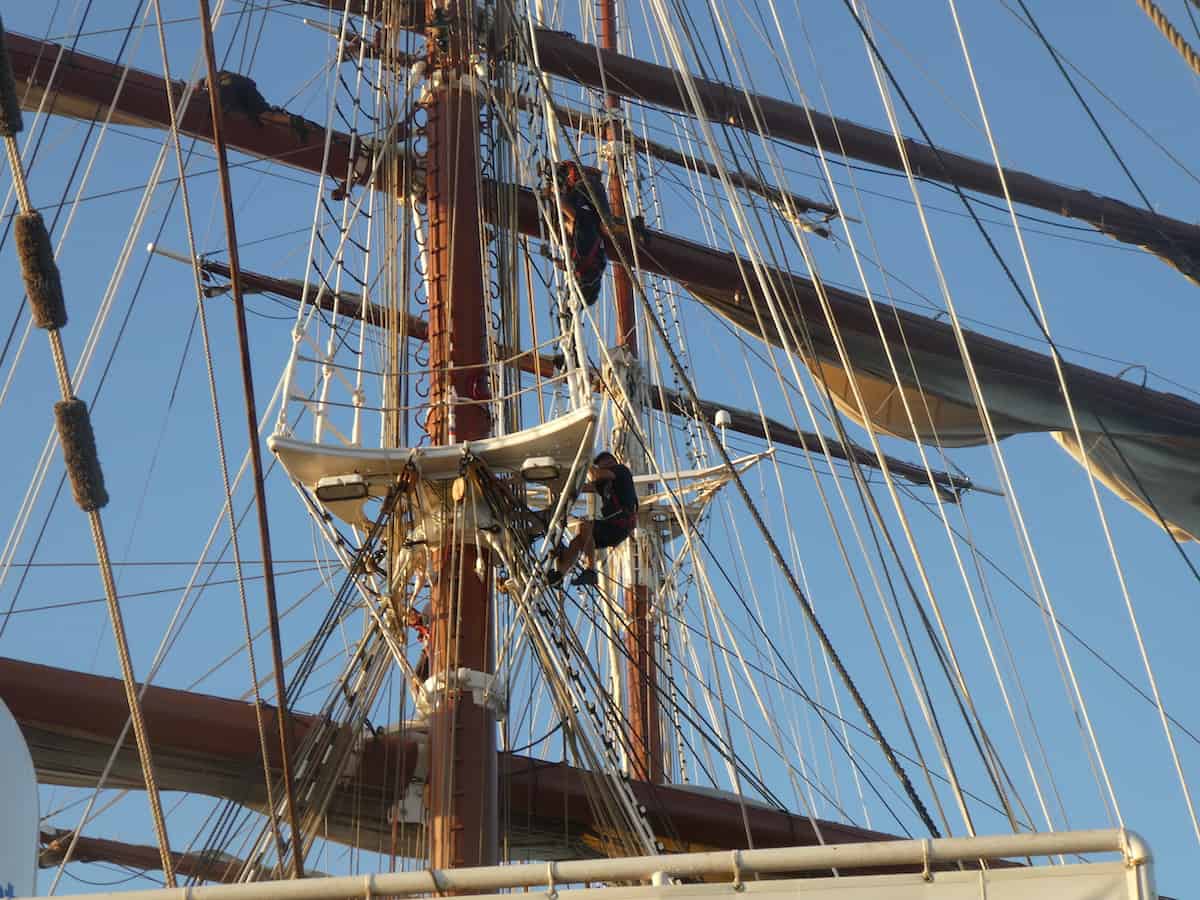 Sea Cloud was built in Germany in 1931, a gift from U.S. financier Edward F. Hutton to his wife, cereal heiress Marjorie Merriweather Post, the richest women in America. At the time it was the largest private yacht ever built with no expense spared for teak decks, burnished brass, and furnishings in elaborately carved oak and mahogany. The two master bedrooms, filled with Chippendale furniture, are huge with marble fireplaces and ornate gold faucets in the bathroom.
Sea Cloud has gone through many changes over the years including a stint as a weather observation ship in World War II. In 1979, a group of German investors bought the ship, spent $7.5 million refurbishing it and making it available for charters and scheduled service in the Mediterranean and Caribbean. Further enhancements added more cabins and modern safety features.
Life on board
Sea Cloud can now accommodate 64 guests in a wide variety of cabins. The eight ultra-luxury suites are on the first deck with the others on decks two and three being modest in size (our room had narrow, twin beds) but with quality furnishings and high-end L'Occitane toiletries in the generously sized bathroom. There are no televisions but the Internet is available and each day a newspaper summary is delivered to staterooms.
Many of the efficient and friendly crew of sixty are used for constant maintenance and for setting the 29 sails. It's a stunning spectacle to see the young men and women climbing up the rope ladders to the topmost sails where they untie the lines, then return to the deck to wrestle and tug on the coils of rope which unfurl the vast expanse of billowing sheets. Several times each voyage, guests are invited to .help with these latter stages (guests are not allowed to climb the masts).
Outstanding dining and entertainment
Outstanding cuisine is a highlight of every Sea Cloud cruise. Buffet lunch, often with fresh fish or lobster brought aboard at various ports, is carved, grilled and served on the Lido deck. There's an adjacent bar with an excellent array of complimentary wine, beer and spirits. There were at least ten Scotch choices including premium single malts like Talisker, Dalwhinnie and Oban.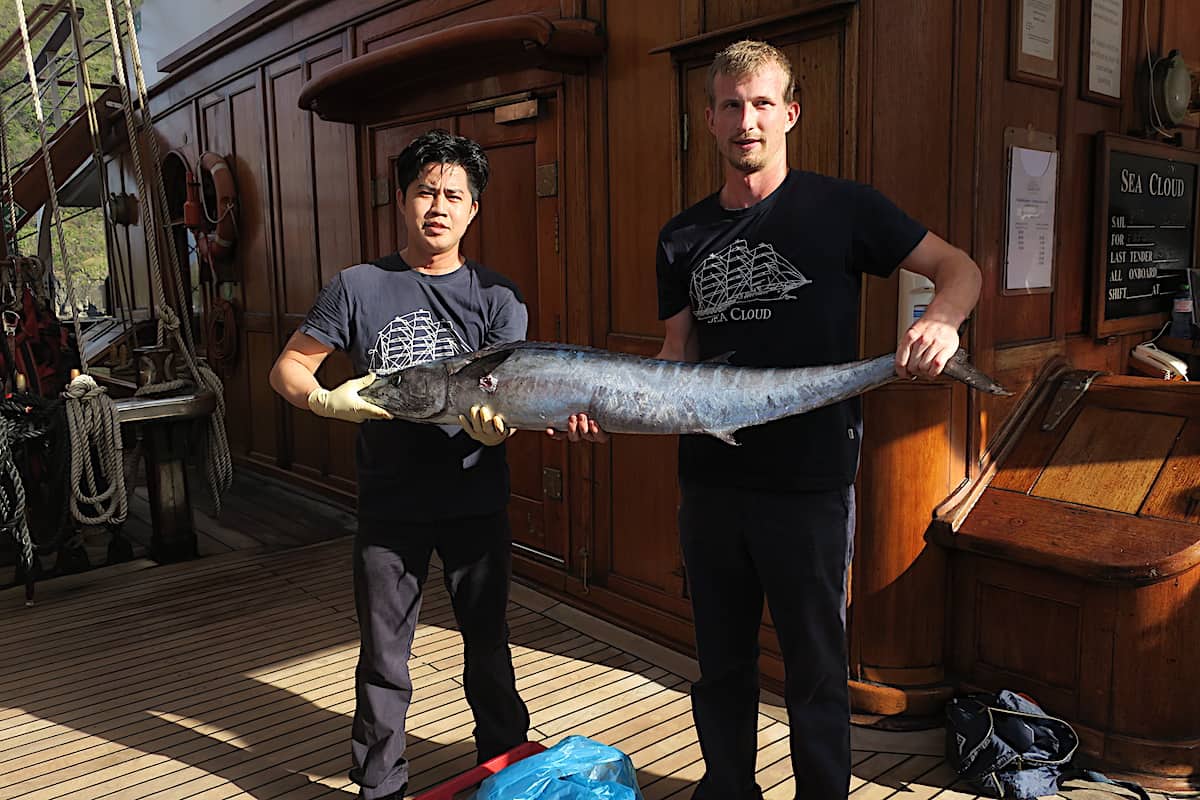 In the evening, elegant meals are served in the original lounge (one wall is a fine library) and adjacent dining room where the rich and famous dined and were entertained in the 1930s and 40s. Surrounded by dark woods, hand-carved mahogany and oak plus nautical oil paintings, guests are pampered with fine wines and extraordinary cuisine, like duck breast, rack of lamb, tender filet of veal or black halibut. We counted more than 20 different cheese choices during the cruise. The galley is small but the quality of the output is remarkable.
Entertainment on Sea Cloud is minimal (no one missed the big production shows) but a pianist plays each day, a knowledgeable historian gave lectures about the islands we were visiting, and an officer talked about stargazing (visibility at night is excellent, of course). A local band was brought aboard one evening and, as a highlight, the crew assembled in traditional sailors' outfits to sing sea shanties.
The pleasures of land and sea in the Caribbean
Our Barbados round-trip itinerary was a treat. It included Bequia in the Grenadines where we boarded safari trucks to tour the island and visit a sea turtle rehabilitation centre. After a relaxing sea day, we docked in Dominica's Cabrits National Park where a local historian, Dr. Lennox Honeychurch, showed us nearby Fort Shirley and the work he's done to restore the British garrison, built in 1765 to deter the French.
A short visit to St. Barths with its fancy yachts and high-end shops was followed by a fascinating tour of Virgin Gorda in the British Virgin Islands. The highlight was The Baths, a series of huge, volcanic seaside boulders with small, pristine beaches.
Unfortunately, the surf was too high for safe swimming. But we were able to swim the next day at Iles de Saintes in Guadeloupe. The lovely beach alongside the village is filled with fishing boats and we could see the fishermen unloading their catch surrounded by hungry pelicans.
Our last stop, Saint Lucia, was a particular delight. After anchoring in Soufriere Harbour close to the famous Twin Pitons, most guests took the complimentary tour which included the lush Diamond Botanical Garden and Waterfall plus the world's only drive-in volcano (still bubbling and steaming, it was formed by a collapsed crater more than 400,000 years ago).
Our land and sea adventure comes to an end
When we returned to Barbados, we were reluctant to leave this remarkable and historic vessel that offered a mix of the best on land and sea. But we had booked a half-day Lickrish Food Tour through the UNESCO listed center of Bridgetown.
We've been on food tours in other cities but this was by far the most complete. Our entertaining guide was very knowledgeable about the history and culture of the city and took us to seven restaurants and food stands specializing in local Bajan cuisine like barbequed pigtails and spicy fish cakes.
After the extraordinary food on Sea Cloud, we really didn't need more temptations but the Lickrish tour was a delightful addition to our unique, luxury land and sea adventure in the Caribbean.
---
All photo credits: John and Sandra Nowlan
---
About the authors: John and Sandra Nowlan are veteran cruisers and travel writers/photographers, based in Halifax.
---
Disclosure: The Nowlans were hosted by Sea Cloud Cruises but any opinions expressed in this post are their own.
---
IF YOU GO
---
READ MORE
Previously on MoreTimeToTravel:
On Forbes.com:
---
SAVE TO PINTEREST!
---