If you are taking a Western Caribbean cruise, a stop at the cruise port in Cozumel is likely to be on your itinerary. The port accommodates up to eight ships a day with more than 4 million passengers arriving each year.
Located approximately five miles south of the island's largest city, San Miguel, the port in Cozumel is located in the southwest part of the city within the state of Quintana Roo. Cozumel, whose history dates back to the 16th century, happens to be the largest and most densely populated island in the Caribbean.
We recently stopped here on our Western Caribbean cruise on Regal Princess and discovered that we were one of four big cruise ships that had arrived the same morning. Oasis of the Seas, Regent Seven Seas Explorer and Carnival Legend docked at the same port bringing some tens of thousands of more passengers to Cozumel on that single morning.
The cruise port in Cozumel actually has three fingers: One dock, the International SSA dock, is used by Royal Caribbean ships. The Punta Langosta pier is used mostly by Disney and Norwegian Cruise Lines. The newest addition, the Puerto Maya Cruise Pier is owned and was built by Carnival Corporation for exclusive use by their brands. Estimated to cost some $20 million, this last pier opened in October 2015.
Puerto Maya Pier: A destination in itself
While many tourists visiting Cozumel sign up for one or more shore excursions (particularly those involving water sports—because the blue waters surrounding the island are so seductive), we had visited Mexico's Yucatan Peninsula many times before.
Instead, we decide decided to carve out a "virtual sea day" on Princess Regal. This meant staying on board on a port day when most other passengers would be off the ship. Often, a week-long journey seems to fly away without ample time to appreciate the ship and all the onboard activities and we didn't want that to happen.
But looking out from the top decks of the ship, it was hard to resist going outdoors and setting foot in the one Mexican port on our itinerary, at least for a short period of time. So we opted to take an early morning jaunt off-ship to explore the Puerto Maya pier.
Getting the lay of the land
It's always nice to reach a port where you can walk off the ship without having to rely on tenders. Such is the case at Puerto Maya. A concrete walkway extends from the ship to an air-conditioned arcade with duty-free shops.
Along the way, there are plenty of photo ops–both for selfies and full-length portraits of your ship and some of the other magnificent ships around it. Photographers from our ship were also stationed on the pier to take photos.
The walk to the shops is approximately 400 steps on a flat, even surface. Some of our fellow passengers traversed it on scooters or in wheelchairs. For anyone else with mobility problems, no-cost pedicab service was offered with only a tip requested for the driver.
Duty-Free Shopping
The nearby shopping arcade with duty-free shopping is managed by travel retailer Dufry AG. The well-kept store has offerings for almost every budget; the inventory includes foods and candies, perfumes and cosmetics, liquor, cigarettes, jewelry and admittingly, some pretty cheesy gift items. One area has items priced at $10 with hats, purses, ponchos and more.
The staff, who work by commission, are solicitous and helpful but not pushy. The Dufry website announces special promotions, allows for online ordering, and also lists custom allowances by country. Many tourists come in search of vanilla, silver jewelry, or tequila andr mezcal.
And more shopping outside
If you get through the arcade without making a purchase, an extensive open-air market awaits at the other end with shops selling merchandise of every kind as well as outdoor restaurants and watering holes.
Amidst lovely landscaping, more than 50 shops offer clothing, fine jewelry, and local souvenirs and crafts. In addition, there are numerous carts selling handicrafts. We really enjoyed browsing around one of the largest shops, Los Cincos Soles, which sources items from all over Mexico.
Vendors at Puerto Maya pier pitching shore excursionsFor those who decide they do want to partake in excursions, there are last-minute opportunities to sign up on-the-spot. There are also places to sit in the shade and restroom facilities.
Once outside the mall, passengers can hail taxis to take them to the nearby beach (about 10-15 minutes away) or to the center of San Miguel.
Just across the street from the pier is an A-mart convenience store with a broad range of Asian and international products. It's popular with cruise crew and the perfect place to head if you have run out of shampoo, toothpaste, sunscreen or anything else, including your favorite candy bar.
Warning: Once across the street, you are likely to be pursued, if not harassed, by street vendors and you'll welcome returning to the respite of Puerto Maya Cruise Port, one of the cleanest, safest and best-organized cruise terminals in Mexico or in the Caribbean.
---
All photo credits: Jerome Levine
---
IF YOU GO
Your purse or any bags you are carrying will be searched before you enter the open area with shops at the Puerto Maya pier because cruise ship passengers are prohibited from bringing certain items into Mexico (e.g. fruits).
In addition, guests are asked to have a photo ID and their cruise card or medallion with them.
---
Save to Pinterest!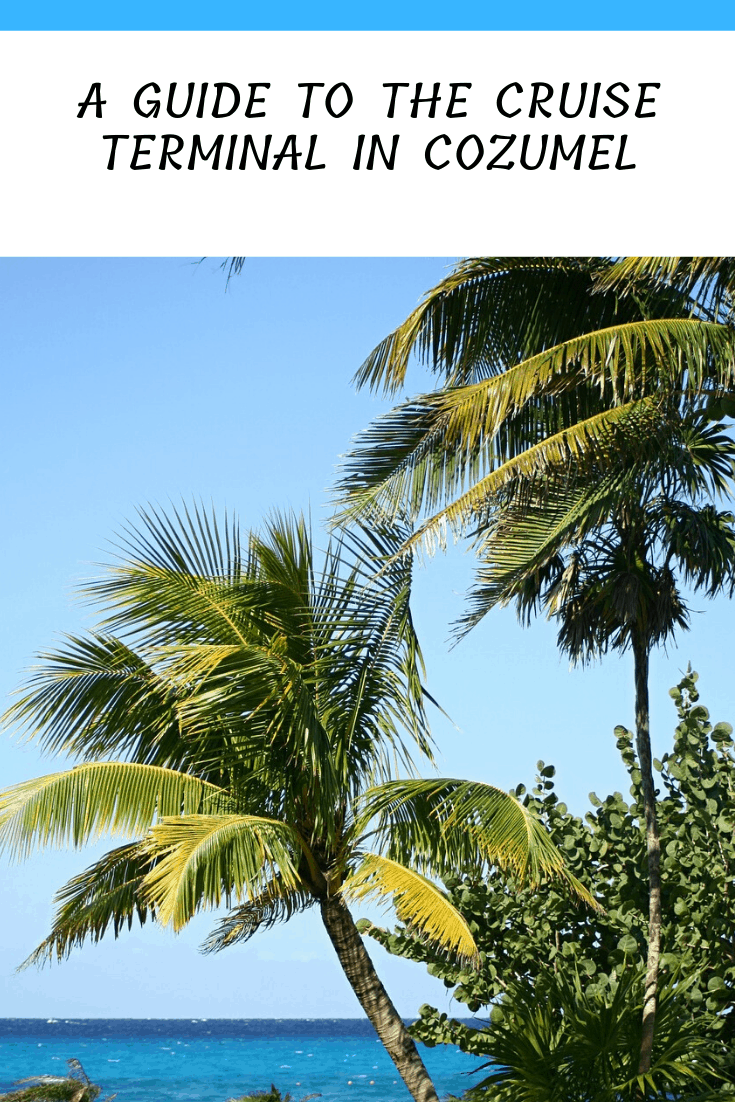 ---