Guest contributors John and Sandra Nowlan visit Haven Riviera Cancun, a new all-inclusive resort and spa on the Yucatan Peninsula.
It's new. Its architecture is stunning and its landscaping is world-class…
The Haven Riviera Cancun, 333-room all-inclusive, all-adult resort and spa has an ideal location, just a 15-minute ride from the Cancun International Airport. It sits next to acres of mangrove on a pristine, sandy beach facing the warm Mexican Caribbean.
Overview of the property
The resort, which opened in late 2018, is impressive with modern Spanish-Mexican architecture, marble floors throughout and outstanding landscaping tended by a Dutch plant specialist. All rooms face the ocean with 88 of them featuring swim-out plunge pools.
Rooms on the three upper floors are generous in size with a king-size bed, contemporary furnishings and a two-person whirlpool tub on each balcony. Three of the buildings closest to the Caribbean are Serenity Club, with extra perks like private check-in, a private lounge, enhanced liquor choices and the services of a butler.
Haven Riviera Cancun Resort and Spa faces the challenge of being the first North American venture for Hipotels, a Spanish company with 29 hotels and 13,000 rooms in Europe. As such, it has had a few growing pains. Room attendants could use more training because on several occasions our towels were not changed, washcloths and shampoo not replenished, and bathmats were removed without being replaced. We heard the same complaints from other guests.
This part of Mexico has had seaweed problems, particularly in the summer, but the resort takes time each day to keep the beach clean. The Haven has two immense swimming pools with plenty of loungers. Unlike some other resorts, we never saw overcrowding. The long, rectangular pool is more for "active" guests with loud music and pool games. The quieter round pool, with slightly up-tempo, spa-like music, is more for relaxing and attracts older guests.
The music can still be annoying (speakers by the loungers have no volume control).
Dining choices at Haven Riviera Cancun
Overall, the food was fresh, well prepared and beautifully presented. There's a large buffet, never crowded, called Flavours. We were very impressed with the wide selection at breakfast including a fresh orange juice machine, an omelet station and a great selection of Mexican specialties like chilaquiles and chicken tamales. The coffee was good, too. In the evening there's a grilling station with lobster tails, tuna, chicken and beef.
There's no stand-alone Mexican restaurant (there should be). Instead, Haven combines its Mexican cuisine with a steakhouse called Agua Bendita. While the Mexican food was wonderful and the steaks were just OK (prime cuts are available at extra cost), the service on our two visits was spotty (some good, some poor). The noise level can also be overpowering.
The Asian Fusion restaurant, Satsu, includes a popular Teppanyaki area and some very good traditional Asian choices (including great tempura shrimp and vegetables). Waiters did seem rushed and orders got mixed up.
The most formal restaurant is Olios with its creative Mediterranean cuisine including seared tuna appetizers, lobster salad and creamy artichoke soup with truffle oil. At all the restaurants, the fish was particularly good.
In spite of not having the same buying clout as chain resorts, Haven clearly has a good fresh fish, fruit and vegetable supplier. Wine by the glass is from Spain but guests can order a bottle of fine Mexican wine. We were told that local vintages will soon be available by the glass.
Entertainment and amenities at Haven Riviera Cancun
Haven has many large, comfortable public rooms and spacious open-air areas but its Moons nightclub/showroom is surprisingly small. It holds just 120 guests so, on most nights, many people are left disappointed at the door. The only production we were able to see was the Michael Jackson touring show. It was great but Haven needs a much larger entertainment venue.
Drinks are complimentary, of course, and Haven does excel with its bars and creative staff. Limes Bar, in particular, employs Alex, a very talented mixologist who designs and pours some of the most interesting cocktails we've ever seen. His smoky Charalito (mezcal, tamarind and chili) and Bramble (gin, pomegranate and lime) are particularly imaginative and tasty.
Haven Riviera Cancun has an excellent Spa with the usual wide variety of treatments. In its large hydrotherapy pool, we enjoyed all the various sprays, vibrations and temperature variations.
An off-site visit to Xcaret
We enjoyed our week at Haven but we wanted to take a day to explore nearby attractions (a taxi or formal tour with the resident Amstar rep is required). We decided on Xcaret, a 200-acre theme park near Playa del Carmen.
Xcaret focuses on the sustainability of its flora and fauna (it has increased the number of scarlet macaws living freely in the wilds of Mexico by 90%) and honouring its pre-Hispanic past with exhibitions, shows, dances and special performances.
One of eight theme parks run by Groupo Xcaret , this is the original (started in 1990) and attracts 1 ½ million visitors a year. It includes a daily parade of pink flamingos, an underground river for swimming, a boat ride through natural caves, an aquarium, shark tank, aviary and butterfly pavilion. An authentic Mexican restaurant provides an outstanding lunch. We couldn't stay for the spectacular evening show but it's clear that one day isn't enough to see all that Xcaret has to offer.
Haven Riviera Cancun: A resort that's making its mark
Back at Haven Riviera Cancun, we learned that management is building a convention centre next door with an additional 100 rooms and a much larger showroom. Clearly, this Spanish newcomer is making an impact on the Mayan Riviera and is quickly learning the fine points of running a high quality, all-inclusive resort. Its future looks bright.
---
All photo credits: John and Sandra Nowlan (except for lead photo)
---
About the authors: John and Sandra Nowlan are veteran cruisers and travel writers/photographers, based in Halifax.
---
Disclosure: The Nowlans were hosted by Haven Riviera Cancun Resort & Spa but any opinions expressed in this post are their own.
---
IF YOU GO
---
Save to Pinterest!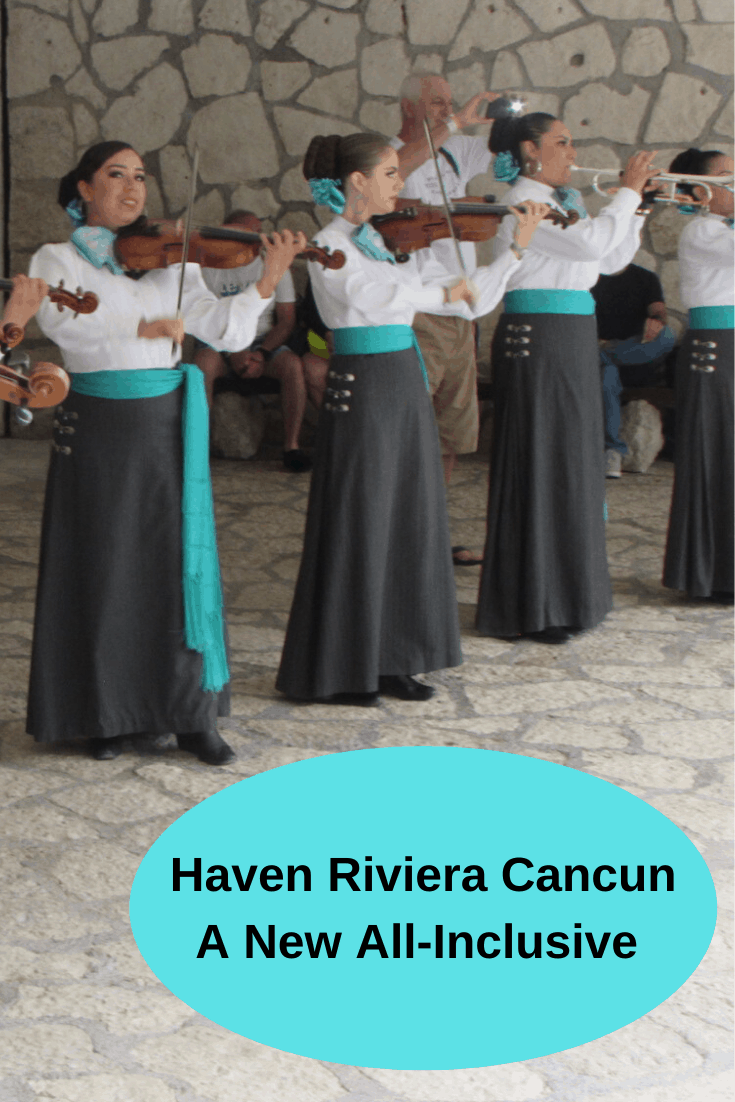 ---