What is it like to fly Lufthansa?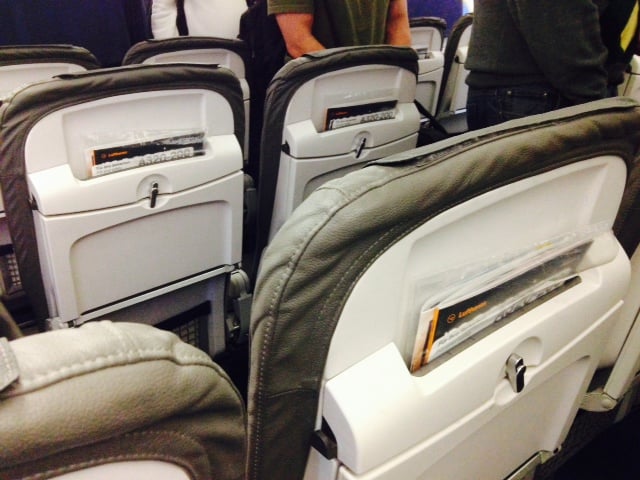 When booking flights overseas or within Europe, you might want to fly Lufthansa…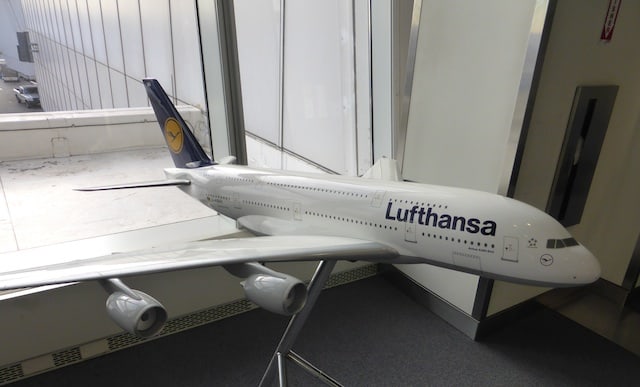 My heart sank soon after we boarded our Lufthansa flight from JFK to Frankfurt for the first leg of our trip to Budapest. The seats on this 747-400 (arranged 3-4-3 across) had the thinnest profile of any I had ever seen on a plane—coupled with a not overly generous seat width of 17.5 inches.
I worried we would be uncomfortable for at least seven hours. But things aren't always as they appear to be and it turned out our flight experience wouldn't be bad at all.
About Lufthansa
Lufthansa is the flag carrier of Germany, headquartered in Cologne. Because it is a member of the Star Alliance, your mileage points on Lufthansa can be transferred to frequent flyer accounts on other member airlines.
Before takeoff
Our plane was scheduled to depart from Terminal 1 at JFK (whose upscale shops include Ferragamo, Bulgari, and Micheal Kors) and we were able to wait for our flight inside the comfortable Lufthansa Senator/First Class Lounge located just beyond security. (My husband's United Airlines Presidential Plus card enabled our entry into the Lounge but he actually had to show a separate United Club card with the Star Alliance symbol that came free with his UA card).
The lounge was a large rectangular-shaped room with a windowed-wall on one side that makes it airy and light-filled. Also, it wasn't densely filled with travelers so the ambiance was pleasant and relaxing.
The long buffet set-up on the opposite wall offered a large variety of soups, sandwiches, salads, fruits as well as the typical snacks. Self-serve wine, beer, hard liquor, juices, coffee and soft drinks were available at no charge. The tomato-lentil soup was particularly tasty, one of several healthy "real food" options. Of course, I succumbed to the temptation of the freshly-baked chocolate chip cookies, which called out to me from beside the bite-size brownies and muffins on the dessert bar.
Living room (as its called in the trade)
After leaving the womb-like lounge, I expected things to go downhill from there. Our economy seats (36 J & K) were clearly located in steerage. I thought we would never get comfortable in the slim profile seats but luck was with us because no one booked the middle seat between us.
After reading the Lufthansa in-flight magazine with a welcome message from Chairman and CEO Christoph Franz, I lusted over the fully-reclinable Business Class seats, which he said took four years to develop to perfection.
But as it turned out, our seats weren't as uncomfortable as they appeared to be. In fact, the shorter Lufthansa flight we boarded on the second leg from Frankfurt to Budapest won out handily in the competition for the world's slimmest airline seats. These were about the thickness of a child's plastic carseat.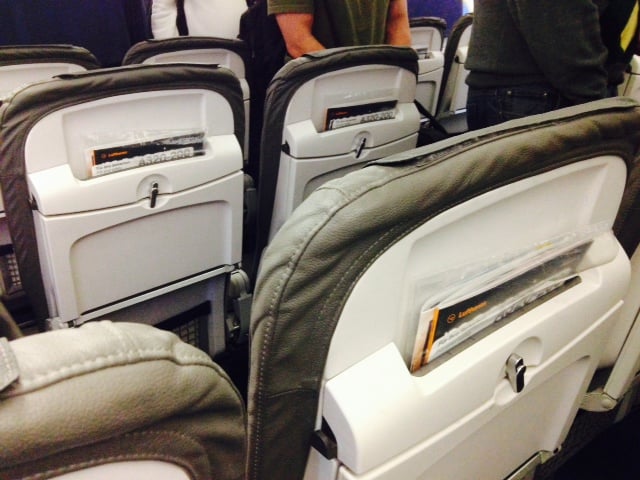 However, in another coup for German engineering (which manufactures BMW and Mercedes), we weren't that conscious of the seats while flying on either plane—although more padding would have been welcome. In fact, the extra space they allowed between rows made for more legroom.
Entertainment
While business class has 15" monitors, I was happy that my full-service seatback entertainment unit was fully operational. There were movies, TV, talking books and radio options but the most clever option was Flyrobic.
In a made-for-Lufthansa video, Dr. Uwe Steuben, Director of Lufthansa Medical Service uses his hypnotic voice to introduce flyers to an animated feature showing a family seated three across. The father, his pregnant wife and daughter demonstrate exercises that can be done in your seat during the flight.
The doctor suggests passengers repeat the exercise regimen every two hours but given airline space constraints, if someone were sitting beside you, I think it's more likely that the only exercise you could do without annoying others would be unobtrusive Kegel pelvic floor exercises.
If you want to take a peek at the Flyrobic video, its available on YouTube in German:

In-flight shopping for 200 products, cleverly billed as "Shop at 30 thousand feet and save up to 30 percent!" was also offered. All cabin classes on overseas Lufthansa flights offer broadband GSM through Deutsche Telekom and a Wi-Fi internet portal, although it wasn't working on our plane.
Dining
The in-flight meal was probably the weakest link in the Lufthansa chain. We were offered a choice of creamy pasta or salmon with spinach and rice. We never expected sushi-grade fish but this one was inedible; it tasted as if it had been caught in New York's East River. Anyway, airplane meals are never intended to please foodies, especially in economy class.
Red and white wines were offered more than once during the course of the meal. Many passengers also took advantage of the free liquor and beer offered twice during the flight. An after-dinner offering of brandy or Bailey's Irish Cream (my choice) took the edge off the meal experience.
In-flight safety video
Compared to the creative in-flight safety videos being shown on other airlines, this video won't be nominated for an Oscar but does its job.
Service and amenities
Lufthansa still offers blankets and pillows. The bilingual cabin staff are attentive and friendly. Their efficiency also trickled into the galley. If you stood up during the flight, you could help yourself to poured glasses of orange juice or water that were lined up in a tray so you didn't have to bother the crew.
Mid-flight, the rest rooms were clean and unlittered, a pleasant surprise but I'm not sure whether this was a function of the passengers or the crew.
The bottom line
Both segments of our flight departed on time and arrived on time. In fact, the overseas flight arrived nearly a half-hour before schedule. That accounts for a lot when you're worried about making connections.
In our opinion, the 747-400 generally feels roomier than many of the newer long-haul aircraft. It also has nicely sized overhead storage bins. One other helpful touch we hadn't seen before: On this refurbished 747 passengers could view the array of gates for connecting flights from their video screens before deplaning.
Based on our experience, we would definitely fly Lufthansa again.
---
Tips:
Lufthansa doesn't board by seat number. If you are seated in Economy class, line up early.
On any flight, the odds of having only two of three seats filled in a row are greater when only the middle seat still remains vacant. (Most travelers are loathe to select that seat unless a plane is totally full.) If you are flying with a partner, reserve window and aisle and hold your breath waiting to see if you'll have breathing room between you.
Sometimes comfort is as influenced by the type of aircraft as the carrier. Check SeatGuru before you fly.
---
For more information, including routes, visit the Lufthansa website.
---
This is one of a series of posts about my experiences on new-to-me airlines. Surely, each flight is different but it's always helpful to get general impressions of what to expect before you fly. If you fly Lufthansa and have a very different experience, please feel free to comment below.
---
Also on More Time to Travel: