Osteria Del Cappello in Bologna: Modern Eatery With An Ancient Past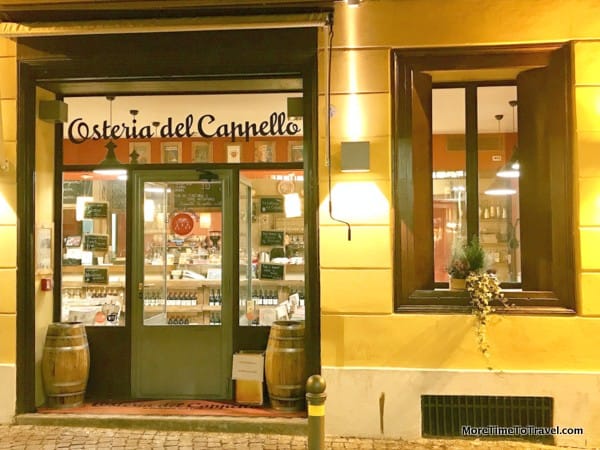 The osteria has a long history and rich tradition in Italy. As far back as the 14th and 15th centuries, men gathered at these rustic taverns (in Italian, osteria in the singular and osterie, in the plural) to socialize, play cards, and drink wine. Although patronized primarily for drinking, they also offered simple and inexpensive meals and snacks.
Contemporary osterie
These days, the alcohol vs. food emphasis has switched. Osterias still serve alcoholic drinks (as do almost all food establishments in Italy, a land where wine is cheaper than soft drinks) but now osterias are mainly visited for their tasty, traditional cooking.
Virtually indistinguishable from Italy's other ubiquitous eateries called trattorias, an osteria is far less formal than a restaurant (ristorante, in Italian) with a more limited menu that is less expensive. Because of their favorable prices, home-style cooking, and relaxed ambiance, osterias are typically filled with both tourists and locals at meal hours.
Nestled in the heart of Bologna
Osteria del Cappello in Bologna is located in the historic center of the city, not far from the Piazza Maggiore, in the Emilia Romagna region of Italy, Although you couldn't tell from its tasteful interior décor, it is one of the three oldest osterias in Italy that has continued to serve customers at the same location for centuries—this one since 1375. Its signature dish at the time was "exquisite roasted partridges covered in lard and accompanied by garnished toasted bread."
Another important historical note: During the 15th century when Jews were expelled from Spain, the Bishop of Bologna pointed to the Osteria del Cappello as the sole place where Jews passing could safely stop as they passed through the city.
The intimate two-room eatery is located on a narrow winding street beside a four-star hotel, Hotel Cappello Rosso (translated as, with red hat) but the eatery is operated independently from the hotel.
Large windows front onto the street and simple wooden tables and chairs evoke old world charm, as does the wooden cabinetry in the larger room with a bar. The wall in the dining room is painted the traditional red color of Bologna.
Paper placemats have squares with the names and symbols of some 50 historical osterias that once existed in Bologna; only this osteria and Osteria del Sole still remain.
In the center of the table, a glass holds a pair of dice and a bottle cap. Our server explains that these are the essentials of an old board game, Giocco dell'Oca, once played by wayfarers, and hands us a card with instructions if we want to play as we wait for our plates.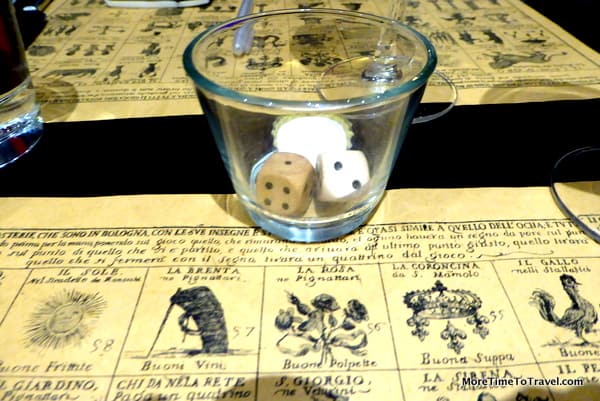 A blackboard on the wall lists a variety of local wines available by the glass, notably Pignoletto, Trebbiano, Sangiovese and Lambrusco.
What's old is new again
Glancing at the menu and looking around, it's clear that Osteria del Cappello in Bologna is a perfect fit for the times:
The setting is casual, thus attracting many young people who study in Bologna, both as customers and wait staff. Our server, Viola was a political science student at the University.
The dishes are based on traditional recipes that have been handed down over the years. Many of the dishes are designed to be shared over conversation.
The ingredients and the wines showcase sustainable products and are truly fork-to-table. The wines are so local that they call them "0-kilometer wines."
Diners know where everything comes from because producers are listed on the menu.
Our meal
Viola places two small ramekins on our table along with freshly baked breads, served in a small wooden crate. One holds some lardo seasoned with sausage and spices; the other has grated Parmigiano cheese.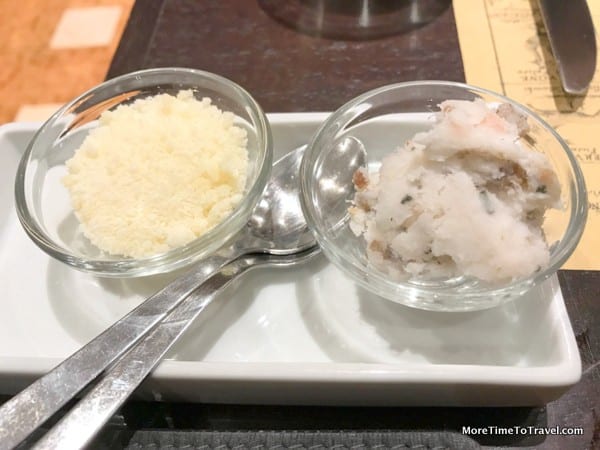 She explains that you spread the lardo on the breads, crescentine and tignelle, and then use a spoon to dust the top with the cheese. It is warm and delicious. (Every region in Italy has its own typical breads that may even vary from city to city).
Then we order a wood board with a very generous serving of the typical cured meats and cheeses of Emilia Romagna. For our next course, we order passatelli, a dense, long spaghetti and tagliatelle Ragu.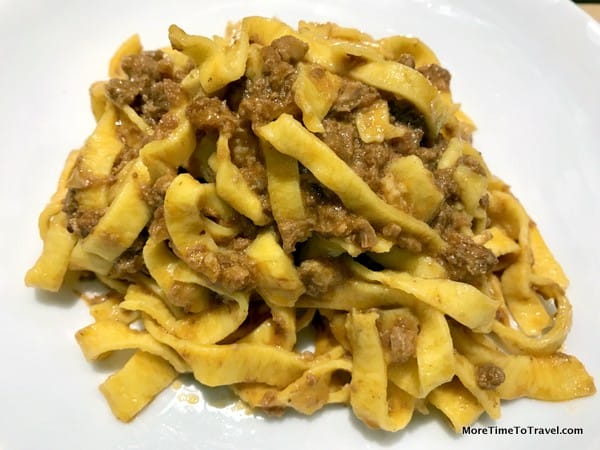 Although the menu is limited, typical of most osterias, it offers an ample choice of grilled meats and fish as well.
When we thought we couldn't eat another thing, we couldn't pass up the dolci (sweets), all made in-house. The panacotta, served as a slice, was worth the additional calorie splurge. After all, we rationalized, we had done so much walking around Bologna during the day.
Food like grandma used to make
"Our foods are not modern," explained Viola. "The biggest compliment we get is when someone says that our dishes taste like the foods of their grandmother."
What a nice tribute to Osteria del Cappello in Bologna, an eatery offering delicious fare steeped in tradition.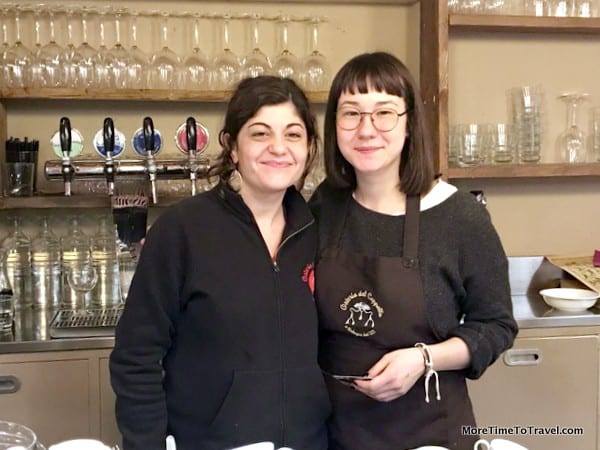 ---
IF YOU GO
---
---