Hotel Matilda: Modern luxury in the heart of San Miguel de Allende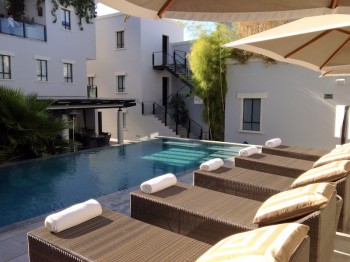 When I walked into Room B06 at Hotel Matilda, a luxury boutique hotel in San Miguel de Allende, I forgot to take photographs. I always take them before I unpack—-before my room achieves that "lived-in" look—-but this time I was distracted by the view.
The pleated floor-to-ceiling drapes were drawn open and 
glass double doors filled the room with light. Just outside
 was a gracious balcony with potted plants, rattan seating, and panoramic views of the city. In spring, the brilliant, lavender-colored blossoms of the jacaranda trees burst open making the colonial cityscape of church towers, spires, and rooftop planters look like a botanical garden.
Backstory
Hotel Matilda is a boutique hotel with 32 rooms and suites, located in the historic center of this city in central Mexico. Owned and developed by Harold "Spook" Stream III, an American investor and patron of the arts, the hotel sits in the same spot that once housed the decaying Hotel Villa Jacaranda. Architects gutted the old property and created this sophisticated hotel that opened in the fall of 2010.
Contemporary in design and decor, the hotel has won a number of accolades, among them: In 2012, Condé Nast Traveler named it the second best hotel in all of Mexico and its holistic spa made the same publication's "hot list" in 2011. However, Matilda is more than a hotel. It has achieved its owner's vision as a destination and gathering place for artists, gastronomes and travelers—-the site of gourmet dinners, cocktail parties, art exhibitions, and other special events that draw an international clientele.
Art & Design
Matilda is one of approximately 200 independently owned hotels (located in 40 countries) that fall under the Design Hotels umbrella. Guests here will find themselves surrounded at every turn by an eclectic collection of gallery-quality furnishings, paintings, photography, and sculptures by both well-known and emerging Mexican artists.
Inside the oversized entryway, a whimsical kaleidoscopic light sculpture comprised of twelve kinetic monitors, hangs behind the reception desk. Off to it's right, instead of a lobby, is a home-like living room and library with inviting seating areas and a wall of English-language bestsellers curiously lined up with their spines placed inwards.
The tables are stacked with coffee table books that chronicle the history of the hotel and its visitors. As you walk towards your room in one of four whitewashed buildings, a dramatic Javier Marin clay and resin sculpture graces the walkway.
The hotel was named for the owner's mother, Matilda Steam, who in the 1940s was painted by revered Mexican artist Diego Rivera. A reproduction of that painting, called "The Archer" dominates the living room, almost placing her in the room.
Photographer Spencer Tunick's sensational shot of 18,000 nude people in the main square of Mexico City (taken in 2007) was adapted as the wallpaper in the lounge bathroom. The landscaping on the property also rises to an art form with beautiful displays of indigenous plants and flowers.
Our Room
There are five room categories at Matilda with furnishings that are a modern take on traditional colonial design. Decorated predominantly in neutrals, a turquoise throw and pillows add bursts of color to the white bed linens and nutmeg leather headboards. The floors, which are white with gray veining, are made from Mexican Calcutta marble. A 42-inch flat screen TV hangs over a long desk that provides nice surface space. The room had ample shelf and closet space although drawer space was limited. Wi-Fi is complimentary and available throughout the hotel, and air conditioning and lights are controlled remotely.
Bathroom
The spacious and attractive bathroom held a trough sink cleverly divided in two, and a combined bath/shower with a window. The Egyptian cotton towels were, hands down, the softest I had ever found in a hotel. The Malin + Goetz bath amenities, blended with natural botanicals, came in eco-friendly, oversized pump bottles that were convenient to use. They included fragrant peppermint shampoo and cilantro conditioner.
Spa & Gym
Matilda boasts one of the most beautiful spas I've visited over the years, especially given the size of the property. The sprawling 4700-square-foot spa has reception and relaxation areas, four treatment rooms (for individuals and couples) and a unique Apothecary, f rom which guests can choose personalized products and ingredients f or their treatments.
The spa offers a full range of therapies, beauty treatments, fitness services and wellness offerings, all of them delivered very professionally. Although the spa occupies the lower level of the hotel, it is light and airy, graced with original art, and has a lovely outdoor courtyard and garden area.
Food
The Moxi Restaurant, located in the hotel courtyard, offers both indoor and outdoor seating with views of the pool and its wall of water. The menu couples fresh, locally sourced ingredients with time-honored Mexican recipes and traditions, enhanced by modern cooking techniques with a contemporary flair. Some 60-70 percent of the wines on the menu hail from Mexico.
Enrique Olvera, one of Mexico's most renowned chefs, oversees the kitchen, which is headed up by Sebastian Acosta, the hotel's food and beverage manager. Olvera's restaurant in Mexico City, Pujol, has made the Pellegrino list (#36) of "The World's 50 Best Restaurants."
The continental breakfast, included in the price of our room, came with fresh fruit and juices, yogurt, mesquite honey, and granola; freshly-baked breads; and a choice of coffees and teas (the cappuccino was excellent). When we ordered pancakes off the breakfast menu, they were deliciously sweet and light with the cook's addition of corn flour to the recipe. Dinners were romantic and beautifully presented in the candle-lit dining room with taupe velvet banquettes. Some of our favorites were the beet salad, tuna tartar, ceviche, and sea bass; each of the dishes was inventive and tasty.
Bar Matilda, on the second floor, made for a lovely place to retreat for cocktails and light snacks. Isabel, the mixologist, uses fresh fruits and herbs for her drinks. There is a huge 82″ TV for viewing sports but we were enchanted by the smaller screen showing silent movies.
Ideal Guests
A stay at Hotel Matilda will be a memorable both to honeymooners and older, hopeless romantics, like me—- although children (and pets) are welcome, too. It's hard to imagine who wouldn't enjoy a stay at this one-of-a- kind property, which offers attentive, personal service in a relaxed setting. Another pleasant aspect of our stay was that the hotel guests were a mix of Mexicans and North Americans. Many of the former come to Matilda as a weekend getaway from Mexico City, which is some 170 miles away.
---
IF YOU GO
Aldama 53 Centro, San Miguel de Allende, Mexico
---
Tips:
Ask Gustavo, the excellent concierge on property, to point out the art treasures throughout the property. He can also help you make arrangements f or a city tour.
Don't miss tasting the personal pizzas at Bar Matilda.
Hotel Matilda has the World's Best Pancakes. Read about them on More Time To Travel.
Don't be surprised: San Miguel, like most vibrant cities, can be noisy with partygoers on weekend evenings.
Perfect setting for travelers over 50 because of its central location and intimate size.
*A previous version of this story was published by NBC Universal.
---
OUR PHOTO GALLERY – A STAY AT HOTEL MATILDA
[nggallery id=27 template=caption]