What is it like to fly Delta Comfort+?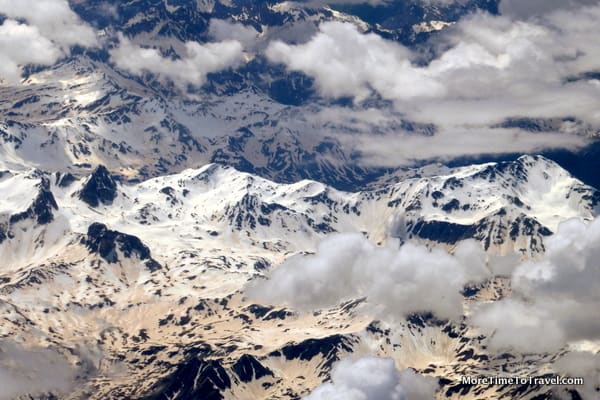 When booking flights between NY and Pisa, you may want to consider Delta Comfort+
After three wonderful weeks touring Emilia Romagna, Umbria and Tuscany, we were dreading the eight-hour-plus trip back home. But sometimes things turn out better than expected—even when it entails airline travel. Our flight was not only bearable, but the time seemed to pass quickly and quite comfortably.
We took advantage of the seasonal once-a-day nonstop Delta flights between JFK Airport in New York City and Galileo Galilei Airport in Pisa (PSA). This year, the nonstop flights began on May 27th.
If you've been to Rome Fiumicino Airport (FCO), you'll appreciate the Pisa Airport, which is far less crowded and easier to navigate than the one in Rome. It doesn't have the same designer shops for last-minute gifts as does Fiumicino but if you've already done your heavy-duty shopping elsewhere, you are less likely to face long queues in Pisa to get the VAT refund.
Our flight experience
We booked Delta Comfort+ seats in Row 25 (A&C) on DL #210, a Boeing B757-200S plane that left Pisa scheduled to lave at 1:20PM. (Recently rebranded, these seats were once called Economy Comfort.)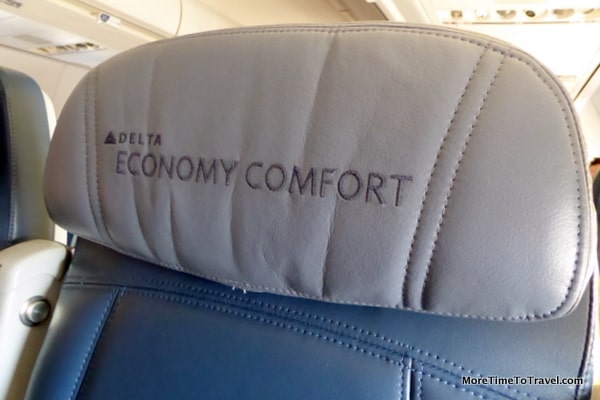 The configuration in our cabin was three across on each side of the aisle. There are nine different seating configurations on these same planes. With a divine stroke of luck (perhaps, because we visited so many churches), the middle seat was unoccupied on our flight.
The seats were extremely well padded with a nice headrest. We were also given blankets and pillows, and a few other amenities including eyeshades, hot towels and toothbrush/toothpaste.
Comfort+ adds about 4" of additional seat pitch over standard economy; well worth the extra cost if you are looking for comfort and worried about DVT. We could stretch our legs out and take advantage of a decent recline (50% more than economy) without disturbing the passengers behind us. The 17.2" seat width, similar to that in economy, is certainly adequate.
Along with the upgraded seats, Comfort+ offers several other worthwhile perks:
Sky Priority boarding so you are one of the first passengers to board and to deplane;
Dedicated overhead bins for storage of carryon luggage;
Free wines, spirits and regional craft beers, and snacks (pretzels and peanuts).
Food
There was a choice of three lunch options: chicken with coconut sauce, tortelloni with garlic sauce or steak salad. We both opted for the pasta dish and were pleasantly surprised. It was as tasty as one might find in a trattoria in Italy. The salad looked too lackluster to try and the butterscotch chocolate mousse was cloyingly sweet.
Those misses were soon forgotten when the flight attendants distributed cups of delicious ice cream a couple of hours later. An hour or so before landing, we were offered a choice of either vegetarian or meatball wraps. Food service was certainly more than ample.
Another nice touch: Before boarding, there was a cart at the gate with complimentary snacks and beverages for passengers to enjoy while waiting (candy bars, chips, sodas and water, etc.)
Entertainment
We were sure happy campers on the flight. There was an eye-level USB port on the seat back in front of me to keep my smartphone charged and two 110V electrical outlets below the row in front of us to keep my computer charged.
We were able to take advantage of complimentary wireless on Gogo Inflight (a member benefit of American Express Platinum) with a reliable, lightening fast connection.
The aircraft also offered audio and video OnDemand with access to movies, live television and music on all seats throughout the aircraft—as well as the most current print issue of Delta Sky Magazine in the seatback pocket.
Bottom Line
Most notable was the service. It began with the kindness, friendliness and attentiveness shown by the gate personnel in Pisa, who got our trip off to a great start. The New York-based bilingual cabin staff was also gracious and accommodating.
Given the opportunity, we would opt to land and depart at the Pisa Airport over Rome. Although pricing varies depending on the length of the route, we would also heartily recommend Delta Comfort+ for a long-haul flight. In fact, we concurred that this was one of our most comfortable overseas flights.
Read more about Delta Comfort+
TIPS:
Depending on the plane configuration be careful to avoid bulkhead Comfort+ seats. On our flight, they were located next to one of the restrooms.
Delta Comfort+ is now even easier to book. For flights within the U.S. and Canada, instead of upgrading seats after purchase, it is a discrete booking option like Economy or First Class.
*Just this week, Skift reported that Delta announced, starting on July 1, it will be making entertainment free for 90% of its passengers (it won't be available on smaller planes without Wi-FI). This will include up to 300 movies ad 750 TV shows.
---
This is one of a series of posts about my experiences on new-to-me airlines. Surely, each flight is different but it's always helpful to get general impressions of what to expect before you fly. If you fly Delta Comfort+ and have a very different experience, please feel free to comment below.
---
Also on More Time To Travel: