Where To Stay in Italy: New Hotel Openings 2022
Of course, deciding where to stay in Italy depends on what you want to see and experience as well as what you want to spend—both in terms of your time and your money.
I love hotels and my bent for choosing a home away from home is luxury. When I'm researching a trip, I seek out accommodations that promise to make me feel like I never want to leave. In Italy, this generally means four and five-star hotels, which come at a wide range of price points.
Given the chance, I always jump at the prospect of staying someplace new. Both the public spaces and guest rooms—from the carpets to the towels—feel crisp and fresh. Hotel staff at new properties tend to be at the top of their game, too, probably just as excited to warmly welcome guests and make an impression as I am to visit the property.
Admittedly, staying at a recently opened hotel can lead to some disappointments but I'm usually forgiving. I understand that hoteliers and their staffs need time to iron out the inevitable wrinkles.
For a series of articles I wrote for Forbes, I curated a list of some of the new hotel openings in Italy that sound most appealing to me. They are surely places where I'd like to rest my head. Many of these luxury properties are set in historic buildings that have been repurposed and/or restored to their past glory.
---
This post may contain affiliate links. This means that I may receive compensation if you click a link, at no additional cost to you. For more information, please read my privacy and disclosure policies at the end of this page.
---
Twenty different regions, each with a unique personality
Italy has 20 different regions, each with its own history, culture, traditions, and regional cuisine. I've divided this list of where to stay in Italy into three parts, Southern Italy, Central Italy, and Northern Italy.
Southern Italy, which includes eight regions: Abruzzo, Apulia, Basilicata, Calabria, Campania, Molise, and the islands of Sicily and Sardinia,
Central Italy, which includes four regions: Tuscany, Lazio, Marche, and Umbria, and
Northern Italy, which includes eight regions: Aosta Valley, Piedmont, Liguria, Lombardy, Emilia-Romagna, Veneto, Friuli-Venezia Giulia and Trentino-Alto Adige.
---
---
Where To Stay in Southern Italy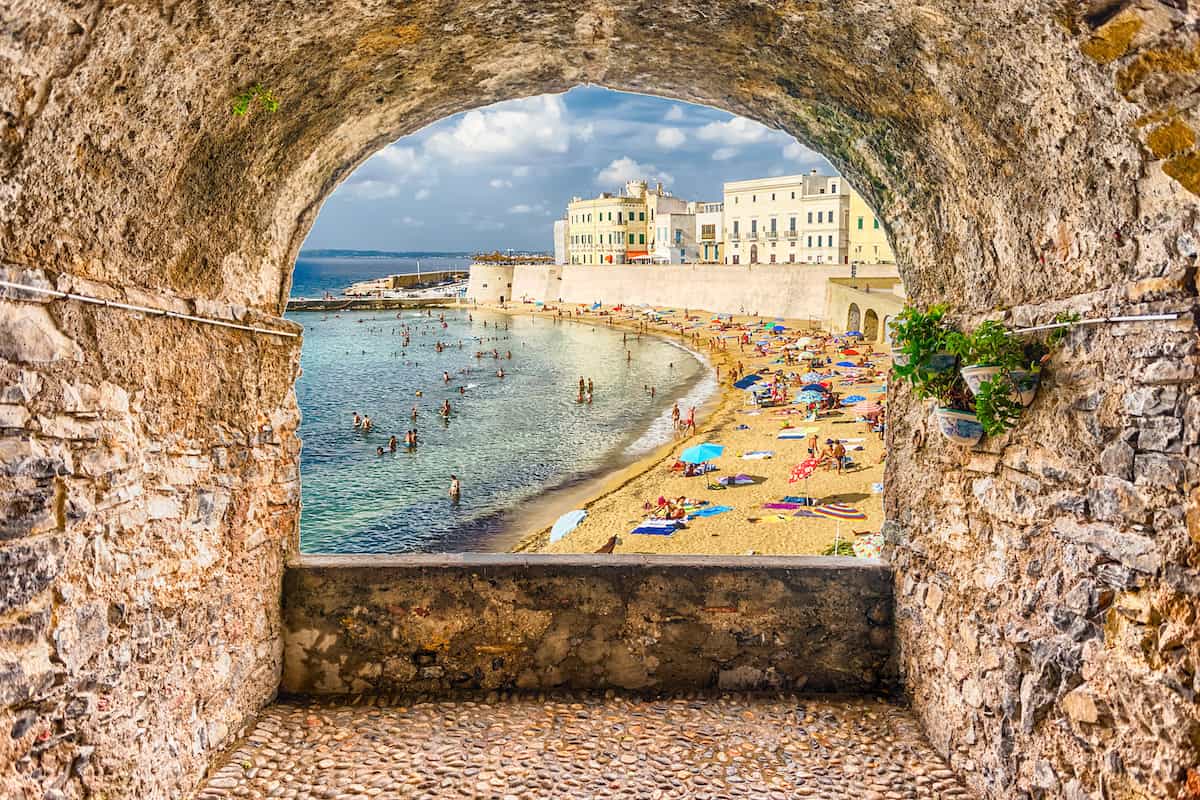 Southern Italy has some of the country's most beautiful beaches dotting its scenic coastlines. It also offers iconic archaeological and historical sites, mouth-watering regional cuisine, and the promise of warm weather throughout much of the year. The ancestors of many Americans and Canadians hailed from these southern regions.
Travel writer and broadcast journalist Rick Steves has said: "If you like Italy as far south as Rome, go farther south because it gets better. But if Italy is getting on your nerves by the time you get to Rome, don't go farther south, it gets worse. Italy intensifies as you plunge deeper."
---
Castle Elvira in Puglia (near Lecce)
Imagine staying in a century-old castle? After it had been abandoned for more than 100 years, entrepreneur Steve Riseley acquired Castle Elvira and spent three years transforming it into a luxury residence.
Set on 37 acres of private parkland just outside of Lecce, the property offers sweeping views of the surrounding citrus and olive groves.
Located in Trepuzzi (in the province of Lecce), the castle offers four en-suite guest rooms, two with lounge areas. Two additional guest bedrooms are housed in a neighboring groundskeeper's cottage. Amenities include a swimming pool, a 12-person jacuzzi, rooftop aperitivo bar, and an onsite cafe serving cucina povera Salentina cuisine made with locally-sourced ingredients.
Riseley worked closely with architects Filotico & Partner and a team of specialist artisans to restore the Castle. While the design maintains many of its original features, it also incorporates new elements that respect its fairytale past. The property also features many curated artworks, including a selection of new pieces by Riseley's artist-husband Harvey B-Brown's "Adored and Adorned" collection.
Opening May 2022


---
Borgo Santandrea in Amalfi
Borgo Santandrea is the first new luxury hotel to open on the Amalfi coast in 15 years. It sits in the town of Amalfi (in the province of Salerno, part of the Campania Region).
Built on a cliff with magnificent views of the Tyrrhenian Sea and the fisherman's hamlet of Conca dei Marini, this intimate property has a private beach, jetty, and oceanfront pool—as well as a fitness center, three restaurants under the direction of Executive Chef Crescenzo Scotti, and two bars.
The recently renovated property has 26 full-service rooms and 19 luxurious suites with panoramic views of the blue waters. The designer's tasteful white and blue color palette showcases local craftsmanship from Amalfitano artisans with hand-painted tiles, antique furniture, and hand-crafted pieces. Landscape gardeners from Ischia created a series of garden terraces filled with plants that are typical of the coastline including olive, lemon, and pomegranate trees, winter jasmine, and Myrtus communis dating back 150 years.
Check Out Rates or Book A Stay
Already open
---
Conrad Chia Laguna Sardinia in Cagliari
Conrad Chia Laguna Sardinia is the luxury brand's first hotel in Italy, located in the city of Cagliari on Sardinia, the second-largest island in the Mediterranean.
This resort is surrounded by sand dunes, and coastal flora and fauna. Located just steps away from the turquoise waters, guests have complimentary access to private, reserved VIP areas at Cogoni Beach.
All the rooms, suites, restaurants, and pools of this 107-room resort have panoramic views across the bay and lagoon. Studio Marco Piva of Milan decorated the rooms using natural fabrics and soothing tones of green and blue, coupling modern design with local indigenous materials. The inviting lobby features wall coverings of traditional Sardinian fabrics and furniture decorated with nautical ropes.
Already open
Check Out Rates or Book A Stay
---
Baglioni Masseria Muzza In Puglia
The 40 bright, airy rooms and suites at Baglioni Masseria Muzza in Otranto (province of Lecce in the region of Puglia) are the newest property from Baglioni Hotels & Resorts. This traditional, whitewashed limestone masseria (farmhouse) dates back to the 17th century. Located only a few minutes from the coastal town of Otranto and the Salento Sea, it is nestled in the countryside amidst five acres of olive groves and Mediterranean flora.
Bathed in natural colors, the spacious guest rooms are decorated in a traditional Puglia style that blends casual with elegant. With a specialized kids club and dedicated children's pool, the resort is poised to attract families. Parents will enjoy relaxing at the Baglioni spa (with a steam bath, covered pool, Finnish sauna, sensory showers, and more) or playing a round of golf at the Acaya Golf Club, one of the most scenic in Italy. The drive to the nearby Baroque city of Lecce is just about one-half hour.
Everyone will enjoy gathering for meals at one of three restaurants on the property that serves authentic, locally-sourced Pugliese cuisine. Sipping an aperitivo at sunset or after-dinner cocktail at the Limonaia Bar is the perfect way to end the day.
Opening May 2022
Check Out Rates or Book A Stay
---
San Domenico Palace, A Four Seasons Hotel, Taormina
The San Domenico Palace, a Four Seasons Hotel sits on a rocky promontory above the Ionian Sea in Taormina, on the eastern shores of Sicily. The site offers panoramic views of Mount Etna and the Teatro Antico di Taormina, an ancient Greco-Roman theater still used today.
The hotel was once a 14th-century Dominican convent; an additional Grand Hotel Wing was added in 1896. Guest rooms and public spaces feature original architectural and artistic treasures.
The property has 111 guest rooms and suites; many have terraces overlooking the sea. The specialty suites are perfect for families or groups of friends, offering separate living and sleeping spaces. In addition to dining at Principe Cerami, the hotel's signature restaurant helmed by chef Massimo Mantarro, guests can arrange 24-hour, in-room dining or enjoy Mediterranean seafood at the poolside terrace at Anciovi.
The hotel offers a curated selection of "Only in Sicily" experiences to allow guests to experience the authentic character of the island, including treks to Mount Etna, lunch at a winery, or a visit to the medieval village of Castiglione di Sicilia.
Already open
Check Out Rates or Book A Stay
---
Hotel La Palma, Capri, Campania
The original Locanda Pagano, the first and oldest hotel on the island, dated back to 1822. Now the Oetker Collection and owners, Reuben Brothers, are transforming this exclusive property, reducing the number of units from 80 to 50 rooms. Each of the rooms, which includes 18 suites, has its own private balcony or terrace.
The iconic property is located in the heart of Capri, which is off the coast of Naples and is reachable by ferry, hydrofoil, or helicopter. The hotel is just around the corner from Piazza Umberto I (known as the Piazzetta) and close to must-visit natural attractions like the Blue Grotto. Noted designer Francis Sultana will be re-envisioning the guest room interiors (as well as the hotel lobby, restaurants, swimming pool, and spa) working alongside Francesco Delogu of Delogu Architecture and a team of Italian craftsmen and local artisans.
Gennaro's restaurant, bar, and terrace will be helmed by Chef Gennaro Esposito who owned a two-Michelin star restaurant, Torre del Saracino, for more than two decades. The hotel's La Palma Beach Club and its famous beaches are located at Marina Piccola, just a short drive from the hotel.
Opening Summer 2022
Check Out Rates or Book A Stay
---
---
---
Where To Stay In Central Italy
Central Italy—which includes the regions of Tuscany, Lazio, Marche, Abruzzo, Umbria, and Molise—has its own share of new, jaw-dropping luxury hotels.
Some offer a perfect base for visiting the country's iconic landmarks in Pisa, Florence, and Rome. Others are nestled in the countryside. All of them offer guests a deep dive into Italy's rich history and beauty.
Here is a glimpse of a handful of the exciting. much-anticipated new hotel openings in central Italy:
The Pavilions Rome, The First Musica
This contemporary, five-star wellness hotel is located along the banks of the Tiber River offering breathtaking views of the historic center of Rome (in the Lazio region). Located close to the designer shops in Rome's exclusive Prati neighborhood, guests staying at The Pavilions Rome First Musica can walk to The Spanish Steps and to St. Peter's Basilica at the Vatican.
The architectural design team of Studio Marincola reimagined a 1960s building, infusing it with modern design elements. Most of the 24 contemporary rooms and suites offer floor-to-ceiling windows with lovely river views. Although intimate in size, the property has dining options on three levels: Alto, a two-story rooftop bar, and Oliva, a restaurant serving regional specialties indoors and outdoors with views of the Tiber.
The hotel will be offering immersive culinary experiences, including food tours and cooking experiences, well as family-oriented ones rich in culture and history.
Opening Summer 2022
Check Out Rates or Book A Stay
---
---
Borgo San Vicenzo (in Montepulciano, Tuscany)
It's not surprising that Borgo San Vincenzo, a luxury boutique hotel, is sited in a town associated with some of Italy's finest wines: Montepulciano. And the hotel's namesake is St. Vincent, the patron saint of winemaking.
The 21 studios and suites in this restored 18th-century farmhouse offer a fresh take on traditional Tuscan design, each one uniquely curated based on its particular location and architecture. The studios all offer king-sized beds, sitting areas, and kitchenettes with Italian linens, Nespresso coffee makers, Acqua dell-Elba toiletries, and complimentary Wi-Fi.
This countryside property is in the province of Siena. The on-site restaurant and bar specialize in providing guests with bespoke, authentic, wine-related education and experiences. Guest itineraries include wine tastings, organic olive oil and pecorino cheese tastings at local farms, cooking and cocktail-making classes, and tours of the region by foot, horse, e-bike, Vespa, or hot air balloon.
Scheduled openin: Summer 2022
---
Anantara Palazzo Naiadi Rome Hotel
The luxury global hospitality brand Anantara Hotels, Resorts & Spas announced its first property in Italy, the five-star Anantara Palazzo Naiadi Rome Hotel. A member of The Leading Hotels of the World, the iconic hotel is centrally located at the heart of Rome's Piazza della Repubblica.
The building has a fascinating architectural history with original elements commissioned by Pope Clement XI for the Vatican in 1705. Its structure is suspended over the ancient Diocletian Thermal Baths, whose excavated fountains, pools, and mosaics are visible through the ground floor. The 238 guest rooms and suites, all with modern amenities, vary in size, configuration, and style; many offer panoramic city views and spacious terraces.
In addition to having one of the largest rooftop terraces in the city, the hotel has five unique indoor and alfresco dining venues. Since taking over the operation of the property, Anantara has been making a series of upgrades and refinements to this classic property, which recently provided a backdrop for House of Gucci with Lady Gaga and Adam Driver. A new Anantara Spa will launch on the top floor, and the hotel is developing a menu of bespoke Anantara experiences to introduce guests to the Eternal City.
Scheduled opening August 2022
Check Out Rates or Book A Stay
---
Six Senses Rome
The hospitality brand that's become synonymous with wellness is opening a new property, Six Senses Rome, the company's first in Italy. Part of the Six Senses urban collection, the hotel is located on Piazza di San Marcello in the center of the city, only blocks away from the Fontana di Trevi and the Pantheon.
This restored UNESCO-listed, 18th-century, Rococo-style Palazzo Salviati Cesi Mellini once served as a residence for cardinals of the Catholic Church. Its main facade and central staircase have been painstakingly preserved and the building will now house 95 distinctive high-ceiling rooms and suites, a restaurant, and a rooftop terrace with 360° city views.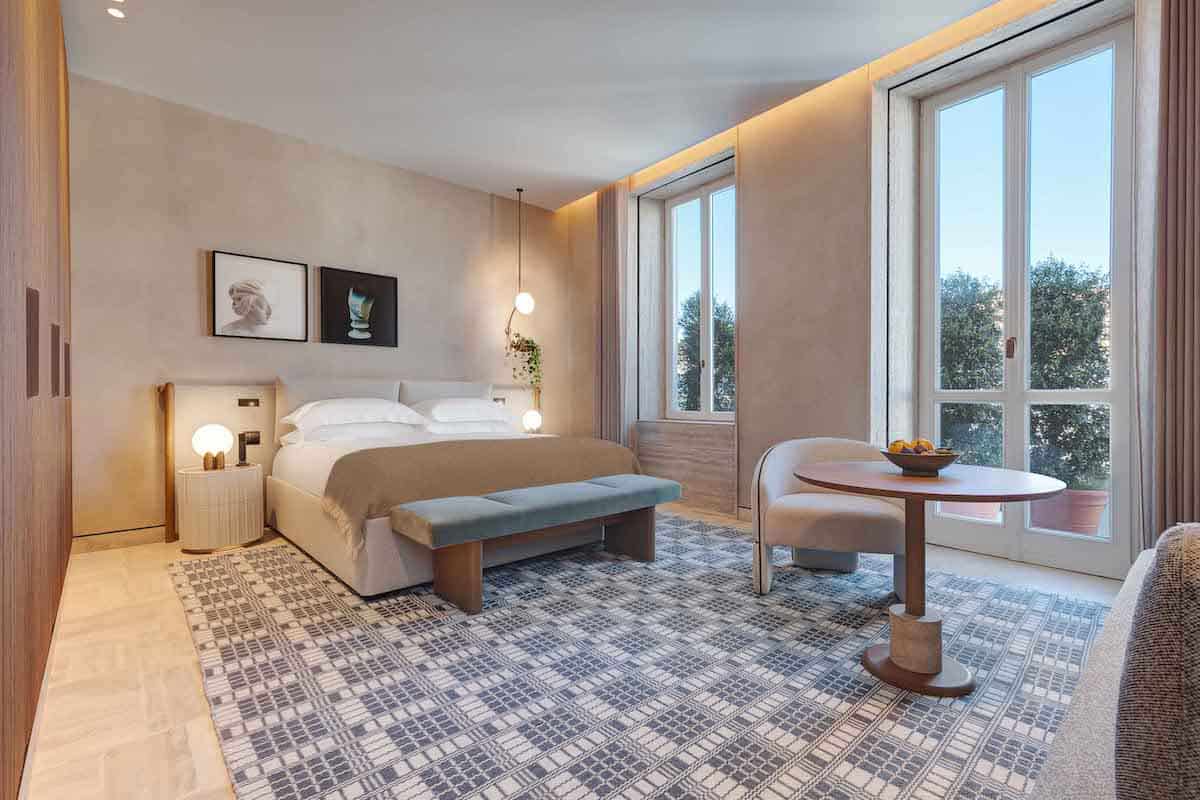 The interior design by Patricia Urquiola respects the individuality of the different room configurations. Integral to the project is the first-floor Six Senses Spa and Roman baths that will serve as a sanctuary of wellness for guests enjoying the city's sights, nights, and delights.
Scheduled opening Fall 2022
Check Out Rates or Book A Stay
---
Palazzo Portinari Salviati
Palazzo Portinari Salviati is located in the heart of the historic center of Florence, between Piazza del Duomo and Piazza Signoria. This magnificent Florentine palace was built in the 15th-century by the Portinaris, a wealthy family with ties to the Medicis.
Ownership of the property changed hands many times over successive centuries. It was purchased by the LDC Hotels & Resorts group, which made a significant investment over the last three years to meticulously renovate and repurpose it into a luxury hotel.
Now the Palazzo has 13 classically-furnished suites, some with double bedrooms that have finely restored Renaissance fresco ceilings The Royal Suite is said to be one of the largest in Italy, occupying the entire main floor of the palazzo which includes its frescoed Gallery.
The Salotto Portinari Bar & Bistro and the Chic Nonna restaurant, helmed by Chef Vito Mollica, offer locally-sourced gourmet dining. The property also has a gym and spa with a heated swimming pool.
Recently opened
Check Out Rates or Book A Stay
---
Tenuta Di Artimino, Tuscany
Tenuta di Artimino is set in the village of Artimino, nestled in the hills and vineyards of Montalbano, once home to an Etruscan settlement. This property includes an ancient villa (Villa dei Cento Camini) that was designated as a UNESCO World Heritage Site in 2013.
Part of the Melia Collection of Melia Hotels International, 36 guest rooms sit in a 17th-century building, Paggeria Medicea, along with a group of 59 lodges dotting the medieval village, each with an independent entrance. The units are designed in Tuscan Renaissance style with terracotta floors, wooden beams, and local sandstone.
The property has its own onsite restaurant, Biagio Pignatta, adjacent to the hotel and only a short distance from the Villa, that serves traditional Tuscan fare. Located less than an hour from Florence, the property is convenient for visits to nearby vineyards and cantinas.
Recently opened
Check Out Rates or Book A Stay
---
---
Where To Stay In Northern Italy
The eight regions of northern Italy—which include the Aosta Valley, Piedmont, Liguria, Lombardy, Emilia-Romagna, Veneto, Friuli-Venezia Giulia, and Trentino-Alto Adige—are each unique in terms of their history, topography, and culture. So it shouldn't be surprising that hotel accommodations in northern Italy are rarely cookie-cutter either.
The COVID-19 outbreak hit Italy hard with the highest incidence of the virus recorded in cities in the north, especially in the region of Lombardy. But with more vaccinations in arms and most international restrictions lifted, there has been a resurgence in tourism as well as new hotel openings, many of which were put on hold during the past two years.
These are some of the most exciting new hotels that seamlessly blend northern Italy's rich cultural heritage with contemporary sensibilities and innovative design.
---
Vista Palazzo Verona
The magnificent five-star Vista Palazzo Verona occupies a 19th-century mansion in the medieval center of town, just steps from the fabled balcony of Romeo & Juliet.
Owned and operated by Como-based Lario Hotels, this intimate, boutique property offers 16 accommodations (13 sumptuous suites and three deluxe rooms) with personalized service. Amenities include an indoor swimming pool (the only hotel pool in Verona), a spa, library, wine-tasting room, penthouse-level restaurant, and rooftop terrace.
The design incorporates an intriguing blend of traditional and contemporary style, orchestrated by Milan's Maurizio Maggi Studio Arte. One standout feature among many: The pool has an ancient Roman well embedded in its wall that was unearthed during the gut renovation of the building.
Opening: May 2022
Check Out Rates or Book A Stay
---
Passalacqua, Lake Como
Passalacqua, a member of Preferred Hotels & Resorts, is the sister property of the stately, art nouveau Grand Hotel Tremezzo (also on Lake Como). Once a private villa, the gracious home was purchased by Count Andrea Lucini Passalacqua in 1787. Over the years, it welcomed through its doors luminaries from Napoleon Bonaparte to Winston Churchill.
Committed to preserving this rich historical treasure, Grand Hotel Tremezzo hoteliers Paolo, Antonella, and Valentina De Santis went to great lengths to modernize the antique property while maintaining its original architectural features—which include hidden passageways, beamed suites in forgotten stables, and glasshouses with ancient fruit trees.
This intimate, ultra-luxury mansion has 24 stylish suites with tasteful furnishings curated by the De Santis family as well as a lakeside swimming pool and open-air gym set in the olive groves. Guests will be able to take vintage boat rides on the lake from the private dock and participate in wellness and farm-to-fork culinary experiences.
Opening: June 2022
Check Out Rates or Book A Stay
---
Radisson Collection Hotel Palazzo Touring Club Milano
Once the headquarters of Touring Club Italiano (founded in 1894), the repurposing and redesign of the Radisson Collection Hotel Palazzo Touring Club Milano as a 5-star hotel was led by the architectural firm of Studio Marco Piva. The team aimed to preserve its historical and cultural heritage while breathing new life into a structure that would continue to allow it to serve as a beacon for hospitality.
Located in the heart of the city's historical center, the property has 89 rooms and suites that overlook the bustling Corsa Italia, just a 10-minute walk to the Duomo, La Scala and the fashion district.
The hotel's Bertarelli Bar & Restaurant pays homage to Luigi Vittorio Bertarelli, the founding member of the Touring Club Italiano. Its menu covers the boot with seasonal specialties and dishes representative of different regional cuisines.
Already open
Check Out Rates or Book A Stay
---
DeMo Hotel Design Emotion (Rimini in Emilia Romagna)
Fourteen architectural firms have breathed new life into an abandoned guesthouse, turning it into a hub of "experimentation in hospitality." The colorful Demo Hotel is one-of-a-kind, ultra-modern in design and functionality. Located near Parco Briolini, this innovative property is within walking distance of the city's iconic beach on the Adriatic.
Each of the nine suites, actually apartments, is suitable for workcations and longer stays. For example, The Smoove II Suite (designed by architects Alessio Fiorini and Roberto D'Amico) has a balcony overlooking a garden in the park and comes fully stocked with sports and fitness equipment, including a Technogym bike. The Just Like Home Suite is a smart, green, three-room apartment with a double bed and a second bedroom with a French bed. The living and kitchen areas can become workstations, visually separated by a suspended bookcase.
The hotel's common areas are also experimental and original in design. Each area is differentiated with strong colors, and the functional but funky setting is ideal for blending work and leisure activities. Another perk: Free private parking.
Already open
Check Out Rates or Book A Stay
---
Portrait Milano, Lungarno Collection
The long-awaited Portrait Milano will be the sixth luxury hotel owned by the fashion-first Ferragamo family. Their newest property is housed in what once was the Archbishop's Seminary. Built in 1564, it held the distinction of being the oldest seminary in Europe. The baroque entrance of the monumental building was designed by Francesco. Maria Richini in 1652. Architect and designer Michele De Lucchi is leading the restoration project.
The hotel will welcome both business and leisure guests, and will be an asset to local residents because it will join Corso Venezia and Via Sant'Andrea to improve pedestrian access through the fashion district. The luxury hotel, with 73 rooms and suites planned, will also house a wellness center, restaurants and boutique shops.
Opening end of 2022
For info: Contact the Florence Property
---
Milano Verticale, UNA Esperienze
This contemporary, urban hotel is the Milan flagship property of the UNA Esperienze Group. Located in the vibrant Porta Nuova section of the city, Milano Verticale is convenient to the Porta Garibaldi metro and train stations.
The four-star property has 173 guest rooms, a fitness center, and meeting rooms for conferences. The four exclusive, rooftop Penthouse Suites with panoramic terraces offer 360-degree views of the city skyline and the Alps.
Celebrity chef Enrico Bartolini oversees three on-site dining venues: Vertigo (an urban garden bar with seating indoors and alfresco dining); the contemporary Osteria; and Anima, a fine dining restaurant helmed by Chef Michele Cobuzzi. The 13th floor of the hotel has a breathtaking rooftop event space.
Already open
Check Out Rates or Book A Stay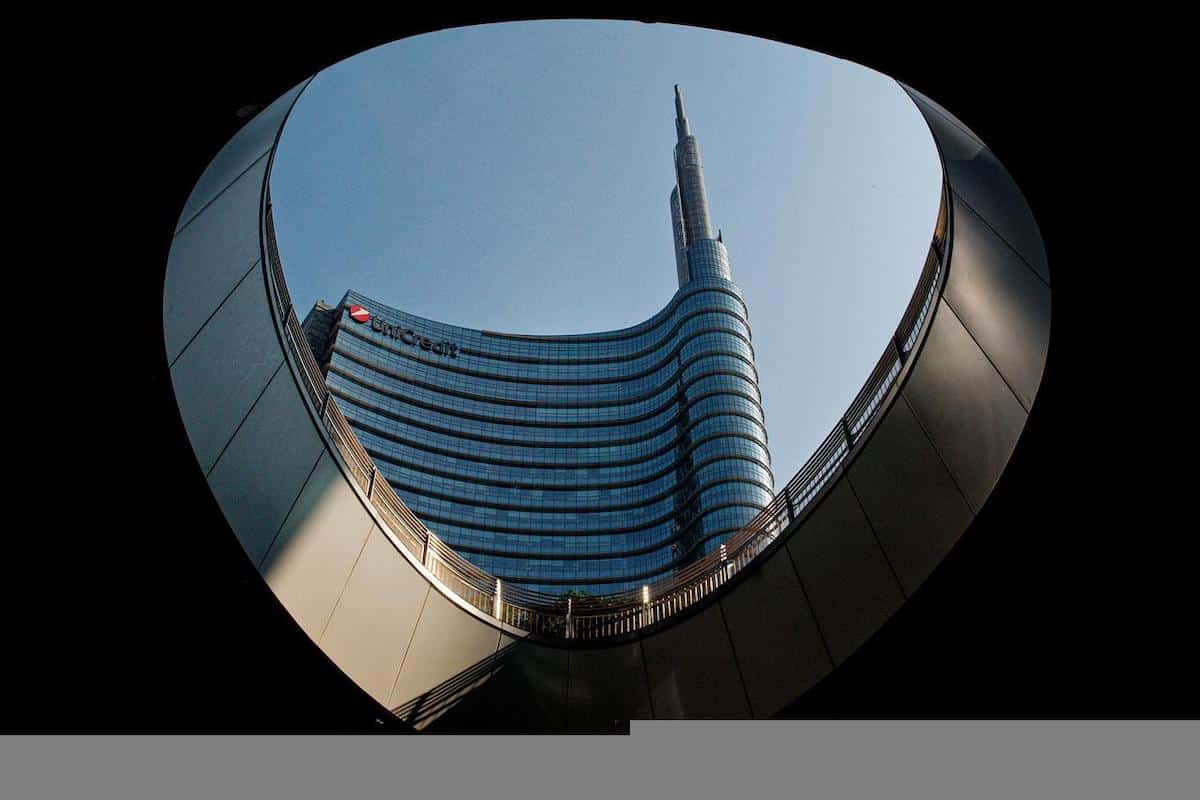 ---
Palazzo Donà Giovannelli, Venice
The iconic travel brand, Orient Express, part of the Accor group, is partnering with Italian hospitality group Arsenale S.p.A to open the second Orient Express hotel in Italy. The Palazzo Donà Giovannelli will be located in Venice's Cannaregio shopping district, just ten minutes from the Santa Lucia train station.
Lodged in a historic structure that was first built as a palace by architect Filippo Calendario (also architect and designer of the Doge's Palace) in 1400, the building has been renovated twice before, and successively owned by the Donà and Giovannelli families. Architect and interior designer Aline Asmar d'Amman and her team at Culture in Architecture have been selected to reenvision the space.
This intimate, luxury hotel will have 45 rooms and suites, all overlooking the gardens and canals. The hotel bar will be located in the former piano nobile ballroom on the main floor; plans also include a world-class restaurant on-site. When the hotel opens, passengers on the Orient Express La Dolce Vita train will be able to disembark directly at the nearby station and reach the hotel by foot or boat.
Opening in 2024
Also on MoreTimeToTravel:
---
Save to Pinterest!!
---