What is it like to fly United p.s. Premium Service?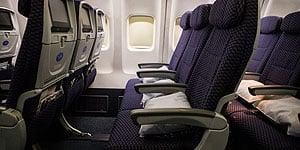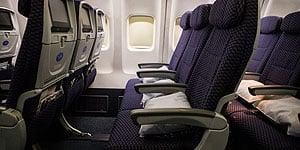 I hadn't realized there was anything particularly special about our United Flight 512 from New York's JFK to SFO in San Francisco until I overheard a frequent flyer across the aisle (who travels the route each week) tell his companion that we were on a United p.s. flight.
United p.s. stands for Premium Service, which has apparently been around since 2004 although significant upgrades have been made since then. There are currently 15 p.s. planes in the United fleet, limited to coast-to-coast routes between NYC and both Los Angeles and San Francisco. The planes offer two classes of service, BusinessFirst and Economy.
Some of the p.s. upgrades described on the United site include:
Refreshed interiors
Added legroom
Complimentary seat-back entertainment in all seats
Power outlets and USB ports throughout the aircraft
Availability of Gogo® Wi-Fi service
We were seated in the Economy section of the Boeing 757 (which has a 3+3 configuration) and had purchased Economy Plus seats (with extra legroom).
Admittedly, our upholstered seats did look less worn than usual and the plastic tray tables seemed cleaner. Our Economy Plus seats offered a comfortable 36" pitch with a 7" recline, 5" more pitch and 2" more recline than regular Economy ones that have almost gotten unbearable on long flights. Electronic/tech upgrades were nice, too, but you had to bring your own earbuds to take advantage of the entertainment system or pay for them on board. The Gogo® Wi-Fi service was also at an additional charge (although a limited number of free passes are available as a benefit if you own an American Express Platinum Card).
Clearly, the major advantage of p.s. service is the BusinessFirst cabin with 180-degree flat-bed seats, similar to the ones available on transcontinental flights. However, these seats come at a significant cost—more than double the price of an Economy seat (more than $2000 for a round-trip between NY and CA). Moreover, according to my seatmate source, even when they are available, fliers with Premier status aren't given free upgrades to those seats; they either need to pay for an upgrade with miles or cash.
In case you were wondering, there wasn't any meal service on the six-hour p.s. flight and snacks were available only for purchase. Soft drinks, juices, tea and coffee were complimentary.
This past June, United announced that it would be transferring all p.s. operations from JFK to Newark Liberty International Airport, which will lessen the odds of us flying on one of these flights but enable international passengers using the Newark hub to continue on to the West Coast on these flights.
The Bottom Line
Air travel has gotten onerous because from the vantage point of the consumer, costs are increasing and services are diminishing while airline profits are soaring. Simultaneously, the gap between various classes of service is growing wider. United p.s. only represents an incremental improvement over the status quo .
---
Another kind of P.S. – While it was nice to have an electrical outlet, its placement underneath the seat was almost impossible to reach and/or find. When I was finally successful finding it and plugging in the power supply from my computer using a flashlight, I discovered that it wasn't working.
---
Also on More Time To Travel:
---
In the Trades: United Reveals New Aircraft Interiors As If Nothing Else is Happening (Skift 9/11/15)
And the grass isn't any greener at Delta: Could Coach Get Any Worse? Delta found a new class of fares