All cuisine in Italy is distinctly regional, sometimes even varying from town to town. 
So when food enthusiasts visit this country, about three-quarters the size of California, they tend to marvel at the diverse regional culinary traditions: from different pasta shapes, cheeses, and bread—to the wide variety of food products and preparations.
The flavors of the Aosta Valley—the smallest region of Italy, flanked by France, Switzerland, and neighboring Piedmont (Italy)—are unique, influenced by the characteristics of the land, its history and people. 
The new food travel TV series Le Petit Tour on MHz Choice showcases artisanal foods and producers across the Valley. Because this region is the most mountainous and thus, more isolated, it happens to boast some of the best-preserved culinary traditions in Italy, ones passed on from generation to generation.
The Aosta Valley: Flavors and Traditions 
"Spending time in Aosta is like visiting three countries at once," says food historian and cookbook author Francine Segan.
"Besides its stunning natural beauty and rich cultural sights, the region's cuisine makes it a must-visit spot. You'll enjoy luscious local cheeses and wines, unique polenta and potato dishes, fabulous fondues, and one of the world's most charming coffee traditions, the shared "friendship cup," says Segan.
Although the majestic mountains and sloped pastures are among the most scenic in Europe, the extremely dry, alpine climate and the rugged terrain pose daunting challenges for agricultural production. But the dedicated food producers of the region have turned what might have been a disadvantage into an asset: They focus on quality rather than quantity and emphasize local products that thrive in this environment.
For example, high-quality dairy products—milk, butter and cheese—predominate in many dishes. The region's cherished DOP Fontina cheese is such an exceptional product that it is considered an essential ingredient in dishes at some of the world's finest restaurants and in home kitchens.
A self-sufficient breed of producers and manufacturers embrace the concept of "zero-kilometer" foods, local foods that are fresh and that haven't had to travel long distances before they reach the table. Similarly, Aosta winemakers have taken advantage of the rocky soil to produce elegant DOC mountain wines in a class of their own. 
"We never had the type of soil that could adapt to varied agriculture so we had to rely on trade for the items we couldn't grow at home. Our traditional dishes tend to have a small number of high-quality ingredients," says Chef Ignazio Podda, a chef born and bred in the Aosta Valley. 
And because the historical and cultural borders between Aosta and its neighbors are so fluid, many specialty foods, recipes, and traditions are shared.
Dining Aosta-style
The flavors of the Aosta Valley can be sample at eateries ranging from rustic to sophisticated. Visitors discover that Alpine cookery is quite hearty. For generations, these ingredients and proportions have helped locals make it through cold winters.
Like most of Italy, meals in the Aosta Valley generally consist of multiple, mouth-watering courses:
A first course:

This deviates markedly from the pasta-centric first course traditions of most other regions. Here the emphasis is on soups, polenta, potatoes, and rice. Without olive trees, butter replaces oil in most recipes.
A second course:

Typically meats, game, pork, goat stews, and the world-renowned veal cutlet

Valdostana

.

Polenta concia

(shown above, described below) is a common side dish.
Dessert:

Perhaps, simple biscuits, poached pears, or an apple cake.
A sampling of flavors of D'Aosta Valley and its regional specialties
Here are some of the regional specialties of the Aosta Valley well worth trying at the source:
Vallée D'Aoste Lard d'Arnad 
This PDO product (Protected Designation of Origin) is pig lard, cut into squares, and seasoned for at least three months in old containers of chestnut or oak. This melt-in-your-mouth delicacy is typically white but may have a vein of pink meat.
Served with chestnuts sauteed in honey and pane nero (black bread), it makes for a perfect aperitivo. (Because Val d'Aosta chestnuts are small, sweet and plentiful, they appear in a host of recipes.)
Episode 5 of Le Petit Tour introduces viewers to two lard producers, one in Arnad (Italy) and another in Valais (Switzerland).
Valpellinentze (Valpelline) Soup
This soup, a typical first course, is so hearty that it borders on being a stew. It's made with meat stock, local Savoy cabbage (a winter vegetable), Fontina cheese, sliced bread, cinnamon and butter. 
Some people add Porcini mushrooms (from nearby Piedmont), local Renetta apples, Genepi, (a local herbal liqueur, Brossa (a cream made from heated whey) or Motzetta (a dried meat).
Polenta Concina
Once considered a main dish, this rich polenta (made with local Farine di Mais) gained popularity over time as a side dish. It only calls for three ingredients: polenta, fontina and butter. 
"Valdostana grandmothers would make it on a wood-powered stove (stufa a legna), cooking it slowly for hours before finishing it in the oven," says Chef Podda. The ratio of fontina to polenta is often much higher when made at home (as opposed to restaurants). "All of that must be taken in the context of the cold winter weather and high altitudes requiring higher calorie intake," he adds.
Episode 3 of Le Petit Tour takes viewers to the mills where corn is made into polenta.
Veal Cutlet Valdostana
Veal Cutlet Valdostana (Cotoletta alla Valdostana) is probably the most famous meat dish of the region. A flattened veal cutlet is stuffed with ham and Fontina cheese layers and folded into a sandwich-like shape. Then it is dipped in egg and breadcrumbs and cooked in butter. (Chicken or pork are often substituted for the veal.)
The recipe is so popular within Italy and across the globe that the term "Valdostano" or "Valdostana" signals that PDO Fontina cheese is an essential ingredient in the recipe.
Sweet and Simple Desserts from the Aosta Valley
The deserts of the Aosta Valley can be characterized as sweet and simple:
Tegole
Tegole (in Italian, literally tiles) are one of the most characteristic cookies of the region. Almost paper-thin, they're made with ground hazelnuts, sugar, egg whites, flour and sometimes vanilla and/or almonds. 
Delightfully light and crumbly in texture, they turn slightly brown around the edges after baking in the oven; they pair well with espresso.
Torcetti
These sweet, twisted butter biscuits, sometimes called Savoy Knots, are usually eaten at breakfast or with tea. Once known as "torchietti" (bread dough biscuits), they harken back to when small villages only baked bread once or twice a year in a community wood-burning oven. Torcetti were baked as the ovens were warming up for the bread.
The crunchy cookies are made with yeast, flour, sugar, salt and butter. The dough is rolled in sugar or honey and formed into a teardrop before baking. First created in Piedmont, these aren't "native to Aosta." How did they migrate? "Our history has always been intertwined, so it is a very natural thing," explains Chef Podda.
Episode 8 of Le Petit Tour features some of the artisanal bakers producing these treats.
Torta di Mele (Apple Cake) 
Every restaurant and home cook has their own recipe for Aosta Valley apple cake, but that's not surprising: Apples are the most cultivated fruit in the region, with a production of over 5,000 tons annually. Large orchards are found in the areas of Saint-Pierre, Sarre and Villeneuve.
Nature has been kind to these apples. The high altitudes, dry windy summers, and minimal rainfall allow the fruits to mature with little risk of disease or need for pesticides. With a delicate fragrance and rough, rusty yellow skin, Pippin apples are the standard-bearer of the region's fruit-growing legacy. Golden Delicious apples also thrive in the mountain environment.
"It's an unwritten tradition that every time we gathered at my parents' place with the rest of the family, we would have apple cake," says Chef Podda. "Normally on a Sunday for lunch after church but also on holidays. Apples were always available throughout the year," he adds.
Mamma Franca's Torta di Mele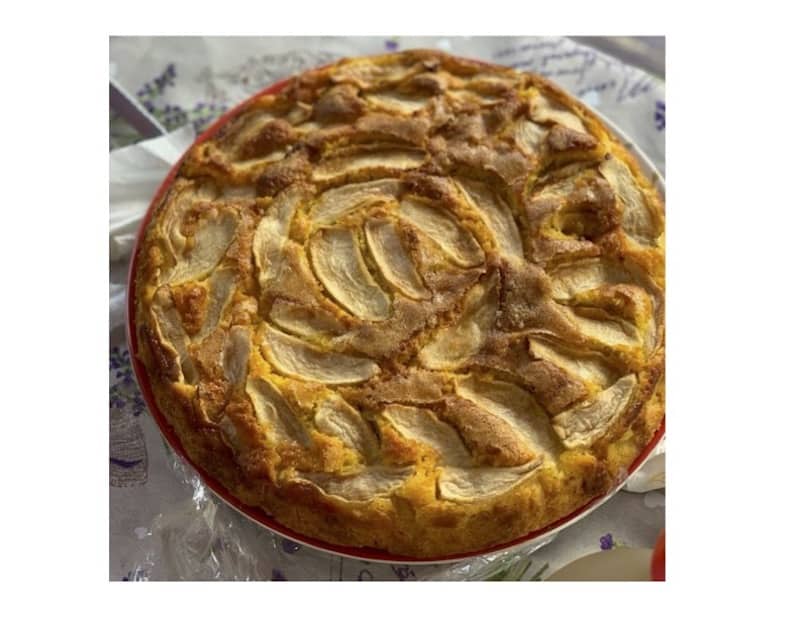 With permission from his mother, Maria Francesca Giovinazzo, Chef Podda graciously shared this delicious recipe for traditional Aosta Valley Apple Cake, a family recipe he's enjoyed since childhood.
Mamma Franca's Torta di Mele
With permission from his mother, Maria Francesca Giovinazzo, Chef Podda graciously shared this delicious recipe for traditional Aosta Valley Apple Cake, the one he's enjoyed since childhood.
Prep Time
30 minutes
20 seconds
Total Time
1 hour
30 minutes
20 seconds
Ingredients
FOR CAKE
6 eggs
6 apples (choose granny, golden delicious or other "baking" apples)
300 grams flour
200 grams sugar
250 grams butter
.5 tsp baking powder
Zest of one whole lemon
.5 tsp salt
FOR GLAZE
.5 cup apricot jam/jelly
1 cup water
Instructions
Beat butter with sugar and salt
Addd the eggs
Carefully add the flour, baking powder and lemon zest
Add the peeled apples cut into medium size chunks
Bake at 350 degrees for about 1 hour or until a knife inserted inside comes out clean
Bring the apricot jam/jelly to a boil with the water; then turn off (if Jam, strain after boiling)
As soon as the cake is out of the oven, generously but slowly pour the glaze over the cake. It must be done while both are very hot.
Food of the Aosta Valley meant to be shared: Tagliere, Fonduta, and Caffè alla Valdostana
Visitors to the D'Aosta are impressed by the warmth and graciousness of locals—reflected in regional food traditions. 
After work, people often linger over an aperitivo, enjoying finger foods of salumi (cured meats) and cheeses served on a cutting board (tagliere). 
Although usually thought of as a staple of Swiss fare, fondue (fonduta) is equally popular in Aosta, made with milk, fresh eggs, butter and flour—and the prized DOP Fontina cheese. Served with chunks of pane nero and local wine, the dish is often placed in the middle of the table on top of a candle-lit pot, drawing people together for storytelling and conversation. 
Valdostana coffee (Caffè alla Valdostana) is an ancestral tradition of Aosta. This espresso coffee is spicy, laced with liqueurs, and sipped communally from a wooden, often intricately carved, friendship cup with multiple spouts (coppe dell'amicizia). It's passed from person to person counter-clockwise until it's empty, helping with both conversation and digestion.
Towards the future
With borders opening up and travel restrictions lifting, many viewers of Le Petit Tour will want to follow the series' food trails or discover their own. 
Restaurants, wine tastings, food festivals, agritourism (farm) stays, and cooking classes provide unique opportunities to savor the foods of the Aosta Valley, Italy's tiniest region, at their source. 
---
Watch the series trailer
---
READ MORE ABOUT THE AOSTA VALLEY FOODS
---
Disclosure: The author was commissioned to write a series of posts about Le Petit Tour but any opinions expressed in this post are her own. 
---
Previously on More Time to Travel:
---
Save to Pinterest!!
---
---