Dim Sum at Nom Wah Tea Parlor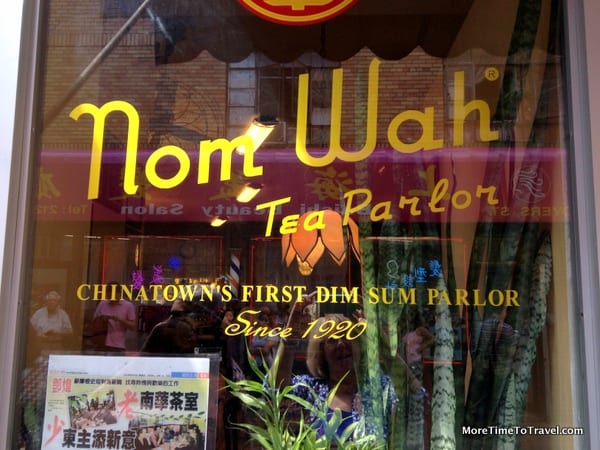 Brunch at Nom Wah Tea Parlor, the oldest dim sum shop in Manhattan's Chinatown
On our way to the Nom Wah Tea Parlor, the oldest dim sum restaurant in Chinatown, we walked through a maze of crowded streets on a Sunday morning until we reached #13 Doyers Street (one of the first three streets in Chinatown, along with Mott and Pell).
Only one block long, the peculiar street has a sharp 90° curve at its midpoint (called the "bloody angle") and runs between Pell and Chatham Square (near the Bowery). Doyers Street appears to be pretty sedate—filled with an absurd number of barbershops and hair salons—but has a long, turbulent history. It was once the site of the Tong Gang wars that resulted in numerous shootings in the 20s and 30s. It was supposedly popular with gangs because of its obscuring angle, and its escape tunnels (one of which still exists) that connected buildings.
The street often serves as a backdrop in movies and TV shows because it is so reminiscent of old New York. Ting's Gift Shop at the corner Pell has been there more than 50 years.
The backstory of Nom Wah
Chinese Immigrants from Canton brought the tradition of dim sum (consumed with tea) to the States. When Nom Wah Tea Parlor first opened in 1920, it was originally a bakery and tea parlor serving pastries, dim sum, and steamed buns.
In 1968, the owner lost the lease for the building at #15 and moved it to its present site next door. In 2010, Wally Tang, an octogenarian who had owned the business for more than 60 years and was an employee of the original owner handed the tea parlor over to his nephew, Wilson Tang.
The younger Tang updated the kitchen and brought his business and social media acumen to Nom Wah but has largely preserved the traditions and ambience of the historic tea parlor.
The setting
The one-room restaurant looks like a cross between a 50s luncheonette and a diner. Much of the décor (certainly the tin ceiling) looks older than that. Booths with red oilcloth seats line the perimeter of the room and the center is filled with gray Formica-topped tables and metal chairs. At one end of the room, there is also a counter with stools.
The tiled floor is so old that my husband changed seats when he felt his banquette leaning forward toward the other side of the booth. On our table were a bunch of plastic bottles with Chinese sauces and condiments.
On a Sunday morning at 11AM, the place was filled with a mix of families and younger people. Strikingly, unlike many Dim Sum restaurants in the area, few among them were Chinese. With legions of recommendations and followers on Yelp, Twitter and Facebook, it's not surprising that the place draws a cult-like following with diners and devotees even coming from beyond the boroughs.
The menu
Dim sum is traditionally served on steam-heated carts but at Nom Wah, everything is served à la minute (to order), brought out in small baskets or mismatched dishes from the kitchen. The bilingual, tourist-friendly menu has pictures of each of the offerings along with their number and price.
An order sheet and pencil are left on each table so diners can mark off the dishes they want to order, by number. As soon as you finish a dish, the empty plate is efficiently whisked off the table to make room for more.
Another thing that sets the tea parlor apart from many other dim sum restaurants is that the menu of small plates is served all day long. It's fun to go with as many people as possible so you savor different tastes. These are some of the wonderful dishes we tried:
Unfortunately, we forgot to order the almond dessert cookies, which are baked according to the same recipe that was used 96 years ago. My husband, who specializes in faint praise, recounted all the wonderful dishes and said, "There is nothing I didn't like."
I thought it was the best dim sum I ever had in my life. When the waiter tallied our bill, it added up to $38 (before the tip) for three hearty eaters, quite a value. By the time we were ready to leave, it was no surprise that a line had begun assembling on Doyers Street in front of the shop.
---
IF YOU GO
13 Doyers Street, (Chinatown) New York
Hours: Sunday to Thursday 10:30AM to 9PM, Friday and Saturday 10:30AM to 10PM
Tips
Try to arrive before noon to beat the crowds.
Since the room can be energetic, ask for a booth.
Order the fragrant Chrysanthemum Tea for $1.50 per person.
The delicious pork buns are available in quantity for take-out.
Live in Philly? Rumor has it that Nom Wah may be coming to you.
---
Interested in learning more about Nom Wah?
NY Times Review of Nom Wah Tea Parlor
New York's Oldest Dim Sum Restaurant Just Might Be The Future of Dumplings
---
You Tube Video on the history of Doyers Street
---
[A version of this article appeared in the Chicago Tribune on September 25, 2014.]