Guest Post – Sailing the Mediterranean on Wind Surf:  Historic Ports. Unique Ship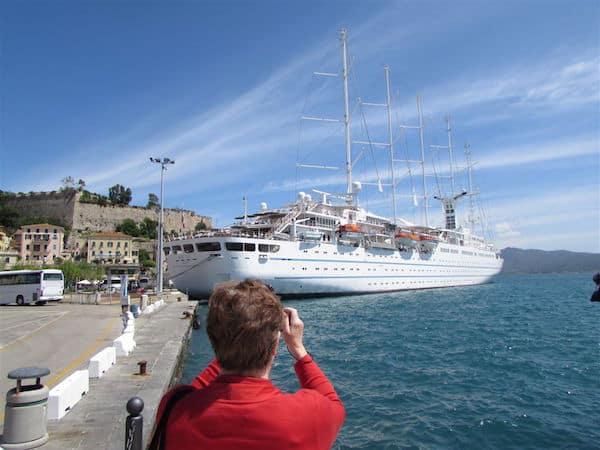 Cruising on the Wind Surf, John and Sandra Nowlan

visit historic ports on a unique ship.
"I don't want to go on vacation with 2,000 other people." That was the view of one New Jersey guest but summarized the feeling of many of our 300 fellow passengers aboard the Wind Surf, a luxury yacht described as the world's largest sailing vessel.
Most of the guests on the 600-foot, five-masted ship were veterans of traditional cruise lines. But they preferred the intimacy of a yacht and its ability to enter harbors that the big ships couldn't come near.
"Cruise ships are getting too big," Don and Nancy Williams of Ottawa told us. "We've been to the Caribbean and Alaska but this is our type of sailing, especially in the Mediterranean with its character and history."
The itinerary – Barcelona to Rome with several stops in France, Monaco and Italy – was also a key reason we chose the Wind Surf (the largest in the Windstar fleet of three sailing vessels). Barcelona is a delightful city to start a Mediterranean adventure so we arrived a day early (always recommended when cruising) and stayed near the University of Barcelona at the Fairmont Rey Juan Carlos, a massive atrium and great accommodation with a free shuttle service to the center of the city.
But it was a thrill leaving the Spanish city the next day and watching Wind Surf's seven computer-operated sails rising on 165-foot masts to meet the breeze.
There are no balconies on Wind Surf, just two portholes in each cabin. The staterooms are large by cruise standards and complete with many luxury touches like great lighting, a Bose audio dock, a DVD player and movie choices, a good selection of TV channels (but no CNN) and a generous sized bathroom with L'Occitane toiletries.
Our first stop after an overnight sail was Collioure, France. It's an ancient, fortified town that traces its roots to 673 AD as an important Mediterranean trading post. Now with just 3,000 residents, it's best know for its 35 galleries and as the birthplace of the colorful Fauvism art movement. Matisse and Derain painted many images of the town in the early 1900s.
The next morning, after some rough seas (Wind Surf was surprisingly stable), we docked in Marseille in the midst of a mistral, a violent northwest wind that often blows from the Rhone Valley into France's second largest city. In spite of the 60 mile-per-hour winds (it continued most of the day) we enjoyed our walk around the sheltered harbor and searched for a bowl of steaming Bouillabaisse, the traditional fish stew that originated in Marseille, made from at least four different kinds of fresh fish cooked in a broth with onions, tomatoes, garlic plus herbs and spices. One famous waterfront restaurant, Miramar, offered its signature lunch dish at 63 Euros (about $US72). With that price well beyond our snack bracket, we sought and found a more modest establishment (28 Euros) with an excellent fish stew.
With each cruise, Wind Surf has added a special Private Event. On our visit to Monte Carlo, Monaco, that special event became "Lifestyles of Glitterati." After a hop-on, hop-off tour of the world's most glamorous and densely populated country (the yachts, the hotels and the cars just reeked money) we returned to the ship for a French dinner (excellent Duck L'Orange), then caught buses to Grand Casino Square where the Café de Paris hosted us for limitless champagne and dessert while a magician and caricature artists entertained us. Then we were given tickets to enter the opulent casino and watch foreigners (local residents are not allowed in) blow hundreds of Euros at the roulette wheel.
More glamour was in store the next day with a stop in Cannes on the French Riviera, site of the famous annual film festival. We didn't rub shoulders with any movie stars but we did take a culinary tour that became the highlight of our cruise. A dozen of us took a bus through the delightful French countryside to the village of Grasse, best known for its perfume works. Nearby, we visited an olive grove, Domaine La Royrie, where the owners took us for a stroll among the 500-year-old olive trees planted by monks, gave us a blind taste test of their early and late harvest olive oil and then in the garden served us a tasty eight-course lunch, each plate of local food prepared with olive oil. This being France, we were also treated to excellent rosé and red wine.
More heavy winds the next morning prevented our arrival at Portofino, Italy, but the captain (an amiable Englishman named John Clark) arranged instead for a stop at the UNESCO World Heritage village of Porto Venere. With an ancient castle, church and narrow streets filled with cafés and craft shops, the town of 4,000 was a delightful alternative.
Our final stop, before disembarkation in Rome, was on the charming island of Elba, best known as the location of Napoleon Bonaparte's exile. In 1814, the Emperor spent 300 days here and both his country residence (Villa San Martino) and his town residence in Portoferraio (Villa dei Mulini) are open to the public. We visited both (each has expansive views of the Mediterranean) where it was clear that Napoleon did not lack luxury although he preferred to sleep on his camp cot.
As we left Elba heading towards Rome on a delightfully warm Mediterranean evening, the sails were unfurled to the stirring music of Vangelis (1492 – Conquest of Paradise) and the guests (mostly American but with a good mix of Canadians and Brits) enjoyed a last chance to visit the officers guiding the ship. Windstar Cruises has an open bridge policy, a rarity these days. We decided to dine outdoors on the teak deck where Candles, one of the specialty restaurants, is set up each evening. The other, no-extra-cost specialty restaurant was Stella where we had our best meal of the cruise (extraordinary Coquille Saint Jacques and an imaginative mille-feuille). Wind Surf is not all-inclusive but, unlike most large cruise ships, there's no charge for soft drinks, bottled water or specialty coffees.
A London, England couple, Peggy and Roy Pollard, told us this was their 10th cruise, always on Wind Surf. "Back 15 years ago we never ever wanted to go on a cruise", Peggy Pollard said. "But a friend invited us aboard Wind Surf in Barbados…and we were hooked." This exclusive loyalty to a single ship is quite rate but the Pollards love the mix of guests (usually middle age and above), the excellent food, the informal, laid-back atmosphere and the great ports. "We'll be back," Roy Pollard added.
---
IF YOU GO
---
*John and Sandra Nowlan are travel and food writers based in Halifax, Nova Scotia. Their website iswww.nowtravel.ca.
Disclosure: The Nowlans were invited guests of Windstar Cruises but any opinions expressed are their own.