A Magnificent Music Museum in Bologna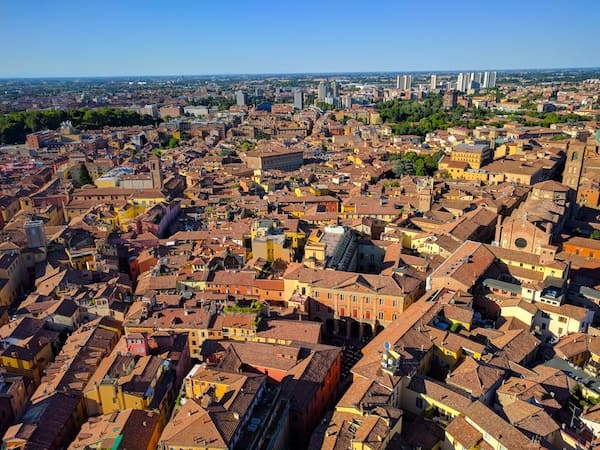 With more than 50 museums in Bologna (the capital of the Emilia Romagna region of Italy), it's easy for the casual tourist to miss out on some of these important institutions. In fact, we only learned about the International Museum and Library of Music, a hidden gem among them, on our fifth trip to the city.
Indeed, Bologna is blessed with a bounty of art, culture and scholarship: The city is known as "la dotta, la grassa e la rossa" (the learned, the fat and the red) in recognition of its historic university, exceptional cuisine, and eye-catching canopy of red rooftops.
On this trip, however, we were introduced to the city's rich musical heritage at the Music Museum.
Backstory: Bologna "The Learned"
Established in 1088, the University of Bologna (UNIBO) is the oldest, continuously operating university in the world. With 11 schools and 33 departments, it's considered the Harvard of Italy and one of the premier universities in all of Europe.
The mass of students (more than 80K undergrads and graduate students) and faculty (numbering more than 2800) bestow a unique mix of intellect and vitality to this "university town." UNIBO was the first university in Italy to establish a degree program in art, music and performing arts, which still exists.
In 2000, the EU named Bologna a European Capital of Culture and in 2006, it recognized the city as a UNESCO City of Music. The latter acknowledges Bologna's legendary contributions to classical music, opera, and dance, as well as its prominence in pop music today.
Palazzo Sanguinetti, a mansion filled with music
The Music Museum in Bologna is located in a former palace—Palazzo Sanguinetti—that dates back to the 16th century. Its décor and architecture are so interesting that the house could be a museum in its own right.
Tucked under one of the city's beautiful porticoes on busy Strada Maggiore (#34), it's easy to miss the entrance. A small plaque on the wall marks the spot. (Note: Only a few steps away at #26 is the mansion that once belonged to opera composer Gioacchino Rossini and his wife.)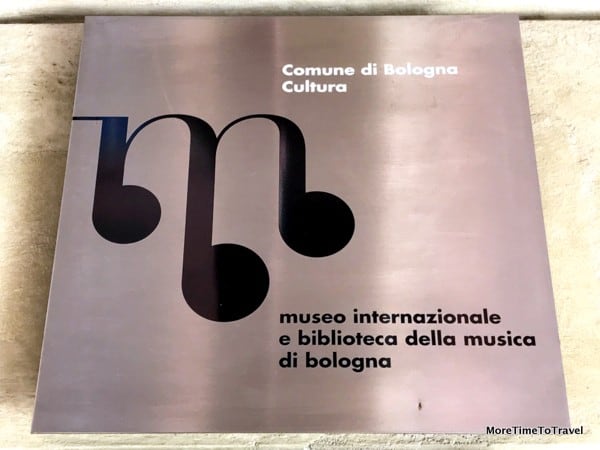 Upon entering the large double doors, the museum ticket office is to your right and an impressive interior courtyard with a trompe l'oeil architectural fresco lies before you.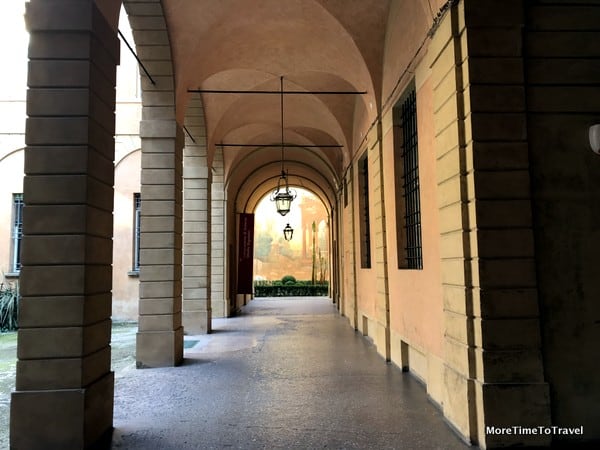 The monumental staircase with a domed ceiling leading to the second floor is simply dazzling. Once upstairs, the museum is immediately to the right and the music library to the left.
The Sanguinettis, the last family to make this their home, donated the Baroque palace to the municipality, making way for its restoration and repurposing. During that painstaking process, priceless neoclassical frescoes from the 18th and 19 were unearthed and restored, now on display.
Each room in the house was decorated in a different style (e.g., Etruscan, Egyptian, Oriental, Neo-gothic, etc.) but probably most impressive is the dining room, which is decorated with frescoed greenery that makes it feel like a mythical forest.
"The room is much like the 19th-century picnic," said Enrico Tabellini, a curator at the museum and also a musician, who served as our very knowledgeable and affable guide.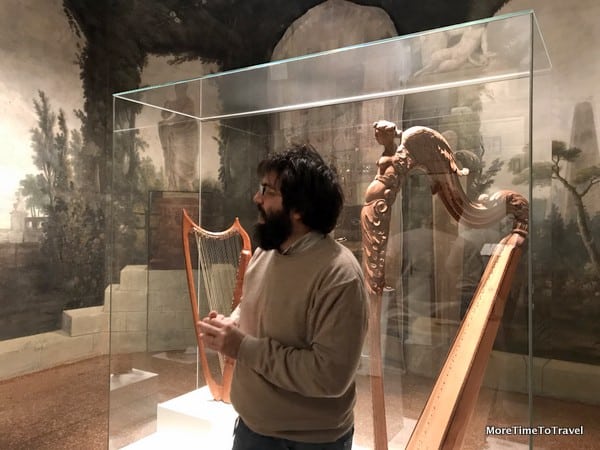 A man and his music
The story of this museum is intertwined with that of Father Martini (Padre Giovanni Battista Martini)—a simple man and Franciscan friar who was born in Bologna at the beginning of the 18th century, a man who never left the city.
Martini became an accomplished composer, musical scholar, and music teacher (whose students included Mozart and Bach).
But his real passion was to create an encyclopedia that chronicled the history of music. To that end, he handwrote personal letters around the world requesting original scores and other documents related to his project.
"He was the Google of music of the 18th century," joked Tabellini, trying to convey Father Martini's comprehensive approach.
Martini sent the requests to contacts in both the religious and secular worlds, asking them to send him "old music" (which wasn't in fashion at the time), books, and portraits of musicians. If he already had what they sent him, he would use it as barter for his next acquisition.
It was Father Martini's incredible collection that laid the foundation for this international museum and library. He was a prodigious collector: Curators were able to cull the content of more than 6000 written responses to Martini's letters to help flesh out some gaps in musical history.
Inside the museum
Although small in size, this captivating museum faithfully captures five centuries of music history.
On display, in nine rooms that flow into one another, are original musical scores (including ones signed by Wagner and Mozart), more than 80 antique instruments (including the first "perfect" keyboard), opera librettos, first edition books, fascinating personal letters and other documents, and portraits of more than 100 famous musicians represented among 319 paintings, largely in oil on canvas. The Rossini Room displays the composer's 1844 Pleyel grand piano as well as some of his personal belongings.
The rooms are divided into three sections: books, instruments and portraits, largely organized by musicians and periods. Well-lit displays are hung along the walls, set up in the center of rooms, and contained inside pullout drawers. The rooms are designed to provide perfect-pitch acoustics. The museum staff is engaging and helpful, and many are English-speaking.
The adjacent music library with more than 120,000 books and documents attracts scholars from around the world.
But you don't have to be a scholar or musician to fall in love with the Music Museum of Bologna. It offers all those who love listening to music a unique opportunity to enhance their knowledge and understanding of musical history in a storied setting.
---
IF YOU GO
Strada Maggiore 34, (located in the historic center of Bologna, Italy)
---
The Music Museum in Bologna is open Tuesday to Sunday from 10 am to 6.30 pm.
Allow two hours for your visit.
Stop at the lovely bookstore/gift shop on your way out.
After your visit to the museum, treat yourself to a pastry and espresso at I Dolci di Nonna Vincenza, also on Strada Maggiore.
---