A Viking Octantis Great Lakes Cruise: Expedition Sailing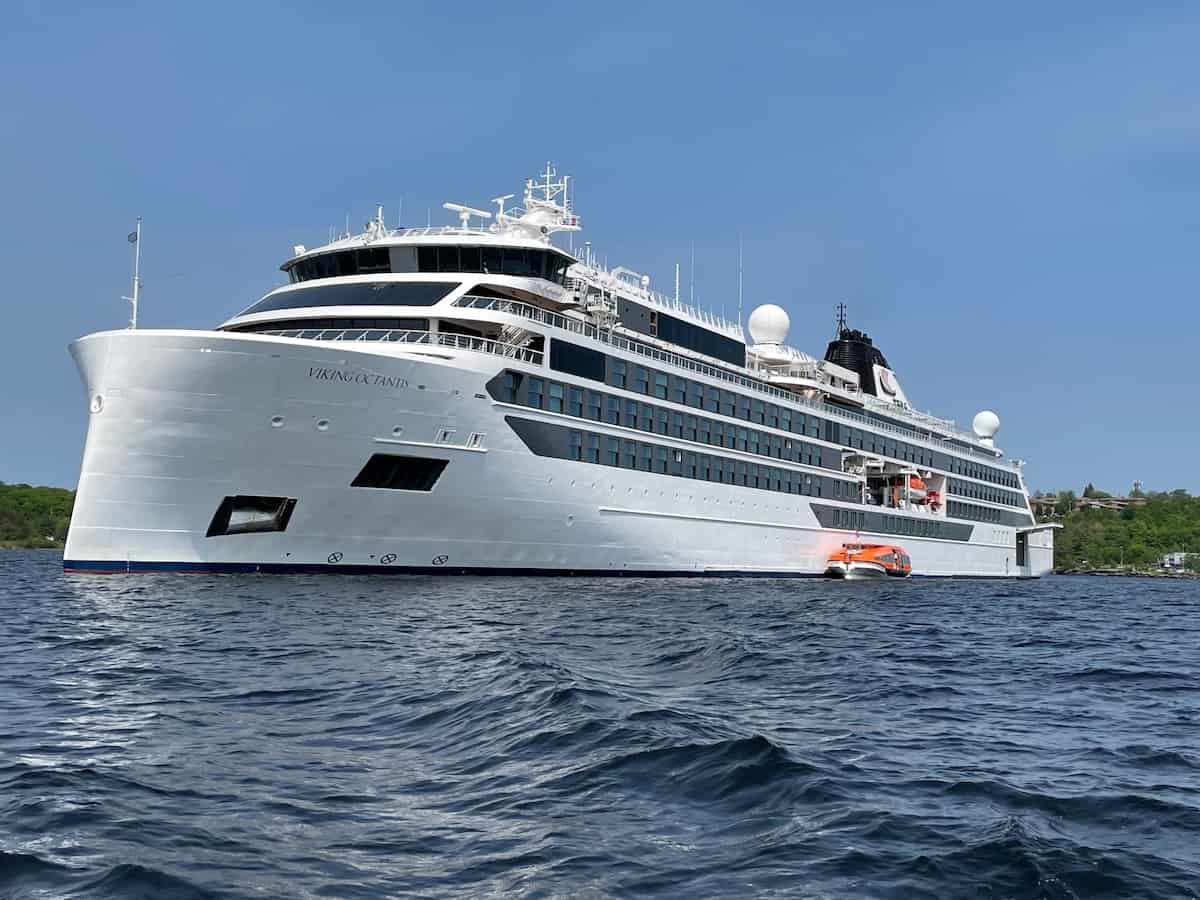 Contributors John and Sandra Nowlan share their exciting expedition cruise on The Great Lakes aboard Viking Octantis.
---
We boarded our Viking Octantis Great Lakes Cruise in Milwaukee, closer to home than most expedition cruise departures.
From the exterior, the ship doesn't look like a typical expedition ship because it combines all the elements of a luxury expedition cruise experience with unique features that make it stand apart.
Expedition ships typically store their Zodiacs outside on upper decks. On Octantis, the 17 inflatable craft are kept in a huge lower deck area called The Hangar that also houses 16 kayaks, two Special Operations Boats (comfortable, 12-passenger military-style speedboats), and two compact yellow submarines.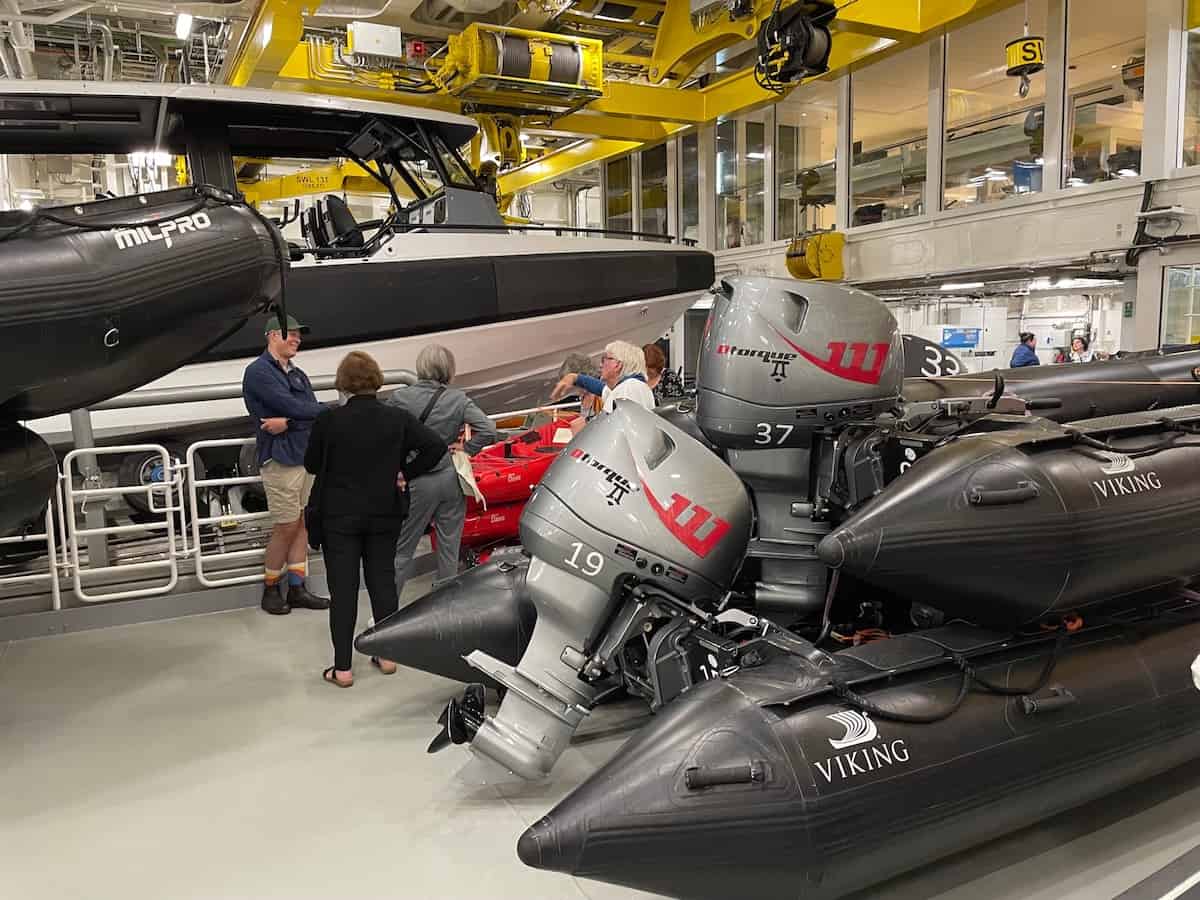 These two spherical submersibles can hold six guests in comfortable seats with 270-degree views. Quite unlike the Titan and its ill-fated Titanic dive, these two submarines (named John and Paul) rarely go more than 100 feet below the surface, although designed to handle depths of 1,000 feet. On Octantis' sister ship, Viking Polaris, the two submarines are called George and Ringo.
Viking Octantis is ice certified for polar exploration and will regularly take guests to the Arctic and Antarctic. But our cruise was an unusual and memorable expedition to some remote areas on the Great Lakes, sailing from Milwaukee, Wisconsin to Thunder Bay, Ontario.
Setting sail on our Viking Octantis Great Lakes cruise
But our Viking Octantis Great Lakes cruise began closer to home. Milwaukee, little known to cruisers, is a delightful city with our historic downtown hotel, The Pfister (dating from 1893), located close to some fine restaurants and the excellent Public Market.
Boarding the ship the next day, we were impressed by the muted and functional Scandinavian design and furnishings as well as space allocation. The ship's capacity is just 378 guests but the generous public spaces could easily handle more.
The many lounges, in particular, were stunning with cozy chairs, electric fireplaces and bookshelves stocked with fiction and non-fiction titles guests could borrow.
Our comfortable Octantis stateroom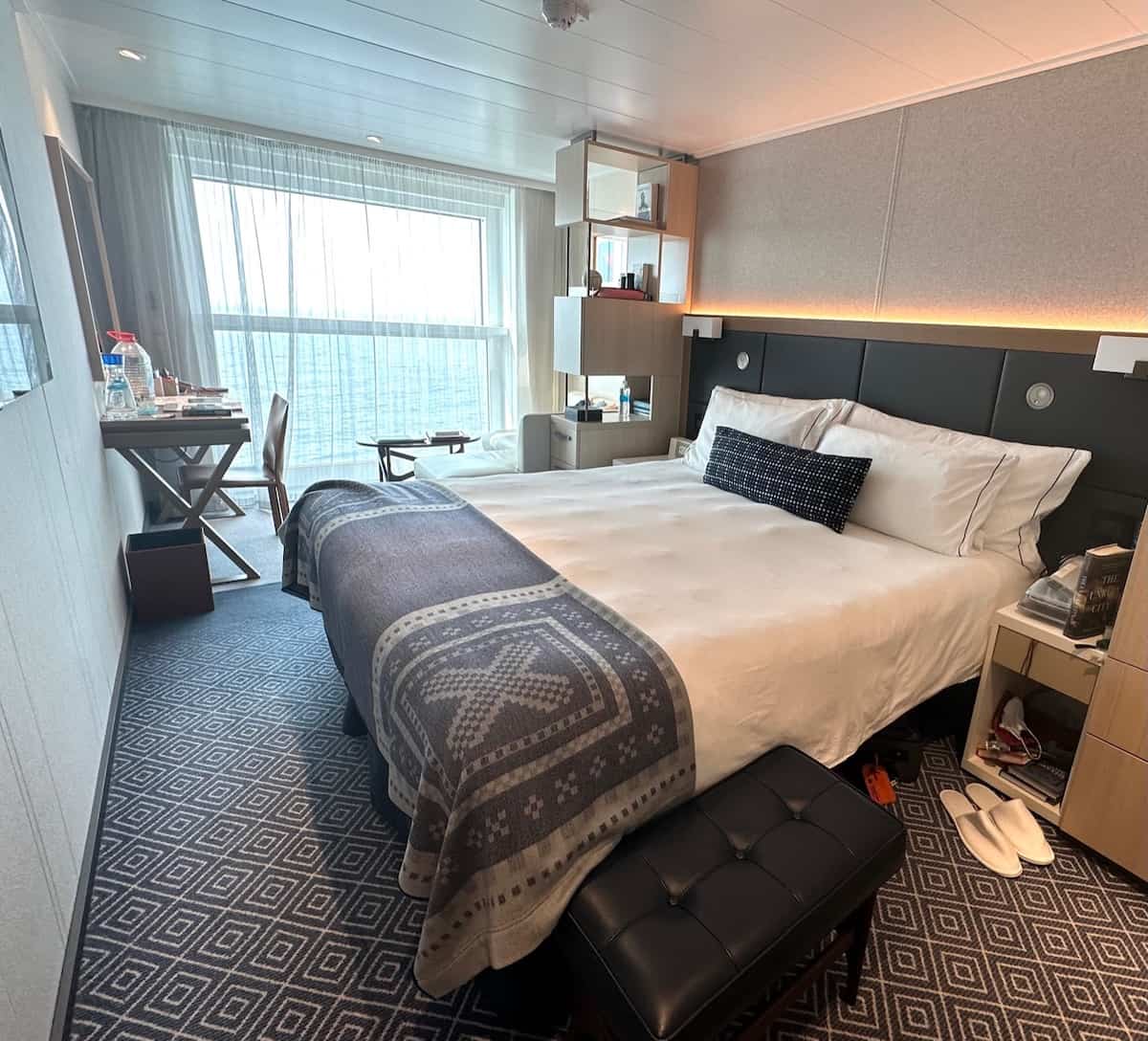 Our room was on the smallish side at 220 square feet. But it was well laid out with walk-in closets, a very comfortable bed, and a bathroom with a generous-sized shower.
Instead of a traditional balcony (often impractical in frigid polar regions) we loved the "Nordic Balcony," floor-to-ceiling windows that half lowered at the touch of a button. Fresh air, a great view and extra space!
Science and learning taking center stage on Viking
Like all expedition ships, the emphasis aboard the adult-only Viking Octantis is on science, learning and exploration.
Instead of a casino, pool games or lavish entertainment, the ship has two science labs with opportunities for hands-on experiments, plus a staff of naturalists for questions and guidance on excursions.
With the rich geology of the Canadian Shield around Georgian Bay and Lake Superior, a disappointment for us was the lack of a trained geologist to discuss the extraordinary rock formations.
But science was on full display when Octantis, one of only two commercial ships in the world to work with the U.S. Oceanic and Atmospheric Administration, released a helium weather balloon with instruments from the top deck. Data was collected as it rose almost 20 miles into the morning sky.
Indulgent onboard creature comforts
Being a Norwegian-owned ship, we expected a fine spa area and weren't disappointed. All guests had free access to the well-equipped gym, the hydrotherapy pool, heated loungers, and a covered open-air hot tub called a Badestamp.
In addition, the ship had a series of Nordic spa rooms with a sauna, steam enclosure, a multi-nozzle rain room, a water bucket room, and even a chilly snow grotto for the very brave. For an extra cost, guests could enjoy a manicure, pedicure or massage.
Fine cuisine with abundant choices
Expedition cruises build up an appetite and Viking lived up to its reputation for fine cuisine. For a relatively small ship, the choices were extraordinary.
The main dining room, called The Restaurant, and the excellent World Café buffet had similar menus each day.
But The Restaurant's fine service and white tables made it more formal. Many senior officers seemed to get their dinner at The Grill, close to the buffet, which offered nightly lobster tails and a selection of top-grade steaks at no extra cost for all guests.
Wine and beer on Viking expedition cruises are complimentary at both lunch and dinner.
Many guests loved the Italian specialties at Manfredi's or the Deck 5 sushi bar. Our favorite venue for lunch was Mamsen's, named for the mother of Viking's chairman. Her recipes for Norwegian open-faced sandwiches and decadent desserts were inspired.
The Viking Octantis Great Lakes Cruise Itinerary
Expedition cruises focus on non-traditional itineraries and Viking delivered.
The Great Lakes is a relatively new and increasingly popular region for cruising, but it's the largest area of freshwater in the world and was formed at the end of the last ice age, 10,000 years ago.
From an industrial area of Milwaukee (city officials are planning a better cruise terminal), we sailed north on Lake Michigan, then under the Mackinac Bridge, the largest suspension bridge in the western hemisphere, connecting Michigan's lower and upper peninsulas.
Mackinac Island
Our first stop was nearby Mackinac Island, a unique tourist destination with a 1780 fort, the luxurious Grand Hotel with the world's longest front porch (660 feet), 13 fudge shops, and a law banning vehicular traffic. The island is truly a step back in time as "rush hour" involves bicycles, horse-drawn carriages and riders on horseback.
Georgian Bay
From Mackinac Island, we entered Canadian waters on Lake Huron and then went on to Georgian Bay for three stops. The huge bay is sometimes called the sixth Great Lake because of its size (5800 square miles – 15,000 square kilometers).
Tours were available to hike wilderness trails or to board a Zodiac, kayak, or Special Operations Boat to explore the rugged, pristine shorelines for animal sightings or the dramatic igneous and metamorphic rock outcroppings.
On a visit to the town of Parry Sound, Ontario, and nearby Killbear Provincial Park, we were inside the UNESCO Georgian Bay Biosphere Reserve with its 30,000 islands, the world's largest freshwater archipelago.
We also visited isolated Killarney Mountain Lodge for a Great Lakes fish fry and the even more remote Okeechobee Lodge, accessible only by boat. It was once a popular holiday destination for Chicago mobsters.
Lake Superior
Leaving Georgian Bay and Lake Huron, we headed west towards Lake Superior. A cruise highlight for many Octantis guests was our entry into the Soo Locks, located between the U.S. and Canadian cities of Sault Ste. Marie. This engineering marvel, dating back to the mid-1800s, bypasses the river and rapids, joining Lake Superior to Lake Huron. Operated by the U.S. Corps of Engineers, it uses only gates and gravity to raise or lower about 10,000 ships a year, the 21 feet differential between the two lakes.
Our first stop in Lake Superior was to the tiny north shore community of Silver Islet, once the location of the world's most valuable silver mine. It's now home to Ontario cottagers who embrace solar power and live totally off the grid. The old-fashioned general store does a lively business with tourists.
Thunder Bay
It was just a short sail from Silver Islet to Thunder Bay, our final stop on an extraordinary Great Lakes adventure. This former fur trading post now has a population of about 110,000 and honors the past at Fort William Historical Park, a living museum recreating the early 1800s with costumed interpreters and a marvelous collection of birch bark canoes.
Instead of shuttling us directly to the airport as most cruise lines would do, Viking gave us an unexpected and welcome city tour, a visit to the Historical Park, a stop at dramatic Kakabeka Falls (the second highest in Ontario) and time to admire the impressive Terry Fox Memorial and Lookout.
The memorial, adjacent to the Trans-Canada Highway, marks the exact spot where cancer activist Terry Fox, with a prosthetic leg, was forced to abandon his coast to coast, cross Canada run for cancer research. Sixty countries and millions of participants now take part in the annual Terry Fox Run.
Viking stands out in the burgeoning expedition ship market
Viking has become a significant player on the global cruise scene with a fleet of 90 river, ocean and expedition ships. All share Scandinavian heritage and interior design elements.
But its two Polar Class 6 ships, Viking Octantis (named for the southern polar star) and Viking Polaris (the North Star), are truly unique and, like their names, have become stars in the fast-growing expedition cruise market.
---
All photo credits: John and Sandra Nowlan
---
Disclosure: The Nowlans were guests of Viking but any opinions expressed in this post are their own.
---
READ MORE
---
Save to Pinterest!!