Amsterdam to Nuremburg on Avalon Expression: An "Active Discovery" River Cruise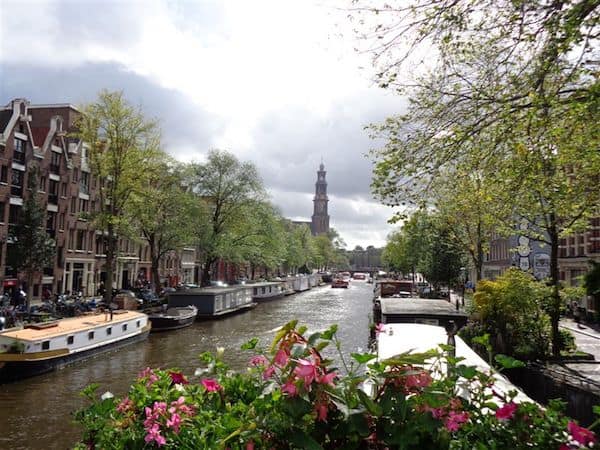 Contributors John and Sandra Nowlan take our readers on a river cruise from Amsterdam to Nuremburg on Avalon Expression, an "active discovery" cruise.
"It's all about the view."
That could be the motto for the new generation of Avalon Waterways river cruise ships. We were aboard the Avalon Expression, one of 18 vessels the Swiss company uses to sail along the Rhine, Rhone, Danube and several other picturesque waterways in Europe.
Its most interesting feature is the Panorama Suite, 200-square foot rooms spread along the two upper decks. Each suite has wall to wall and floor to ceiling windows (the "open air balcony"), the best we've ever seen on a river cruise. These unobstructed windows slide open to allow guests to lie back on the comfortable queen size bed (angled for a perfect view outside) and enjoy the river, its busy traffic and amazing sights along the banks.
Setting sail in Amsterdam
We began our cruise in the remarkable city of Amsterdam. One has to admire the Dutch for their love of bicycles. The flat terrain of the capital city is ideal for bikes and the very fit residents have embraced the two-wheeler.
One estimate claims there are more than 840,000 bikes for its 850,000 residents. That's almost four times the number of cars, with 57% of Amsterdammers using their bikes on a daily basis, rain or shine. Exclusive bike lanes are on every street and visitors have to be very careful to avoid collisions. Bicycles have the right of way!
Our gateway to the Rhine
Amsterdam, with its easy access to the magnificent Rhine River, is an ideal city from which to head into the heart of Europe. Guests usually come a day early as Avalon offers a walking tour of central Amsterdam, a canal cruise along the many waterways of "The Venice of the North" and a new venture, part of the line's "Active Discovery" initiative, art classes in a gallery that specializes in the work of Dutch master, Vincent van Gogh. After a brief lecture, our group was encouraged to take up brush and palate and create our own "masterpiece" in the van Gogh style. Great fun!
Exploring the Avalon Expression
As we began our journey up the Rhine, we marveled at the little touches that made this Avalon ship so special. Our spacious room (lots of storage space) included a small sofa, a large screen TV with many channels and movies (including a bow camera and Fireplace Channel). The marble bathroom (larger than on most river ships) had a make-up mirror, a night light, an efficient and roomy shower, and high-end L'Occitane toiletries.
There's a comfortable back lounge on the third deck with games, a small library and a high quality coffee machine available 24/7. The main lounge on Deck 2 is large enough to hold all 166 passengers comfortably for daily excursion briefings and nightly entertainment (on several nights, guest musicians – a string trio, a lively band, even a zither player – came aboard for concerts).
Food and wine
Each evening the front of the Deck 2 lounge becomes The Panorama Bistro, a complimentary alternate dining area for 24 guests that features a tapas-like tasting menu of exquisite small plates (like Smoked Salmon Wrap with Dill and Mustard Cream) accompanied by appropriate wine selections. It was a wonderful culinary experience for us but the excellent servers needed more training about the wine they served. Avalon is not totally all-inclusive (bar bills, some excursions and gratuities are extra) but the value for money is very high. At lunch and dinner, the free wine selection is excellent and there's always a complimentary excursion in each port of call.
Cuisine is a highlight with Avalon and the dining room was bright and spacious with room for all guests.
The Executive Chef told us the emphasis was on fresh, healthy local foods. As on most ships, there's a breakfast omelet station with fruit, bacon, eggs and sausage standards. The pastries were fresh (often bought in the towns we visited) and for your cereal the variety of seeds offered (flax, chia, millet, puffed quinoa & buckwheat) was remarkable.
Lunch on the ship was always buffet-style with a wide variety of choices but dinners were consistently excellent. Every day we had dishes from the region we were sailing through. The galley is small but its output is extraordinary. The meat (beef, chicken, pork) was always tender and perfectly cooked and the fish was particularly good, especially since it all had to be pre-frozen. It's rare to find that quality of seafood on ocean or river cruise ships. Vegetarian options were always available with menus and recipes coming from Michelin-starred chefs.
On the move
Our seven-day itinerary covered some of the most interesting geography in Western Europe. Sailing on the mighty Rhine (the second longest river in Central or Western Europe, after the Danube) is a study in commerce and history. Ugly industrial plants abound and there's a constant flow of low-rise ships carrying containers and commercial goods. But the ancient castles and ruined fortifications on high cliffs along both sides of the river are reminders of the might of the Roman Empire and long-dead kings. Thousands of vineyards flow upwards from the riverbanks.
We visited Cologne, Germany, the largest city on the Rhine and one that was almost totally obliterated in World War II. Reconstruction has had mixed results but a walking tour took us to the older, non-tourist Belgian section with cafes, bookstores and quirky galleries. We ended at a beer hall where, instead of big steins, the brew is served in small glasses (a Cologne tradition).
Vineyards, especially those producing Riesling, are the main focus of Rudesheim, a charming town of 10,000 along the Rhine, first settled by the Celts. A cable car took us to a marvelous overview of the town, the endless vineyards and the river far below.
Overnight we moved into the Main River (pronounced "Mine"), another major European waterway that flows through Frankfurt (we passed the city and its dazzling downtown near midnight – the panoramic windows were ideal for viewing). Early the next afternoon we arrived in Miltenberg, another storybook German town that retains its medieval charm.
The picturesque Hotel Zum Riesen (Elvis ate here) dates to 1411. The climb to Miltenberg Castle is worth it, just for the view. At the end of our walk (with another superb guide, provided by Avalon) we enjoyed a blast of local, black current schnapps and some local sausages.
In another delightful Bavarian city, Wurzburg, we had an Active Discovery climb to the Fortress Marienberg, site of a former Bronze Age refuge castle. The fortress has been the home of the powerful prince/bishops for nearly five centuries and provides a stunning view of the Main River far below.
On our last day we entered the Main-Danube Canal and docked near the medieval town of Bamberg, a UNESCO World Heritage Site.
This time we took a bike tour and loved the well-preserved buildings including the Bamberg Cathedral (founded in 1004 and consecrated in 1111) and the remarkable Rathaus (Town Hall), built in the middle of a 1455 bridge. The beer produced here (Rauchbier) is unique with the aroma of a fireplace and a dark, smoky taste.
Until next time
Our cruise from Amsterdam to Nuremburg on Avalon Expression lasted just a week. Most other guests continued along the Danube before departing in Budapest. We're usually quite happy to finish a river or ocean cruise and head home. This cruise, however, was so delightful we had a strong urge to stay for the full two weeks. Next time.
---
IF YOU GO
Avalon Waterways River Cruises
---
All photo credits: John and Sandra Nowlan. John and Sandra Nowlan are travel and food writers based in Halifax, Nova Scotia; their website iswww.nowtravel.ca.
Disclosure: The Nowlans were invited guests of Avalon Waterways but any opinions expressed are their own.
---
Previously on MoreTimeToTravel: