One Day In Strasbourg: What To See And Do
Spending just one day in Strasbourg is sure to be a tease. If Walt Disney had been asked to create a picture-perfect backdrop for a fairytale, he couldn't have conjured up anything as beautiful as the half-timbered houses and maze of narrow streets and alleys that characterize the city.
In recent years, we've visited Strasbourg, France twice, once on a Viking Rhine River Cruise and another time on a European Waterways Barge Cruise. Because the meeting point for our barge trip through Alsace was in Strasbourg, we arranged to spend several more days there before the cruise.
Still, we've only skimmed the surface of this cultured, cosmopolitan city whose historic center is so richly laden with art, architecture and culture that it's been designated a UNESCO World Heritage Site. The city is also considered one of the gastronomic capitals of France (which will be the subject of another post). Because it is the type of place that beckons you to dig deeper and learn more, we yearn to return.
Recognizing that many travelers will only have a limited chance to visit, we've cobbled together some suggestions about what to see and do (and how to make the best use of your time) if you only have one day in Strasbourg. Since everything in the historic center is so close together, you don't have to follow this itinerary in any particular order.
---
This post has been updated in July 2021 to include recent COVID-19 information and related closures.
---
A vibrant city of art, architecture and culture awaits
Perhaps because Strasbourg has changed its nationalities four times, this city has a strong regional identity–one that is purely Alsatian, a unique blend of its French and German persona. Located in northeastern France, Strasbourg is just across the river from Germany, connected by four bridges, including a footbridge for pedestrians and cyclists. Many of the street signs reflect both languages.
Home of the European Parliament, the city is vibrant and lively with university students comprising about 20 percent of its population and a growing population of immigrants from other countries. The multiethnic, more contemporary "new town" (built between 1871 and 1914) has much to offer. But one-day visitors are best advised to focus their exploration on the 2000-year-old historic center, a destination in itself.
A strategy for spending one day in Strasbourg
Unless you opt for a full-day guided tour, which could be another good option, we suggest you take advantage of the resources available through the Office de Tourisme de Strasbourg et sa région (the Strasbourg Office of Tourism) and also allow yourself time to wander and see the things that grab your attention.
1- Stop at the tourism office and purchase a Strasbourg Pass
Any visit should start with a visit to the tourism office located on the north side of the main square, Place de la Cathedrale (Cathedral Square). Here, you can pick up a Strasbourg Pass along with a map of the city.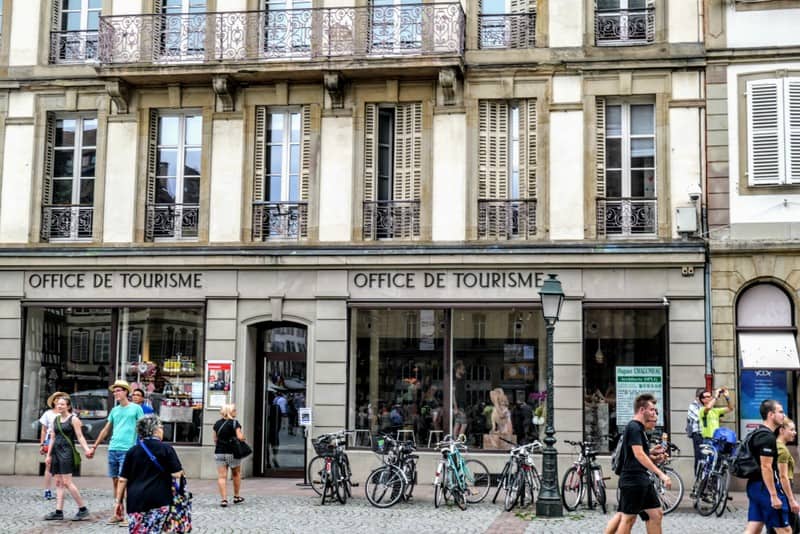 It's hard to miss the main square as its tall spire is visible from most locations in the city. The office is just across from the Strasbourg Cathedral and adjacent to office La Maison Kammerzell (The Kammerzell House), a Renaissance structure built by merchants in the 16th century. (The office has friendly, helpful English-speaking staff and a beautifully curated gift shop with Alsatian products, handicrafts and books.)
The cost of the pass is:
Although the pass is good for three consecutive days from the time of purchase, savings can be realized even if only used for a single day. The price of the pass includes 4 free offers (entry to one museum of your choice, access to the platform of the Strasbourg Cathedral, entry to see the Astrological Clock, and a guided boat tour) as well as a number of discounts including a half-price, 1-1/2 hour walking tour by a licensed guide.
2- Book a guided boat tour (which could be free)
Step out of the tourist office and turn left to book a boat tour of the city (Strasbourg en Bateau) at the Batorama office next door. Because seats on the boat fill up quickly, try to secure a timed ticket (and a map that points out what you'll be seeing) as early in the day as possible. (The office opens at 8:30 AM every morning.)
Operated by a private company in cooperation with the city, these contemporary, well-maintained boats run every day of the year. Depending on weather and wind conditions—and your preference—you can choose a tour either on a covered or open-top boat. While on board, you can listen to an audio guide in any of 12 languages.
Boats depart from a dock behind the nearby Palais Rohan, a short distance from the Cathedral. (Take note: Even if you take advantage of the free offer from Strasbourg Pass, you must still get a validated, timed ticket from Batorama before you can board.)
Strasbourg is encircled by two arms of the Ill River, a tributary of the Rhine, connected by 21 bridges and footbridges.
A scenic journey by boat enables you to view Strasbourg from a different perspective, from the surrounding waters of the Ill. You'll pass buildings with medieval and more modern architecture sitting side-by-side, pass through two locks, see some of Petite France and cruise to the outskirts of the New Town. Along the way, you'll spot the three major medieval churches and many city monuments, and have a chance to observe students, locals and tourists relaxing life along the riverbanks.
Adult boat tickets are priced at 9,90 € each; reservations can be made online and at kiosks at the dock—unless you are redeeming a free boat voucher associated with a Strasbourg Pass, which must be done in the office. The tours take a little over an hour.
3 – Visit the Strasbourg Cathedral
Construction of the Strasbourg Cathedral (Cathédrale Notre-Dame de Strasbourg) began in 1277 and continued for another four hundred years (between the 11th and 15th centuries). It rests on the foundation of an old Roman basilica. Its ornate exterior and elaborate interior make it one of the most magnificent cathedrals in Europe. Victor Hugo called it "a prodigy of the gigantic and of the delicate."
Until the 19th century, its 142-meter spire (some 465 feet tall), built in 1439, was the tallest one in the Christian world. It's intricately designed, carved pink rose sandstone exterior is so delicate that it looks like it might have been tatted in lace.
One could spend an entire day immersed in the church's interior design and history but if you are short of time and breezing through, make sure you take note of the rose window at the front, the original stained glass windows on its sides, the Gothic-style pulpit, and the suspended organ.
Another not-to-be-missed artistic and technological marvel is the astronomical clock in the south transept of the church, built by a Swiss clockmaker in 1549. Once a day at 12:30 PM (except on Sundays and public holidays), the perpetual calendar turns into a show with different figures representing the ages of life, from child to old man, rotating in front of Death. In addition, there is a procession of the 12 apostles as they pass before Christ.
As mentioned previously, access is free with the Strasbourg Pass; if you haven't purchased a pass, you can purchase a ticket to view the clock for 2 € (available at the nearby postcard stand). Be sure to arrive by noon to get a good view as the one-of-a-kind clock that attracts visitors from around the globe. According to legend, after the clock was built, someone gouged out the eyes of the clockmaker so he could never duplicate this unique curiosity.
If time and mobility permit, the best place to get a 360-view of the entire city with dramatic views of the Rhine is to ascend the 329-steps to the church observation deck.
4- Take a stroll through La Place Gutenberg (Gutenberg Square)
Gutenberg Square, once the center of the city's social and political life, is a stone's throw away from the church if you walk along Rue Mercière. The old buildings along the way are now filled with souvenir shops and eateries.
The statue of Johannes Gutenberg, the square's namesake, sits in the center beside a beautiful antique carousel. Born in Mainz, Germany (another city on the Rhine), Gutenberg, the inventor of moveable type, lived in Strasbourg for ten years from 1434-1444. The square is anchored by the Neue Bau. Once the city hall, this well-preserved Renaissance building now houses the city's Chamber of Commerce and Industry.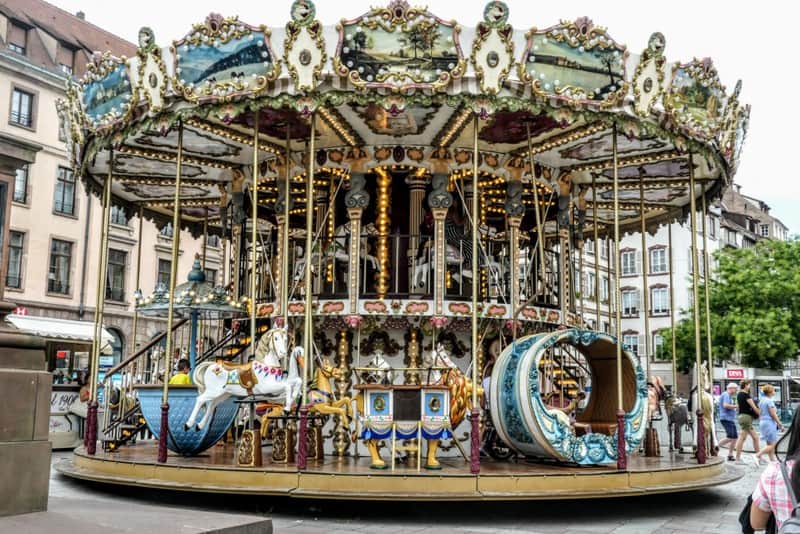 5 – Wander through La Petite France
Located on the west side of the Grand Ill and surrounded by four canals, La Petite France is undoubtedly the most charming and picturesque section of the city. The half-timbered buildings that were once inhabited by tanners, fisherman and millers date back to the 16th and 17th century.
Be sure not to miss a peek at the Tanners House (Maison des Tanneurs), a former tannery that was built in 1572. The characteristic tanner houses have sloping roofs with open galleries that were once used to dry animal skins. Above the ground floor, each building has two half-timbered floors.
Interior streets are filled with cafes and shops; colorful, oversized flowering plants hang over the bridges and balconies of buildings overlooking the canals. This area of the city got the name "Little France" from the time when soldiers who acquired syphilis in the late 15th century were sent to the hospice located here.
6- Stop for a bite of Alsatian food
No doubt, you'll get hungry at some point in your itinerary. If you want a full Alsatian-style lunch with heft, make a stop at Maison des Tanneurs, the historic building mentioned above that houses a restaurant, open for lunch between 12 and 2 PM daily. Ask for a table on the terrace upstairs overlooking the canal. The same family has run this restaurant since 1956.
If you prefer a lighter snack, stop at one of the numerous cafes that offer Tarte Flambées (in German, called flammekueche). Much like pizza, toppings (usually cheese, onion and strips of bacon) are placed on rolled out dough in square or round shapes that are baked in a wood-fired oven.
A few other options
Depending on your pace and how many times you stop to take photos of one of the most beautiful cities in France, you may have time to pack more into your day. Here are a few more options:
Visit one of the more than 10 museums in the city
Soak in the views from the top of the covered bridge near the Museum of Modern and Contemporary Art
Stroll along the banks of the River Ill
Take a short ride on the tourist tram that leaves from the Cathedral square every 40 minutes between April and mid-November
Whatever you do, you'll be charmed and impressed by the stunning city that embraces visitors.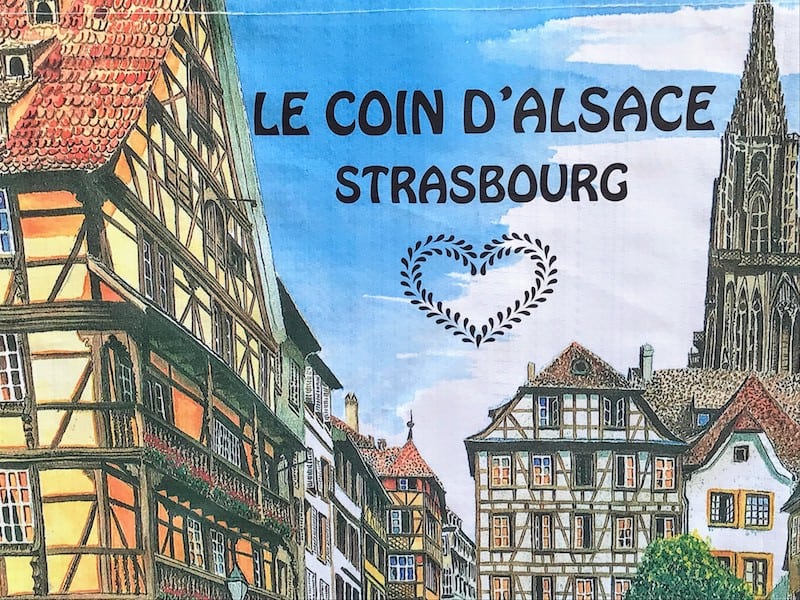 ---
IF YOU GO
For more information:
If you opt for a pre- or post-cruise stay, check out Regent Petite France, a boutique luxury hotel in a half-timbered building with incredible views of the Ill river, located in the historic Petite France section of Strasbourg.
---
July 2021 Strasbourg COVID-19 Update
Effective July 21, 2012, France has implemented a health pass requirement(proof that someone doesn't have COVID) to access all places of leisure and culture with more than 50 people. By early August the requirement will be expanded to include: cafes, restaurants, shopping centers, hospitals, retirement homes, medico-social establishments—and travel by plane, train and coach for long-distance journeys.
The Strasbourg Pass isn't being sold during the summer of 2021 but is expected to go on sale again on September 1, 2021. However, admission to all museums overseen by the City of Strasbourg will be free until August 31st.
Although guided boat tours resumed last May (post-COVID), as of today, the Batorama office is closed due to recent floods.
---
Previously on More Time To Travel:
---
All photo credits: Jerome Levine
---
SAVE TO PINTEREST!
---