5 Luxury Resorts in Saint Lucia Offer Romance and Relaxation
Guest contributors John and Sandra Nowlan are dazzled by the charms

of five luxury resorts in Saint Lucia.
Saint Lucia, the delightful southern Caribbean island in the Windward Island chain, is a popular cruise ship stop. Visitors with only a few hours can tour the steaming, bubbling drive-in volcano and view the steep and sharply pointed twin seaside mountains called the Pitons. But the former French, then British, colony is much more rewarding on a longer visit.
Over four days, we visited five luxury resorts in Saint Lucia: We stayed at two unique, couples-only romantic resorts, toured three others and enjoyed some of the best cuisine in the Caribbean.
Rendezvous Resort: Luxury without television
Our first stop after a non-stop flight was at the all-inclusive Rendezvous Resort, on the west coast just north of the St. Lucia capital, Castries. This locally owned boutique hotel recently celebrated its 50th anniversary but has kept its charm and high level of service. Best of all is its location on Malabar Beach, a two-mile stretch of pristine Caribbean sand, with seaside cottages and low-rise buildings spread among a well-maintained tropical setting. There are three pools and an excellent spa.
The 100 rooms at the Rendezvous are all clean, spacious and well equipped – except there's no television. The General Manager, Yhasmine Remy-Hylton, told us that the resort wanted guests to be free of everyday distractions. "We want couples to feel human again," she said. "We want them to feel special, to reconnect, to dance together, to learn to cook together, to have a couples massage."
There's excellent wi-fi in all the suites but the dining rooms and most public areas are not internet friendly. "Too many couples spend their dinner time on their iPhones and iPads," Yhasmine said. "We want to encourage conversation and togetherness." The concept seemed to work because we saw couples chatting together, swimming together or enjoying champagne together in the nightly tasting room or on the beach at sunset with saxophone accompaniment.
Togetherness was also the theme at our second accommodation, the Ladera Resort near St. Lucia's original capital, Soufriere. The resort is situated in a spectacular setting, high on a ridge between the two Pitons. The 37 suites all face the twin mountains (a UNESCO World Heritage site) and the open sea. But each has just three walls with one side wide open allowing a unique bonding with nature. The huge rooms and bathrooms (the shower was big enough to hold five) include mosquito netting around the king size bed and locally made furniture, beautifully carved. Every suite has a private plunge pool, particularly enchanting at night when it's totally dark and you can gaze up at the carpet of brilliant stars.
Ladera Resort: A philosophy of connection
For its 74 guests, Ladera Resort has a staff of 135 to look after every need, an extraordinary ratio for a hotel. Like the Rendezvous, the Ladera guest philosophy promotes connecting or reconnecting. Television is not needed. "It's all about you and your partner," we were told. "Enjoy the view, relax and we'll take care of all your needs."
Those needs include Dasheene, a fine open-air dining room with local specialties including very fresh fish. On one morning we ordered room service breakfast, a wonderful way to watch the sunrise illuminate those amazing St.Lucia twin peaks.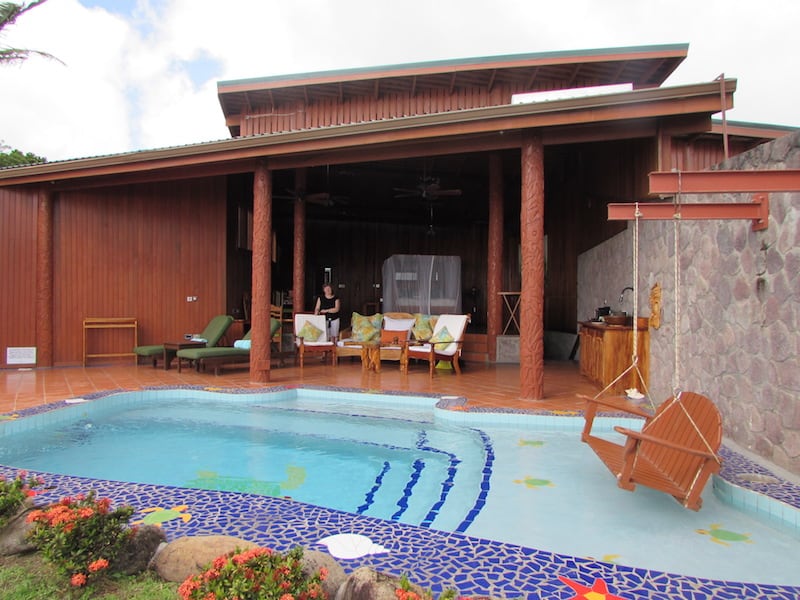 Three more luxury resorts in Saint Lucia
We were curious about other island accommodations so we visited three interesting properties. Near Castries in the north, the Marigot Bay Resort and Marina features 124 family-friendly rooms built along a hill overlooking one of the most idyllic harbours in the Caribbean. Many high-end yachts tie up here for shelter or to enjoy life on Saint Lucia. Movie fans may remember that Doctor Doolittle, starring Rex Harrison, was filmed in and around the bay. The Hurricane Hole restaurant was an ideal spot for a seafood lunch.
Boucan by Hotel Chocolat, built close to the Ladera resort and with good views of the Pitons, is on the site of a cocoa plantation. Before an excellent lunch, a chocolate expert showed us how to grind cocoa beans into a paste, add cocoa butter and sugar and then grind some more. The result is a smooth liquid we poured into moulds, then cooled. After lunch, we were presented with our own homemade chocolate bars.
Our final hotel tour took us along a very bumpy road to a futuristic looking resort, the Canadian-owned Jade Mountain. Built high on a hill, it offers stunning views of the Caribbean Sea and the twin Pitons from just 29 suites (they're called "sanctuaries"), all of which have the open-air concept and private infinity pools. Guests have the option of arriving by helicopter.
The top rooms, at 2000 square feet, command $US 3,000 a night. A great resort usually offers great cuisine and Jade Mountain's kitchen is overseen by James Beard award winner, Chef Allen Susser. We enjoyed an extraordinary dinner including fresh seafood, duck breast with foie gras and Mango Baked Alaska. Vegetables and spices came from the resort's organic farm. Dinner was accompanied by a perfect bottle of wine selected by the resident sommelier.
And a bottle of rum…
Before we left the island we wanted to check out its famous rum so a visit to the Saint Lucia Distillers was in order. The small distillery produces 25 different varieties of rum and rum products, including an innovative peanut product called Nutz'n Rum. After a tasting, we decided to purchase a bottle of the Chairman's Reserve Spiced (with added cinnamon, vanilla, nutmeg, clove and bitter orange). On cold winter nights, it will be perfect to toast and recollect our memories of the Caribbean and Saint Lucia.
---
IF YOU GO
---
*Guest contributors John and Sandra Nowlan are travel and food writers based in Halifax, Nova Scotia.
---
All photo credits: John and Sandra Nowlan
---
Disclosure: John and Sandra Nowlan's visit was hosted by the Saint Lucia Tourism Board but any opinions expressed in this post are their own.
---