Sakagura: Subterranean Sake and Food in a Secret NYC Location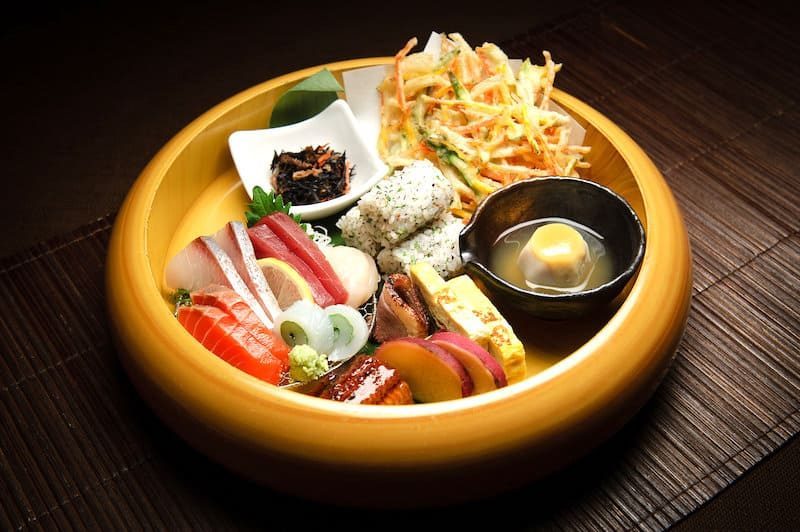 The entrance signage to Sakagura sake bar in NYC is easy to miss. It's hidden under inelegant scaffolding, a vestige of ongoing (or perhaps, stagnant) construction that seems to be ubiquitous in New York City.
Just a warning: To get to this place, you really need to know where you're going.
Adding to the air of mystery—this eatery isn't even on the ground level: It's situated in the bowels of a nondescript office building at 211 East 43 Street (between Second and Third Avenues). Even the restaurant icon on Google Maps captions Sakagura as a "Japanese eatery in a semi-secret setting."
At noontime, businessmen move in and out of the elevators leading to offices above. Although the building opened in 1928, the updated lobby looks minimalist and modern. A visitor would have no reason to suspect what's down below.
How we got to the Sakagura sake bar in New York City
A journalist friend from Brooklyn suggested that Sakagura was a convenient place for me and another friend from Westchester to meet her for lunch.
She was right. Sakagura is located in Midtown East, only a short walk from Grand Central Station and the Chrysler Building. Although the area bustles with pedestrians, I wouldn't imagine that this restaurant would get many "walk-ins."
Not only does someone have to tell you it's there but you also need to snag a reservation, well in advance.
Once we found the address, we double-checked inside to ensure we were in the right place. The guard nodded and signaled us in the direction of a stairwell at the rear side of the lobby that honestly, looked like a fire evacuation route.
We descended down a passage with whitewashed concrete block walls and realized we were at our destination when we saw two stacked sake barrels by the door.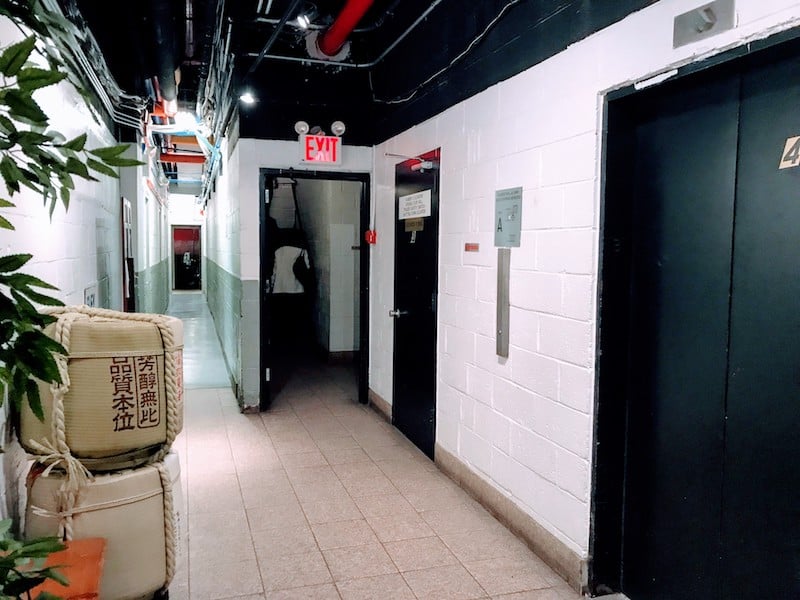 After being greeted by the hostess, we had the same sense you feel when you get off an airplane in a foreign country with only a minimal grasp of the language and culture.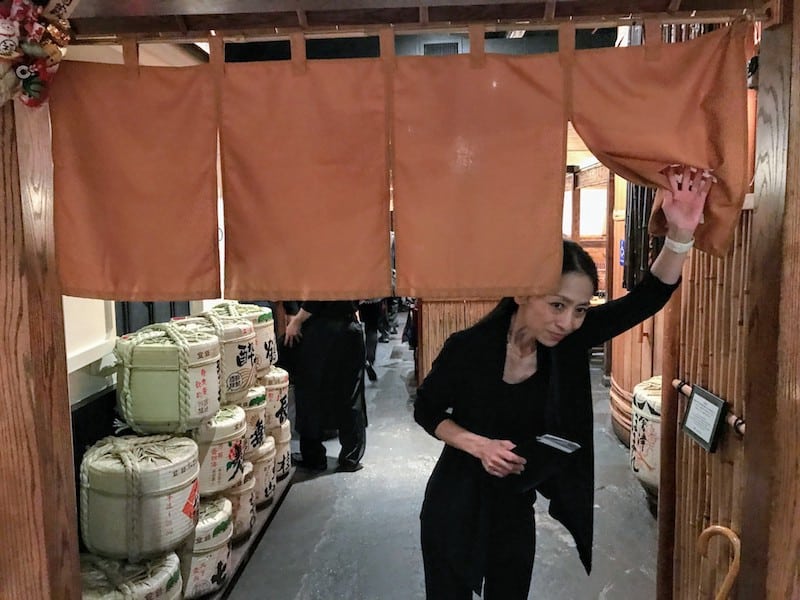 The cavernous dining room displays an expansive wall of sake bottles over the bar. Sakagura is considered one of the best sake bars in the U.S. At lunch, the room was packed with diners, most of them Asian, with tables separated by a combination of booths and bamboo dividers. Faux window displays cover the windowless walls at the rear of the room.
On a recent local news program recounting the history of Sakagura (which motivated me to write about my past visits), the eatery owner said that he selected the site before its 1996 opening for two reasons: its low rent and the setting's similarity to sake bars in Japan.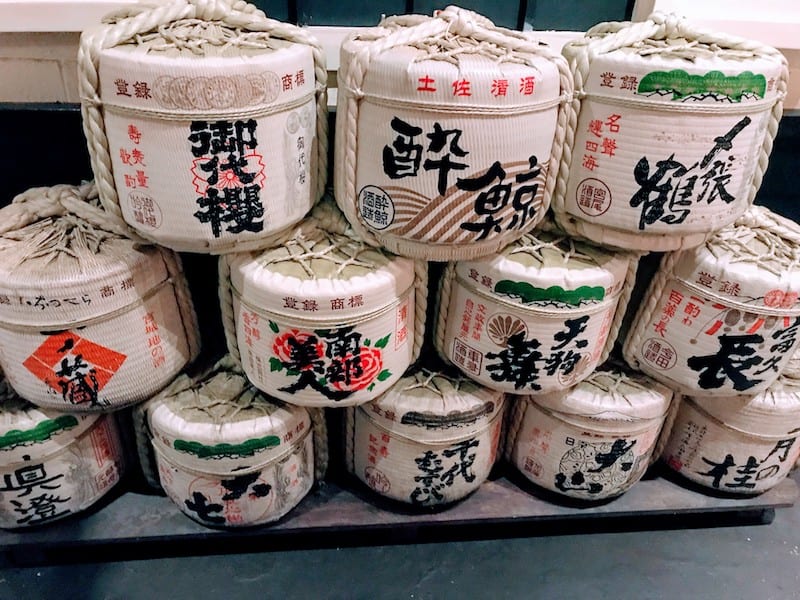 Food and wine at Sakagura Sake Bar in NYC
I returned a second time to meet another friend who was visiting New York from Victoria, BC., which allowed me to sample both the lunch and dinner menus.
At lunch on weekdays, diners can opt for the "special" (which varies daily) served with hot or cold homemade buckwheat soba noodles. In addition, there is an extensive a la carte menu of appetizers, noodle dishes and Donburi bowls. You can see the Sakagura lunch menu here.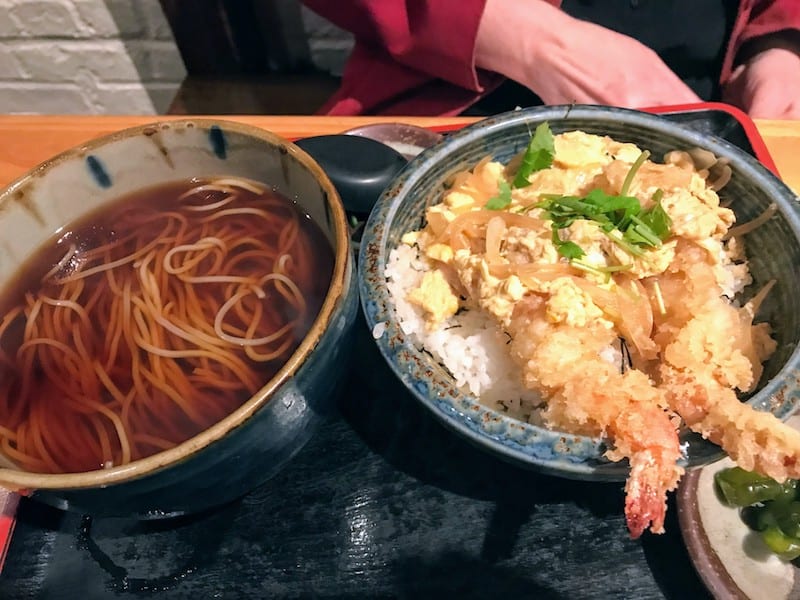 The dinner menu at Sakagura is more extensive with tapas-style servings of appetizers, sashimi, steamed dishes, fried dishes, and rice and noodles. Portions are on the small size, perfect for tasting but not all of them are large enough to share.
I found the dinner menu a bit more daunting than lunch because of the wide array of dishes, many of which were new to me.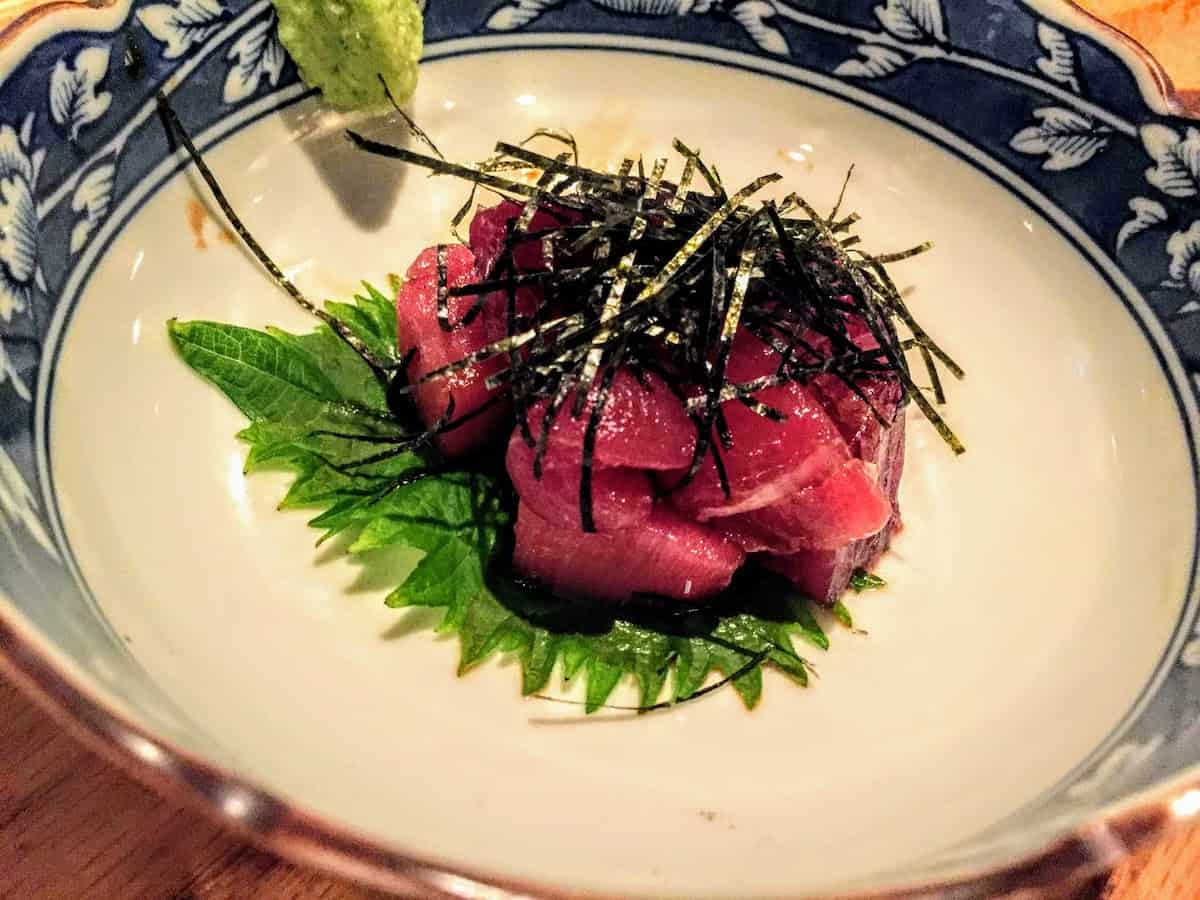 Sakagura is best known for its sake bar, the largest one in NYC. More than 200 varieties are available here, chilled, heated or at room temperature, with alcoholic content that can be as high as 18%. Although I can't read characters, I was told that the sake is organized by region (the popular rice wine is Japan's national drink).
Given our collective naiveté (at both meals) we had to depend on the recommendations of our server who asked what type of taste experience we wanted to achieve.
An izakaya-type eatery hidden in Midtown
This is not your typical Japanese restaurant or a sushi bar, per se. Rather, Sakagura is characteristic of a unique type of eatery popular in Japan, called an izakaya. With some similarity to pubs in Ireland, people would traditionally gather at these informal places after work to enjoy sake and beer. The first ones were without seating but later on, many added stools (in the form of sake barrels) and began introducing foods.
Bottom Line:
The menu at Sakagura is unique as is the setting; the dishes we had were tasty and creative. If you have to choose one meal or another, both the service and prices were better at lunch.
With tasty, high-quality food served in an authentic décor and setting (albeit unconventional), Sakagura may be the next best thing to visiting Japan for a New Yorker or a visitor to the city. It's certainly the most impressive sake bar in NYC.
If you're anything like me, after your visit, you'll want to share the secret with someone else.
---
COVID-19 Information
Since the reopening, Sakagura operates with enhanced MERV 13 air filtration, UVC-light, and purification standards. There is no outdoor seating.
---
All photo credits (except lede photo): Irene and Jerome Levine
---
IF YOU GO
211 East 43rd St. Basement floor, New York City 10017, 1-212-953-7253 or on Resy.
Tips:
Reservations should be made well in advance and can be made by phone: (212) 953-7253 or on Resy. Lunch hours are Monday-Friday starting at 11:45 AM. The restaurant is closed on Sundays and only open for dinner on Saturdays. Dinner starts at 5 PM, with the last seating at 10 PM.
The restaurant does not offer takeout.
If you are a sake lover, this will be an incredibly memorable experience.
The restaurant's location within walking distance from Grand Central Station is convenient for anyone arriving by Metro-North Railroad and for those arriving by subway. Yes, it's a great meeting place.
If you are staying downtown, Sakagura recently added a second East Village location on East 9th Street.
Arrive on time. The restaurant will text you several reminders to be on time. If not, you risk losing your table. "I got lost" isn't a good excuse.
Be sure to check out the restrooms; they are shaped like giant sake barrels.
---
Save to Pinterest!