A visit to the Abbey Resort in Lake Geneva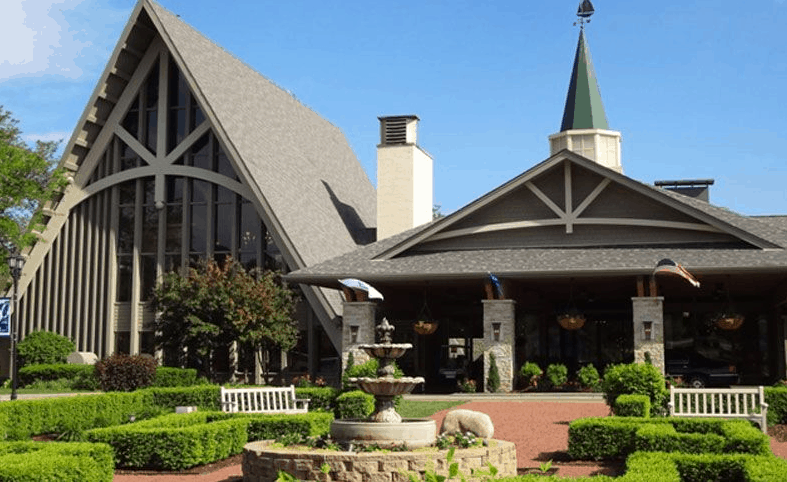 Guest blogger Laura Levsky and her husband return to their honeymoon spot, The Abbey Resort, to celebrate a milestone anniversary.
My husband Phil and I both knew we wanted to do something special for our 30th anniversary. We tossed around a few ideas but kept coming back to the idea of returning to The Abbey Resort at Lake Geneva in Fontana, Wisconsin. The place where we honeymooned has always been a magical place for us and although we had been back a few times since, it felt like another visit was long overdue.
Opened in 1963 as the Midwest's largest resort, it has been the vacation choice of many famous people, including former President Ronald Reagan and Chicago Bears Super Bowl winning head coach, Mike Ditka. The resort has been upgraded and expanded so it's fresh and contemporary but it still retains its traditional, country estate-like feel.
Our stay
The rooms have all the special touches of a full-service resort; robes, slippers, nice toiletries, a silver ice bucket, and a mini fridge and microwave hidden in a furniture-style cabinet. Our room in Building 7 was spacious and comfortable, with a king-sized bed, sitting area with love seat and coffee table, and work area with a desk. The large bathroom had a double sink and an oversized shower. Phil and I are both addicted to our smart phones so we were glad that the resort had free Wi-Fi throughout.
Friday night, we had dinner in the Waterfront Cafe, a casual restaurant and bar with an outdoor seating area for warmer weather. After starting with a cup of a delicious cream of mushroom soup, we shared a burger and crab cakes with a bottle of J.J. Muller Riesling white wine. Afterwards, we walked around and re-familiarized ourselves with the resort. The lobby was beautifully decorated for the holidays and we could hear the live entertainment from the Bar West lounge.
The Avani Spa includes a workout area and adult-only pool, along with a range of spa treatments. We have used the spa in the past for massages, facials and pedicures.
What's nearby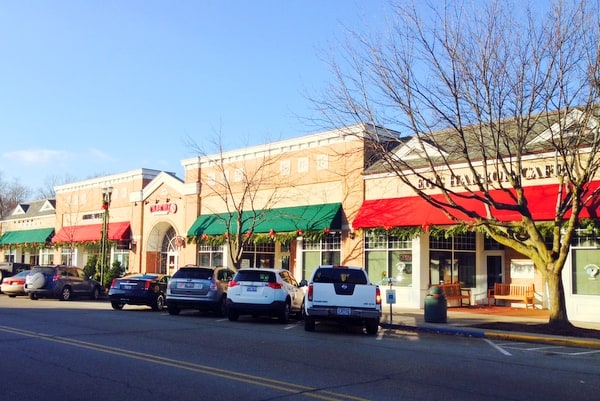 Saturday afternoon we drove into Lake Geneva to visit the quaint downtown, located about 10 miles from the resort. It was exciting to see the Fancy Fair Mall still there. In 1984, I had bought a then-sought-after Cabbage Patch doll at a gift store there. It is one of a few "mini malls" in the downtown area that house several stores with common seating areas suitable for coffee or a snack. Another interesting mall nearby is the Geneva Village Shops, housed in a former church that still retains its original stained glass windows.
Because we love to support a good cause, we popped into the Church of the Holy Communion across the street for their Christmas cookie sale. The nice woman who led us into the church gave us an impromptu tour, noting that the church had been around since the 1800s. At the cookie sale in the basement, we were given a bakery box and a plastic glove to select cookies and chose a nice assortment, including some large gingerbread men, which I knew my daughter would enjoy, as she was expected home from college the following week.
Winding down
After walking around Downtown Lake Geneva, we headed back. Phil had made a dinner reservation in the new 240 West restaurant, a recent addition to the resort that opened last May. It's named after its compass point on Lake Geneva. Consistent with property's 5-star service, it did not disappoint; the setting was elegant yet casual.
We chose the prime rib buffet, an amazing value at $30.95 (Wisconsin prices tend to run lower than those in the Chicago area, always a nice surprise.) Not only was the meat absolutely delicious, the buffet had a full range of seafood offerings including crab legs (both steamed and chilled), oysters on the half shell, a hot fish entrée, pasta, salads, and desserts. A "Kid Choice" item was also on the menu. Being a kid at heart, I had to check out the mini pizza bagel.
Our waitress Janet was wonderful, and since we were coming back for brunch Sunday morning, we arranged to be seated in her section again. A great value at $27.95 per person, the extensive menu included prime rib, an omelet station, waffles with all the fixings, many other hot items, desserts, and mimosas.
We requested a late 1PM checkout on Sunday morning and took the scenic route home with a stop at The Brat Stop in Kenosha, Wisconsin. The legendary eatery is located just north of the Illinois/Wisconsin border at I-94 and Highway 50. Once only 1200 square feet large, the restaurant has expanded to 46,000 having added a stage for live performances, a cheese mart and gift shop, and a formal banquet facility that can accommodate up to 600 guests. I had a foot-long hotdog with fries, and Phil had a brat with fries. Not health food but it tasted good! After lunch and some football viewing on the large screen TVs, we browsed the cheese mart and headed home.
It was a great weekend and so nice to visit Wisconsin, a state I truly love! The weekend, only two hours from Chicago, met all our expectations for celebrating the past and looking forward to the future.
---
IF YOU GO
The Abbey Resort, 269 Fontana Boulevard, Fontana, Wisconsin 53125
---
About Laura
Laura S. Levsky, MBA lives in suburban Chicago with her husband of 30 years and two college age children. She spends her days working in the education department at an international professional association. Laura has a financial background and, in a past life, managed an accounting department at a large insurance company.