Five spa and wellness trends—to whet your appetite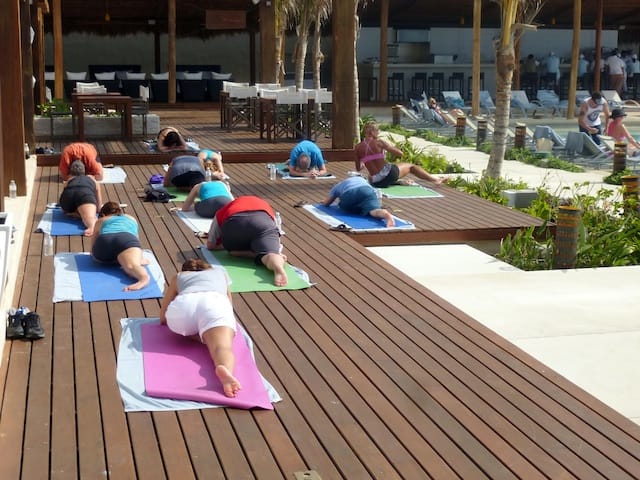 A vacation. A wellness holiday. An escape.
A luxury getaway, sanity booster, indulgence, detox, weight loss opportunity.
Call it what you will. Spa and wellness vacations are a reason to get away and nourish the depths of your inner healthy soul. (And even if you don't think you have an inner health soul, a visit to a spa will most certainly make it emerge. Trust me.)
As a health, spa and wellness writer, I've had the pleasure of visiting and writing about many top spas in the past few years, among them Canyon Ranch and Miraval in Arizona, Pritikin Longevity Center in Florida, The Golden Door in California, Red Mountain Resort in Utah, and Green Mountain at Fox Run in Vermont.
I begin each trip with a mixture of excitement (I love spas, in case you haven't figured that out!), trepidation (while exciting, new experiences, at first, also tend to intimidate me), curiosity (each time I visit a new place, what will I find?) an open mind (I know there will always be new information to learn), and a mixture of enthusiasm and energy (I can't wait to see what's in store for me…I want to try everything!).
And at the end of each trip, my body as well as my mind has been challenged, nourished, altered, stretched and cared for in a way that I find impossible to match until I return to my next venture in spa-ness.
In 2014 and forward, I hope to continue to discover new ways to feed my body and my soul.
What's trending for spas in 2014? A search around the web has uncovered bunch of exciting spa and wellness trends that are whetting my appetite in a big way:
1) Personalized wellness
Rather than fixed packages, spas are taking a more personalized and tailored approach to wellness, with individual clients' needs in mind.
Many spas will, in advance of your visit, phone you or send you a questionnaire to ascertain what you are seeking from your visit. A spa coordinator will then be able to customize and personalize a specific program based on your goals, preferences, interests, expectations and fitness level, for example, to suit your specific needs.
2) Stress reduction techniques
It's not all about the body; the mind counts in a big way (stress, an epidemic affliction, can wreak danger to the body). Meditation, Qi Gong, yoga and life coaches help to teach clients new and innovative ways to manage stress. Words like happiness and mindfulness are key here. Approximately one in five spas now offers specialized meditation or mindfulness training.
I can't wait for my upcoming visit to Miraval (yes, I return again!) to take part in their Equine Experience, conceived by author and psychotherapist Wyatt Webb. It's a unique way to uncover profound insight into communication within our human relationships by working alongside horses, who have powerful skills in reading the energy of people around them.
And beginning in 2014, due to increasing interest from guests and realizing the importance and popularity of services beyond fitness and beauty, Canyon Ranch will launch a new initiative which will not only expand their programs but also their facilities to accommodate rising demand for more spiritual and creative arts offerings.
3) Fitness
Count on spas to bring new fitness trends before you see them – if you do at all – at your local gyms: underwater cycling, surfboard yoga, battle rope training, Thai boxing, trampoline and aerial workouts are out there to challenge your personal best. Some hotels include yoga mats and exercise DVDs in guest rooms, while others come equipped with treadmills or stationary bikes so you don't have to leave your room to get fit.
4) Treatments and classes al fresco
If the weather outside is beautiful, it's tough to be stuck inside. More spas are taking their fitness classes and treatments outdoors – poolside, on the beach or in the forest. Getting in touch with nature can be a healing experience in and of itself. Golden Door Spa has a bounty of daily outdoor hikes, held early enough to catch a spectacular sunrise, and evening walks under the stars.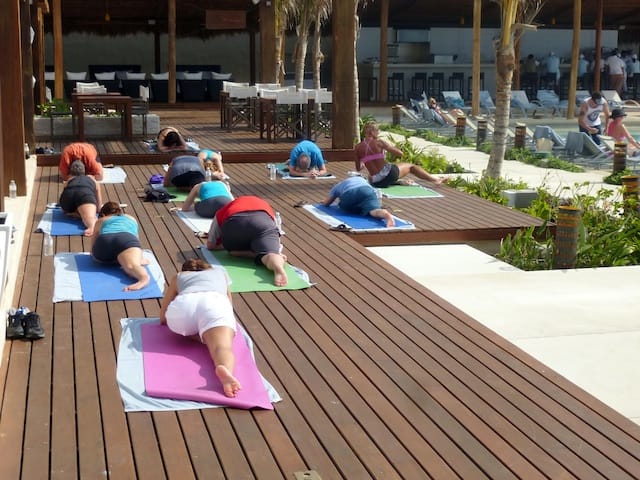 5) Healthy hotels
Is it a hotel disguised as a spa? Or the other way around? Well, neither. But hotels are realizing that many travelers want healthy food, superior exercise facilities and programs that can help them sleep more comfortably/better. In fact, spas have become a "luxury essential," says JoAnn Kurtz-Ahlers of marketing concultants Kurtz-Ahlers and Associates, much like having a cushy robe in the room.
And according to SpaFinder Wellness 2013 Trend Report, health-focused travelers now represent 40% of the travel segment. Chicago's Kimpton Hotel Palomar is recognizing this by offering rooftop yoga classes. And the Intercontinental Hotel Group plans to expand their new "all-wellness" brand EVEN in New York City and in 100 additional properties during its first five years, focusing on healthy living.
How's this for incentive? SpaFinder Wellness reports that San Diego's Hotel Palomar gives you 50 percent off your next room if you show them you've taken 10,000 steps on the pedometer.
---
About the author:
Sheryl Kraft writes about health, nutrition, fitness, lifestyle and healthy travel for a variety of major magazines,websites and blogs. She is the contributing spa writer for More Time to Travel and also blogs at My So-Called Midlife and is a regular contributor to HealthyWomen.org/ You can follow her on Twitter @SherylKraft.