Travel as a family affair: An interview with Andy Steves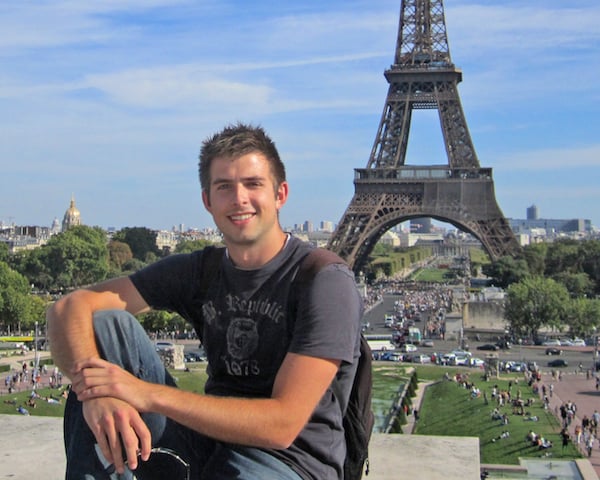 An interview with travel author and entrepreneur Andy Steves and an opportunity to win a copy of his new book.

Congratulations to the contest winner, Suzanne K!
Any travel enthusiast is bound to recognize the last name Steves. Author and television personality Rick Steves is well known for his insightful guidebooks, TV shows, and syndicated columns. Through his work he has shared his passion for travel with untold numbers of Americans, introducing us to Europe off the beaten track before it was trendy to "go local."
His son Andy was at his father's side as Rick researched new tours. In fact, Andy Steves says he "cut his teeth" on family trips to Europe each year. Now the son has picked up the torch from his father, developing a tour company and writing his own travel guide with trips and tricks he's learned.
Andy's new book, Andy Steves' Europe: City-Hopping on a Budget (Avalon Travel, 2016), is written primarily for students, millennials and other young travelers—but the information between the covers will be appreciated by budget-conscious travelers of any age. After all, isn't every traveler concerned about cost regardless of their travel style?
---
---
More Time To Travel was delighted to chat with Andy Steves via email:
1) What was it like growing up in your family?
My sister and I were born into a family that travels a lot. Growing up that way tends to normalize it; we've never known anything else. Traveling with Rick Steves, however, is an intense experience: He cuts no one any slack, including his family. You better have long legs to match his stride. We were expected to keep up, carry our own bags, and bring a positive attitude. Whether we did it or not sometimes was a different story. But I appreciate the responsibility our family placed on us because it has led me to where I am today.
We'd go to Europe every summer for about two to four weeks or so. We went to break up my dad's longer three-month research trips and we'd tag along wherever he was that year. We hardly traveled anywhere but Europe.
We skipped the last week or so of classes but my parents always cleared it with my teachers ahead of time. Personally, I loved being able to experience art, architecture, languages, and cultures in person rather than reading about them in textbooks. It helped me internalize the lessons I had learned in the classroom when I saw a sculpture in a museum or gazed up at medieval flying buttresses. As an analytical youngster, visiting Leonardo da Vinci's home and museum was a dream come true.
And when our parents got tired of us, they're throw us 10 euros and tell us to go find dinner on our own. That was a bit tough to swallow at the time but it gave us the self-confidence we have today, knowing we can figure out just about anything no matter where we are in the world.
2) When did you start thinking about your own career goals and how to make them happen?
I really intended to explore a completely different path than the tourism industry. I figured I always had that to fall back upon. And it wasn't a bad Plan B at all. I wanted to confirm to myself that travel and tourism was something I truly loved and was passionate about rather than doing it just because my father had.
I studied Industrial Design and Italian Language & Literature at the University of Notre Dame, and was halfway through my application to the Politcnico di Milano to do a master's degree in yacht design when I had a chance to study abroad in Rome. It was then that I recognized the need for a tour company for American students abroad in Europe.
I spent a summer in New York City at Sparkman & Stephen's, a famous custom yacht design firm, and was flattered and humbled to have a chance to work with them. But given the job climate when I graduated, and my intimate experience and expertise with the needs of my target market, I couldn't pass up an opportunity to pursue my entrepreneurial dreams.
3) What is "Weekend Student Adventures?"
Weekend Student Adventures (or WSA Europe) is the company I launched in 2010 after vetting my business idea and winning the annual McCloskey Business Plan Competition at the Gigot Center for Entrepreneurship at Notre Dame. After studying abroad, I witnessed the phenomenon of weekend travel during a semester overseas, and I wanted to offer three-day weekend visits to top destinations across Europe, helping students see and experience as much as possible during their semesters abroad and during short city trips.
We started with five destinations (London, Paris, Prague, Rome and Barcelona). We're now operational in 13 cities with many local guides who love sharing their inside take on their hometowns.
Our trips include sightseeing tours, local guides, local transportation, food experiences, farmers' markets, nightlife, accommodations, bike tours and more. Our 5-star reviews on TripAdvisor show we're onto something but we never stop working to improve our trips and value!
And we've grown well beyond weekend and student tours. We're in the process of evolving the brand into "Andy Steves Travel" to shed the rather restrictive WSA Europe brand name.
4) How did the idea of writing a book come about? Why did you focus on Europe?
Even in college, I'd been asking my dad if I could add a few budget listings to his books and beef up the nightlife sections a bit more so they'd appeal to people like me and my friends. His books are unparalleled in scope and depth, expertly researched and updated every single year, and they're some of the best selling guidebooks in the country.
I would constantly use his guidebooks while researching my own tours but had to lean on other resources for budget restaurants, accommodations and nightlife recommendations. So I'd always toyed with the idea of writing a guidebook. It seemed like a natural progression from setting up a tour company.
But there was an intermediate step–I utilized my experience getting the weekend tours off the ground to create a new travel product called Detours. Detours include two-night accommodations and skip-the-line access to two cliche touristy sights in each city (e.g, Colosseum and Vatican in Rome; Eiffel Tower and Louvre in Paris, etc.).
In setting up my tours and interacting with thousands of travelers over the years, I realized we all tend to experience new cities in three-day chunks, and visit mostly the same sights during the course of those three days. So we packaged that with a 12-page destination guide that I've written up for 14 different cities now, and we sell those (available 365 days a year). It's kind of like a guidebook that makes reservations for you, and you get to keep the independence and flexibility of solo travel and connect the dots at your own pace.
I took these rough city chapters and utilized them as the basis for the 30-page chapters that make up my book.
5) More Time To Travel is geared to the over-50 traveler. Do you think that older people travel differently than younger people? If so, how? What might they learn from today's younger travelers?
Yes, we travel differently. I'd say younger people may utilize mobile technology more often–though it's a double-edged sword as many millennials have a hard time getting out from behind their screens and socializing with real humans out there. There are a ton of apps and websites you can utilize to find travel deals, cheap flights and so on.
At the same time, I think millennials could learn from older travelers how to slow down and appreciate what's around them. I find that older adults value their time better as well. If they have one chance to spend a week in Budapest or Madrid, it's worthwhile to spend money for delicious local cuisine, or hiring a local guide who can bring the city's history to life.
While priorities of travelers of different ages may skew in different directions and budgets are likely significantly different, I don't believe that detracts from the importance of good, intentional and efficient travel. Whether you're 25 or 50 or 75, I think travel provides us all a chance to connect with people from different backgrounds and perspectives. And when you bring the right mindset and are ready to put yourself out there to bridge cultural gaps, and interact with as many locals as you can, I think that's what travel's all about. It's a chance to shake up your world-view and become a sponge while on the road.
6) What are a few of your go-to digital tools that you would recommend to over-50 travelers?
The biggest jump I've taken into the 21st century recently has been to unlock my smart phone (not jailbreak, but unlock), which allows me to plug in local SIM cards so I can then stay connected on the road and make flight or accommodation bookings on the fly. SIM cards often cost 10 euros and come with 5 or 10 euros credit on them, making them a very affordable way to increase efficiency in your trip.
7) Any thoughts/ideas about multi-generational travel or advice to my readers?
I highly recommend Airbnb for value and experience. I know for many, you may have a mental block against staying in someone else's home but ever since I got my mom to be comfortable with it, she's loved staying in local apartment locations. You can find great locations, get connected straight away with a local, and travel affordably with Airbnb.
Be wary of exorbitant fees, however. For example, I've seen cleaning fees at $100, when I think a more reasonable price is about $20. (This allows hosts to display a lower nightly rate but still make up the money another way.)
It's an interesting time though as many local governments are now deciding they want to try and regulate or tax the home sharing industry, so keep an eye on those changes sure to happen over the next few years.
---
THE GIVEAWAY
Enter to win a copy of Andy Steves' Europe: City-Hopping on a Budget. Update your travel skills and discover itineraries in Amsterdam, Barcelona, Berlin, Budapest, Dublin, Edinburgh, Florence, London, Madrid, Paris, Prague, Rome, and Venice.
To enter, simply leave your name below telling which of European city holds the most intrigue for you.
One randomly selected entry will be selected to win the book.

Contest ended December 4, 2016.
---
Can't wait to read the book or purchase it as a gift for your favorite traveler? You can purchase a copy of Andy Steves' Europe: City-Hopping on a Budget on Amazon.