Bicycle Tourism: Cycling in midlife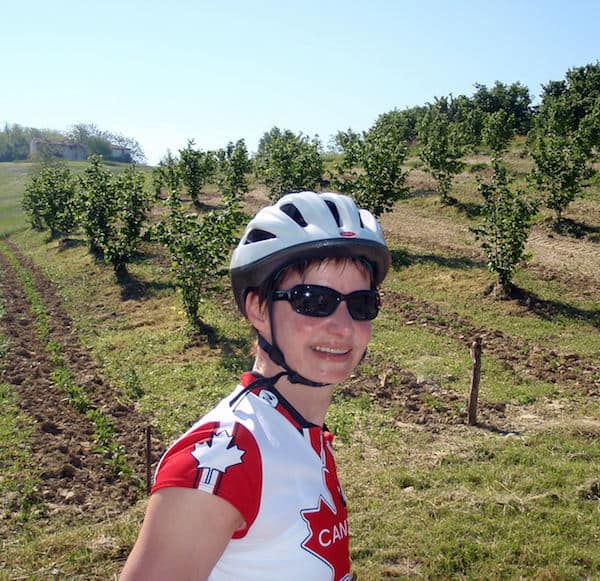 Cycling in midlife has "opened a whole new chapter" for this boomer blogger.
I "met" blogger and cycling aficionado Sue Slaght while I was digging into bicycle tourism for an article I was writing on that topic for PBS Next Avenue.org.
As boomers opt for more active adventures, cycling is taking off. In this Q&A, Sue explains how she became involved with cycling in midlife and the ways in which it has enriched her life.
1) When did you start cycling?
Growing up on a farm on the Canadian prairies, my bicycle was my usual mode of transport. As an adult I cycled occasionally (like once a decade) but truly only began cycling at age 48 in preparation for our first cycling trip.
2) What was the motivation behind your first trip and what was it like?
Waiting to board our plane home in the Las Vegas airport after rafting the Colorado River through the Grand Canyon, the discussion turned to how we could ever top that adventure holiday. My girlfriend, an avid cyclist, suggested we do a cycling trip to Italy with our husbands. I was very hesitant and my first response was, "I haven't been on a bike in 10 years!"
It was my friend's belief in my abilities, the fact she had a friend who had just returned from a similar trip, and my husband's support and keenness to train with me that convinced me to go for it.
When we went on our first trip with Nichols Expeditions, the owners Chuck and Judy, along with local Italian guides, made all the difference. They had a support vehicle available; coached me on technique; and encouraged me. Most importantly, they helped make it a fun experience.
A couple of days into the trip we were resting at the side of the road when an elderly Italian man climbed out of a steep vineyard beside us on the side of the road. With my limited Italian, we learned he was 84 and lived at the house across the road. He had been married for over 60 years. While leaning on his cane he showed us a scar on his leg from the war. As we readied to set off on our way he bent down and picked two poppies from the ditch and presented one to my friend and one to myself. As he kissed my hand I knew traveling by bike would afford us experiences that would be lifetime treasures.
Admittedly, the hill climbing was challenging but I never needed the support vehicle. I was so proud of my accomplishment.
3) How often have you embarked on bicycle escapades since then?
We have done a major cycling trip once a year since then, and cycling has become one of our favorite forms of exercise. Being able to confidently jump on our bikes and hit the pathways or countryside outside our city is an activity we will be able to enjoy for decades to come.
4) Do you do other kinds of travel as well?
Yes, we do other kinds of travel including all-inclusive resorts, weekend excursions to the mountains, trips centered around a running race for which we registered, and sightseeing trips. My husband travels for his work and on occasion, I accompany him. Exploring the hidden gems of a destination is a favorite activity of ours.
But we especially enjoy guided cycling tours where we meet like-minded people from around the world. In Spain, we met a couple from our home city, who are now among our best friends. We joke that we had to go halfway around the world to find them when they actually lived five minutes away. Having guides to ensure everything from safety, to lodging, to meals, to bike maintenance allows us to enjoy every minute of the experience without worrying about the logistics.
5) Would you consider yourself "addicted" to cycling trips?
Every day my husband and I express gratitude for our good health and the ability to be active. It is our hope that we will be doing cycling trips into our eighties. There are not many sports where one can realistically expect to continue into the ninth decade of life. If that hope makes me an addict then yes, indeed, I readily admit to being addicted to cycling trips. Cycling in midlife has opened up a whole new chapter in our lives.
Sue's Tips for First-Time Cyclists:
Get comfortable with cycling at home before you go. On a tour is not the time to learn about changing gears or using clipless pedals.
Become secure on your bike on different terrains; uphill, downhill, longer distances and on the road with traffic. Learn and understand the rules of the road and hand signals.
Wear padded cycling shorts or pants. Sitting on a bike seat for days can take a toll no matter how beautiful the scenery is.
Proper hydration and eating will be important. Learn what your body needs for fuel when you cycle so that you can carry those healthy practices with you on tour.
A cycling tour is not a race. Learn to travel at a speed that is comfortable for you. I am often at the back of the group. On my first trip, that worried me. Now I know I get to spend more time exploring. Most of all enjoy every minute!
---
About Sue Slaght:
Sue Slaght lives in Calgary, Alberta. She's been married to her best friend Dave for over thirty years and has adult children. Having worked for decades as a nurse, she realizes that life can change completely in a moment. She's passionate about social justice, volunteerism and not letting the phrase "What would people think?" or her own fears get in the way of trying something new.
Sue blogs at Travel Tales of Life. Her posts have been featured in The Caribbean Daily online magazine and the HIS Vancouver travel website.
---
Previously on More Time to Travel:
See my recent article Bicycle Vacations: Boomers' Latest Travel Trend, published on PBS NextAvenue.org.